Common Used Car Buying Scams and How to Avoid Them
Are you interested in buying a used car? Before you shop, read about common used car buying scams, and the best ways to avoid getting duped.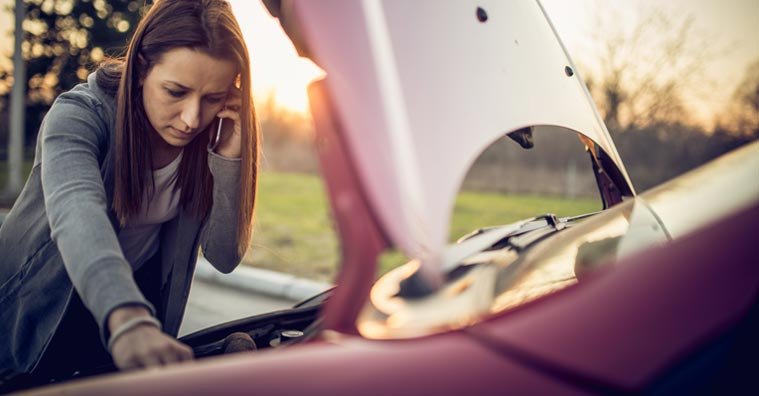 Most people are aware of the importance of transportation, and having your own car makes it easier to get from point A to point B. But having a car means buying a car, which makes it easier for scammers to rob money from innocent victims – especially those who are purchasing used automobiles.
This guide takes a look at common used car buying scams and ways to avoid them. We've gathered input from various experts, including the Federal Trade Commission, BBB, as well as Detective Tim Lohman, who solves forgery, fraud and financial crimes in Southern California.
Seven Common Used Car Buying Scams and How to Avoid Them
1. Title Washing
After a car has been damaged beyond reasonable repair, due to things like hurricanes, catastrophic weather or a bad crash, the car is referred to as a salvage vehicle/title because of the potential trouble with the car down the road. Title washing is a car selling scam that rids the vehicle of its salvaged status.
How to Avoid: Obtain a vehicle history report from a reputable source such as the National Insurance Crime Bureau's VIN Check, CarFax or AutoCheck before you buy any vehicle. Understanding what the used car has been through before you make a purchase is imperative.
2. Disappearing Trade-In
Unscrupulous dealers sometimes make the trade-in amount disappear in a maze of paperwork and numbers. The dealer might also offer a certain amount for the trade-in, no matter the car's condition, in spite of current rebates or other incentives that could have reduced the car's purchase price. Then the dealer takes the trade-in and sells it for a few hundred dollars more than what they gave as the guaranteed trade-in amount.
How to Avoid: Don't accept the initial trade-in program the dealer has to offer. Know, in advance, the value of your trade-in no matter the car's condition. Ask for a contract, with the amount that your trade-in itemized, to reflect the "all in" cost of acquiring the car. Make sure the trade in value is reflected throughout all of your buying paperwork.
3. Negative Equity
A dealer says they'll pay off your trade, no matter how much you owe. But they may pay off more than what the actual car is worth, creating what is known as negative equity. This becomes your problem when the car dealer adds the difference to your car loan, or lease, which can total more than the value of your car.
How to Avoid: Pay off the trade-in car before signing any new loan or lease documents. Watching the pennies and dollars of your new car acquisition is your responsibility, not the dealers, so make sure you understand all the documentation.
4. Low Credit Score
After seeing the financing department regarding your purchase, the salesperson tells you that your credit score is too low to get the original financing package. Now, the car is going to cost you more, especially in the cost of the loan through increased interest rates. Keep in mind that the fine print of advertised prices at a car dealer will likely say that the payments and price will vary according to your credit score.
How to Avoid: Know your situation before you go. If you need to take out a loan to acquire your dream car, it is imperative you know your credit score. Visit Equifax, Experian or TransUnion for a copy of your credit report. Review it in advance to make sure there's nothing improper with the report.
If there is, you may want to postpone the car purchase and work on your credit report so you can get the best loan terms out there. You could take it a step further and have a pre-approved loan in your back pocket to leverage against the dealership's price proposals. Visit your bank or credit union with the exact vehicle you are looking to purchase, including all the options and additional warranties, to see what your options are before you step foot into a dealership.
» For Further Reading: Financing Your Car: 6 Expert Tips on Landing a Great Auto Loan
5. "As-Is"
Are you buying a used car from a dealer? Cars that come with the "as-is" label could mean a lower price, but before signing the contract, know what "as-is" could mean for you later on. If a dealer makes extra promises, such as to repair the vehicle or cancel the sale if you're not satisfied, make sure to get that written in the contract. If no such promises are made, once you drive the car off the lot, the dealer or seller is no longer responsible for any further maintenance, breakdowns or other problems.
How to Avoid: Before making a purchase, check the dealer's policy about purchasing cars "as-is." Test drive the car under as many driving conditions as you can. Lastly, be sure to take it to a trusted mechanic to check the car for current or potential problems. Always carefully examine and save all paperwork with all things in writing that were agreed upon or promised.
In other advice, The National Insurance Crime Bureau's website lets you enter a VIN and find out if the vehicle has been flood damaged, was stolen but unrecovered, or otherwise declared as salvage.
6. Used Car Overpayment Scam
Used car buying scams can occur both in person and online, Detective Lohman warned.
"Somebody has a used car that they want to sell, so they'll use a website like Craigslist and they'll list a car for sale," he hypothesized. "They will get contacted by somebody who wants to buy the car."
How does it work?
"The car is for sale for $1,000, so the buyer says he's going to give you a check for $1,500 and to keep a little extra for yourself," Detective Lohman explained. "Then he'll tell you to wire a portion of the money to the transport company, which doesn't actually exist."
People who fall for this scam will end up wiring the money to a different bank account that's supposedly linked to a transport company, "only to find out the [original] check is not good, and the account number is stolen from somebody else," Detective Lohman said.
7. Used Car Advance Fee Scam
In a variation of this scam, Detective Lohman worked a recent case in which a man wanted to buy a travel trailer, which he found online.
"The seller of the trailer said to send $15,000 and told the man he would get the trailer," recalled Detective Lohman, noting the seller posted a picture of a trailer from an RV magazine. "The guy sent the $15,000, but he never got the trailer."
How could this situation – and others involving buying used cars – be avoided?
"If you can't see it, touch it, or walk through it, or even see the seller face-to-face, chances are it's a scam," Detective Lohman advised.
Tips on How to Avoid Used Car Scams
As with any purchase, buyers need to do their homework and to be sure they are dealing with a reputable company or person, according to Katherine R. Hutt, a national spokesperson for the Better Business Bureau.
She recommends checking with BBB.org to see if the used car dealer has a rating or past complaints, and read the customer reviews.
If you are purchasing a used car from an individual, be sure you have an opportunity to review all the paperwork to ensure the sale is legitimate, Hutt advised. Also, purchase a vehicle history report to see if the car has been in any accidents, floods, or other mishaps.
"Check to see if the vehicle has been subject to any recalls and if the proper work has been done," Hutt said. "And have your mechanic check it out before you purchase it. If the seller balks at any of these requests, just walk away from the deal."
Detective Lohman also offers the following 7 tips to avoid being a victim of buying a used car from a scammer:
1. Google the Phone Number Associated with the Seller
Before you purchase a used car, Google the phone number associated with the seller.
"You can find out if it's associated with any other scams, because some of these scammers will use the same number when they're scamming people, and victims will sometimes put that information online to help other people," Detective Lohman said. If the phone number isn't legitimate, there is a good chance you will find information about it online.
2. Google the Email Address Associated with the Seller
The same goes for the seller's email.
"Take the email address you're communicating with and put that in a search engine," Detective Lohman advised. "With the incident involving the man who got scammed for the $15,000 trailer, the scammer was selling the same exact trailer and had scammed several people using the same email address."
3. Meet the Seller in Person
If you plan to buy a used car from an individual, meet that person face-to-face before making any kind of transaction.
"You have to see these people face-to-face and meet in a mutually agreed location," Detective Lohman suggested. "If you're going to buy a used car, meet in a location where there are a lot of people. Never meet at night in a dark place where there are no people around."
4. Mind the Odometer
Some used car sellers will roll back the miles on the automobile's odometer, so it's important to check the miles before making a purchase.
"When you're buying a used car, ask for vehicle maintenance records so you can verify what the miles are at the time of purchase," Detective Lohman said. "These are things you should be wary of when you're buying a used car."
According to the Department of Motor Vehicles, an odometer fraud scam occurs when someone has tampered with a vehicle's odometer to make it look as if the vehicle has lower mileage. The DMV recommends whenever possible, ask for vehicle maintenance records for the used car you're considering, and try to match up the recordings to the actual current odometer reading.
5. Avoid Offers That Are Too Good to Be True
If the price on the used car is too good to be true, chances are it's a scam, Detective Lohman warned.
He used the example of a 2016 automobile that would typically sell for around $30,000.
"But the seller is offering it for $15,000," Detective Lohman hypothesized. "What's wrong with it? Why is the price so low? These are things you need to look out for."
6. Confirm the Seller Is Legit
When you go to purchase a used car from an individual, make sure the person you're talking to is who they say they are.
"You want to look at their driver's license and make sure they're the owner that's on the title," Detective Lohman said. "This could be a situation where the vehicle they're selling could be stolen, and they're posing as the seller when they don't even have the rights to the vehicle."
7. Avoid Sellers With Poor Grammar and Spelling
Any seller whose communication is riddled with spelling and grammar errors should be avoided, according to Detective Lohman.
"These are huge red flags," he warned. "Most of these scammers originate from out of the country. I'm not saying that people in the U.S. don't commit these crimes, but generally, they occur from outside the country."
If the scammer is from Nigeria, for instance, "they might speak English, but their grammar and sentence structure would be different because it's not their native language," Detective Lohman explained. "They may have learned English but not know how sentence structure works so their wording may be a little different."
Important Things to Keep in Mind Before You Buy a Used Car
In addition to everything that we have covered in this article, the Federal Trade Commission recommends the following five tips:
1. Take It for a Test Drive
Test drive the used car under various road conditions, such as on hills and highways, and in stop-and-go traffic.
2. Know the Price Ahead of Time
Determine the value of the car before you negotiate the purchase. Check the National Automobile Dealers Association's (NADA) Guides, Edmunds, Kelley Blue Book, and Consumer Reports.
» See Also: Comparison of 6 Popular Used Car Websites: A Comprehensive Guide
3. Use an Inspection Checklist
Examine the automobile using an inspection checklist. You can find checklists in magazines, books, and websites that deal with used cars.
4. Look for Unrepaired Recalls
Check whether there are any unrepaired recalls on a vehicle. Start by asking the dealer if the vehicle you're considering has a recall. You also can check yourself by entering the VIN at safercar.gov, or by calling the National Highway Traffic Safety Administration's Vehicle Safety Hotline at 888-327-4236.
If there is a recall, ask the dealer to fix it, or to give you information showing it was fixed. Keep in mind that federal law doesn't require dealers to fix recalls on used cars, so you might need to get the repair done yourself.
5. Find an Independent Review
Obtain an independent review of a vehicle's history. Check a trusted database service that gathers information from state and local authorities, salvage yards, and insurance companies. The Department of Justice's National Motor Vehicle Title Information System offers information about a vehicle's title, odometer data, and certain damage history. The National Insurance Crime Bureau maintains a free database that includes flood damage and other information.
You can investigate a car's history by its VIN. You also can search online for companies that sell vehicle history reports. If the report isn't recent, or you suspect that it has missing or fabricated information, verify it with the reporting company. The information in the reports may not be complete, so you may want to get a second report from a different reporting company. Some dealer websites have links to free reports.
Reporting a Used Car Buying Scam
If you have been a victim of a used car scam, here are the steps to take, according to the Department of Motor Vehicles:
If you purchased the used car at a dealership, file a report with BBB.

Also, you might consider contacting your state's attorney general, who is the state's chief legal advisor.

If all else fails, consider seeking legal assistance. Sometimes individuals get scammed so severely that the only answer is to seek the legal help of a lawyer with experience in used car buying and selling laws in your state, according to the DMV.
» More Tips and Advice on Buying a Car: