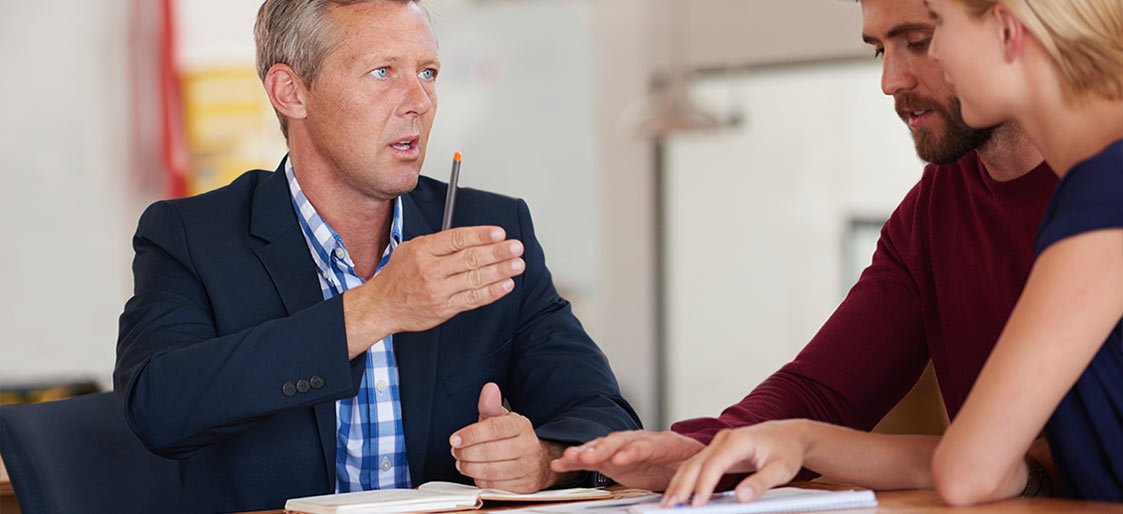 Who you choose to manage your investments or help you create a financial plan can have a huge impact on your future.
Yet figuring out what kind of help you need and who should help you is confusing. The financial services world is full of acronyms (CFP, CPA, CFA, for example) that newcomers can mix up. The roles of planners and advisors seem interchangeable at times. And knowing when you need some outside assistance with your investments and estate is a whole conversation in itself.
But don't worry. We're here to try and make sense of all of it for you.
Over the next few minutes, we're going to dive into the differences between advisors, planners and robo-advisors, as well as help you decide which service you need and at what point in your life you'll most likely need them.
What Types of Financial Services Professionals Are Out There?
The world of financial services is packed with various experts, certifications and specialties. The easiest way to spell things out is to designate the difference between a financial planner and a financial advisor.
To get some in-depth perspective on this subject, we talked with Raghav Sharma, founder of GuideVine, an app that pairs consumers with vetted financial advisors.
What Does a Financial Planner Do?
Financial planners work with you to create an action plan for meeting your financial goals.
"Together, you build a roadmap or set of goals against a defined topic, whether it's cash flow or retirement savings or even something like taking a trip to Europe for a month five years from now," Raghav said.
Now, even though the concept of financial planning sounds pretty simple, don't get caught up in thinking anyone can do it. To be a certified financial planner (CFP), you have to pass a 10-hour, 285 question exam that covers topics like insurance, retirement, estate planning and more.
Not every financial planner is a CFP; we suggest you look for one who has the designation, though, as they've worked pretty hard to get their certification and are well-versed in a variety of financial genres.
In most cases, however, your financial planner won't manage your investments. And, that, Raghav said, is the big difference between planners and advisors.
What Does a Financial Advisor Do?
As we pointed out, your financial advisor is going to manage your investments. They'll typically charge you a flat fee for their services, or they'll charge you a commission on any transactions they make on your behalf.
Those charges come in different forms. Some advisors will charge you a flat percentage of your assets, while others will charge you lower fees for smaller investments and higher fees for larger ones.
Others will charge you a flat rate for their services, while some ask for hourly payment or a yearly retainer fee.
Which One is Best: Commission or Fee?
As you search for an advisor, you'll want to be ready to ask about their fee structures. Commission payments can be expensive and may not always give you the best bang for your buck.
According to investment website Investopedia, there's a really good chance a fee-only advisor will get a lot more work done for the same amount of money a commission-based advisor would charge. Here's the example they used: your advisor plunks down $50,000 into a mutual fund and they charge you a 5% load (fee) to do it. That's $2,500 for one transaction.
An advisor who charges $210 an hour (the average, more or less) can give you 14 hours of investment services for what you'd pay for one trade by a commission-based advisor.
Also, remember that your financial advisor must be licensed in order to discuss and manage your investments (securities). Licenses are known by the test it takes to get them. Those tests are called "Series" and there are six different kinds you'll most likely see: Series 3, 6, 7, 63, 65, and 66.
The general rule of thumb here is to make sure your advisor has a Series 7 and a Series 66 license because it allows them to conduct business in your state, give you investment advice and handle your assets. Leading financial services company Edward Jones requires all their financial advisors to pass the Series 7 ad Series 66 exams.
Both financial planners and advisors know a good deal about insurance and taxes, as well, which are two important aspects of your investments and assets.
What Does a Robo-Advisor Do?
Robo-advisors are a new form of automated investing. Basically, you download the app or sign up online, connect your bank account to the service and then make deposits that are invested into groups of assets called EFTs (they're designed to weather tough financial times).
On top of that, they've set up their systems to invest dividends back it to your account, as well as make smart decisions about the tax implications of your investments.
Acorns, WealthFront and Betterment are three examples of robo-advisors. Who should use them?
Raghav recommendeds robo-advisors to those who want a "set-it-and-forget-it" style of investing, where they choose a level of risk (an option available in the robo-advisors we mentioned).
Now that you've got a sense of what makes planners, advisors and robo-advisors different, let's figure which service is best for certain types of consumers.
Related: How Robo-Advisors Make Investing Easier Than Ever: Beginner's Guide
Five Categories That Help You Understand What Type of Help You Need
The subject of who needs a financial advisor could take up an article by itself; there are a lot of nuances, details and opinions that can really cloud up this decision.
There are, in a general sense, five kinds of people who need financial advice: those starting their career or launching a retirement plan, people who are in financial distress, Wall Street gurus, people who've undergone big life changes and people who don't have the time to manage their finances.
Category One: Starting Your Career or Retirement Plan
If you fall into this category, Raghav says you might want to forego hiring a financial advisor and get a financial planner or robo-advisor? Why? Mainly, because retirement plans are pretty easy to set up through a planner or robo-advisor.
As for the "Starting Your Career" part, your financial planner will help you, as we mentioned earlier, come up with goals for what you want to do with the money you're bringing in from your new job.
Category Two: Feeling the Strain of Financial Distress
In 2015, the average college student graduated with more than $35,000 in debt, a number that is bound to cause all kinds of stress for young professionals.
It can get downright overwhelming at times, as debt can lead to all sorts of stress, fear, panic, anger and even depression.
If you find yourself in this position, you definitely need financial advice. However, planners and advisors aren't your solution, Raghav told us.
"For these types of consumers, it makes much more sense to work with a financial coach or debt counselor to put them on sound footing, and then afterwards they can work their way into the first category," he said.
Financial coaches encourage you and help you overcome the mentalities which keep you stuck in debt, fear or anxiety. Like financial planners, they focus on goals and let the client lead the way in creating those goals. Coaches aren't required to hold any particular type of certification or license, so they aren't seen as financial experts.
Debt counselors, on the other hand, are professionals who help you eliminate your debt so you can move on toward financial goals. Getting rid of that debt centers on a spending strategy coupled with a change in mentality. As you can see, debt counselors and financial coaches serve much different purposes than financial advisors and planners.
Category Three: The Wall Street Expert
This category is home to investors who have a pretty solid understanding of stocks and bonds.
"These are people who really do have the knowledge, time and understanding of economic indicators that hint at what the capital markets will do," he said. "Most importantly, they have emotional maturity and discipline. They don't panic when things go sideways."
This group, as you've probably guessed, is comfortable enough handling their own money that they don't always need an advisor. They might benefit from an advisor who can give advice about very specific aspects of stocks, bonds and the like. However, compared to the other categories we've talked about so far, they're most likely able to survive without a planner or advisor.
Category Four: Life Happens
Most of us know that our lives can change pretty quickly, whether it's getting married, having kids or watching a loved one pass.
"A financial planner is best suited for these types of situations," Raghav said, "because a lot of people who find themselves in these situations don't really know how to handle the implications."
For instance, if a loved one receives a cancer diagnosis and only has a few months to live, deciding what to do with assets, inheritances, their estate and other issues can be confusing if you don't have a trusted financial expert by your side.
Category Five: Short on Time, But Not Money
Our final group of consumers is the man or woman whose life has gotten so busy they just don't have the free time to study markets and make sound investment decisions.
Which financial professional works best here? A financial advisor, Raghav said.
"They need to outsource their financial assets because they want to spend time on their career, family or life," he said. "If you reach this stage, you have more complex needs."
How Many People Actually Need an Advisor or Planner?
We think it's pretty clear that not every person will fit into the five categories we mentioned above. The situations out there are numerous, so remember that as you think about your own. But we do want to throw in one quick statistic from a Forbes article we read: only 52% of pre-retirees and 44% of retirees consult with an advisor or planner about their finances.
And guess what? The majority of pre-retirees and retirees say they are concerned, even if just a little, about their long-term financial status.
Unless you are a Wall Street genius, we think it will benefit you to hire an advisor or planner to help set up your retirement for success.
Let's wrap this up with an overview of what we've covered and a few closing thoughts.
Looking Ahead: The Trust Factor, Red Flags and More
Finding the right financial expert for your particular situation isn't as easy as it seems. Take a moment to understand where you are in life and how comfortable you are with managing your investments:
Do you scare easily when the market wavers?
Did you just have kids or get married?
Is a loved one in their last stages of life?
How smart are you about investing?
Are you too busy to manage your assets?
Do you want a simple, hands-off approach to investing?
Your answers will reveal what your investment and planning needs are at this point in life. If you feel like you are at a point where you need some solid planning, a financial planner may be a good choice. If you've got your plans in place and want to venture into stocks, bonds and other investment opportunities, consider a financial advisor.
If you're in financial trouble and dealing with debt, you might want to contact a financial coach or debt counselor. They'll help you understand some of the mindsets keeping you in debt. We posted an article about this very topic; click here to check it out.
If you're new to the personal finance world, stop by our site and read our guide to budgeting. It's a simple concept, but we consider it the first step in building yourself a sound financial future. It will help keep your expenses under control and identify opportunities to save.
Once you right your financial ship, you'll have the stability you need to start making bigger decisions about where you want to invest your money. You might even think about hiring a financial advisor to help you out.
Our hope is that you get to that point. And when you do, stop by Highya again to read the second part of our financial advisor series. In this article, we cover how to choose your financial advisor or planner: the trust factor, red flags, how to vet a financial advisor or planner and more.