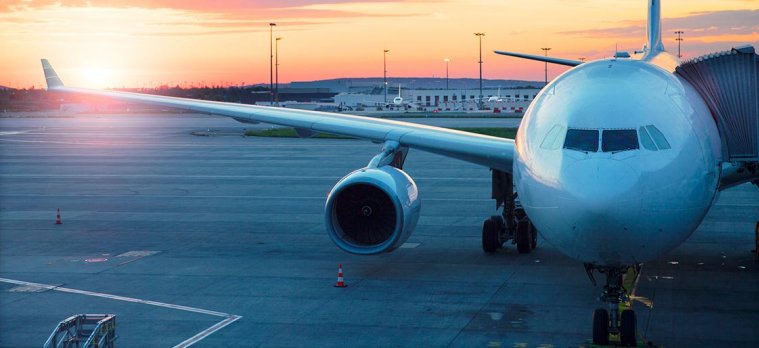 Opening up your search to alternate "nearby" airports is touted as a travel secret to scoring cheaper flights. Do these smaller, often out-of-the-way airports truly offer bigger savings than major hubs?
To determine the answer, we compared flight prices between major and alternate airports along the several popular domestic US routes. For consistency, all flight prices were compared on the same dates.
Which Airports Offer the Cheapest Flight Between Chicago and New York?
Frequented by over four million passengers per year, the most popular flight route in the US is between Chicago, IL and New York City's John F. Kennedy International Airport (JFK).
JFK (Major) to ORD (Major)
Chicago's major airport, Charles O'Hare (ORD), is an international hub located on the northwest side of the city, approximately 17 miles from the loop. It is accessible by subway (45 min, $3), shuttle (35 min, $16–$75), or taxi (20 min, $55–$70), as well as driving. O'Hare is a major hub for American, United, Frontier, and Spirit Airlines.
JFK (Major) to MDW (Alternate)
Chicago's Midway Airport is closer to the city center. At only eight miles away, the transit time is cut almost in half and, while the subway (24 min, $3) and shuttles (20 min, $16–$75) stay the same cost, taxis (16 min, $35–$45) are slightly cheaper.
However, Midway Airport is dominated by once-low cost carrier Southwest Airlines—and their flight prices have gone up significantly in recent years.
Here's how prices compare:
ORD to JFK (March 7, 2017–March 14, 2017): $127 Roundtrip on Delta
MDW to JFK (March 7, 2017–March 14, 2017): $144 Roundtrip on Delta
As you can see, Chicago's Midway is a whole $17 more than the city's major airport, O'Hare—at least when flying out of New York's JFK. While that's not a dramatic increase, it's certainly no savings. (Unless you count saving 30 minutes in transit.)
To see if the alternate airport theory held any weight on this route whatsoever, we also compared prices between O'Hare and Midway to New York's secondary airport, La Guardia.
LGA (Alternate) to ORD (Major)
La Guardia (LGA), which has been criticized as on par with facilities in a third world country, is also ranked worst for customer service in the United States. If that doesn't turn you off of considering flying out of LGA, you can find it located in the Queens borough approximately 45 minutes on the subway outside of New York's' city center.
Despite its less-than-glowing reputation, La Guardia offers roundtrip airfare to O'Hare for $107 on American. Depending on where in New York you're traveling to or from, the $30 might just be worth it.
Note that travel between two alternate airports, La Guardia and Midway, showed a substantial increase in price, with tickets starting at $401 on Delta.
ORD to LGA (March 7, 2017–March 14, 2017): $107 Roundtrip on American
MDW to LGA (March 7, 2017–March 14, 2017): $401 Roundtrip on Delta
All in all, the prices between major and alternate airports on this route were negligible (unless you count the alternate-to-alternate option), and the difference so slim that your preference is more likely to be shaped by which airport is more convenient for you to get to and from.
However, for those looking to save every possible dollar traveling between Chicago and New York, it looks like flights between the O'Hare and La Guardia wins by enough to cover your taxi fare—or a checked bag one-way.
Which Airports Offer the Cheapest Flight Between San Francisco and Chicago?
While the monopoly of only a few big airlines keeps Chicago prices fairly consistent, we were left wondering if there was a greater difference in costs between major and alternate airports depending on the direction that you're flying.
With California hosting several budget airlines—the type that frequent smaller airports—is it any more advantageous to shop for alternates if flying to and from the west?
SFO (Major) to ORD (Major)
San Francisco International Airport (SFO) is located 12 miles south of the city center. The commute is accessible by BART (27 min, $7–$10), Caltrain (17 min, $3–$5), shuttle ($16 - $75), or taxi (15 min, $40–$55).
SFO is a major hub for California's Bay Area, and for anyone who has to commute in and out of it regularly, a major pain in the bum. Thanks to the city's persistent fog, visibility on SFO's runways is almost always poor.
This causes congestion in itself. Add on top that the airport runways can't undergo a much-needed expansion as the project would destroy the habitat of a local, endangered frog and you can see why SFO has one of the worst track records for delays in the nation.
Despite its frequent delays, SFO offers some of the lowest priced flights. A roundtrip ticket between these two major airports is a rock-bottom $150 on Frontier.
OAK (Alternate) to ORD (Major)
Oakland International Airport (OAK) is five miles south of downtown Oakland. But it's about 25 miles (and a $4 bridge toll) from San Francisco's city center. Assuming you're heading into downtown SF, you can take BART (38 min, $9–$11), a shuttle (26 min, $16–$75), or a taxi (26 minutes, $65–$80) to arrive.
Billed as a quick and easily navigated airport, Oakland International gives you every reason to want to fly in and out of this alternate spot instead of risking lengthy delays just a few miles south.
Every reason except for price—Oakland comes in at a $278, full $128 more than flying to or from O'Hare out of San Francisco International.
So far, the theory of alternate airports offering lower prices isn't proving true. Since there's nothing special about fares between SFO and Midway, Chicago's alternate airport from our first section—they're $278 on Delta—we've just included them above and will move on.
OAK (Major) to MDW (Alternate)
Oakland International is a major hub for Southwest Airlines, so we're curious to see how their fares compare between these two alternate airports.
But there's a catch to checking Southwest prices: This airline doesn't allow their fares to be advertised on third-party websites such as Google Flights or Kayak, so you have to head over to their official website to compare.
Again, the price was far higher than simply flying between two major airports. At the minimum, the cost of flying between Southwest's two hubs is $344.70.
SFO to ORD (March 7, 2017–March 14, 2017): $150 Roundtrip on Frontier
SFO to MDW (March 7, 2017–March 14, 2017): $278 Roundtrip on Delta
OAK to ORD (March 7, 2017–March 14, 2017): $278 Roundtrip on Delta
OAK to MDW (March 7, 2017–March 14, 2017): $344.70 Roundtrip on Southwest
Is It Cheaper to Fly Out of Los Angeles International Airport or Bob Hope Airport in Burbank?
With public transportation in Los Angeles being notoriously non-existent, we're left assuming passengers traveling to one of the area's airports will drive or hire a private shuttle.
Instead, let's skip to flight prices. Below, we've compared fares between all six major and alternate airports as originating from the Los Angeles area. We used the same dates (March 7 – March 17, 2017).
| | San Francisco (SFO) | Oakland (OAK) | Marriott: Renaissance San Diego | Chicago Midway (MDW) |
| --- | --- | --- | --- | --- |
| Los Angeles (LAX) | $117 (Virgin America) | $99 (Spirit) | $87 (Frontier) | $267 (Delta) |
| Burbank (BUR) | $117 (Skywest) | $274 (Alaska) | $336 (United) | $554 (Multiple) |

You can see that Los Angeles' alternate airport, Burbank, is consistently more expensive to fly in and out of than the area's major hub, Los Angeles International Airport. In fact, the only clear winner when it comes to alternate airports is Oakland.
But, since Oakland was more expensive when traveling to and from Chicago, what gives? The answer is straightforward:
Alternate Airports Are Only Cheaper If Budget Airlines Fly There
The airline industry provides little transparency when it comes to pricing. That void of information has created a market for so-called experts to share their tips—with little or no basis to back them up.
We read dozens of articles proclaiming that alternate airports are cheaper, with reasons being that alternate airports have lower fees. We're told this results in lower flight prices because these savings are supposedly passed onto you.
But, remember our comparisons from New York to Chicago?
ORD to JFK (March 7, 2017–March 14, 2017): $127 Roundtrip on Delta
MDW to JFK (March 7, 2017–March 14, 2017): $144 Roundtrip on Delta
Midway, the alternate airport, is more expensive even though Delta operates both flights. So, clearly, if some alternate airports do have lower fees, it's not a standard across the board.
Does That Mean I Shouldn't Shop for Flights From Alternate "Nearby" Airports?
Since comparing prices between major and alternate airports is usually as simple as checking the "include nearby airports" box, it would be silly not to shop around.
The only exception is if you'd like to compare Southwest and JetBlue airfares as well, since neither will show up on Orbitz, Kayak, Google Flights, or the third-party online travel agent of your choice.
So sure, shop around! But the idea that alternate airports are an automatic money-saver is just plain silly.
Instead, Find Cheaper Flights by Following the Routes of Low-Cost Carriers
While it's true that the unbundled fare structure associated with low-cost carriers can be aggravating as heck—$25 extra for any seat that's not the middle?— there are plenty of reasons to love budget airlines. Mostly that you get to pay for what you care about, and save on shelling out for what you don't.
However, since you're researching the potential savings of flying from an alternate (and probably slightly less convenient) airport, it's safe to assume you're already interested in paying less.
Of course, budget airlines tend to fly to alternate airports, but there's no proof that taking a train out to your area's version of Burbank is going to result in lower fares.
If you'd like to shop budget airlines, but are frustrated by the fact that many (ahem, Jetblue and Southwest) don't share their flights in general search results, let me share an old flight attendant trick:
Go to www.passrider.com.
Look to the right sidebar, where it says Flight Schedules.
Enter your home airport, selecting "All Airports" when available.
Enter your destination, selecting "All Airports" when available.
Enter your desired dates.
This will take you to a list that shows every flight going between those two areas on the day you'd like to travel. With a comprehensive understanding of which airlines are flying between these two points, you can then go to their individual websites to check fares.
Don't forget to sign up for their newsletter for a chance to get insider savings.
Bottom Line: Alternate Airports Are Occasionally Cheaper
It's true that if you compare major hubs to their nearby airports, you're bound to find some that have lower average fares. However, this isn't because alternate airports are smaller, out of the way, or lack the additional obstacle of being built on endangered frog habitat.
Alternate airports average lower fares when they're serviced by budget airlines. But, they're sometimes more expensive (Chicago Midway) because they offer airlines fewer passengers, so you have to pay a premium to get in and out.
Your best bet? Use one of these tips to find the lowest possible airfare price, then enjoy your trip to whichever airport is most convenient.