The online mattress market is booming, giving consumers dozens of new choices for manufacturers and materials—and all at extremely competitive prices.
While shopping for a bed in a box that's delivered directly to your door has plenty of perks, the trend does leave one question looming:
What in the heck happened to box springs?
Box springs used to be a constant mate of new mattresses and were often given away when the top portion of a new bed was purchased in a brick and mortar store. However, the once-staple product is conspicuously absent from online mattress options.
If you're about to purchase a new mattress online, you're probably left wondering if you should buy a box spring separately or will any flat surface do?
What Is a Box Spring Mattress and What Does It Do?
It's been several centuries since we upgraded from sleeping on wool, straw, or feather-stuffed sacks that were the first mattresses, but when did box springs come along?
Box springs were invented around 1865 and came into vogue as a standard household item approximately 50 years later. The first models were hybrid specialty sleep products that used woven wires and spiral springs to help make mattresses made of cotton batting more comfortable.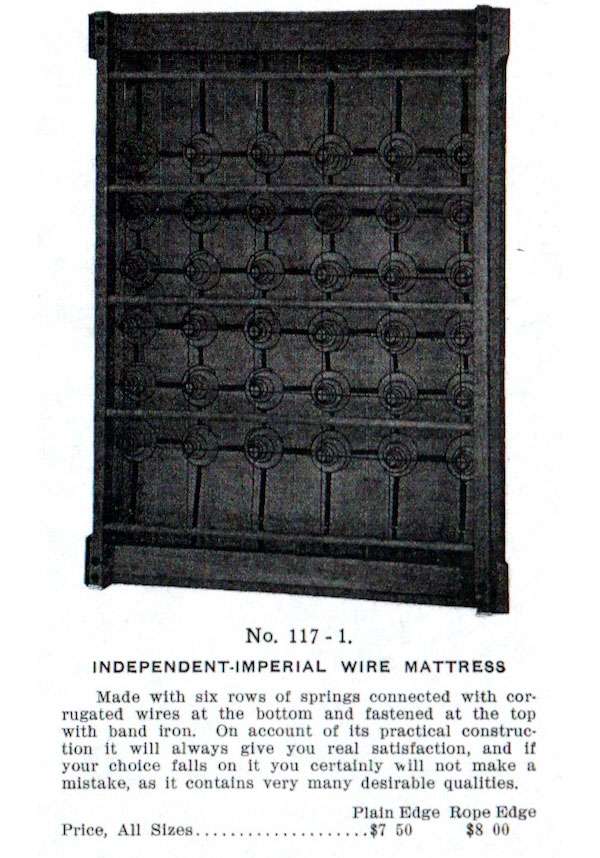 Image via Sleep History
But the box spring didn't stay stagnant—as mattresses evolved, so did the purpose of their accompanying foundations.
First, coils were redesigned to provide strong, flexible support that could respond independently to movement and pressure for optimal weight transfer, improving your nightly comfort and prolonging the life of a mattress.
The box spring—emphasis on "spring"—came to function as a shock absorber. Meaning that, no matter what happened above the mattress, the box spring took on the brunt of movement or weight which prevented mattresses from developing hollows or depressions where the occupants most often lay.
Box Springs vs. Mattress Foundations
This has changed in the past decade. As mattress companies continue to evolve, coil systems were inserted into beds to increase their comfort life. Meaning that the no-flip, one-sided design of modern mattresses usually contain all of the components necessary within the single unit.
Called inner-spring mattresses, these heat-tempered coils were able to maintain their shape for up to 2 million compressions, whereas batting materials compressed much more quickly. However, the number of coils used in box springs were not numerous enough to handle the weight of a mattress plus people combined.
Beyond innerspring mattresses, new materials such as memory foam, latex, and gel-infused materials no longer require the shock absorption of a spring-based foundation.
Now, most mattresses use foundations that are just sturdy, inflexible boxes that support the mattress. These can be made of wood or metal—but they rarely include any actual springs.
So, You're Saying That I Don't Need a Box Spring?
Well, perhaps not. Technically, all you need is a hard, flat surface to set the mattress on. This could be an adjustable base, platform bed, box spring, or even a hardwood floor. Here's what you need to know about your options:
Your Existing Box Spring
If you already own a box spring, the chances are that you've considered just placing your new mattress on top and calling it a day. After all, doing so is the easiest way to save money. However, if your box spring is too dilapidated, resting a new mattress on top can cause discomfort and shorten the life of your new purchase.
How to tell if it's too worn out?
Take a board, measuring tape, or even a string and stretch it from edge to edge, both horizontally and vertically along your box spring to create a level point of reference.
Can you see a depression in your box spring of one inch or more? If so, it's no longer fit for use and should be replaced. Or, you can attempt to extend the life of your old foundation by using what's called a bunkie board.
A Bunkie Board
Bunkie (or bunky) boards are cloth-covered pallets that provide a solid foundation in lieu of a box spring or base. Theses can be placed in between your new mattress and old box spring to create a sturdy, even foundation. Bunkie boards are also recommended for foam or latex mattresses used on slats to maximize comfort and service life.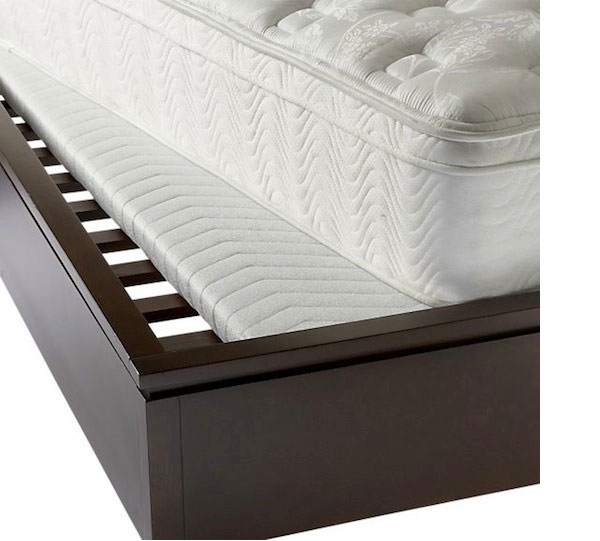 Image via Apartment Therapy
A Box Foundation or Slatted Base
As we mentioned above, modern box springs are called "foundations" due to their lack of springs. Both box foundations and slatted bases have a similar construction of horizontal supports secured down a center support. The only difference is that a foundation may have a thin piece of cardboard covering the slats before being encased in fabric.
When choosing a box foundation or slatted base, be sure to choose one with slats no less than 2" in width and gaps no more than 3" apart to ensure that your mattress is properly supported.
An Adjustable Foundation
If you enjoy the idea of being able to elevate the head or foot of your mattress (or even a massage function), you can get an adjustable power base for your mattress. This type of base typically includes a motor and some can even be controlled by an associated smartphone application.
You can actually get those delivered by Amazon for pretty low prices, as well as any other mattress retailer, including online retailers—some for just a few hundred dollars.
However, adjustable bases can't be used with every type of mattress. Innerspring mattresses, for example, lack the flexibility necessary to elevate either the head or foot. Also, know that the repetitive motion caused by adjustable foundations can weaken the structure of flexible foam and latex mattresses and may void your warranty.
A Flat Platform Foundation
Platform beds provide a hard, flat surface via a solid piece of particle board (similar to a bunkie board) or wooden slats to support your mattress. Platform beds also offer other advantages like storage space underneath and a sleek modern look.
Platform beds will provide all the required support your new mattress needs. However, if you're comparing models with wooden slats, be sure that they're also 2" in width with gaps no more than 3" apart.
Can You Place Your Mattress Directly on the Floor?
Several online mattress retailers (listed below) suggest that your new mattress can be placed directly on the floor. This actually gives the mattress proper support, but there are a few concerns:
Reduced airflow: Since the mattress sits directly on the floor it will not be able to expel air and breath as easily as it could on a box spring or platform bed.
Less hygienic: Being in direct contact with the floor means your mattress can get dirtier, faster.
More difficult to get into: if you're older or otherwise have trouble getting in and out of bed, having a bed on the floor can make actually getting into and out of bed more difficult.
Void your warranty: Some mattress warranties dictate that the mattress must be on a box spring or platform bed if you want to keep your warranty you should double check the warranty terms.
The biggest risk to placing the mattress on the floor is mold—particularly if you live in a moist or humid environment. However, tiny apartments or restricted budgets sometimes mean that a traditionally raised bed isn't an option.
If your mattress absolutely must sit on the floor, follow these steps for your best shot at preventing mold and mildew:
1. Check the mattress size and find a suitable place to lay it. Clean the area properly beforehand and get rid of any dust and dirt. It is recommended to use a vacuum cleaner or wipe the floor with water if it is not carpeted. Consider using a disinfectant such as bleach to cleanse the laminate or wood of any bacteria. Let the area dry completely before you lay it down.
2. If the floor does not have a carpet, use a material to place between the mattress and the ground. It can be a sheet of polyethylene, foam, or even a few yoga mats—doing so will help create a buffer to keep cold drafts from permeating your mattress.
3. If your mattress is floor-based for long periods of time, lift it up to allow the underside to air out regularly—at least once a week. Also, clean the area to remove dust, dirt and any other organisms that may be invisibly lurking there.
Check for Foundation Requirements Before Purchasing a Mattress Online
When shopping for a mattress online, you might be left wondering what kind of foundation is within your warranty. After all, if you've ever tried to wrestle a box spring up a stairway or down a narrow hall into your bedroom, then you can imagine how comically awkward and expensive it would be to ship one via UPS or FedEx.
Due to the difficulties of shipping a traditional box foundation, few mattress companies still hold them as a standard. However, that doesn't mean that there aren't warranty restrictions that you should be aware of. For example, platform beds are almost always okay, but old box springs generally aren't.
If you're concerned about protecting your mattresses warranty to ensure that whatever you put your mattress on complies with the fine print, here's a quick reference guide for what popular online mattress retailers suggest for foundations:
| Company | Cushion Types | Warranty | Required Foundation | Suggested Foundation |
| --- | --- | --- | --- | --- |
| Beddo by Sobakawa | Pressure-less foam | No | N/A | N/A |
| Casper | OEKO-TEX Latex, Memory | 10 Years | A firm, solid-surface | Casper foundation or bunkie board. |
| Cocoon by Sealy | Memory, Support foam | 10 Years | A flat, sturdy foundation. | N/A |
| intelliBED | Spring, soy foam, Latex, Intelli-gel | 30 years | A foundation free of bowing and sagging. Adjustable bases reduce warranty to 20 years. | A platform bed with slats no more than 3" apart. |
| Leesa | Memory, Avena | 10 Years | A solid (non-spring) foundation. | Platform or slatted foundation. |
| Lull | Gel-infused memory, Polyurethane | 10 Years | N/A | Flat, adjustable, or slatted foundations, box springs, or floor. |
| Novosbed | Ultra-dense memory | 15 years | Do not place on floor or foundations with metal wire. | |
| Purple | Comfort, Support foam | 10 years | Do not place on sagging foundation. | Flat, adjustable, or slatted foundations, box springs, or floor. |
| Saatva | Wrapped coils, Memory foam | 15 years | N/A | Saatva foundation suggested. |
| Tuft and Needle | High-density, pressure-relieving adaptive foam | 10 years | N/A | Flat, adjustable, or slatted foundations, box springs, or floor. |
| Yogabed | Memory, YogaGel | 10 years | | All-in-One Foundation |
| Zenhaven | Talalay latex, Wool | 20 years | Do not place on sagging foundation. | Saatva foundation suggested. |

Bottom Line Regarding What Goes Underneath Your Mattress?
When shopping for a new bed, most of your consideration probably goes to the top portion—the mattress. And, the mattress-buying process has certainly changed in recent years.
If you're still in the stage of picking between brands or deciding between memory foam, latex, gel column, or traditional innerspring, our guide explaining How to Buy Your Next Mattress Online is likely just the ticket to informing your decision.
Despite so many new mattress materials and brands to choose from, one thing appears to be for certain: traditional box spring bases are officially a thing of the past.
Whether you decide to place your new mattress on a box, platform, slat-based, or adjustable foundation is now completely a matter of preference.
Confused by all your online mattress choices? Head over to our Online Mattress Reviews & Buying Guide.