How to Avoid Buying a Fake Designer Prom or Wedding Dress
Fake designer prom dresses and wedding gowns can be found online for deeply discounted prices—but these horror stories will prove you get what you pay for.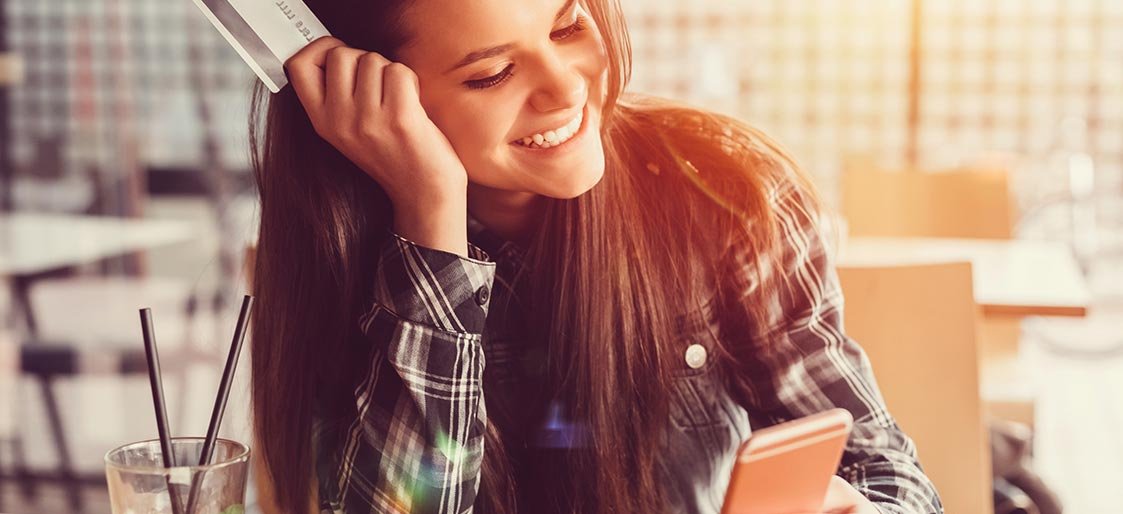 Prom is right around the corner, and, even at this moment, tens of thousands of teenage girls are browsing online shops and creating Pinterest boards to try and narrow down their pick for the perfect prom dress.
When you're wrapped up in the excitement of your first prom, it's easy to get carried away by dreams of celebrity-inspired gowns designed with flouncing tulle, glittering beadwork, or a fashionably asymmetrical fit—until you see the price.
In 2015, average prom costs hovered around $1,300, a sizeable chunk of which is spent on what to wear.
However, most teenagers don't have hundreds of dollars to fork over for a dress, so prom-goers are buying knock off designer dresses offered by fake clothes websites instead.
What's So Bad About Fake Designer Prom Dresses?
"Misery in a box"—that's what one teen told Today.com she received in the mail after spending her hard-earned savings on a knock off Sherri Hill prom dress.
The original dress had cost $400. However, she'd found the exact same item for 25% off on a knock off dress website and thought the deal was too good to pass up. That's a great discount, but $300 is still a pretty penny. What did it get her?
The knock off prom dress that arrived at her door looked like a nightmarish distortion of the original Sherri Hill design.
Made of cheap fabric blended with enough synthetics to start a campfire, it was the wrong color, several sizes too big, barely recognizable as a similar design, and had started to disintegrate when touched.
Even more insulting, the original dress had featured a bodice embellished with delicate beadwork. What did she receive?
Her plain dress came packaged with a baggie of beads and a sewing kit.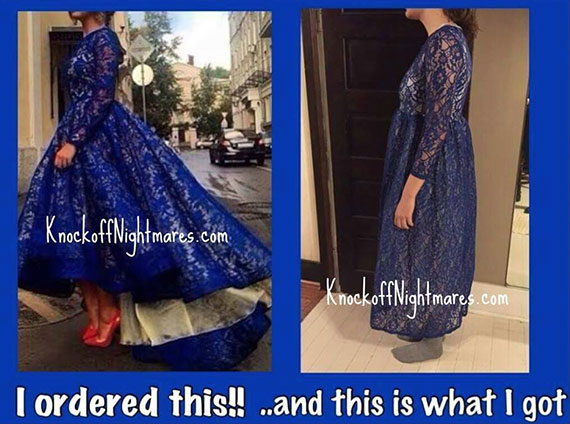 A different dress, but equally representative of the poor quality prom dresses knock off websites sell. Image via Knock Off Nightmares.
A representative from another top prom dress label stated that prom dress scams have started to become a big problem, with three to four girls a week calling the fashion brand in the hope of receiving help.
Brides Are Also Being Scammed by Knock Off Wedding Dress Websites
Don't assume it's just innocent teenage girls being ripped off—the internet is chock-full of horror stories written by brides-to-be who hoped to save on their wedding dress by buying a knock off design.
When you consider that even bargain basement-priced wedding dresses are close to $1000, while more desirable designer gowns often cost upwards of $3000, it's easy to understand the appeal of fake designer wedding dress websites.
Want a refund? Forget about it. These dress scam websites are often located overseas in China, meaning that consumers lose any potential leverage from filing a complaint.
Prom and wedding dress scam websites don't just fall short of delivering the product that was advertised—sometimes they fail to deliver at all, just stealing shopper's money and shutting the website down when there are too many angry customers.
How Bad Can a Fake Designer Dress Really Be?
To describe these designer knock off dresses as poor quality is an understatement. Check out some of the examples we found around the web: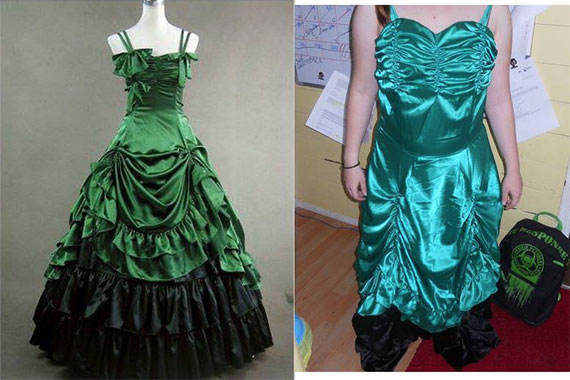 ​The seller denied there was anything wrong with this knock off prom dress. Image via Knock Off Nightmares.
One prom-hopeful thought she'd found a deadly deal on Aliexpress.com—until she received her $165 dress. What's worse is that the seller denied there being any difference between the two dresses.
This lucky shopper managed to wrangle a partial refund, which the seller accidentally refunded in full. However, she reports that, after realizing his mistake, he harassed her for weeks, trying to get back partial payment.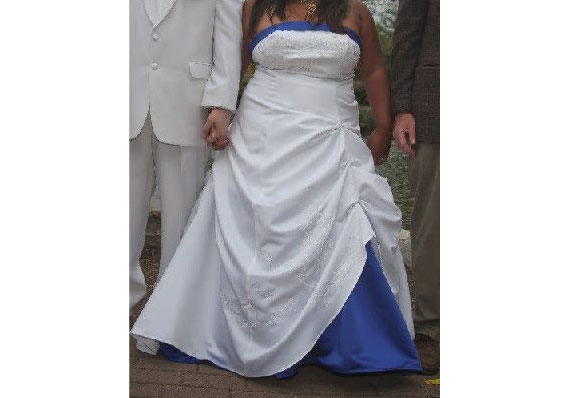 This knock off wedding dress lacks any of the original's beadwork or elegant fit. Image via Knock Off Nightmares.
Another way to spot a knock off wedding dress is the complete lack of boning that gives a bridal gown's bustier support. Boning is notoriously difficult to sew, but its absence caused this knock off wedding dress to sag beyond recognition.
How to Recognize a Fake Designer Dress Website?
With results like the ones pictured above, you'd think that fake clothing scam websites would be easy to spot. However, they take a lot more care to appear polished online.
In fact, it's pretty difficult to spot a knock off website scam from a single glance. They generally appear professionally designed and feature the same images as used by official retailers of top wedding gown and prom dress brands.
Despite being difficult to distinguish as a scam of the surface, here's what fake clothing websites have in common:
They're usually based in China. BuzzFeed reported that several of these companies operated under a Chinese e-commerce company called ShenZhen Global Egrow E-Commerce Co., (which made about $200 million in sales in 2014.)

Their location might not be disclosed. Whereas legitimate websites often list their location in the contact area, these scammers work hard to be secretive.

If a location or telephone number is listed, it's likely a forwarding service. Thanks to VOIP connections and mail-forwarding services, it's easy for a business to look like they're based in the United States.
These scams sellers are also frequently spotted in Facebook advertisements, showing pictures of beautiful dresses and fashionable clothing while advertising that each piece can be purchased for less than $30. When you click the advertisement, you'll be sent to one of the same scammy fake clothing websites.
Which Knock Off Dress Websites Have Already Been Reported?
SiteJabber.com—a federally funded forum for consumer commentary about websites—has cataloged complaints about the following knock off dress websites:
Peridress.com
Milanoo.com
BeautifulBridalDress.com
EastBridal.com
DressTimes.com
In Buzzfeed's initial coverage of Facebook ad scams, these additional retailers were listed as having scammed consumers with sub-quality knock off dresses:
Zaful.com
Rosegal.com
SammyDress.com
RoseWe.com
TideBuy.com
Choies.com
DressLily.com
So many shoppers have been scammed by buying knock off wedding and prom dresses, that several communities have sprung up allowing consumers to share their horror stories.
These include Knock Off Nightmares and DressLily Victims - Ban DressLily, which offer consumers a platform to post comparison photos of what they saw online in ads and what they actually got when the ordered the dresses.
Here at HighYa, we've also reviewed several budget clothing websites. One, TB Dress, is listed by Knock Off Nightmares as a scam website. Our reader's reviews leave us on the fence about Sammydress; however, budget alternative Red Dress Boutique receives some positive ratings.
How to Protect Yourself from Buying a Fake Designer Prom or Wedding Dress?
To avoid being another internet horror story, follow the following tips when shopping online:
Check the retailer's name against those known scam websites listed above.

Use common sense. If a knock off dress is available for a fraction of the original's cost, consider that deal really is too good to be true.

If you still think they might be legit, call the customer service contact number listed on the website. If you can't reach a representative, then don't buy from that retailer.

Look at the real designer's website to find a list of authorized retailers, and check to see if the website you're considering is named.

Even if the website lists a location in your home country, enter their URL into the search engine Whois.net, where you'll then be shown the country that domain is registered in.

Search online for reviews of that specific retailer by Googling their name and the words "review" and "scam." If there aren't any reviews, don't purchase from them, as the website is likely run by scammers who change their name to avoid dealing with complaints.

If you do make a purchase, do so with a credit card that has strong anti-fraud protection.

Be sure to read the terms and conditions carefully, so that you're aware of your rights should anything go wrong.
What if the website you wanted to purchase from turns out to be a scam, but you can't afford to buy from an authorized retailer?
For prom dresses, in particular, off-the-rack shopping varies from place to place. But, unless you live in a sparsely populated area, chances are there's at least one great seamstress or tailor nearby!
Find out who has good reviews by searching online, then call to see their prices for made-to-measure dresses, material options, and the potential cost of tailoring.
If getting a custom sewn dress is still out of budget, consider heading to a local consignment or thrift shop for second-hand options, since most prom dresses are only worn once, then given away.
Remember, the fit doesn't have to be perfect—just make sure it isn't too tight in the waist or sleeves. A good tailor can take care of the rest. (Though, some materials are harder to work with, so consider snapping a pic of the fabric for their final okay before purchase.)
What to Do If You've Already Been Scammed By a Knock Off Website?
If you were scammed by an online shop you found through Facebook, you can notify Facebook, themselves, of the fraud. The social media platform claims to be working hard to eliminate these types of businesses from their website.
What about getting your money back?
Once you've exhausted your attempts to contact the online retailer's customer service, it's time to contact your bank or credit card to file a claim that could potentially cover some, or all, of your costs.
If you paid through PayPal and the item was never delivered, you're likely due a refund from the payment platform. If the item was otherwise defective or not as pictured, you should still contact Paypal's customer service for further advice and assistance, as some consumers report they received refunds.
The Bottom Line: Know the Risks Before Buying a Fake Designer Dress
When dreams of wearing a dazzling dress come up against budget constraints, it's easy to push aside common sense.
However, considering the sheer number of consumers who report having been scammed by fake clothing retailers, it's safe to say that any money you spend on a knock off dress might be a total waste.
As much as these scammers are to blame, it's also up to you to be vigilant before handing over your credit card information. Use the resources and tips we've provided above to protect yourself from a disappointing purchase.
Finally, while online shopping offers many conveniences, don't forget there are plenty of benefits to browsing local shops for your dress, not the least of which is getting to try it on before opening your wallet.