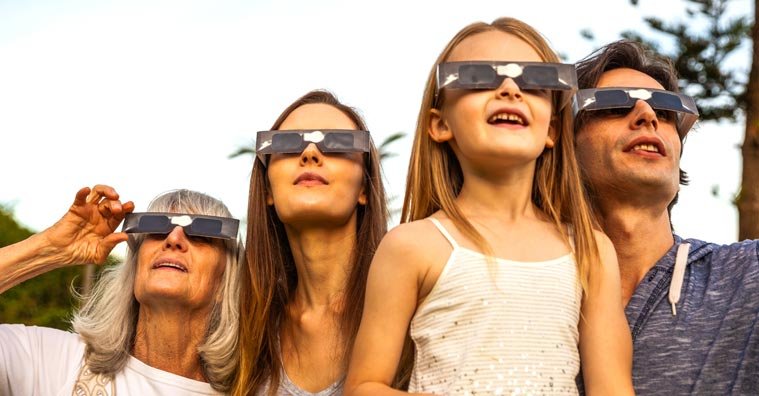 The Better Business Bureau has issued a warning about scams taking advantage of the solar eclipse on August 21. More specifically, the BBB has begun to see reports in BBB Scam Tracker of eclipse-related cons, with consumers reporting fake solar eclipse glasses and travel scams.
Scammers often capitalize on the buzz surrounding major news events (like Zika virus), according to Katherine Hutt, the BBB national spokesperson.
This includes everything from the presidential election to the latest celebrity scandal. For instance, scammers use the hype to trick victims into making a purchase, opening a message, or clicking a link before they have had time to thoroughly evaluate the offer or situation.
"Scammers are opportunists who take advantage of whatever is going on in the news and in the world," Hutt noted. "The phony and dangerous eclipse glasses are an obvious fraud, but consumers should be prepared for other possible scams as the excitement over the total eclipse escalates this week. BBB's scam tips can help identify all the common tactics scammers use."
The solar eclipse on August 21 will be visible to all of North America, stretching through 13 states from Oregon to South Carolina. In the center of that 70-mile wide path, the total eclipse will last from 2 minutes to 2 minutes and 40 seconds. Outside of this path, observers will see a partial eclipse.
"Big events also mean big opportunities for scammers and unscrupulous businesses," Hutt noted. "With a rare event like this, it is important to plan carefully and to trust your instincts."
While you get ready for the eclipse, the BBB is warning consumers about the following scams associated with this major event.
1. Counterfeit Eclipse Glasses
You should never look directly at the sun, so to view the solar eclipse directly without damage to your eyes, you need special solar filter glasses, which are much more powerful than sunglasses. While sunglasses only block about 50% of the sun's rays, solar filter glasses block more than 99.99%.
Unfortunately, many of the solar glasses available online may be counterfeit or do not meet safety specifications, according to the BBB.
Hutt advises your best bet is to stick with a brand whose glasses are certified by NASA and the American Astronomical Society – AAS. Here is a list of reputable vendors from AAS.
The BBB also offers some additional tips for safe viewing:
Regular sunglasses, even very dark sunglasses, are not enough.

Warn children of the danger in viewing the eclipse without protective eyewear.

Do not look at the uneclipsed or partially eclipsed sun through an unfiltered camera, telescope, binoculars, or other optical devices.

Do not look at the sun through a camera, a telescope, binoculars, or any other optical device while using your eclipse glasses or hand-held solar viewer – the concentrated solar rays will damage the filter and enter your eye(s), causing serious injury.

If the filters on your eclipse glasses are torn, scratched, punctured or coming loose from their cardboard or plastic frames, discard them.

Read more about viewing the solar eclipse safely here.
If you are unable to get glasses, one way of indirectly observing the eclipse is by using a pinhole projector. NASA has instructions on how to do this, as well as files to print out and use, here.
Additionally, be careful if you attend a solar eclipse event, and want to buy the glasses on site, said Detective Tim Lohman, who solves forgery, fraud and financial crimes in southern California.
"Let's say you're at this event, be leery of people trying to sell you something that may not have a license to do so," Lohman advised. "They could be selling you a bogus product. Street vendors might be walking around selling eclipse glasses, but we don't know where they got those from and we don't even know if they're approved. So watch out for the in-person scam on the day of the event."
In the worst case scenario, if you fall for an in-person scam and buy bogus eclipse glasses, "they could be no good, and do more damage to your eyes because they're not the UV protected ones," Lohman said.
2. Hotel-Booking Scams
If you're looking for a place to stay during the eclipse, be careful if you're booking online through a third-party site. Check with BBB.org to see what previous customers' experiences have been.
"Make sure to correspond within the website or app and not through other means," Hutt advised.
Additionally, always double check that a listing is on the real website and emails are coming from official addresses.
"Using a credit card offers the best fraud protection," Hutt noted. "Don't deal with anyone who asks for payment outside of the platform's approved options."
There have been reports of travelers who booked hotels for the eclipse long in advance – before it was widely publicized – only to see their reservations canceled or moved to hotels far from viewing spots.
"Some of the original rooms are then offered again at a much higher rate," Hutt said. "If you are traveling out of town for the eclipse and have a hotel booked, make sure you double-check your reservations before heading out."
If you make a reservation, make sure it's made through a reputable company, Detective Lohman advised.
"Avoid trying to book things on Craigslist or other free websites," he said. "You've got AAA and independently owned travel agencies that would probably be your best bet to avoid travel scams online."
3. Event Scams
Cities are holding eclipse festivals with both free events and VIP viewing parties. Scammers may set up fake events or charge people for access to free public parties.
The BBB provides the following tips for avoiding summer festival scams, which can also help you separate real eclipse events from fake ones:
Research the festival. Search online for the festival and make sure the name advertised matches the website. Scammers often use names that sound similar to real festivals. Also, check BBB Scam Tracker to see if reports have been filed about the event.

Look for (working) contact information. Check the official website for a phone number, physical address and email address. Be wary of sites that rely on a contact form instead of offering a customer service phone number. Contact forms make it hard to reach someone from the company.

Avoid too good to be true prices. There is no way a festival can offer tickets at extremely low prices without losing money. If the prices are much lower than elsewhere, it's likely a scam.

Double check with other sources. If a music festival offers top entertainment, check out those bands' actual touring schedule. See what other users or news outlets have said about the festival in the past.
Additionally, NASA has information on many events here.
4. Bus Scams
Traffic will likely be very heavy on any road between a major city and the eclipse path. A bus might sound like a great option, but be careful you don't make a reservation only to end up without transportation, the BBB warns.
Make sure you deal directly with a bus or limo company to avoid scammers using a legitimate business as a front. Go to BBB.org to look for Accredited Businesses and read reviews and complaints before you book.
The Bottom Line on Solar Eclipse Scams
If you're going to buy anything online associated with the solar eclipse on August 21, make your purchase from a reputable company, and make sure the website is secure before making a purchase, Detective Lohman advised.
One way to make sure the site is secure is by checking the website address, which should begin with https in the address bar.
"The 's' in the https stands for secure, so make sure it says that," Detective Lohman noted. "If you're buying anything online, just look up the address bar and make sure the 's' is attached to the http. People should keep this in mind – it's that extra sense of security."
See Also: How to Tell If an Online Store Is Legit: 11 Steps to Check Any Website
This month's eclipse may be a rare chance to see an extraordinary astronomical event right in your backyard, Hutt said.
"That urgency and unique opportunity are what can make scams successful," Hutt warned. "Remember to do your research and always trust your instincts – if something seems too good to be true, it probably is."
If you believe you are the victim of a scam related to the eclipse, you can go to BBB.org/scamtracker to file a scam report.