Expert Guide to Cryotherapy: Uses, Potential Benefits and Clinical Studies
A non-medical treatment, cryotherapy involves the use of super-cold temperatures that can potentially diminish pain, rejuvenate the skin, and improve mood. Experts discuss the possible benefits.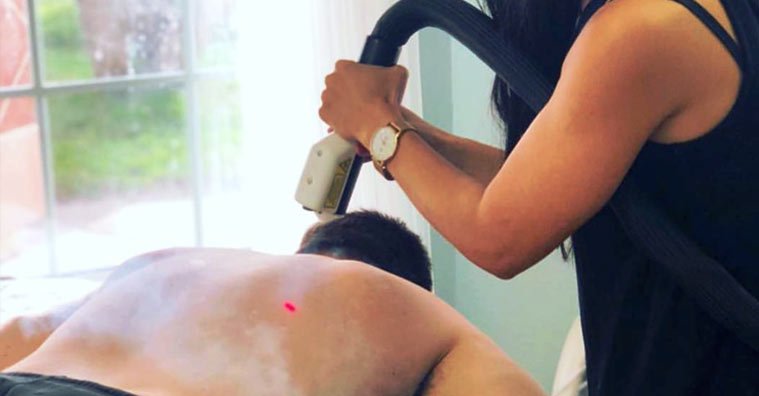 Image: Cryo Wellness Spa
Cryotherapy, a non-medical treatment that involves the use of super-cold temperatures, is claimed to offer numerous benefits, including diminishing chronic pain and inflammation, reducing headaches, detoxifying the skin, and cell rejuvenation.
This guide takes a deeper look at cryotherapy so you can decide if this treatment is right for you. We've obtained input from several experts for this topic, including owners of cryotherapy spas, an executive director of Integrated Sports Medicine; as well as testimonials from individuals who have reaped positive results from cryotherapy.
It's important to keep in mind that this information is not intended as medical advice. Before you decide to try cryotherapy, talk to your doctor or medical provider, first.
History and Current Popularity of Cryotherapy
A non-medical treatment, cryotherapy has been around for more than two decades, first starting in Japan in the 1970s and Europe, according to Candice Wright, owner of the Cryo Wellness Spa located in Oxnard, California.
In the United States, it is fairly new and has been around for approximately seven years, she said.
"Cryotherapy is rapidly growing," said Wright, who studied cryotherapy and trained with the original doctor and company from Europe that brought cryotherapy to the U.S.
Cryo spots are popping up left and right, she said, and has the local community as well as celebrities and famous athletes raving about it.
"Why? Because it works, it feels amazing and it's soothing, whether it's for skincare or pain," Wright emphasized. "People feel and see results and walk away with an overall sense of well-being and cryo glow."
Cryotherapy is growing in popularity for the simple fact that it is a non-invasive way to aide in problems like pain, fatigue, and chronic inflammation, said Dr. Beau Daniels, DC, co-founder and executive director of Integrated Sports Medicine at Sports Academy in Southern California.
"Cryotherapy is extremely time efficient and appeals to clients that have very busy schedules," said Dr. Daniels, who is also the co-founder of Body Dynamix Integrated Sports Medicine.
He further noted that "we recognize there is a lack of definitive research on the efficacy of cryotherapy."
"However, the risk to benefit ratio is in line with our philosophy," Dr. Daniels said. "Our clientele love cryotherapy and state regularly that they feel energized and have less pain post session."
Cryotherapy Uses and How It Works
Wright explained that cryotherapy at her spa involves the use of vaporized nitrogen that's administered on various parts of the face and body at a cooling temperature of minus 240 degrees.
"While that is definitely cold, it actually feels very refreshing and soothing whether you are searching for pain relief or corrective skincare benefits or possibly both like most of our clients," Wright said.
At her spa, Wright administers cryotherapy for:
Corrective skincare
Arthritis conditions
Carpal tunnel
Individuals recovering from surgery
Athletes in pain from working out
People suffering from chronic pain
When used for pain relief, on the back or knees for example, this stream of cold nitrogen reduces inflammation, speeds up injury recovery time, drops the body's internal temperature to improve mobility, and gives relief from sore or aching muscles, Wright said.
When used for anti-aging or corrective skincare, she said the cold detoxifies the skin, and brings things to the surface that may be lying dormant underneath. This helps clear and rid the skin of toxins, while also tightening and brightening.
"It's great for around the eyes and tightening the neck, our clients' favorite areas," said Wright, adding that cryotherapy also promotes collagen and smooth skin texture, and also helps fade hyperpigmentation – otherwise known as sunspots.
"We also offer hand rejuvenation which helps lighten sun spots on hands, smooth the skin texture," said Wright, noting that using cryotherapy on the hands can also reduce painful arthritis symptoms or carpal tunnel.
Additionally, when used on the scalp, it helps reduce headache symptoms and stimulates hair growth, "and overall feels soothing and refreshing," Wright said.
What Does a Cryotherapy Treatment Involve?
At Wright's spa, a cryotherapy treatment typically involves 10 minutes for a facial or localized pain relief. The client is lying down as the cold is administered to the targeted area.
"There is no downtime afterward, and most clients feel relief the second we're done; and for corrective skincare, they see a tighter, brighter, glow," Wright said.
Depending on the pain or corrective skincare treatment you are after, "we recommend 3 to 5 treatments close together, then maintenance for skincare no sooner than weekly; and for pain, as often as you would like," Wright noted.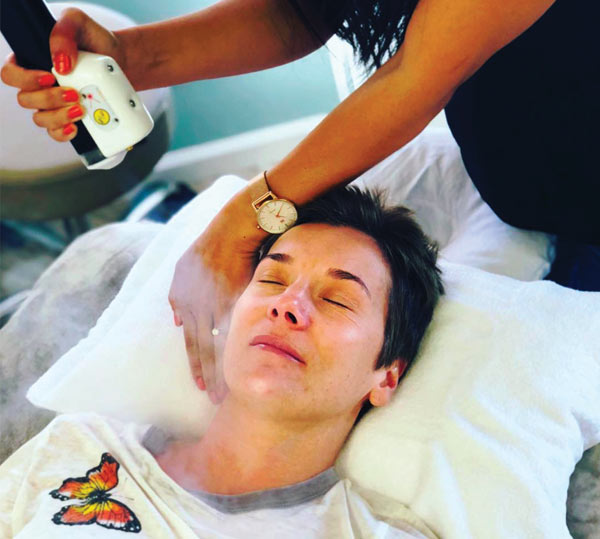 Image: Cryo Wellness Spa
As far as any preparation on behalf of the client is concerned, "we like to have people come in with clean skin for the corrective skincare treatment but it is not required it can even be done with makeup on," she said.
If it is a pain treatment, "just make sure you're in comfortable clothes so we can access the area," Wright advised, "or you can change in one of our robes or wraps and get comfortable."
Cryo Chamber
At Sports Academy, treatments for the entire body – also known as Whole-Body Cryotherapy – are administered through what's called a Cryo Chamber. Once an individual enters, gas from nitrogen lowers the skin's top layer to about 40 degrees Fahrenheit, while the chamber temperatures drop to a range of minus 200 degrees to minus 260 degrees.
While immersed in extreme cold, during two to three minutes, the brain stimulates the body's organ regulatory functions, which can potentially result with the following:
Increased energy
Cell rejuvenation
Immune system boost
Overall system self-healing
Is Cryotherapy Effective?
Wright claims that Cryotherapy is very effective, "and most people see or feel results right away."
In a study entitled "Whole-body cryotherapy: empirical evidence and theoretical perspectives" published by the U.S. National Library of Medicine National Institutes of Health, a series of small randomized studies found that whole-body cryotherapy offers improvements in subjective recovery and muscle soreness following metabolic or mechanical overload – "but little benefit towards functional recovery."
The study stated that until further research is available, athletes should remain cognizant that less expensive modes of cryotherapy, such as local ice-pack application or cold-water immersion, offer comparable physiological and clinical effects to whole-body cryotherapy.
This research also noted that controlled studies suggest that whole-body cryotherapy could have a positive influence on inflammatory mediators, antioxidant capacity, and autonomic function during sporting recovery.
"However, these findings are preliminary," according to the study. "Although there is some evidence that (whole-body cryotherapy) improves the perception of recovery and soreness after various sports and exercise, this does not seem to translate into enhanced functional recovery."
Clinical Studies of Local Cryotherapy and Whole-Body Cryotherapy
The following information was culled from a study by Reinhard Fricke on Local Cryotherapy and Whole-Body Cryotherapy. In 1984, Professor Fricke, a German Rheumatologist, brought Whole-Body Cryotherapy to Europe, where it became increasingly popular.
For clarification, local cryotherapy can be administered through methods including ice in a closed plastic bag; cold packs; and nitrogen cold gas. Whole-Body Cryotherapy involves immersing the body inside a chamber to a desired temperature of –110°C and –160°C.
The following findings were noted:
Local Cryotherapy:
Relieving muscle spasms: Intense local cryotherapy may relieve excessive tonicity (muscle tensions.) In the case of pain in the lower region of the back, this is possible simply by local application of ice bags. An even faster effect can be obtained by a cold air stream applied locally for half a minute.

Muscle activation: With lack of muscle tone, cooling may have a stimulating and activating effect. A temporary short-term cooling may result in a higher initial muscle tone which allows subsequent physiotherapeutic treatment, thus strengthening the musculature with a greater stimulating effect

Pain relieving effect: Cold has a pain relieving, analgesic effect. After a decrease of the skin temperature, nociceptors (a sensory receptor for painful stimuli) are blocked; thus creating a connection to the sensitive periarticular (situated or occurring around a joint of the body) nerves.

Decongesting effect: Analog to bodies contracting under the influence of cold, a decongesting effect may be obtained simply by cooling in tissues which are swollen due to water retention. At the same time, the edema (abnormal accumulation of fluid in certain tissues within the body) which was caused by an inflammation is dissipated via the lymphatic system. In addition, it reduces edemas caused by traumatic lesions.
Whole-Body Cryotherapy
Analgesic effect: After approximately 30 seconds, children and adults (1/2 to 83 years of age) experience a pain-blocking effect. It becomes easier to move the joints and the therapeutic effect lasts a minimum of three hours.

Functional improvement: Directly after treatment in the cold chamber, a significant functional improvement in all joints affected by chronic polyarthritis (any type of arthritis that involves five or more joints simultaneously) or ankylosing spondylitis (a form of arthritis that primarily affects the spine) is evidenced. A significant functional improvement in some parameters has also been observed following the three hours after cryotherapy in which physiotherapy had been performed.
Whole-Body Cryotherapy Effect on Mental Health
A study published by the U.S. National Library of Medicine National Institutes of Health, entitled "The influence of whole-body cryotherapy on mental health," noted the following observations of patients' behavior after passing the cryogenic chamber.
According to the study, short exposition to extreme cold has "doubtless a profitable influence" on frame of mind.
Immediately after passing the cryogenic chamber, apart from the well-known analgesic effect, changes were detected in patients' mental state, such as:
Improvement of mood
Deep relaxation
Freshening up
Consolation
Euphoria
"This unusual state lasts for a long time after ending the cycle of cryotherapy," the study indicated.
Whole-Body Cryotherapy Effect Rehabilitation of Patients with Rheumatoid Diseases
A pilot study on whole-body cryotherapy in the rehabilitation of those with rheumatoid diseases showed that the pain level after application decreases significantly – with the pain reduction lasting about 90 minutes.
The purpose of this study, published by the U.S. National Library of Medicine National Institutes of Health, was to test whether significant pain relief could be achieved by means of this cold therapy.
This pilot study consisted of 120 patients suffering from primary fibromyalgia, rheumatoid arthritis, chronic low back pain, ankylosing spondylitis, osteoarthritis, secondary fibromyalgia, and other autoimmune diseases.
These patients were treated 2.5 minutes on average in the main chamber, with a mean temperature of -105 degrees C.
Findings showed the initial pain level decreases during the whole time of treatment; however, no significant improvement can be shown from the middle to the end of the four-week-long treatment.
The results noted that there is evidence that the whole-body cold therapy "generates important short-term effects and somewhat weaker effects over the treatment period as a whole."
It also stated that the treatment procedure is practicable, "and all in all well tolerated. From the patients' point of view, whole-body cold therapy is an essential part of the rehabilitation program."
First-Hand Testimonials of Cryotherapy Benefits
Before Alfredo Acle opened Ventura Cryotherapy in Southern California, he had undergone back surgery in 2010 and tried cold therapy alone with modalities such as ice packs.
"I had a herniated disc and it got to the point where I would lose control of my lower extremities for up to three weeks at a time – it was definitely ruining my life," recalled Acle, 37. "So it pushed me to do more studies about my body."
Dealing with his own pain led to his exploration of different therapies, such as ergonomic exercises, traction and chiropractics.
"Someone told me about cryotherapy about three years ago so I decided to give it a shot," he said. "It helped me a lot. My muscles relaxed and spasms were fading away. I was sleeping better and my restless legs definitely calmed down."
The cryotherapy made such a big difference in his life, he opened Ventura Cryotherapy in late 2017 and has since received a wealth of positive feedback from his clients who've experienced the same.
"The list of benefits is huge," said Acle.
One particular client, a 55-year-old woman who was suffering from inflammation and had to use a cane, tried pretty much everything to alleviate her pain.
"She started doing cryotherapy four times a week," Acle said. After three weeks, the woman accidentally left her cane in the restroom after a session.
"She was feeling so good, and her mobility was so great after her session, she forgot her cane here," he said. With other clients, "some have cried because of how good they feel. And people have come back and told me they've been pain-free for a week when they haven't been pain-free in years."
Ventura Cryotherapy has received rave reviews on Yelp, with one reviewer first stating "it was the coldest 2.5 minutes of my life."
"When I got there I had a mild tension headache starting, afterwards the headache was just gone," wrote Vi S., who gave Ventura Cryotherapy a rating of five out of five stars.
"The rush of endorphins was pleasant," she wrote. "I will say that the tendinitis in my hand does not hurt as much…and neither does my back or neck."
Another reviewer who gave Ventura Cryotherapy five stars stated that she noticed "a significant decrease" in inflammation after the first treatment.
"I've also noticed that the eczema in my hands has decreased – the results lasted about 4 to 5 days with no use of my daily steroid cream," wrote Emy A.
"Alfredo also does localized cryotherapy – I had surgery on my knee almost 30 years ago, and I occasionally have pain in my knee," she stated. "He did a treatment on that knee, and it was pain-free until my next whole body cryotherapy treatment over a week later."
She also underwent a cryofacial with the use of a localized cryotherapy instrument at Ventura Cryotherapy.
"That was an amazing finish to a whole body cryotherapy treatment," she stated. "I find that whole body cryotherapy also makes me feel happier and more calm; and that my skin looks and feels much better."
Cryotherapy Costs and What You Get for the Price
To give you an idea of how much cryotherapy costs, the following prices are what Wright charges at Cryo Wellness Spa in Oxnard, California, and what she says clients can expect from each:
Cryofacial $45: This 10- to 15-minute treatment, which involves directing a beam of vaporized nitrogen on the neck and face, can help shrink pores, increase blood flow, detoxify cells, deliver oxygen and nutrients, alleviate blemishes, and tighten skin.

Cryo Spot Treatment $45: This treatment, which varies from 5 to 10 minutes per session, is considered ideal for people with sore knees; as well as people with tight shoulders, neck or back. It can also help speed up recovery time for athletic injuries. Other benefits can include reducing inflammation in the muscles and increasing overall mobility.
"The price is $45 just about anywhere," Wright said. "But there are always ways to save with packages, such as 10 for $350. Most of my clients do a round of 10 at a time and then keep purchasing packages of 10 when they run out."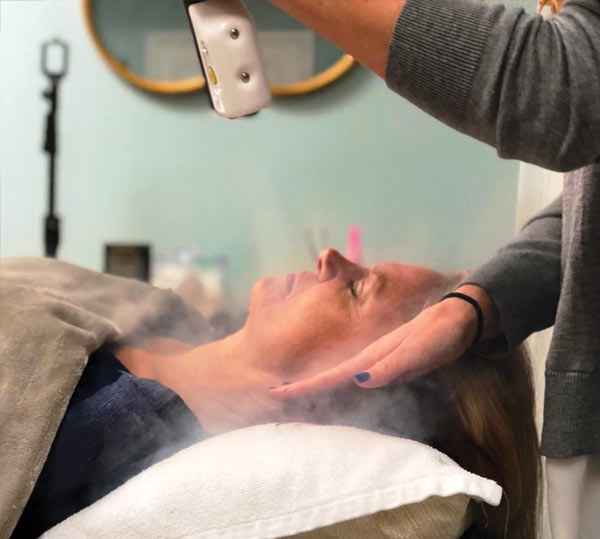 Image: Cryo Wellness Spa
As a comparison, Cryo Healthcare, which has offices in Southern California and New York, charges $65 for a single Whole-Body Cryotherapy treatment, with a $45 special for first-timers. Localized cryotherapy treatments cost $45 per area and a single treatment cryofacial costs $45.
Cryo Healthcare also offers discounts for those who buy packages. For instance, a package of three Whole-Body Cryotherapy treatments costs $175; a package of five localized cryotherapy treatments cost $200; and a package of five cryofacials costs $200.
Who Should Avoid Cryotherapy?
Anybody can do cryotherapy, Wright said, with a few exceptions. People who should avoid cryotherapy include:
Those who use a defibrillator
Individuals with cold allergies
People who are susceptible to cold-induced asthma
Pregnant women
As far as any potential risks are involved, "there's no risk, other than if you did it for too long, but that would be an error on the technician's part, not the client," Wright noted.
Tips for Finding a Cryotherapy Provider
Those seeking a provider of cryotherapy can tap into the internet for research, Wright said, "but of course, our recommendations are to get a referral by word of mouth."
If you're doing research online, make sure it is a true cryotherapy facility to ensure you're getting the best results possible, she further advised.
"There are a lot of knock off machines unfortunately, and the temperature does not get as cold as the original, and the results are not the same," Wright said. "Be aware that there are knock-off machines without the same results; and educate yourself on the history of cryotherapy, especially if you're in the U.S."
Final Thoughts
When Wright first heard about cryotherapy over a year ago and tried it herself, she knew she had to bring it to her existing clients and community at large.
"With a background in healthcare in the past of working long nursing and medical tech shifts, I've seen the world of pills and medications," said Wright, who is now focused on corrective skincare and wellness, "which cryotherapy fits right into – with so many more benefits instead of pain pills."
If you've never experienced or tried cryotherapy, "just do it…it's amazing," Wright advised.
Any person or athlete who is looking for a time-sensitive boost of energy, or a way to recover faster, can benefit from cryotherapy, Dr. Daniels added.
"Our clients use it regularly for issues such as jet-lag, chronic inflammation, chronic fatigue, recovery, and pain," he said.
» Read more we've written on related topics: