Exposing the Widespread Scam of Trial-Based Anti-Aging Wrinkle Creams
The scam of trial-based anti-aging wrinkle creams has become increasingly popular. Here, we'll talk about what it is, who's behind it, and how you can avoid it.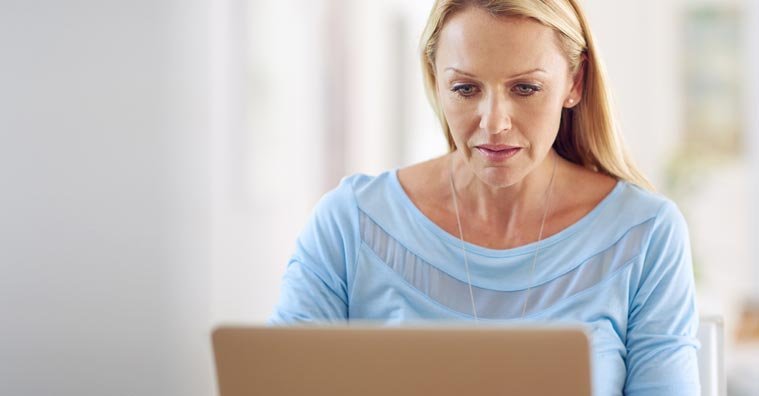 Since time immemorial, humans have fantasized about discovering a simple solution to turning back the hands of time.
Today, many people are ready to pay a hefty sum of money to make themselves look younger. In 2013 alone, anti-aging products and services made up a $261 billion industry, which was "up from $162 billion just five years ago." Clearly, millions of people are on the quest to turn back the hands of time.
However, on the way to finding a product that actually works, it's easy to be coerced "off the path" and into the dark underworld of the anti-aging industry, where any semblance of ethical business practices are thrown out the window, and where scams abound. This is the seedy world of trial-based anti-aging wrinkle cream scams and it is what we'll uncover in this article.
What Are Trial-Based Anti-Aging Wrinkle Creams?
Despite how it might seem, the vast majority of anti-aging products available on the market today are manufactured by legitimate companies who invest millions of dollars into the research, testing, and marketing.
Sure, their products could be considered expensive, but in many instances, these companies are household names within the beauty industry, and have many decades in the business, along with a well-earned reputation for quality.
"They said free trial, just 4.95 one time payment... Trying to cancel but to no avail. They keep charging 89.15. I need help." –Magda R.
On the other hand, there are the trial-based, online-only anti-aging products that will be the focus of this article. In stark contrast to the previous example, these products are:
Sold only online.
Sold only through free trials and subsequent autoship programs.
Priced very high.
Claimed to provide "miraculous" benefits with little to no clinical evidence to back them up.
Shrouded in mystery. There's often very little (if any) information available about the companies who make them.
Riddled with customer complaints.
Here at HighYa, we've written about hundreds of trial-based anti-aging serums. We have also received over 4,000 consumer reviews of these products. In this guide, we will use what we have learned to expose the widespread scam of anti-aging wrinkle creams. We'll outline how this segment of the skincare industry operates and how you can avoid falling victim.
With this in mind, let's take a brief look at how this scam works:
For more consumer tips: Click here to subscribe to HighYa's YouTube channel
How Wrinkle Cream Scam Sucks You In
Obviously, the defining characteristics of trial-based anti-aging products are that they're sold only online and only through "free" trials. So let's examine how the process works so that you can recognize it the next time you encounter one:
The Setup
Imagine that you're surfing online when you see an advertisement for a product that promises to help you look 10 years younger in just 30 days. Intrigued, you click on the ad and are taken to a site where you're repeatedly told how wonderful and revolutionary this product is, but that it's so popular the manufacturer is having difficulty keeping it in stock.
However, you find out that you can try the product before you commit to an expensive purchase by signing up for a trial. Immediately, you think to yourself, "Hey, why not give this product a try? After all, it's free right? And tons of other people seem interested, so what do I have to lose?"
As it turns out, nothing in life comes for free—especially not these anti-aging products, and you might lose a whole lot of money in the process.
The Catch
First, the product's trial will last only for a short time, often for 14 days, for which you'll initially be charged $4.95 (or a similar amount). These trials almost always begin on the date your order is placed, and the product will typically arrive at your door within 4-5 business days. This means that by the time you receive your anti-aging product, you might have less than a week to give it a try before being required to cancel.
And if you don't cancel before the 14th day, the manufacturer will charge you full price, which is frequently in the $90 to $100 dollar range. At this same time, you'll be enrolled in the company's autoship program, which means you'll continue receiving a regular supply of the anti-aging product (e.g. once every 30 days) and your credit card will be charged accordingly each time.
But here's the catch: If manufacturers made this process perfectly clear before you handed over your credit card number, it probably wouldn't be that big of a deal. However, these companies do the exact opposite and reveal this information only in discreet areas with very small, hard to read text. In most instances, this information is only found buried deep within the Terms & Conditions.

An example of fine print outlining the trial's details. Screenshot taken directly from the Nuvie Skin Care (now Jivam) website.
What to Do: If you're considering signing up for a trial-based anti-aging product, read the fine print underneath the section where you enter your credit card information. If you don't find anything there, locate the product's Terms & Conditions (often found in a link at the bottom of the home page, or on the product's ordering screen) and search for the term "trial" by pressing Ctrl +F on your PC (or Cmd + F on your Mac). This should take you directly to the section you're looking for.
Marketing Tactics That Are Commonly Used in the Anti-Aging Wrinkle Cream Scams
Today, as a whole, consumers are more informed about the products and services they purchase than at any other point in history. The companies selling these trial-based products know this and will often resort to one or more of the following underhanded marketing tactics to convince you to buy:
Fake Legitimacy
Anti-aging scam websites will frequently claim that their trial-based products have appeared in large, reputable publications or on national TV networks in an apparent attempt to make them seem credible—or to make it seem that they're so revolutionary that the media simply can't ignore them.

Trial-based anti-aging products are almost never featured in any of the publications or networks that their manufacturers claim.
Sometimes, these companies indicate that only their ads appeared in these publications or networks (as in the example above), although they also frequently claim to have been featured in them as well.
Regardless of what they claim, it's almost always the case that there's no third-party verification showing these products appeared in these publications or on these networks, whether as an advertisement or a feature. In other words, they are lies intended to make you think the product is legitimate.
What to Do: To find out if a trial-based anti-aging product has appeared in popular publications or on national networks, type "[product name] + [network or publication name]" into your favorite search engine. If the only results are for sites selling the product, this is a very good indication that their claims are false.
Fake Articles & Fake Celebrity Endorsements
Speaking of publications, many trial-based anti-aging serums websites will post fake news articles that appear to come from legitimate sources, and which often claim that celebrities are lining up to try their products.
An example of a fake news article featuring fake celebrity endorsements from the trial-based product Rejuv ES.
However, as with the claims in the previous section, there is no independent verification that the celebrities cited in these "articles" have used (or even heard of) these products.
What to Do: If a trial-based anti-aging product claims to be promoted by a celebrity, type "[product name] celebrity endorsement" into your favorite search engine and glance at the results. Note: If you have a specific celebrity's name, even better. Simply type in "[celebrity name] + [product name]" and see what results appear.
If you find that all of the results contain links selling the product you're researching, you can rest assured that the news articles and celebrity endorsements are fake.
Fake Customer Reviews
Traditional advertising methods, such as TV and radio commercials, are quite expensive and are often far outside the budgets of many anti-aging products companies. Because of this, these companies will almost always enlist the help of independent affiliates who earn a commission from each product sale they refer.
Because these affiliates are not directly associated with the companies whose products they're promoting though, they'll often resort to some less-than-stellar advertising techniques, the most popular of which is creating fake customer review websites. These sites are intended to make you think that you're reading a legitimate customer review about an anti-aging product when it's actually just more marketing hype.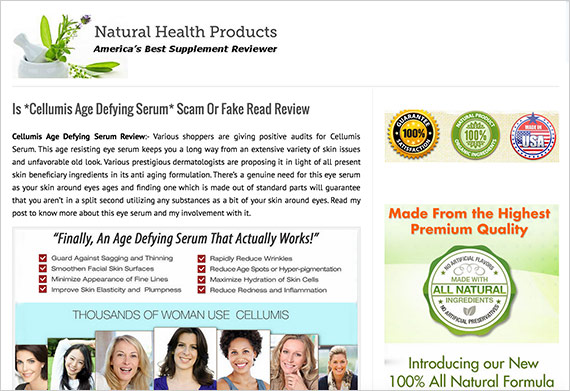 An example of a fake review website for Cellumis. Note the many grammatical errors.
What to Do: When searching for reviews about a trial-based anti-aging serum you're thinking about purchasing, look for spelling and grammatical errors, as well as sentences that don't make sense. If you see too many of these errors, it could be a strong indication that it's a fake review intended to mislead instead of inform.
Also, if each of these "reviews" contains a link where you can purchase the product, this is also a good indication that they're fake and created by affiliates.
Fake Clinical Results
The people behind trial-based anti-aging products understand that you crave proof showing their products work as advertised, so they're more than happy to present you with pretty charts and graphs, and numbers galore. However, many times these statistics or "clinical results" are simply made up and have no basis in reality.
BeauDerma is claimed to have produced these results, although no clinical references or citations are provided on the product's website.
What to Do: If you find that a manufacturer continuously claims that their anti-aging product is clinically proven, or you consistently come across images that claim to reflect clinical results, look for citations directly next to these claims. Or, scroll down to the bottom of the product's website and look for a link that reads something along the lines of "clinical trial." If you don't find either of these, it could be an indication that these claims are mistruths.
Fake Before and After Images
In fact, even when many of these manufacturers do actually provide "evidence" (e.g. before and after images) that their trial-based anti-aging products work, it's often just another underhanded marketing tactic that shows how far they'll go in order to make you believe that their products will provide you with the benefits they claim.
This is because these pictures are often the exact same image, with the after pic digitally enhanced to make it appear that it provides anti-aging benefits.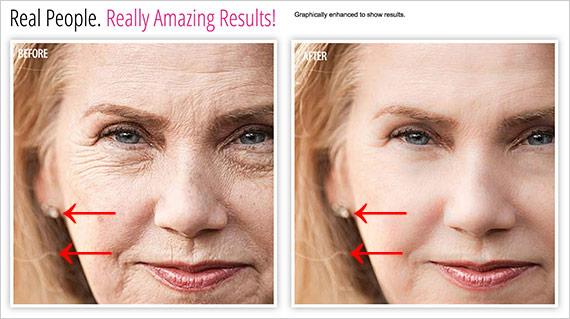 An example of before and after pictures that are clearly the same image. Taken from the Nuvie Skin Care website.
What to Do: If you compare key sections of these before and after images—such as framing, hair placement, eye position, and any other prominent features, such as earrings—and find them to be identical, this is a sure sign that they're the same image.
Who Makes All These Trial-Based Anti-Aging Wrinkle Creams?
As you might imagine, based on everything we've discussed up to this point, many of the companies behind these trial-based anti-aging products like to remain as discreet as possible, and to reveal very little (if any) information about themselves. Because of this, it can often be difficult to find out:
Who manufactures these products.
Where they're manufactured and under what conditions.
What ingredients they contain.
Why they're so expensive.
What the company's history is, and what their online reputation is like with customers.
There's often very little information available about these companies online, other than directly related to the product you're researching. In fact, even when these companies are pulled out of the shadows and listed on mainstream websites such as the Better Business Bureau, they often purposely don't respond to complaints.
Think about it this way: Since we don't know much (or anything) about the companies who make these products, what ingredients they contain, or the amount of these ingredients—in addition to all the other less-than-stellar practices they employ—is this really something you want to put on your skin? Almost certainly not.
The Names of These Anti-Aging Wrinkle Creams Are Constantly Changing
Although we might not always be informed about the companies behind these trial-only anti-aging products, based on our extensive experience reviewing them, we've found that many of their websites are nearly identical:
Here, you can clearly see that these websites are nearly identical to one another, which is very common among trial-based anti-aging products.
In our opinion, while we always like to give manufacturers the benefit of the doubt, these are probably the same product from the same companies, just branded differently.
This is because we've found that many of these anti-aging manufacturers will simply change the name of their trial-based product once the word gets out that they're a scam, and then they're on to steal the hard-earned money of thousands of other consumers. And the process repeats itself over and over again.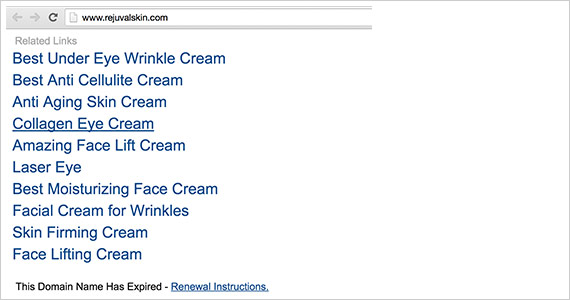 It looks like Rejuval Skin's website has been shut down and the manufacturer has moved on to its next product.
What Are Consumers Saying About These Online Anti-Aging Wrinkle Creams?
Based on all of the information above, it shouldn't come as a surprise that many of these trial-based anti-aging products have very low online reputations with customers. In fact, between all the trial-based anti-aging products we've reviewed here at HighYa, the average reader rating is just 1-star, with common complaints citing:
Failure to work as advertised. Some consumers have also complained of negative reactions, such as redness, hives, over-drying of skin, and painful bumps.

Difficulty canceling trials. As we noted at the beginning of this article, by the time you receive your anti-aging product, you may have only a couple days to try it out before needing to cancel your trial, which isn't realistic. On top of this, the company may be very difficult to reach, and even if you do reach someone, customer service personnel may be rude and give you the runaround and make it as difficult as possible to cancel before you're charged full price.

High prices that are far out of line with any benefits you can realistically expect to achieve.

Unknowing enrollment in autoship programs. We've read countless reviews claiming that customers racked up hundreds (or even thousands) of dollars in credit card bills before figuring out what was going on.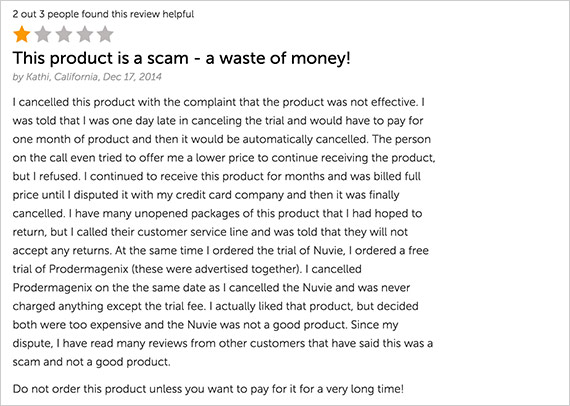 Customer reviews for trial-based anti-aging products are rarely positive.
The Role of Poor Customer Service
Although we mentioned it above, the customer service (or lack thereof) provided by many of these anti-aging product companies is so deplorable that we feel it's important to reiterate it again in its own section.
The reality is that many of these companies provide only a thin veneer of customer service once the sale is complete, which often simply amounts to someone picking up your call and then repeatedly making it as difficult as possible to cancel your trial or process a refund. As such, if you're expecting some kind of support in the (very likely) instance you're dissatisfied with the product, you're almost certainly bound for disappointment.
» RELATED: How to Stop Unauthorized Automatic Payments After a Free Trial
However, the sad fact of the matter is that this is all part of the manufacturer's plan, and goes hand-in-hand with their other tactics. After all, they're only concerned with making the sale; everything else is secondary.
Why Aren't These Companies Being Stopped?
If you consider all the strikes against these trial-based anti-aging companies, you might wonder, "Why aren't they being stopped? Why doesn't someone step in and do something about it?" Great questions.
The next time you're researching one of these products, scroll down to the bottom of their website and you'll likely find text that reads something similar to the following:
"The statements made on this website have not been evaluated by the Food & Drug Administration (FDA). [Product] is not intended to diagnose, prevent, treat, or cure any disease(s). Representations regarding the efficacy and safety of [product] have not been scientifically substantiated or evaluated by the Food and Drug Administration."
Despite their grandiose claims, anti-aging products like these are basically classified as supplements, versus drugs. And as we detailed in our Nutritional Supplements Buyer's Guide, supplement manufacturers are not required to seek FDA approval for their products before releasing them to the public. In fact, the government only gets involved after enough consumer complaints have amassed. Even then, by the time the company has been subjected to the legal process, they're often already on to their next product (as we outlined in the section above).
The good news is that consumer advocacy organizations like HighYa are hot on the tails of these trial-based anti-aging products, and are intent on getting the word out to as many as people as possible before falling prey to these crooks.
» SEE ALSO: How to Get Your Money Back If You Were Scammed Online
The Bottom Line About Trial-Based Anti-Aging Wrinkle Creams
To summarize, what have we learned about these anti-aging products in this article?
Their free trials are all but guaranteed to charge you full price for the product, which will almost certainly be far out of line with any benefits they provide.

These companies will use underhanded marketing tactics to convince you to buy, such as creating fake customer reviews, sham celebrity endorsements, and bogus news articles.

Manufacturers very often make grandiose claims without backing them up without so much as a shred of clinical evidence.

Their subsequent autoship programs are intended to lock you into recurring shipments and to rack up as many charges as possible.
So where does this leave you?
Here at HighYa, we're on your side. We want to make sure you always have as much information at your fingertips as possible so that you don't waste a cent of your hard-earned money on scams and products that don't work.
With this in mind, based on our research and experience, it's our opinion that if any trial-based anti-aging product has any of the attributes described in this article, it should be avoided altogether.