Extended Auto Warranty Buying Guide: How to Choose the Best Company
With all the different companies and coverage options available, choosing a vehicle service contract can seem overwhelming. We'll make it as simple as 2 steps.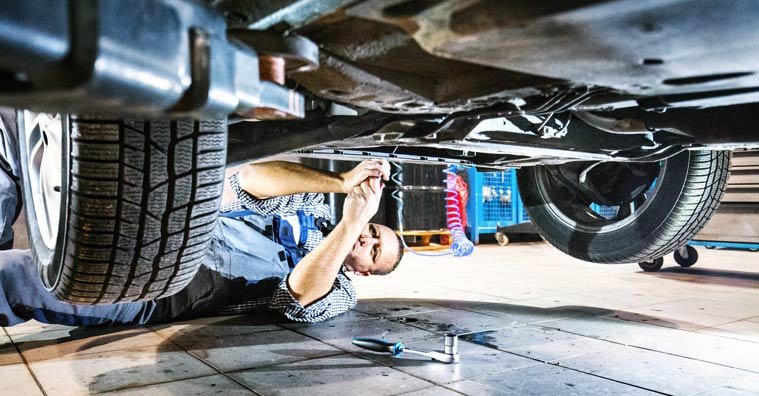 You've decided that an extended auto warranty—also known as a vehicle service contract (VSC) or extended service contract—fits your needs, as well as your budget.
With so many extended auto warranty companies out there, though, how do you decide which one is the best? When shopping around, what factors should you focus on? In this article, we've simplified this complex topic into two core components:
Selecting a VSC company
Choosing a coverage tier
Over the next few minutes, we'll take a closer look at each of these aspects, walk you through fundamental concepts, and help you make an empowered decision.
Part I: What to Look for in a Vehicle Service Contract Company
Which Is Best? Dealership vs. Manufacturer vs. Third-Party Company
According to The Car Coach Lauren Fix, there are three types of sellers involved with extended warranty contracts: "automobile manufacturers, new and used car dealerships, and independent companies" or other third parties. And she points out that each seller comes with their own advantages and disadvantages that are worth keeping in mind:
Manufacturer
Pros: Typically supported by a nationwide, "factory-backed dealer repair network." This means you won't have to worry about haggling regarding repairs, prices, or components.
Cons: Often the highest upfront costs. Also, your local dealer network could be limited.
Dealer
Pros: Typically, lower upfront costs, since you'll "buy the plan and service your car at the same location," she says.
Cons: If they're a single dealership, this could mean there's only one service location. And if they're not able to fix the problem, whom will you call?
Independent
Pros: Usually the lowest cost, "between 30-50 percent less than manufacturer plans, with the most coverage choices and the broadest service network among dealers or local repair shops."
Cons: Coverage provided by repair shops might not be as robust as promised. Also, some companies are "here today, gone tomorrow," she says.
JD Power's Jeff Youngs also notes that extended warranties "offered through the dealership and sponsored by the auto manufacturer tend to be more expensive, but in exchange for their extra cost, the dealer takes care of all the paperwork and the auto manufacturer pays the dealer directly for services rendered."
Also, that "these dealer-provided and OEM-backed warranties usually allow the car owner to get the vehicle repaired at any dealership selling the same brand, anywhere in the country, removing restrictions that are sometimes included with other third-party warranty providers."
It's ultimately your decision which option provides the most relevant advantages. But once you've made a choice, let's move on to other important considerations; namely, reputation.
The Importance of Customer Feedback
The reality is that consumers are more likely to leave a review for a business if they've had a negative experience, versus a positive one. As a result, the word often spreads quickly if a vehicle service contract provider isn't living up to their obligations.
Because of this, a plethora of online customer reviews for any companies you're considering is often no farther away than your nearest search engine. And if you frequently encounter the same negative or positive feedback during your research, this could indicate you're likely to experience much of the same after handing over your hard-earned money.
Also, be sure to look up Better Business Bureau ratings for each party involved in the process (Seller, Administrator, and Re-insurer, when applicable) and apply the same criteria to any feedback you encounter.
Exactly who are these parties, you ask?
Learn the Company's Financial Rating
Vehicle service contracts are insurance policies; you pay money now so that you'll (hopefully) pay less when your car needs repair. And when it comes to these types of insurance policies, there are three main parties involved:
The Customer – You.
The Seller – The company that sells you an extended service contract.
The Administrator – The company responsible for paying any claims filed under your policy.
In many cases, the Seller and the Administrator are the same, although they can also be different entities. Either way, another party—called a re-insurer—also pays the Administrator's claims if they were to go bankrupt due to excessive payouts. Why bring all of this up?
When choosing a company, you'll want to focus on those where the Administrator (as well as the Seller, if they're the same company) and the Re-insurer have solid financial stability ratings from companies like A.M. Best (A- rating or better is recommended) and Standard & Poor.
This is vitally important because if a company can't pay a claim, their vehicle service policies might not be worth much more than the paper on which they're printed. What other criteria might provide insight into what you can expect as a VSC customer?
Ask Yourself: "How Did I Learn About the Company?"
In his experience, Jim Milan of Auto Accessories Garage notes that "the best extended warranty providers are used to being sought out, not the other way around. In other words, if you receive cold calls or bulk mailers telling you your factory warranty might have expired, be wary."
Contact Customer Support & Ask Questions
Before buying a warranty, Jim also recommends calling the provider's customer service line and asking questions to get a feel for how you'll be treated. "If support seems lacking," he says, "you may reconsider the warranty plan."
The Federal Trade Commission suggests something similar: "Test the toll-free number before you buy the contract to see if you can get through easily."
Inquire About the Company's Refund Policy
Like any other purchase, it's also important to only do business with companies that offer a money back guarantee on their extended warranty purchases (as long as no claims were filed); typically within 30 or 60 days. Otherwise, you could find yourself locked into a contract you have no intention of using.
Even with these guidelines to go by, Jim Milan emphasizes that "figuring out if a warranty is worthwhile is a gamble. They often cost somewhere in the neighborhood of $1,000, and studies show that only half of buyers end up using them. However, the people who do use their extended warranties tend to use them several times."
When (and if) you need to file a claim under your VSC, what are some tips for selecting the appropriate coverage options?
Part II: How to Make Sure Your Vehicle Service Contract Provides Enough Coverage
To Jim's last point, any insurance policy is supposed to make you financially 'whole' in the event of a loss (i.e., your car needs repair). But in order to accomplish this, you first need to understand what level of coverage is suitable based your specific circumstances.
Vehicle Service Contract Eligibility Basics
Whether or not your vehicle qualifies in the first place will vary by company.
As when deciding if you need an extended warranty, though, factors like the make and model, whether or not the vehicle is financed, where (and how) it's driven, and how long you plan to keep it can all play a big role in eligibility.
AutoCheatSheet.com adds that "Some warranty providers will not cover certain vehicles, such as salvage or branded titles, police vehicles, lemon law vehicles, gray market vehicles, trucks over a ton, and vehicles used as taxis."
Finally, even if your vehicle's engine, drivetrain, title status, and engine qualify, many providers stipulate the length of coverage based on mileage (e.g., 24 mos/24K miles, 60 mos/100K miles, etc.). We'll come back around to this concept in a moment, but first, what kinds of coverages will you encounter when shopping around?
Important VSC Coverage Distinctions
Like a traditional auto insurance policy, each extended warranty company will provide tiered packages (e.g., Silver, Gold, Platinum, etc.) that deliver varying levels of protection.
Jim Milan of Auto Accessories Garage emphasizes, "Not all warranties are equal, and they don't all cover everything, so be sure you check exactly what is covered." The easiest way to do this is by requesting a copy of the policy jacket, which will outline all coverage it provides (or doesn't provide, as we'll find out in a second).
Lauren Fix seconds this when stating that her "rule on any contract is to read all the details. Assume you can't get out of the contract once you sign, so make sure you understand all the details beforehand."
In case you need more convincing of its importance, the JD Power article earlier adds, "Extended warranty contracts are loaded with fine print. It is critical for a consumer to read this fine print, and to understand what the warranty covers, and what the warranty does not cover."
Until you're able to get a copy of the contract, though, here are some foundational principles and terms you'll encounter when reviewing websites, as well as some important aspects that can help you discern how much coverage you need to purchase.
Exclusionary vs. Inclusionary
An exclusionary (sometimes called an all-risk) extended auto warranty specifically outlines which circumstances are not covered. In other words, unless it's excluded, it's covered. This is what many companies refer to when using the term 'bumper-to-bumper' coverage.
Pro tip: Keep in mind that one of the most common consumer complaints is that VSC companies deny coverage for losses caused by overheating. Because this is a common factor for mechanical breakdown, make sure this sub-exclusion isn't listed in your policy paperwork.
On the other hand, an inclusionary policy only outlines instances that are covered; unless it's written into the contract, there is no coverage. Commonly excluded parts and systems include:
Airbags
Batteries
Brakes (pads, drums, rotors)
Carpet, upholstery, and zippers
Exhaust
Glass
Paint
Shock absorbers
When you're speaking to a company representative on the phone, Jim Milan recommends cutting right to the chase and "asking what's not covered, to get a good feel for the coverage and the salesperson's candor."
Mileage Considerations
Jim also emphasizes that you should "determine if the mileage limitation starts at zero, or at the vehicle's current mileage."
For example, if you purchase a car with 70K miles and your VSC provides coverage for a total of five years/100K, this means you'd only have 30K miles remaining. On the other hand, if the VSC stipulates you have additional 100K miles, then this means you'd be covered up to 175K.
Looking to avoid mileage restrictions altogether? Jim adds that a 'Lifetime' or 'Unlimited Mileage' contract should bring up a red flag. "It sounds nice," he says, "but it's probably too good to be true and rife with hidden restrictions and hassles."
Limited vs. Comprehensive
In general, service contracts labeled as 'limited' tend to only cover powertrain (and potentially mechanical) components. If your vehicle is older, less expensive, and doesn't contain a lot of high-end technology components, this could suit you just fine.
Comparatively, 'comprehensive' VSCs may include electrical, audio, and sensor components (e.g., navigation units, DVD players, power/heated seats, power windows, multi-zone heating and air conditioning systems, etc.). These are ideally suited for higher end, higher value vehicles with lots of built-in technology.
Mechanical Breakdown vs. Wear & Tear
The majority of auto warranties are designed to provide mechanical breakdown coverage for when a part unexpectedly stops working, outside of its normal lifespan (an alternator, for example).
Wear and tear, or normal, expected deterioration, however, is often not covered (such as tires, brakes, and cosmetic flaws caused by everyday use).
If you're looking for a VSC with the maximum coverage available (assuming this is your goal, of course), make sure it contains a 'wear and tear provision' before signing on the dotted line.
Pro tip: As with exclusionary and inclusionary coverage, keep in mind that some companies will add wear and tear sub-exclusions to their policies, which could prohibit coverage for expensive mechanical components like piston rings, struts, and valves.
Claims, Deductibles, & Towing Availability
Before purchasing a VSC, the FTC recommends that you "find out if you need prior [repair] authorization from the contract provider for any repair work or towing services. Be sure to ask: how long it takes to get authorization, whether you can get authorization outside of normal business hours, and whether the company has a toll-free number for authorization."
"Another sneaky trick to look out for is whether your deductible will be 'per repair shop visit,' or 'per repair item,'" says Jim Milan of Auto Accessories Garage. Here's a quick example:
After taking your car to the shop, you learn that it needs a new alternator, transmission, and ABS. If your VSC's deductible were on a per-visit basis (assuming the loss is covered, of course), you'd only pay $500. But, if it's on a per-item basis, your deductible could triple to $1,500, in this instance.
And as automotive analyst Robert Campbell told us in "Do You Need an Extended Auto Warranty?," it's often the case that VSC providers require customers to pay for vehicle repairs upfront, and reimburse them once the claim is settled.
So, if your goal by purchasing an extended warranty is to avoid these advance costs, you might be dissatisfied if you don't learn more about this major detail in advance.
Writing for Your Car Mechanic, Jason Unrau adds, "Some extended warranties [also] have claim limitations that restrict the dollar value that can be claimed per visit. If the repair costs exceed the dollar limit, you're responsible for the amount owed beyond the limit, as well as the deductible."
The Bottom Line About Choosing a Vehicle Service Contract
As we discussed at the beginning, selecting the best extended auto warranty largely comes down to the coverage you need and the provider's consumer reputation.
Also, during your research, be sure to contact companies directly and speak with them about your vehicle and requirements, as well as to request a copy of the coverage package you're thinking about purchasing. Then, once received, read the contract carefully and watch out for relevant coverage exceptions (there are typically multiple).
Finally, Car Coach Lauren Fix emphasizes that when it comes to VSCs, "as with insurance, you get what you pay for. And sometimes, paying less means not getting the coverage you need."
Summarizing much of what we've discussed, here are her remaining tips for signs of a good plan:
They offer the ability to choose between a dealership or independent repair shop
Warranty is transferable if you sell the vehicle
Includes trip-interruption coverage
Free loaner car available
Similarly, learn if you're locked into your coverage level for the life of the warranty, or if you can make changes to your policy mid-term, should you determine that you need more (or less) coverage.
Lauren's signs of a bad plan:
Large out-of-pocket sums to cover repairs
Specific caps on repair costs
A lot of exclusions
Non-transferable
Company lacks a strong financial rating, and/or has a track record of customer dissatisfaction