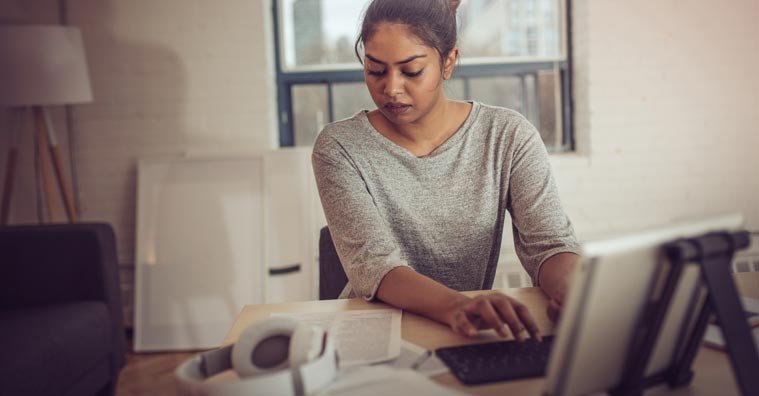 You'd think that filing your taxes for free would be pretty simple.
But with 14 different websites offering free tax filing and, on top of that, many websites offering upgraded versions of their products, it can be a lot more complex than you think.
And that can lead you to wonder exactly how easy it really is to submit tax returns on your own. Can anyone do free filing? Also, what happens if you make a mistake?
We've tackled each of these issues by doing research on our own and talking with some industry experts about free filing. Over the next few minutes, we'll walk you through each of these topics and give you in-depth information you can use as the April 15 tax deadline approaches.
How Easy Is It to File a Free Tax Return on Your Own?
We want to start off by saying that if you're deciding to file on your own this year, you aren't alone. More than 60 million people are eligible for no-cost returns this year, and, according to TurboTax expert and CPA Lisa Greene-Lewis, the number of DIY filers increased 5% last year.
Because of the sheer number of people who are eligible to free returns, online tax software companies like TurboTax, TaxAct, TaxSlayer and H & R Block have put a lot of effort into making the process as easy as possible.
But is it really as easy as they say it is? To answer this question, we talked with Chad Shultz, a Jacksonville CPA who works with startups all over the world.
"It's actually as easy as it seems. The online platforms are like tutorials. You follow a series of screens asking you for your personal information and then the software tells you if you can file for free," he said. "I find it almost amazing when people who can file for free pay someone to do their taxes. Facebook is harder than filing a free tax return."
"Facebook is harder than filing a free tax return."
Chad went on to describe the basic process of a free file. Basically, once the software determines you can file for free, you enter the Employer Identification Number on your W-2 and the software will, in most cases, automatically fill out the rest of the information.
Within just a few minutes, your refund is calculated and you're ready to file. In this case, the online tax software or app takes your information and fills out what's known as a 1040, 1040A or 1040EZ. These are tax forms for someone who isn't self-employed and doesn't have a lot of assets like stocks, homes and other things like dividends and capital gains.
» For Further Reading: 9 Common IRS Tax Forms Explained: What You Need to Know When You File Your Taxes
But not everyone falls into the 1040 category, and because of that, not everyone is able to file for free.
Which Free File Software Is Right for Me?
As Chad pointed out, most tax software will walk you through a series of questions that will determine whether or not you can file free.
At some point during these questions, you'll be asked if you own a home, business or rental property. If you answer "Yes" to any off these, you'll most likely be informed that you'll have to upgrade from a free version to a paid version.
But this isn't the only factor that could push you out of free filing territory.
Each year the IRS publishes a list of tax agencies who offer taxpayers free filing.
Each of these companies has certain qualifications you need to meet so that you can file for free. The common qualifications are:
Income: All but one require that your adjusted gross income (what you made after deductions) is under $62,000. TurboTax is the exception … their limit is $31,000 for civilians and $62,000 for active military.

Age: The age requirements are all over the place, with the oldest ages being 49, 50, 52, 54, 56, 60, 65, 70 and 74. Only TurboTax, ezTaxReturn.com and OLT.com don't have any age restrictions.

State: In some cases, tax software companies will charge you a fee for filing state taxes depending on which state you live in. It's best to check with the software you choose to find out if you can do free state taxes.
So how do you know which service will actually let you file for free? Great question. The IRS has a simple solution: fill out their quick "Free File Software Lookup Tool" form and they'll give you a list of services you can use.
Now, it's important to remember that these tax software solutions automate all the calculations you need to make to determine whether you owe taxes or are getting a refund. If you make more than $62,000, you can still file for free, but you'll need to fill out the forms yourself.
So, instead of online software crunching the numbers, you do. But don't worry; since you're filing for free, the calculations won't be that difficult. If you are having trouble deciding which 1040 is right for you, the IRS has a great page that helps you pick the right 1040.
Is there one website that works better than others, or that gives you a bigger refund? That's a good question. You may prefer one site's functionality better than another, but they'll all give you the same refund.
"Can one tax software get a bigger refund than the other," Chad asked. "No. They use the same calculations."
Whether you're filling out your forms on your own or you're using online software, mistakes can happen, and that's what we're covering next.
What Happens If You Make a Mistake on Your Tax Return?
Mistakes are bound to pop up no matter how easy it is to file your free tax return. But an error here or there isn't the end of the world. In cases where mistakes are minor and you've already sent in your tax return, the IRS makes the changes automatically, said Shaunna Morgan, TaxAct's director of public relations and communications.
"If a filer notices a mistake after their e-filed return has been accepted by the IRS, they should wait until they receive their refund before doing anything," she said. "The IRS will often catch simple omissions and minor mistakes."
If the error influences how much you'd get back on your refund, then the IRS will notify you of the mistake, Chad Shultz said.
"If you forget to report a tax document or income on your personal return, you'll be notified by the IRS saying, for example, 'Hey, you have a 1099 you owe additional money on,'" he said. "They ask you if you agree with the mistake, and then you pay the tax if you owe something, or you can go back to your tax software and do an amended tax return and file again."
The form you'll most likely use to file an amended return is the 1040X. I had to do this a few years ago. The process is pretty simple, with the only drawback being that you have to wait a little longer to receive your refund.
Now, you might be thinking, "Is there one mistake people make a lot?"
The answer is yes. This year, many taxpayers have to file a 1095-A, a form you get when you purchase a health plan through the federal Health Insurance Marketplace. It shows how much your monthly premiums were before your tax credit and how much you received in tax credits each month.
"It's very typical that people forget things," Chad said. "The big thing this year is receiving the 1095-A health insurance form, so make sure you don't forget to report that form."
» For Further Reading: 11 Most Common Tax-Filing Mistakes to Avoid
Where Can I Go for Free Tax Filing Advice?
As more and more taxpayers choose to file their taxes on their own, experts have responded by making all kinds of information available online.
The IRS has their own information page with dozens of links that cover just about any situation you find yourself in as you file your free tax return. If you choose to file free on your own, some of your most helpful resources will be instructions for the 1040, 1040A and 1040EZ.

All of the most popular tax websites have their own advice sections that you can access without being a client: H & R Block, TaxAct, TaxSlayer, and TurboTax.

If you're over 50 and you're looking for one-on-one advice and help with your tax filing, check out AARP's Tax-Aide program. They offer more than 5,000 locations across the country every tax season where you can work with professionals to file your taxes for free. You can use their Site Location tool to find a center near you.
You may also want to check with CPA's in your area. Many times, Chad Shultz said, they'll offer you a free consultation in hopes they can do business with you in the future when your returns get more complex.
"A lot of CPA's will give free consults because they want the right to earn your business," he said.
Also, check out your local government websites for information about free tax help. AARP's Tax-Aide program often has locations in local libraries.
"A lot of CPA's will give free consults because they want the right to earn your business."
With so many options out there, you might get to the point where you're stuck between several different choices and you don't know what's best. You might even find yourself in this situation when you're trying to pick a website to do your free filing.
If you're trying to decide which free tax software to use, don't be afraid to compare them. Since you're going to file an easy return, it won't cost you much time (and absolutely no money) to start tax returns on several different sites.
"You can start a return on one site and then go to another site and have two going at once. Compare and contrast," Chad said. "You aren't being charged for it, so which one makes you feel more comfortable?"
Our Final Thoughts
We live in a great time to do taxes. Popular tax software companies allow you to file from just about anywhere: your phone, your laptop, your tablet and your desktop.
And this is a good thing for the average taxpayer. Access is nearly unlimited and the process, in our opinion, is easier and cheaper than it's ever been. No tedious paperwork; just a few clicks and taps, said Eric Roebuck, senior product manager at H & R Block.
"Traditionally, people used to wait until they got all of their documents and then sat down and, in one fell swoop, knocked their taxes out," he said. "What we see now is that people start on one device, add information through another device and then finish on yet another device."
But with all the advancements surrounding free filing, it never hurts to check reliable sources like the IRS, local tax experts and some of the bigger online tax firms for information.
If you make mistakes before you send in your return, remember that you can go back to your in-progress tax return and make changes. Most online tax software will automatically recalculate the numbers based on the new information.
And, above all, don't procrastinate! The sooner you get your taxes done, the less stress you'll feel and the quicker you can get that refund.
» For Further Reading: Tax Software vs. Accountant: Which Tax-Filing Method Is Best for Your Situation?