Finding a Home Contractor: A Guide to the Five Best Websites
Houzz, Porch, Thumbtack, HomeAdvisor and Angie's List are five of the leading sites where homeowners find contractors. Our guide uses in-depth research to identify which sites offer the best contractors.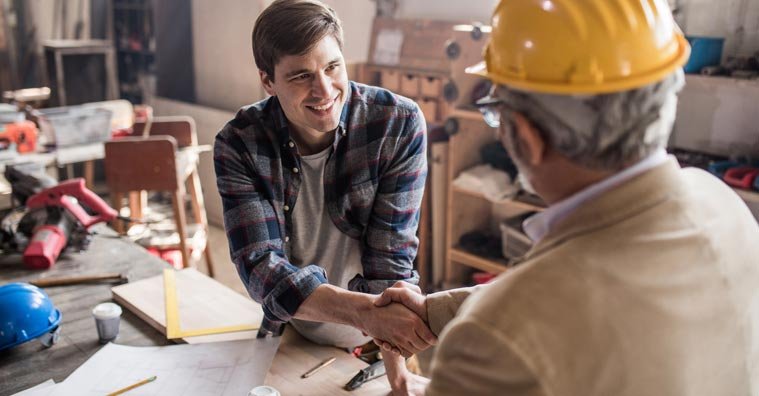 Finding a home contractor or handyman is a search that can cause stress and worry.
Websites like Houzz, Porch, Thumbtack, Home Advisor and Angie's List make the job easier for homeowners by connecting you with professionals who perform a variety of services for jobs large and small.
However, even among these sites there are nuances and differences that can make homeowners confused about which sites are best and which features make one site better than the other for certain situations.
How does each site verify the professionals listed on their site? What guarantees do they offer for the work performed or damage your home suffers as a result of the work? What are customers saying about their experience with the company?
Our guide on how to find a contractor through the websites we mentioned will review the aspects of each site that matter most to the quality of your work and any resulting headaches: background checks, work guarantees and Better Business Bureau grades, reviews and complaints.
Using in-depth research and, in some cases, interviews with representatives from the sites, we'll cover each of these areas in a way that helps you understand what you're getting with a particular site and which one offers the best background checks, guarantees and BBB reviews.
Our Picks
Our research shows that HomeAdvisor is the best site for finding contractors that undergo the most extensive background checks.
Porch and Thumbtack provide excellent guarantees on the work done on your home, with both sites offering protection for damage done to your home and Porch offering a guarantee on the quality of the work in certain situations.
As for BBB customer reviews, Porch was the clear choice because they were the only site of the five in this article with an average star rating above 4.
We'll expand on each of these conclusions in their corresponding sections.
How Each Site Vets Their Contractors
According to the Coalition Against Insurance Fraud, homeowners' top two concerns about hiring a contractor are "poor workmanship (50 percent) and fraud (36 percent)." Avoiding contractor scams is key to relieving a lot of headaches. While you, as a homeowner, can do this on your own, it helps to use a website that's already done all the background checks necessary to confirm that the contractor you're hiring isn't going to take the proverbial money and run.
Based on our research of each site and the conversations we had with company representatives, we believe that Home Advisor is the best site when it comes to background checks because they vet the owner of each contracting company via five different checks: licensing (trade and business), sex offender registry, criminal record and legal action.
It is crucial to remember, though, that these sites perform checks on the owner of the business and leave it up to the contractor to vet their individual employees. Just because a contractor has a clean criminal record doesn't mean that his or her employees do.
We recommend asking the contractor who will be performing the work and if that particular worker has a criminal history.
Also, several of the sites pointed out that it's in your best interest to do your own research of a contractor to ensure that they are, in fact, licensed, bonded and certified.
Houzz: No Background Check
Houzz didn't list any information about how they vet their professionals, so we called their customer service line to get the information.
We found out that Houzz doesn't do background checks. Contractors can, in their profile, list licenses and work experience but it is the responsibility of the homeowner to verify information and run background checks.
Porch: License and Bond Check
Porch has two different ways to hire contractors. Porch Services is what you'd use to book and pay for a contractor to come to your home perform a service. These contractors undergo a background check and agree to carry the required license to do the work they're doing in your particular location.
The second way to get a contractor is to post a project to Porch and have Porch Pro contractors bid on the job. These contractors aren't required to do background checks, so it's the homeowner's responsibility to vet them to make sure they have the proper licenses and insurance.
We confirmed this in Porch's fine print, which states, "While we try to confirm that Pros meet certain requirements, we cannot and do not represent or warrant that any Pro is licensed, qualified, bonded, insured or capable of performing any service."
HomeAdvisor: Five Different Background Checks
HomeAdivsor's background checks are done every two years and cover five different areas:
Licensing
Sex offender database
Civil judgements
State business filings
Criminal history
The site's vetting process is pretty extensive, in that it covers multiple areas of a contractor's history. Their licensing check makes sure that they've got the proper licenses based on your state's rules.
According to their site, they run a sex offender search based on your contractor's name to confirm that there is not a match based solely on the name of the owner/principal of the company.
Civil judgements are an important part of the background check because they indicate if the contractor applying to be on HomeAdvisor has declared bankruptcy, had liens filed against them or faced serious legal action. These searches go back 12 months, the site says.
The criminal records search the company does goes back three years. For these searches, the third-party HomeAdvisor uses implements the national criminal database.
Pro tip: A HomeAdvisor rep told us that, if a professional gets a string of bad reviews or is involved in a problem resolution process, it will trigger a new background check.
Thumbtack: Background Check in Certain Situations
This site is unique in that their contractors aren't required to pass background checks in order to offer services on their site.
That being said, Thumbtack's contractor pages make it clear that some contractors who want to be listed on the site will have to undergo a mandatory background check. Some of the situations in which this would take place, the site says, would be: incomplete profile, complaints about conduct and "other information" the site receives.
Thumbtack performs background checks via a service known as Checkr; it's the same site that Lyft, Uber, GrubHub and Instacart use to vet their employees.
If a contractor isn't required to do a background check, Thumbtack still encourages them to get one in order to build credibility on their profile.
As a homeowner, you can view whether or not a contractor has done a background check.
Angie's List: Yearly Criminal Background Checks
According to their website, Angie's List does criminal background checks once a year on their "Certified Service Providers". Because these checks are only done once a year, the company recommends that you should contact the site if you have any "legal, ethical or financial concerns" about a company that's listed on the site.
Any extra research like sex offender or license searches should be done by the consumer. Here's how they phrase it:
"While we always strive to provide the most current information, we also recommend that you perform your own research on the companies you hire."
Our Recommendation for the Site With the Best Background Check: HomeAdvisor
Based on our research in this category, we believe that HomeAdvisor's use of five different background checks is something that homeowners would appreciate the most out of the five sites we compared.
Their check gives you peace of mind about your contractor's trade and business licenses, as well as their legal, criminal and sex-crime background.
Now, just because the other sites don't do as extensive a background check as HomeAdvisor doesn't mean they don't care about your safety or security. In fact, Porch.com encourages its users to do background checks of the contractors just to make doubly sure that you're bringing a reputable contractor in your home.
Houzz is the only site we compared that doesn't do background checks, which means it's your responsibility to use local government resources to vet the credentials of the person coming to your home.
How Each Site Guarantees the Work the Contractor Does
Satisfaction guarantees are an important part of finding a contractor through a website. They give you peace of mind that, in the event that your contractor doesn't follow through on his or her end of your contract, you can have some recourse.
Based on our research, we believe that Porch and Thumbtack have the best work guarantees, with Porch providing a top-notch guarantee for Porch Services and Thumbtack doing well because of their $1 million property protection.
Houzz: None
Houzz does not offer any guarantees for the work done on your home performed by a contractor you found on their site.
Based on our conversation with a phone rep, Houzz seems to emphasize the fact that they're a community in which homeowners and contractors can connect. For this reason, they don't offer guarantees on their work and they don't do background checks.
With this in mind, you'll need to do three things when you hire a contractor from Houzz: read their reviews on the site, find other sites on which they're listed and read those reviews, and run their license through your state's licensing database to make sure they're cleared to work in your state.
Porch: Property Protection/Satisfaction Guarantee
Porch offers two different guarantees: Property Protection and Satisfaction Promise.
Property Protection
Their Property Protection guarantee covers your home for up to $1,000 in the event that it's damaged as "a direct result of the pro's work" or you pay money up front and the pro flakes out and doesn't do the job. This guarantee applies to all projects submitted on Porch.com, including projects completed through Porch Services or referred through the Porch Pro network.
You have to meet a few criteria to be eligible for the guarantee. First, the project has to be submitted on Porch and you have to mark the pro as "hired." If your property is damaged, you have to make a "good faith effort" to resolve the issue with the pro before you contact Porch.
Additionally, you have to documentation about the damage or flake-out within 15 days of the job being completed.
It's important to remember that this guarantee only covers damage to your property. According to Porch's fine print, it doesn't cover poor workmanship, work delays, materials/tools that were damaged or lost and any damage to your home related to projects you didn't include in your original project listing.
Pro tip: The Property Protection applies to Porch Services contractors you hire, too.
The Satisfaction Promise
As we mentioned earlier, Porch provides pros who can bid on projects you post and they also offer handyman services. For the latter, you'll get a satisfaction guarantee that covers you for price matching and work quality.
The price-match guarantee means that you'll be reimbursed the price difference if a licensed and background-checked contractor within a 30-mile radius of your home offers a better price for the services you get from Porch.
The guarantee also covers work quality. According to terms and conditions we received from a Porch representative, you have 15 days to file a claim if you aren't satisfied with the work that the service provider gave.
HomeAdvisor: None
We read through the site's terms and conditions and found that they don't offer any guarantees or endorsements when it comes to the work done and the contractors who do them. Here's the direct quote from their fine print:
"Although we take certain steps to examine the credentials of the Service Professionals listed on our website or whom you may book using our Services, we make no guarantees, warranties or representations regarding the skills or undertakings of such Service Professional or the quality of the job that he or she may perform for you if you elect to retain their services. HomeAdvisor does not endorse or recommend the services of any particular Service Professional."
The terms and conditions go on to say that if you have issues with the work performed or the fees charged, you'll have to take them up with the contractor, not HomeAdvisor.
Based on our research, we believe that, while a lack of a guarantee seems like a bad thing, HomeAdvisor does extensive background checks in order to verify that a contractor is credible. In this sense, they're doing the work on the front end to make sure you're getting a reliable professional so that you won't get stuck with shoddy work from a sub-par contractor.
Though HomeAdvisor doesn't offer a guarantee for work, a company rep told us they do allow you to participate in a problem resolution process in which they'll work with you and the contractor to resolve disputes over payment or work. Should the process prove unfruitful, the company rep told us that HomeAdvisor will help the homeowner explore small claims court or consumer advocacy options.
Thumbtack: $1 Million Property Protection Guarantee
Thumbtack has a $1 Million Property Protection Guarantee that applies to more than 1,000 different services offered on their website. The guarantee covers damage to your property as a result of the contractor's work. Like Porch, in order to get this protection you have to follow guidelines.
Their site notes that you have to hire your pro via Thumbtack and within 30 days of listing your project and that you have to file a complaint within 14 days of the damage occurring. You have to make an effort on your own to resolve the issue, just like you do on Porch.
To be specific, the guarantee covers complete or partial damage to your property, but does not cover the quality of workmanship or minor/cosmetic damage.
Angie's List: Service Quality Guarantee
Angie's List provides something called a "Service Quality" guarantee that is available to certain customers. The site runs off of a four-tier membership plan. The first two tiers, Basic and Green, are free. Any work you book as a Basic or Green member isn't covered by the guarantee.
Silver ($24.99/year) and Gold members ($99/year), however, get to participate in the Service Quality program.
According to Angie's List's fine print, their guarantee covers you if you aren't happy with the quality of the work your service provider did. They offer a couple examples, one of which is a scenario in which a gutter cleaner is contracted to clean 1,000 linear feet of your gutters but only cleans 600 feet.
If you are unhappy with the quality of the work, then Angie's List says you need to contact the service provider and give them at least two business days to respond. If they don't respond, you must then leave a detailed review on Angie's List about the service.
The review, according to the fine print, needs to include specific examples of why you weren't satisfied with the quality of the work.
Once you've published your review, you can file a claim with Angie's List, provided it's within 30 days of the work being completed and within 120 days of you paying for the service.
Basically, the site will work with you and the service provider to find a solution for the problem, which will probably entail the same worker coming back to your home to fix what they did wrong.
Your reimbursement amount will never exceed what you paid for the service and will be capped at $100,000. If you paid $150,000 to renovate the entire bottom floor of your home, the max payout you'd get would be $100,000.
Pro tip: You're allowed up to three claims per year.
Our Recommendation for the Site With the Best Guarantees: Porch.com
As you've probably concluded, it's hard to find a site that will guarantee the protection of your property and the quality of the work.
Porch.com is, in our opinion, the best site for guarantees because their Porch Services contractors' work is guaranteed both for quality and up to $1,000 against any damage the contractor might cause in your home.
The quality guarantee is the key here because Porch is the only site to offer it for free. Angie's List has a similar policy but the guarantee is only available to those who pay for a membership. The memberships are affordable. However, Porch.com gets the edge because it's free.
After Porch, Thumbtack and Angie's List offer the most substantial guarantees. As for which site is the better fit for you, that's a matter of choice. Are you worried more about the contractor damaging your home or doing a low-quality job? Thumbtack is the better site for property protection and Angie's List is the best choice for work quality.
How Each Site Performs on the Better Business Bureau
Our final comparison category is how the sites fare on each of their Better Business Bureau pages. The BBB page for each company features customer reviews, a record of customer complaints and a BBB grade.
All review scores and complaint statistics included in this section were current at the time of publishing. "Reviews" refers to the star ratings the company gets while "complaints" refers to complaints filed with the BBB about the customer's experience.
The grade that the BBB provides is based on 13 different factors, including how the company handles customer complaints.
Based on our research, Porch performs the best among the five companies because they have the highest average review rating and the fewest amount of complaints over the past three years. The company's BBB grade is listed next to its name.
Houzz: A
The company received an average of 3.61 stars from 61 customer reviews. Consumers filed 160 complaints about the site in the past three years, with the majority of those complaints focusing on the products and services the site offers.
It's important to remember that Houzz offers more than contractors, so those 160 complaints aren't all about professionals hired via listings on their site.
We read through several pages of complaints and could not find any that specifically addressed professionals they found through the website.
Porch: A+
Consumers gave Porch a 4.2-star average rating from 84 customer reviews. Their customers filed 88 complaints with the BBB in the past three years, with most of them focusing on products and services received from the site.
Many of the complaints filed with the BBB focused on work that was not completed well or, if it was completed, resulted in higher charges than were first quoted to the customer.
According to Porch's terms and conditions, all jobs completed by a Porch Services pro or Porch Network pro are eligible for property protection, while only jobs completed by Porch Services pros are eligible for the satisfaction promise.
In several situations, Porch indicated that the job was done by a Porch Pro contractor, in which case damage to the home would be covered provided the homeowner met the requirements of eligibility.
HomeAdvisor: A-
HomeAdvisor received an average review rating of 3.31 stars from 620 reviews. The company had 1,304 complaints on its BBB page.
The complaints were, for the most part, split between products and services, and billing/collection issues. The billing issues seemed to be filed by contractors who signed up to get customer leads from the site and earn business.
Many of the most recent complaints had been resolved and, therefore, the details of the complaint were unavailable.
Thumbtack: A+
Thumbtack's customers gave the site a 3.87-star rating from 198 reviews. The site had 350 complaints filed against it.
The majority of complaints filed with the BBB against the company related to the services the company provided. The most recent reviews on their page area a split between professionals and consumers, with professionals' complainants about charges for sending quotes to customers.
Because Thumbtack offers many different types of services including those unrelated to home repairs and home improvement, the customer complaints covered a wide range of professionals, including computer repairmen and wedding D.J.'s.
Angie's List A+
Angie's List has a 3.71 rating from 198 reviews and received 495 complaints over the past three years.
Most of those complaints focused on products/services and billing issues. We read through the billing complaints and found that Angie's List often resolved the situation to the customer's satisfaction.
Our Recommendation for the Site With the Best BBB Credibility: Porch.com
After sifting through each company's BBB page, we found that Porch.com has the most solid overall profile. Their average review score is better than its competitors and the company has fewer filed complaints in the past three years, too.
This combination of fewer filed complaints and overall review score tells us there seems to be a certain level of satisfaction with the way that Porch treats its customers, a fact that the BBB has confirmed by giving the company an A+ rating for, among other things, the way it handles interactions with its users.
After Porch, we'd recommend Thumbtack because of their A+ rating and the fact that their average star rating is higher than Houzz, HomeAdvisor and Angie's List.
Regardless of the scores and ratings the sites get, we recommend calling the company yourself to get a sense of the way customer service handles its interaction with you.
Are they polite and knowledgeable, or do they seem rushed and lacking information? Positive interactions with a company's customer service will give you the confidence to hire contractors featured on their site.
Three Takeaways for Finding a Home Contractor Through a Website
Based on our research and our conversations on the phone and through email with representatives from the websites we listed above, we believe there several key takeaways you should remember as you search for a contractor through homeowner websites:
Several of these sites recommend doing your own research to confirm correct licenses and permits.
Background checks are done on business owners, not their employees and/or subcontractors.
Most guarantees require that you work with the contractor first before going to the website for help.
Keeping these three things in the forefront of your mind will help you narrow down your list of contractors to those who are, according to their backgrounds, the most reliable.