First-Time Homebuyer Tips That Will Help You Avoid Costly Mistakes
Buying a new home is an intimidating process, so we talked with an industry expert to generate three time-tested first-time homebuyer tips that can help you avoid costly mistakes, transform your home closing and give you confidence.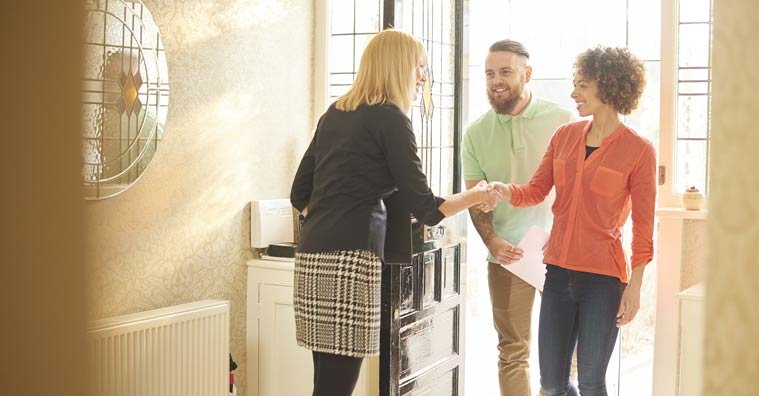 Word of warning: Buying a home is intense.
My wife and I bought our first house in the spring of 2017 and, at that point, we'd never read a list of tips for first-time homebuyers. We trusted the process, following the advice of our real estate agent and loan officer.
In our case, we were lucky because our realtor and loan officer were pros and gave us solid advice all the way around. My advice: Don't count on getting lucky.
Dana Bull, a Boston-based realtor with Sotheby's International Realty, says that following a specific set of time-tested tips for first-time homebuyers can save you a lot of headaches and give you a sense of control over a process that many buyers feel is out of their hands.
We talked with Bull at length to unearth a series of methodologies that will not only give you that sense of ownership you need to feel but will help you meet your goal of finding just the right home to meet your needs and your budget.
"Here's the thing: When buying real estate, everything is the responsibility of the potential homeowner," Bull said. "You want to be an educated buyer so you don't find yourself in a position where you're surprised because somebody didn't tell you something.
1. A Successful First Home Purchase Begins With a Solid Team
Buying a home is all about finding a real estate agent who can offer expertise and wisdom, right? That's correct, but it's only the first step in assembling a team that will, in the end, determine how quickly the closing process.
At the very least, and depending on which state you're in, Bull says the people involved in your home closing include:
Realtor
Loan officer
Underwriter
Escrow agent
Title insurance company/law firm
Homeowners insurance agent
Home inspector
Surveyor
Appraiser
Keeping track of who all these people are can be tough, so Bull suggests talking with your real estate agent first. He or she should be able to give you the contact information of the escrow agent, title insurance agency, and surveyor.
In many cases, your realtor will also be able to recommend lenders/loan officers they trust and have worked with in the past. Your lender will often be the one who connects you with the homeowners' insurance company who will handle your homeowners' policy.
"You can talk to your real estate agent, who should be able to give you a list of the 8-10 specialists who are coming into play during closing," she said.
During this recommendation process, don't be afraid to ask why your realtor or lender prefers one firm or person over another.
For example, our real estate agent suggested a list of four different home inspectors. When we asked why he recommended them, he explained that each of the names he gave us was the best inspector at that particular price point.
He went into a bit of detail about how the depth of the inspection would vary a bit depending on how much we spent.
This valuable information helped us understand that we were getting a decent inspector no matter how much we spent, but that there may be some advantage to paying more for our home inspection.
But home inspectors are just part of the overall mosaic of experts working on your case.
For example, Bull pointed out that many first-time homebuyers aren't really familiar with what the escrow and title companies do.
"Escrow" refers to the process where your good-faith deposit check is held in limbo until the closing process is complete, at which point the deposit is handed over to the seller along with the payment for the home.
Hiccups in the closing process are inevitable and, if there's a conflict or disagreement over contracts or contingencies, you should know who your escrow agent is.
"If you have an issue with the transaction, you want to know who the escrow agent is because they'll be the one holding your money when things go south," Bull said.
Your title company is responsible for searching the history of the home's title – the legal document assigning ownership – to make sure there aren't past disputes, for example, between family members or between the homeowner and contractors who worked on the home.
"Sometimes things get messed up along the way. The home gets handed down from relatives and it wasn't handled properly and there's a dispute as to who the owner is," Bull said. "Having a title insurance company is definitely something you need because they protect your right to the title."
2. Be Prepared for Stressful Situations – They're Coming
Make no mistake – buying a home is an invasive process. It's like letting auditors dig into your financial past and judge your ability to buy a home based on what they find.
As a result, you're going to encounter some anxiety-ridden moments packed with stress and, above all else, the unknown.
But, Bull says, proper planning can give you the time you need to work with your realtor or loan officer to find a solution.
If your realtor doesn't give you a calendar with specific deadlines for your deposit, home inspection, contingencies and other important benchmarks, work with them to create it.
Don't wait until the last second to do things, either. If you have a 10-day window, Bull says, to do a home inspection and come back to the seller with contingencies, get that inspection done on the first day.
"You really want to do it as early as possible because if anything comes up, you have time to take care of things," she said. "When you feel like you're being rushed into making decisions, you may not have the time to think through all your options."
Bottom line: Anticipate surprises, hiccups, and hang-ups.
"In every single deal I've done, there's been some point at which you have to make a decision on the facts and decide if you want to move forward," Bull said. "I've never had a transaction where it's totally smooth sailing and nothing comes up along the way."
3. Meet With the City Inspector
This third and final tip is a crucial step that not many homeowners do.
You see, the city inspector's office keeps track of permits pulled for new construction, among other things. So, they have all the information you'd need to do research on the land surrounding the home you want to buy.
"I definitely recommend heading to the city inspector if you're buying in a city or a recent development," Bull said.
Your conversation should cover the following areas:
What's under permitting
What's going through the planning department
What's in the works in the building department
The reason this is important, Bull said, is you could have a home that abuts a beautiful forest or conservation land at the time of purchase but will, in the next few years, be turned into a strip mall.
"You could be interested in buying a house that abuts conservation land," she said. "But then you call up the city planner and you find out a developer bought it and will go before the zoning board to put in eight new houses."
This type of thing happens often. To give you an example, my wife and I lived in a neighborhood and just three minutes down the road there was a beautiful grove of pine trees that separated a busy road from homes.
One day bulldozers showed up and, over the course of the next year, they tore down all the trees, graded the land and made other preparations for a series of new homes going up on the lot. As homeowners, we can't imagine how disappointed and frustrated those residents must feel now that their trees are being replaced by a small development.
"Be proactive," Bull said. "If there's an abandoned lot behind your house, find out who owns it and what they have rights to. Will they put in condos that will mess with your view or parking?"
Wrapping It Up: Set Yourself Up for a Positive Experience Through Communication, Planning and Research
Speaking from experience, all the advice that Dana Bull has offered is right on the money.
It's an immense help to know who is handling your loan, underwriting, title insurance, escrow and home inspection. Having these people on the same team gives you not only a sense of control but a good perspective on all the moving parts involved in buying a home.
As you move through all the different stages of your purchase, you'll need to be aware of what will happen and when it will happen. Get everything scheduled and done as quickly as you can so that you have enough of a time buffer to make decisions when problems arise.
While all of this is going on, be in communication with the city inspector's office. They'll be able to point you to all the right resources to ensure that you know exactly what's happening to the land around your home.
In general, your experience starts with your real estate agent. As you've probably gathered from this article, they're the point person not only for helping you through your closing timeline but also for connecting you with lenders and inspectors.
So, do your research on local real estate agents. When you choose one, make sure you feel comfortable with them. If you sense red flags, it's not worth the risk to use them.
» See Also: How a Good Credit Score Can Save You Money on Mortgage