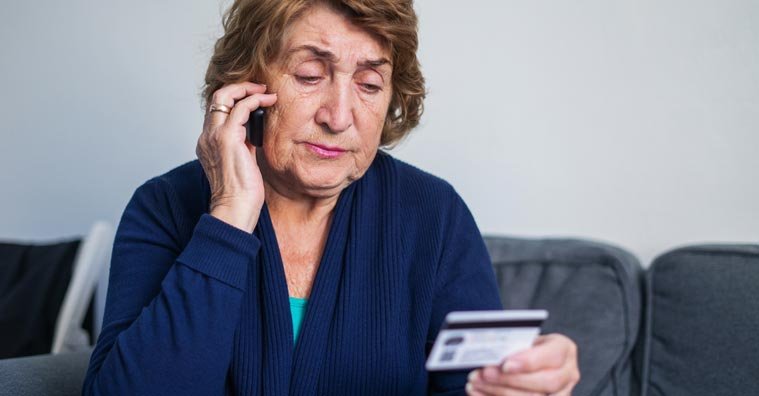 Senior scams are on the rise, forcing law enforcement to crack down on criminals who target older adults. But there are ways to spot these scams – and ultimately avoid becoming a victim.
As a detective for forgery, fraud and financial crimes, Timothy Lohman has seen his share of scams that victimize the senior population.
"A lot of the cases that I deal with are scams, credit card fraud, check fraud – there are so many scams out there," said Lohman, who works for the Ventura County Sheriff's Office Thousand Oaks Division.
"I would love to lower the number of victims," he said. "Ultimately, my goal is zero cases involving scams."
"How do we stop this? We educate people," Lohman said. "A lot of seniors have fallen for scams because they don't know what they can do to avoid being a victim."
To that end, we interviewed detective Lohman and came up with a list of the current scams that target seniors along with tips on avoiding them.
1. IRS Scam
More than 700 people were arrested in India for a scam in which American citizens were called and told that they owed money to the IRS.
"We were able to put people behind bars and close this scam down," Lohman said. "Does it mean it's all over though? Absolutely not, because there's always another scam."
If you receive a call from the IRS, know it's a fake.
"The IRS does not call you," Lohman said. "The IRS will send you a letter, and that letter will say you better do something or we'll levy your property or bank account. But at no point will your local law enforcement show up at your house and arrest you."
Can a scammer make a fake IRS letter and send it to you?
"Yes," Lohman said. "Scammers have now resorted to using U.S. mail to complete their scams and the reason being because more people know the IRS does not call them."
What do you do in a case like this?
"Number one, do not send money, do not send a gift card, do not give them a number on a gift card, and do not wire them money," Lohman said. "Hang up the phone on them."
If you receive a voice message from the IRS asking you to call them, "do not call the phone number that they leave for you," Lohman warned.
Instead, go to your local IRS office, speak with an agent and verify whether you owe money.
» See Also: Why IRS Scams Work and 7 Tips for Avoiding Them
2. Kidnap and Ransom Scam
The kidnap and ransom scam is like something out of the movies.
"They call you on the phone and say they've kidnapped one of your family members," Lohman explained. "These scammers are so good that they'll have somebody scream in the background, and when we hear that, the sense of fear sets in."
The scammer will demand a ransom to let your loved one go.
"And they will keep you on the phone for an extended period of time," Lohman said. "Why are they keeping you on the phone? So you can't check to see if they really have your family member."
If you are a victim of this scam, first verify that your family member is not hurt or kidnapped.
"We have to do our verification before we do anything," Lohman advised. "Too many times people send the money first then they do the verification. My goal is to rewire that – verify and research first before you send money."
How do these ransom scammers know people in your family? They do their homework on the internet.
"Thank you Facebook – we just put everything on Facebook," Lohman said.
Be careful what you post on social media, he warned.
"If you don't have privacy settings on your profile, you need to add them because it's very easy for me to get onto your Facebook and look at everything you post," Lohman said. "I can find out who your kids are and your family members. If I want to scam you, this helps me."
3. Jury Duty Scam
This scam involves a phone call in which you've been told you missed jury duty.
"Then they'll say, that's okay, get a gift card, read the number on the back of the card, and we'll take care of this," Lohman said. "And people are falling for it."
The scammer may go as far as giving a name of a real officer found on the internet, and obtain a local area code – even though they aren't from that area.
"Keep in mind that I can have Google voice and sit there and talk to you from a local area code," Lohman said. "But I could live outside the country, so don't believe it's local."
What's the best way to handle a call like this?
"Call the courthouse directly and ask if you missed jury duty," Lohman advised. "By all means, do not send money. Make sure you call and verify."
4. Grandparents Scam
A "grandson" calls a grandmother, telling her he needs money to get out of jail. The scam goes further when a "lawyer" gets on the phone and corroborates the lie by saying the money is needed immediately.
"It's sad because I'm hearing things like, 'he sounded just like my grandson'," Lohman said. "The caller might say he has a cold, and that's why he maybe sounded different."
They'll even take it one step further with another scammer who pretends to be the judge.
"Our criminal system does not work like that – you don't just give me money and I let your relative out of jail," Lohman said. "You have to go through the court process. If they're being bailed, never pay it over the phone and you never wire money."
How do you avoid this?
"Call your relative and say 'hey, is your son in jail?'" Lohman said.
If the caller asks you not to tell anybody, "that's a big red flag," Lohman said. "If this happens to you, I want you to tell somebody and verify and call your grandson or whoever they're saying is in need."
5. Classified Ads Scam
Lohman recently worked a case in which a man wanted to buy a travel trailer. The man found one on Craigslist, and started communicating with the seller through text messages and email.
Once they agreed on a price – $15,000 – the seller requested the money be sent to a specific location.
"So he does it," Lohman recalled. "Guess what? He didn't get the trailer – he's out $15,000."
While researching the case, Lohman found the seller's email address and phone number, and plugged them into Google for a search.
"Sure enough, scam, scam, scam," Lohman said. "We could have saved this man $15,000 had he done a little homework."
Research and verification are keys to avoid such scams.
"If you buy anything online from a website like Craigslist, especially if it's a big item, if you can't see it, touch it, walk through it, do not buy it," Lohman said. "People can steal photographs of items and sell them online and they don't have the item."
6. Advance Fee Scam
Criminals have discovered they can obtain U.S. priority mail envelopes for free at the post office, and are using them to swindle people out of money.
"A lady was selling a table for $500, and she gets contacted by email from someone who wants to buy her table," Lohman said. "Then they said they would send a check in the mail."
When the envelope arrived, it contained a check for $1,000 – $500 more than the asking price.
"They tell you to go ahead and deposit the check and you put it in your bank account," Lohman said. "Then they tell you to wire the remaining money from your account to another location."
But in reality, the check is no good.
"Who's out the money? You are," Lohman said.
If you are a victim of this scam, first look at the envelope, verify the tracking number and determine where it came from. If something seems off, chances are it's a scam.
"This person said he lived in Texas, but the envelope came from Hawaii," Lohman said. "And now he's telling you to wire the money to Georgia."
7. Romance Scam
People are finding love in all the wrong places – to the extent of being ripped off while dating online.
"If you can't see or touch that person, why are you sending that person money?" Lohman asked.
The way these scammers work is by earning your trust.
"They say, 'hey I want to come see you but I'm stuck at the border; I need you to send money so I can get there and we can spend our lives together'," Lohman said.
He noted a case in which a woman sent $22,000 to a man she met on Facebook.
As it turned out, the case was "a big triangle mess of scams," Lohman remembered.
"All these ladies were sending money to one person – I happened to stop it," Lohman said.
When he returned $22,000 to one of the women, she still didn't understand how she got scammed.
"The romance talked and she believed it, and she saw a picture of him," Lohman said. "So people are going online and falling in love with this person – but we don't know who we're really talking to."
You can verify the person's photograph by uploading the picture into Tineye.com or Google Images, Lohman advised.
"You'll see how many times the photograph was used," he said.
For instance, when Lohman worked a timeshare scam, "I took their photograph from their fake website and I uploaded it into Google Images. I found out that photograph was used at several different real estate firms – they took pictures and spliced them together."
With the romance scam, you might also be asked to open a bank account for the other person, who claims they will wire money into the account.
"So if someone asks you to open a bank account do not do it – you are helping a criminal enterprise by doing it," Lohman said.
» For Further Reading: How to Spot a Romance Scam When Using Dating Sites
8. Work from Home Jobs Scam
We see those signs that say we can make $1,000 a day. But if it sounds too good to be true, it probably is.
Jobs associated with work from home scams include warehouse shipper, nanny, dog walker, mystery shopper, assistant aid and home care person.
"They want you to help the criminal enterprise by working at home," Lohman said.
In one case, a man wanting to work from home posted his resume on Monster.com and Indeed.com.
"He gets contacted by someone who says, 'hey I got this perfect job for you, you can be a warehouse worker from home'," Lohman recalled.
Prior to the case, Lohman received a report in which a secret services credit card was compromised.
"These two cases meet when a computer was sent to a house by the warehouse worker," Lohman said. "The laptop was bought with a stolen credit card."
Lohman went to the man's house to inquire about the laptop. There, he found other high-end items, including purses, electronics, phones, cameras, and computers.
"He told me it was his job to ship them out," Lohman said. "He was opening up the boxes, taking a picture of it, putting a new shipping label on it, and out of the country the products went. And it makes it very difficult for us in law enforcement to chase that stuff down."
With that, Lohman informed the man what he was doing was illegal.
"I said you are helping the criminal enterprise by shipping stolen goods," Lohman remembered.
The man, still in disbelief, showed Lohman his computer, where the "warehouse" was located, and the tracking numbers for the packages he was assigned to ship.
"I told him those things that you're shipping are bought with stolen credit cards," Lohman said. "The guy had no idea he was involved in a criminal activity. He thought he had a legitimate job but he didn't."
If you are looking for a job online, there are a few things to look out for, such as failure to list a specific location for the job.
"How many of us get hired through a text message or email," Lohman said. "I know we can apply online, but to get hired without ever meeting with somebody – that's a clue."
Also look for strange sentences or misspellings in online communication.
"They are not English majors – they have a lot of spelling and grammar errors," Lohman said. "You're going to see those when they try to hire you."
» For Further Reading: Common Work-From-Home Job Scams and How to Spot Them
9. Microsoft Tech Support Scam
Many people are being scammed online when they click on something they're not supposed to.
"We click on a pop-up ad or click on a link, and bam it freezes your computer," Lohman said. "You can't get past it and they want you to call a phone number. Do you call this number? No."
If you accidentally click on something, shut your computer down immediately.
"Take it to a computer repair person," Lohman advised. "Do not call the phone number because it's a guy sitting there waiting for you to give your personal information including your credit card."
The scammer might also say he's going to upload software to your computer to help you.
"No, he's not," Lohman said. "He's dialing into your personal computer so he can get your personal information because we keep that on our computers."
Another aspect of this scam involves a person calling you on the phone to say they can help you speed up your computer.
"They'll say, just sit down, log on, and I'll have you run some things," Lohman said. "But what they're really doing is getting into your computer."
So if somebody calls and tells you to sit down at your computer, don't do it.
"Microsoft does not call you on the phone and say hey it's time you update your computer," Lohman said. "This scam is so big that we've shelled out about $1.5 billion to this scam alone."
» For Further Reading: Tech Support Scams: How They Work & Tips to Avoid Them
10. Rental Scam
A woman was planning a vacation when she found the perfect house in Big Bear online. She communicated virtually with the other party, who requested prepayment of $1,500.
"She paid the money, went up to the house, knocked on the door and somebody answered, saying my house isn't for rent," Lohman said. "What happened was someone stole a photo of her house, posted it online and pretended like they were renting out the house."
If you are looking for a rental, go to a reputable company.
"Go to real estate companies that you can verify whether this rental exists and is actually legit," Lohman said. "Please be careful when you see these."
» See Also: How to Avoid 4 Common Craigslist Rental Scams
11. Online Lottery Scam
People are still falling for the lottery scam with the hope to be rich beyond their wildest dreams.
A familiar scam in this area involves receiving an email from a foreign country stating you've won the lottery.
"If you never been to Nigeria you're not going to win the Nigerian lottery – not only that, foreign lotteries are illegal," Lohman said.
If you're asked to pay money to get money, it's a scam.
"We know the lottery commission will tax the heck out of us, but they're not going to take their money up front so they can send you $2.1 million," Lohman said.
He worked a case in which a man fell for this scam, gave everything away, and put up his house for sale because he truly believed that he won the lottery.
"These scammers did a number on this guy," Lohman said. "And the sad part is I met with this guy. I said, 'sir you're being scammed,' and he said 'no here's the letter I received'."
Lohman inspected the letter, which was riddled with spelling and grammar errors.
"The courts had to get involved, his kids had to get involved, to save his remaining financial future, which was very minimal because he fell for this," Lohman said.
12. Sweepstakes Scam
The sweepstakes are huge right now because we all want to win something.
"You might be walking through the mall and see this beautiful car and say, 'I'm going to win this – I'm going to fill out 100 entries and my name is going to get drawn'," Lohman hypothesized.
But what happens to the information we put into the box?
"They sell it – it has your name and address and how much income you make," Lohman said. "That information is sold to other entities out there and they use it. So be careful."
13. In-Person Lottery Scam
A stranger approaches you in a parking lot with a "winning" lottery ticket in hand, saying they're illegal and can't cash it.
"They say, 'if you give me some good faith money I'll give you this ticket – it's worth millions'," Lohman said. "I know you are thinking that's crazy – who would do that?"
The reality is that Lohman worked recent cases in which two people were victims of this crime.
"They actually gave out $10,000 a piece to people who they believed had the winning lottery ticket," he said. "If somebody approaches you, do not buy anything from somebody you meet on the street because chances are it's fraudulent, it is fake."
14. Car Repair Scam
An elderly woman was driving her car when a man pulled up next to her, saying her tire was low.
"So what does she do? She pulls over," Lohman said. "Then he pulls over, kicks the tire and pretends like he fixed it.
The man then asked the woman to pay him.
"She didn't pay the money," Lohman said. "She drove to the DMV and she reported it, and the police went and arrested the man."
Nevertheless, "these people are still out there," he said. "I've seen so many variations of this scam – they may even step behind your car and pretend like you hit them. If you're ever in doubt, call the police immediately."
15. Charity Scams
These kinds of scams pop up after major catastrophic events, such as earthquakes, tsunamis or the Boston marathon.
"They pop up because we all have a heart; we feel sorry for people so we want to give sometimes," Lohman said. "The sad part is scammers know that and they will take your money, so verify a charity scam."
How do we verify?
"Go to the Better Business Bureau or Give.org," he suggested. "Verify your money is going to a legitimate cause, not a fake scammer's charity."
16. Red Light Scam
Red light cameras help traffic enforcement by capturing images of driving violations.
This scam involves a call to a person informing them they ran a red light and must pay money immediately to fix the ticket.
But the reality is, if you are captured by a red light camera for a moving violation, "you're going to get a picture of yourself in the mail driving through that intersection," Lohman said. "If you believe you got a red light ticket, call the courthouse directly."
Final Thoughts: Look for These Red Flags
There are several red flags that could be signs of a scam:
Have you been contacted by telephone, email or text message by a stranger?
Have you been told you owe a payment, won a sweepstake, or have an unpaid bill?
Are you buying an item online with a price that is too good to be true?
Have you been hired to work at home or for a job without a face-to-face interview?
"If you answered yes to any of these, you might be getting scammed," Lohman said. "These scams not only affect seniors – it goes across all age ranges."
» For Further Reading: Why Do Seniors Commonly Fall for Scams?