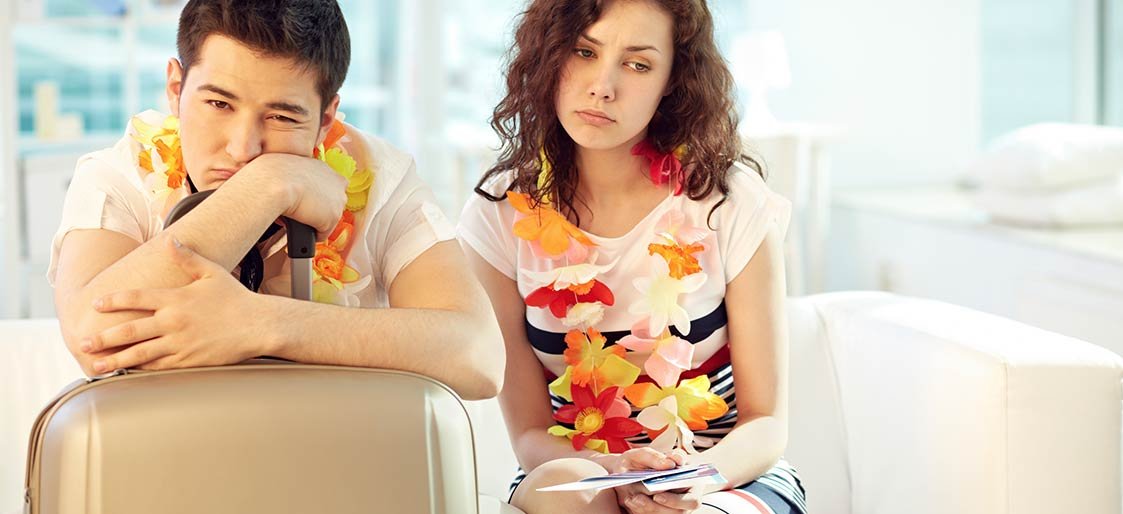 As one of the first deal sites on the scene, Groupon has been offering discounted vouchers and merchandise since 2008.
After developing a reputation as the go-to platform for hot deals, Groupon introduced their Getaways section in 2011, which focuses on all things travel related, including discounted hotels, excursions, cruises, and group trips.
If you've ever browsed through Groupon's travel deals, you might have wondered how they can offer such deep discounts, and whether or not these deals are possibly too good to be true.
Are Groupon's discounted travel fares the golden ticket to your vacation in paradise, or are they just another example of "you get what you pay for"?
To help determine the answer, we'll guide you through an à la carte comparison of current deals offered by Groupon, trends in customer reviews, and what to watch for in the fine print to decide if a Getaways deal is right for your next vacation. But first...
How Do Groupon Getaways Work?
On the customer's end, you find a deal you like and pay Groupon for a voucher which allows you to cash in on the deal when you're ready. But, how does Groupon offer such great deals to begin with?
Groupon works with businesses, including hotels, resorts, airlines, and excursion companies, to offer discounted deals. Businesses do this for several reasons: To boost their numbers during the slow season, gain publicity, or as a "loss leader"—meaning that they sell an initial product, like a hotel room, at a loss because they're hoping that you'll buy additional services, like tourism excursions.
With that in mind, businesses usually take a significant hit when selling discounts to Groupon, which is why each deal is subject to so many conditions and availability dates.
How Does a Groupon Getaway Deal Compare to A La Carte Pricing?
To see how great a deal Groupon Getaways actually are, here's a look at one of their offers compared to how much you might pay for the same trip if you selected everything separately.
The Deal: 5-Day/ 3-Night Iceland Vacation with Airfare from Gate 1 Travel – $599
This 5-day Iceland vacation gives you ample time to explore the capital Reykjavík, the world's northernmost capital city. According to the details taken directly from their website, the trip includes:
Note that this trip is based on two people traveling together and staying in the same room. Solo travelers will pay an additional $400 fee. This means that the true cost of the 5-day trip is $999 for a solo traveler or $1198 for a couple.
Also, note that this trip only departs from Boston or New York and that airfare positioning you to depart from these locations, as well as a potential night in a hotel to make your Groupon flight, is not included.
With those restrictions in mind, let's try to figure out how much a comparable trip would cost. To do so, we had first to determine the travel dates allowed in the deal, as airfare varies so widely throughout the year.
Groupon tells us that there are "69 options available, including departures in November and December 2016, and January and February 2017 from Boston (BOS) and New York City." However, we aren't given the opportunity to see specific dates without purchase.
Instead, we selected from the range listed to find these examples of roundtrip airfare on Google Flights:
If you're willing to travel on a Monday through Friday, roundtrip airfare from New York to Reykjavik is available for $250 on Wow Airlines.
Interested in a weekend getaway? The same flight is $420 when leaving Friday, December 2, and returning on Tuesday, December 6.
Already, we can see that what makes or breaks this deal is which days of the week you're willing to travel. It's also where perceived value makes a play: Would you rather pay an extra $200 for weekend travel, but save your vacation days, or take a week off of work and save money, instead?
Since we're talking about deals here, we'll assume you're willing to take the cheaper option. Which means, if purchased separately, round trip airfare for two people (remember, pricing is based on double occupancy) brings us to $500.
Of course, the cost of accommodations still needs to be factored in. We searched the hotels listed above and found that several, including Hotel Arnarhvoll and Centerhotel Plaza, weren't available during our selected dates of 11/29–12/3. (Check-in date adjusted to account for flight duration.)
From the hotels on Groupon's list that were available, here's how much rooms would cost if purchased à la carte:
Grand Hotel Reykjavik was available for $163 a night. ($489 total)
Hilton Reykjavik Nordica was available for $217 a night. ($651 total)
Reykjavik Lights by Kea Hotels (which is listed as a 3-star hotel on Expedia) is available for $131 a night. ($393 total)
While we limited our search of accommodations to hotels listed in Groupon's deal, those prices did represent some of the cheapest options in Reykjavik on those dates.
That being said, shopping à la carte for a roundtrip from New York to Reykjavik, plus three nights at a hotel on the cheapest dates could cost two people anywhere from $893-$1151. A solo traveler could arrange the trip for $643-$901.
Again, this is compared with the Groupon Getaway cost of $1198 for a couple or $999 for a solo traveler.
| | Solo Traveler | Two Travelers |
| --- | --- | --- |
| Groupon Getaway | $999 | $1198 |
| A La Carte | $643–$901 | $893–$1151 |

At least in the instance of this 5-day Icelandic holiday, booking your own travel might be considerably cheaper.
What about additional benefits offered by the Groupon deal? It's true, we neglected to calculate the additional value of one day of breakfast (approximately $50 for two people) and the potential for a Northern Lights tour.
Our reason being, the tour is not guaranteed—it's only offered "as weather permits." There's other fine print to consider, too:
Groupon requires that you book your travel dates by 9/27, which is just two weeks after the time that this voucher is made available. Should you cancel or change your dates, the Policies and Fees disclaimer on their website indicates you will be charged the following:
"$200 per person fee to cancel; 61-day cancellation required or fee of 50% Groupon price; 31-day or fee up to 90% Groupon price; 2-day or fee up to Groupon price. Airfare nonrefundable after booking."
Finally, note that your Groupon airfare doesn't include baggage fees, which will vary depending on which carrier the agency books for you.
Groupon Getaways Get Mixed (But Mostly Negative) Customer Reviews
Something to keep in mind when searching for reviews is that unhappy customers are far more likely to share their experiences on the internet. Even with that disclaimer, it's difficult to ignore the multitude of negative reviews of Groupon Getaways. Here are some common complaints:
Groupon Getaways Complaint #1: Limited and Inflexible Travel Plans
The Icelandic trip we cost-compared above is offered by Gate 1 Travel, which one customer calls out by name in a review left on February 16, 2016. In the review, which can be read in its entirety here, the Groupon customer states that:
Gate 1 Travel said that direct flights were not available, but that layovers would be no more than 2 hours.
They were given an itinerary with an 8-hour layover.
When the customer called to complain, Gate 1 Travel stated that the ticket was non-refundable, and any cost to change the flight would be paid directly by the customer.
Being stuck with inflexible travel plans is a common complaint regarding Groupon Getaways, as are non-refundable charges if you're not pleased with the choices or itinerary presented to you.
Groupon Getaways Complaint #2: Incorrect Booking Information and Difficult Customer Service
Not all of the 466 reviews of Groupon on Consumer Affairs website pertain specifically to their Getaway deals. However, those that do are consistently negative.
Most are also quite lengthy, as customers describe their frustrating experiences. Consider this 1-star review left by Jeremy of Waterdown, on August 20, 2016:
"My wife and I purchased a Groupon hotel room night at the Lancaster Host Resort in Lancaster, PA. After driving for most of the day, we arrived at the hotel at 8 pm (EST), all set to have a shower and get some sleep. To our utter shock, we were told by the Front Desk, that they were not receiving guests, as they did not have AC or running hot water. They could not call us ahead of time and warn us, as Groupon had not shared our contact details with them. We were now asked to contact Groupon and ask to be booked at another hotel. It was 8.00 pm EST. We called Groupon and the agent at the telephone number 1-888-664-4482 heard us out and said that she was unable to help, as she was from another department. She said she would transfer us to the 'Getaways' department. She did, and we got the voicemail, which said that they were closed for the day.

We called again and now explained to the agent that we needed help - she promised to connect us to a 'live agent.' Once again, she put the call through, and after being kept on hold for 5 minutes, somebody at the other end, hung up. Now, tired and frustrated, we had no option but to accept the compassionate gesture of the hotel to have us checked into a room anyway. A room that had no AC and running hot water. Certainly, not what we paid for. On our return, we emailed Groupon and explained everything to them. Other than the 'standard corporate mail' we received no refund or compensation from them. It has been more than 5 days."
While we can't be sure if Jeremy ever received a refund or compensation for his troubles, his is not the only review complaining of poorly screened destinations.
Groupon Getaways Complaint #3: Less-Than-Desireable Locations
Considering how many travelers book deals through Groupon Getaways, it's easy to brush aside negative comments with the assumption that these customers might somehow be at fault, or unreasonable in their expectations.
That is, until you watch this ABC News coverage of their reporters Groupon trip, titled "The Groupon Vacation From Hell."
The report follows ABC's Lindsey Davis to a resort in the Dominican Republic, where she and the accompanying crew experience the following:
Charges for a suite that are higher than the hotel's standard rates
Stained and unclean bedding
A beach that was public, unlike the Getaway description that advertised a private area
Constant solicitation from passers-by's to purchase goods, drugs, and even prostitution
In response to ABC's coverage, Groupon pulled down any travel deals associated with that resort. They also followed up with ABC, stating that they rely on customer feedback to ensure the quality of destinations.
» Related: The Photoshop-Effect: How Hotels, Resorts & Cruises Trick Travelers
However, our research shows that Groupon might not always respond so attentively.
This Tripadvisor page features seven different complaints about a location. While not all the guests booked through Groupon, you can see by the dates that, even after guests notified Groupon of their poor experiences, the website continued to feature the location in their Daily Deals.
What to Take Away From Customer Complaints Regarding Groupon Getaways
For brevity's sake, we won't detail the hundreds of customer complaints regarding Groupon Getaways. However, we will share the trend we learned from reading them—and how you can avoid a similar experience.
Nearly all of the customers who left negative reviews, including ABC News, fell short of doing their share of research before buying their deal.
From the reviews we shared above:
The individual displeased with Gate 1 Travel ignored nine emails requesting approval of an itinerary before finally reading about the booked layover two days before his or her travel.
The couple who were disappointed by their hotel's lack of air conditioning and hot water failed to call the business and confirm availability before booking.
ABC News didn't research their reporter's destination sufficiently, or they would have learned that all beaches in the Dominican Republic are public access.
That isn't to invalidate complaints regarding Groupon's inflexible policies for refunds and changes, as well as innumerable negative reviews of their customer service.
However, when you purchase deeply discounted travel deals, it's imperative that you read the fine print, including blackout travel dates and fees associated with changing your itinerary.
Additionally, realize that Groupon is a middleman and can't effectively police the hundreds of businesses with Getaways listings. Meaning, it's also a customer's responsibility to research a business, calling ahead to confirm both their availability and your expectations.
Groupon Getaways Does Offer Some Great Deals On Accommodations
Before you completely disregard Groupon Getaways, know that there are some great deals to be found with one stipulation: In our opinion, it's safest to stick strictly to hotels or other accommodations, like B&Bs.
Why do we suggest that it's "safest"?
Because, while the Groupon Getaways that bundled multiple services received mostly negative reviews, those customers who simply spent on a lodging deal had, on average, much more positive things to say about their getaway.
For example, Jennifer of Daraga, Albay writes on Consumer Reports:
"I went on a weekend staycation with my family using the Groupon voucher I purchased from beeconomic.com.ph. Buying the voucher was easy, I paid for it using my credit card which only took a couple of minutes. We loved our 2 days 1 night stay at a plush hotel with buffet meals at a very affordable price.

When we arrived at the hotel, we were welcomed by the staff even if I forgot to print my voucher. I simply showed them a screenshot that I took with my phone and my ID and they instantly approved it. I was thankful that they were quite lenient when it came to the redemption process of Groupon vouchers. I guess that's how much the hotel trusted the transactions coursed through this company. Anyway, the kids loved the infinity pool and our parents enjoyed the sauna and jacuzzi. The sunset view was also relaxing and helped us recharge for another busy week.

It was worth every penny and I intend to buy another one soon."
After reading hundreds of reviews, it's our opinion that being able to confirm your expected services goes a long way to ensuring a positive experience with Groupon Getaway.
While it's not terribly time-consuming to call a hotel to confirm dates of availability and pricing, the nature of Groupon as a third-party vendor adds a layer of difficulty when things go wrong. Meaning that, when you start layering flights, travel agencies, car rentals, a variety of accommodations, and excursions, the potential for disaster and disappointment increases exponentially.
Additionally, the prices offered on accommodations appear to be consistently better deals than those for bundled travel.
At the time of writing, current Groupon Getaway deals near me show discounts on hotels in both Napa Valley and Lake Tahoe that are between 20–40% off the standard price. These discounts were confirmed when I visited each hotel's official website to check their advertised rates for the same dates.
Available dates are limited. However, without exception, the Groupon prices were better than those offered by the hotels, themselves.
What to Take Away? Don't Purchase a Groupon Getaway Until You Complete These Steps:
If we've learned anything from the negative reviews above, it's that purchasing a trip on Groupon doesn't leave any room for mistakes. With that in mind, we caution anyone considering a Groupon Getaway deal to follow these steps before purchase:
1. Read the Fine Print Very, Very Carefully
Be sure to check for the following:
Extra fees, including baggage or cost of traveling solo
Blackout dates and required date to book your trip by
Destination reviews from several independent sources
Cost of canceling your trip and potential refund
2. Call to See If You Can Get the Same Deal by Purchasing Directly Through the Business
After reading reviews from both Groupon customers and businesses who have advertised on the website stating that better deals can be found by buying direct, we'd also encourage you to contact the company and check their pricing. Also, to make sure that they're not experiencing any construction or irregularities that would disrupt regular service.
As we mentioned in the previous section, this is easiest when dealing with a single company, such as a hotel, B&B, or resort.
Buying directly gives you the benefit of cutting out Groupon's (poorly reviewed) customer service. Additionally, there are less likely to be any mistakes in your reservation when bypassing a third-party vendor.
3. Print All Available Documents Detailing Your Purchase
Once you've thoroughly read the rules and potential fees associated with your deal, we urge you to print out everything. This includes the initial coupon, your confirmation, and any supporting information.
We also encourage you to make a copy so that one can be tucked away for safekeeping, while duplicates can be brought on your trip just in case you experience any inconsistencies.
But, the most important takeaway here is this: Before you book any hotel or excursion, do your homework.
Don't just assume that the site you're using has done it for you. Additionally, look beyond glossy brochures to learn as much as you can about where you're going, or you may end up getting less (or more) than you bargained for.
» More on Hotel Booking: Vacation Rental vs. Hotel: How to Decide What's Better for Your Next Trip?