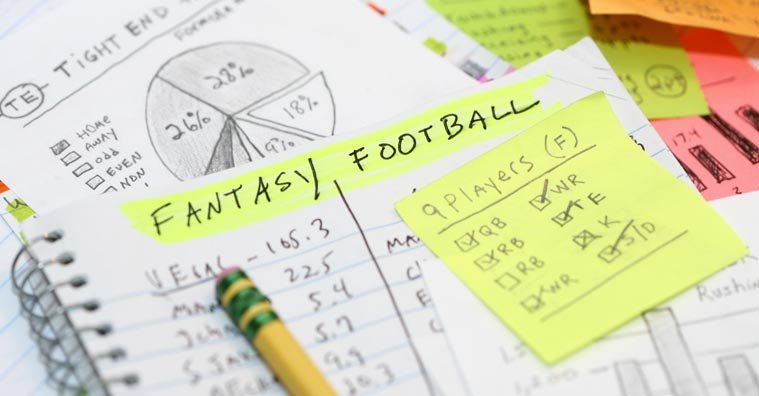 Not all fantasy football players are created equal, nor are the fantasy football leagues they play in.
With dozens of choices with which you can create a fantasy football league or continue the one you already play it, it can be hard to narrow down a choice based on what you want and what type of player you are.
The easy choice is to go with the biggest names – Yahoo, ESPN, CBS Sports or NFL. And while those names dominate the fantasy football landscape, they have their own nuances that make them different enough to where you might want to choose one over the other.
And, when you consider that the multi-billion-dollar fantasy football industry is spawning new sites left and right, you may be missing out on a better league if you or your league doesn't consider a switch.
In this guide, we're providing you with an in-depth comparison of the five sites we mentioned. We've applied our own experience with each site as well as extensive research to choose the best fantasy football site overall and the best site based on the following categories and situations:
In each section, we include our rankings as well a "Things to Consider" subsection that offers advice related to the category we're ranking.
HighYa's Top Pick for the Best Overall Fantasy Football Site of 2018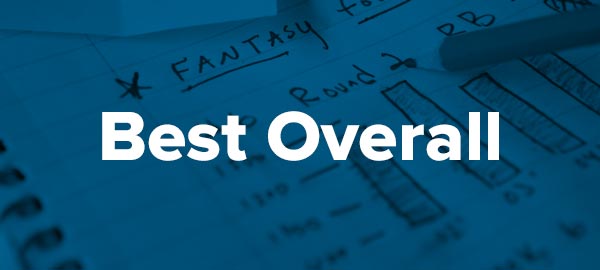 Yahoo's fantasy football is, based on our research, the best overall fantasy football sit because it had a strong showing in each category we ranked: expert advice, beginners, drafting, free leagues and prize leagues.
The table below provides a visual of how we scored the five sites we compared. Below the table, we explain the overall pros and cons of each site.
| Overall Rank | Site | Best for Advice | Best for Beginners | Best for Drafting | Best for Free Leagues | Best for Prize Leagues | Average Score |
| --- | --- | --- | --- | --- | --- | --- | --- |
| 1 | Yahoo | 2 | 1 | 1 | 2 | 1 | 1.4 |
| 2 | ESPN | 3 | 3 | 2 | 3 | 4 | 3 |
| 3 | CBS Sports | 1 | 2 | 5 | 5 | 2 | 3 |
| 4 | NFL | 3 | 4 | 3 | 4 | 3 | 3.4 |
| 5 | Sleeper | 5 | 5 | 4 | 1 | 4 | 3.8 |
1. Yahoo
Our research shows that Yahoo places first or second in the five different categories we've listed below, making it the clear choice for the best fantasy football site. Their experts rank well, their draft platform is fluid and has unique tools and they are a great place to start or join your first league, as the customization tools are free and extensive.
» For Further Reading: Our Full Review of Yahoo Fantasy Football
2. ESPN
ESPN didn't finish first in any of the categories but it also didn't finish last, making it a consistent site for those who want an easy draft platform and who are looking for a free league that's relatively easy to use. Drawbacks are that it doesn't have prize leagues and their experts aren't rated in the top 109 by FantasyPros.
» For Further Reading: Our Full Review of ESPN Fantasy Football
3. CBS Sports
This site's experts are the highest-rated among the five sites we've reviewed. CBS Sports' Heath Cummings is #46 on FantasyPros' list of the top 109 analysts. It's also a good site for beginners. However, you have to pay for a fully customizable league and the site's draft platform was the worst of the group.
» For Further Reading: Our Full Review of CBS Sports Fantasy Football
4. NFL
We liked NFL.com's draft platform, rating it second behind Yahoo. We think the layout and the user experience was excellent but it lacked the in-draft tools Yahoo did. The site is unique in that its prize leagues rewards NFL memorabilia instead of cash. The downsides are that the flexibility in their free leagues isn't as great as they are on other sites.
» For Further Reading: Our Full Review of NFL.com Fantasy Football
5. Sleeper
While we liked the fact that Sleeper is a new site among long-standing fantasy football sites, we think it suffered from the fact that it doesn't have its own in-house experts and that beginners will have a tougher time with the stripped-down draft platform.
» For Further Reading: Sleeper Fantasy Football
HighYa's Rankings for the Best Fantasy Football Sites in Specific Situations
While overall rankings are a good way to find out how well-rounded a site is, you should also consider how well each site does in specific categories that are important to your fantasy football success.
The following sections detail five different key factors of a fantasy football site and how each of the sites we ranked fares in those categories.
Best Fantasy Football Site for Expert Advice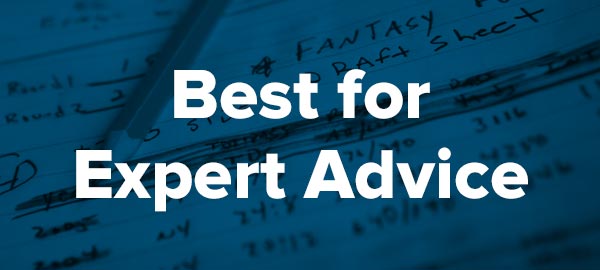 A fantasy football site's analysts are key to your experience with their site. If you feel like the analysts are on-point, then you'll return to their articles again and again.
However, if you don't have confidence in how an analyst or group of analysts project a player's performance, then there's a good chance you'll go elsewhere for advice.
Ideally, you'd be able to get great advice via the site on which you have your league. We've ranked the sites based on the accuracy ratings they get from FantasyPros, a fantasy sports site with extensive data on football.
The analyst rankings are based on how those analysts scored on their projections of how players in each position will perform each week. The rankings range from #1 to #109:
1. CBS Sports
Experts and scores:
Heath Cummings - #46
Jamey Eisenberg - #64
Dave Richard - #69
Cummings' best category is RB's (#10), Eisenberg's is K (#12) and Richard's is QB (#15). Cummings and Richard's best categories are also crucial categories for your lineup, making their expertise at these positions more valuable than their overall ranking indicates.
2. Yahoo
Experts and scores:
Scott Pianowski - #61
Andy Behrens - #78
Brad Evans - #84
Dalton Del Don - #85
Liz Loza - #86
Pianowski's best category is DEF (#20), Behrens' is TE (#18), Evans' is TE (#14), Del Don's is K (#6) and Loza's is TE (#25). Yahoo's greatest strength is in its ability to predict the performances of TE's. This position isn't considered a marquee position, so the value is negligible.
3. NFL and ESPN
Neither of these sites has an analyst in FantasyPros' top-100. This may be surprising considering that ESPN's Matthew Berry is perhaps the most famous fantasy analyst. Despite the lack of a top-100 analyst, the two sites have extensive draft kits and rankings that could have some gems in them.
4. Sleeper
Sleeper has no analysts to speak of because, at the time of publishing, the fantasy articles they have in their various article feeds are from other sites.
Important Things to Consider in This Category
The fantasy football rankings world, whether it's predicting how a player will do during the regular season or how they will do week to week, isn't an exact science. Analysts that are great at predicting the performance of quarterbacks could be average or bad at predicting other positions.
Our advice is to find out the categories in which the analysts do best – Brad Evans is top-15 for TE's, for example – and read up on what they say about that particular position.
Yahoo's analysts are best for TE's. CBS Sports' experts don't collectively score high in one category. Rather, one is good at RB's and one is good at QB's. Heath Cummings, the CBS RB guru, is a great resource.
Dave Richard is good at predicting week-to-week performance of QB's, but that advice is only as valuable as your league's scoring for QB's. If you're getting 4-5 points per 100 passing yards and 6 points per TD, his advice is critical. If you only get 2 points per 100 yards and 4 points per TD, the advice is a bit less important because the QB position isn't as valuable as RB and WR.
Best Fantasy Football Site for Beginners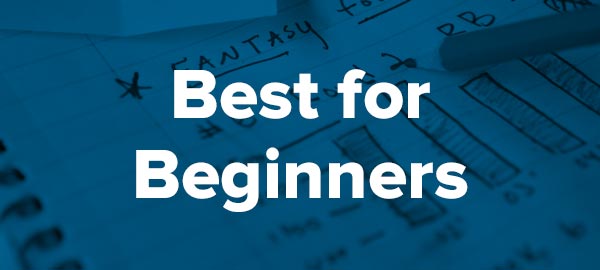 If you're just starting out as a fantasy football manager, there's a lot for you to learn. Your best bet for building up your skill set starts with a site that has a mix of good free leagues, analysts who provide solid player rankings and a draft platform that's easy to understand and accessible via mock drafts.
Some of the most popular fantasy football sites offer this trio and others don't.
1. Yahoo
Yahoo has an excellent collection of analysts who can provide you with all the information you need about players as well as some strategies for drafting. Their draft platform is equally as good and so is the level of customization you get with their free leagues. It's a site you can grow with as you get more experienced.
2. CBS Sports
CBS Sports' analysts are, as a group, the best of the sites in this guide. More importantly, two of their analysts rank in the top-15 for their predictions of week-to-week QB and RB play, two positions crucial to your chances at a trophy. Their draft platform is not nearly as good as Yahoo, so do some mock drafts to get used to it.
3. ESPN
ESPN is a good beginner's site because their mock drafts are running all day, their draft platform is user-friendly and they've got all kinds of content about player rankings and draft strategies. They don't have any prize leagues, though, which may not work for you as you advance in your abilities.
4. NFL
NFL.com's analysts aren't ranked in the top 100 by FantasyPros, which isn't a death sentence for your team but it does make us partial to higher-rated analysts from Yahoo and CBS Sports. Their mock drafts don't start until after 9 a.m. EST, which is a drawback. However, their draft platform is simple, easy-to-use and one of the best.
5. Sleeper
Sleeper isn't the greatest site for beginners because it doesn't have any in-house analysts. Rather, advice comes from the Sleeper community and any links from other sites that users post. Also, their draft platform, while simple and design-forward, isn't as extensive and data-driven as those from other sites.
Best Fantasy Football Site for Drafting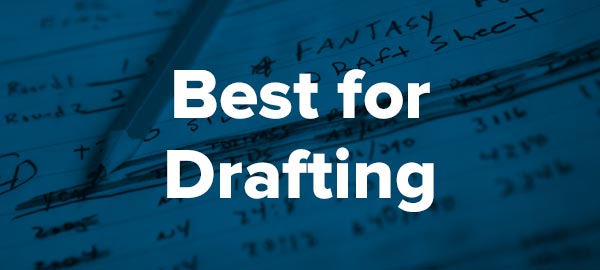 Fantasy football drafts are pressure-packed events with unexpected twists and turns. Therefore, when you're using a site's draft platforms, you want to be able to move quickly between layers, see which teams are picking after you and what their position needs are, as well as access stats, if needed, in a moment's notice.
For this reason, you need a draft platform that provides information and data about players and other teams in a way that's easy to access and presented clear enough to make quick decisions. You only have a limited number of seconds to make your pick and you don't want your draft platform slowing you down or flustering you during crunch time.
1. Yahoo
Yahoo's draft engine is busy, but it's grid view of which positions have been drafted how many times on each team is a genius feature for those who are formulating position strategies on the fly. Mock drafts start early in the day, too.
2. ESPN
A close second to Yahoo, ESPN's time-honored draft platform has all the necessities without being too overwhelming. It's easy to add players to your queue and you can search players pretty quickly. Each player's stats are presented clearly, too.
3. NFL
The site's draft platform is simpler than Yahoo but functional in terms of adding players to your queue and searching players. The main drawback is that its mock drafts don't start until after 9 a.m. EST, which means East Coasters can't practice their draft strategy before heading out to work in the morning.
4. Sleeper
Sleeper's stripped-down draft platform doesn't have the color and functionality of the other draft platforms on this list, but it doesn't have the basics: player search and queueing players. It is unique because you can run an offline draft with their draft platform, allowing absent managers to draft along with those at the in-person draft. Missing from their site, though, is mock drafts.
5. CBS Sports
This draft platform is at the bottom of the group because the design is poor, players have to be drag-and-dropped into the queue and player stats are really hard to read because the font is too small and jumbled together.
Important Things to Consider in This Category
Drafting a team has to do with two things: pre-draft studying and practice.
Successful fantasy managers will spend some time during the offseason evaluating players, making note of changes to offensive coordinators, keeping an ear to news about preseason performance and going with your gut instinct based on your research.
In addition to laying the academic groundwork, you also want to do a few mock drafts using the site you'll draft on. Doing so gets you into the groove of being on the clock, having to make quick decisions, reacting to managers who took the player you wanted and, overall, managing the unexpected.
If you choose to use Sleeper this year for your league, remember that you can't mock draft on their site. What you can do, though, is preview the draft platform, which allows you to lay around with it and familiarize yourself with how it works. If you want to mock draft to get your feet wet, head to Yahoo or ESPN to get your practice in.
Best Fantasy Football Site for Free Leagues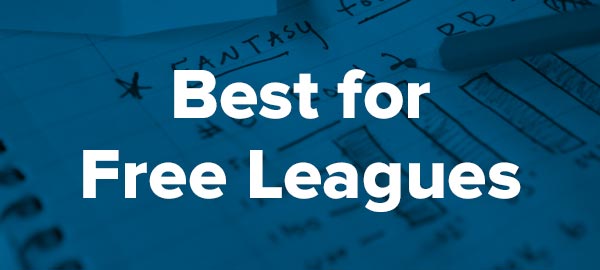 The ideal situation for you and your fellow managers is to have a league to provides a full set of customizations for free. You want a site that will let you change score settings, draft settings, waiver rules and requirements as well as keepers and draft-pick trades.
There are some sites that offer some of these options but not all of them and, in the long run, there's a good chance those missing tools won't be worth the headache even if the league is free.
1. Sleeper
We like Sleeper as the best free league because it's easy to set up a league, adjust scoring settings, run dynasty or keeper leagues and provide a way to run an offline draft but still allow absent managers to live draft through their app. The chat option is also a great feature, as it not only lets you talk with other managers but also provides a stream of league updates, commissioner notes, and player transactions.
2. Yahoo
Yahoo's free leagues provide a high level of customization, although not quite as fluid in their function as Sleeper. A redesign in 2018 made their commissioner tools much easier to navigate; they ditched the archaic interface they had. The commissioner tools available in the Yahoo fantasy sports app are limited compared to what you can do through a browser.
3. ESPN
The site's free leagues offer virtually the same tools you can get on Yahoo but the main drawback is that the user experience is pretty archaic. There's no emphasis on design or a clean look like what you'll find on Sleeper or Yahoo. Despite the glamour, ESPN's provides enough options to make their free league customizable to any situation, including draft-pick trades.
4. NFL
NFL.com's free leagues fall in line with ESPN and Yahoo – you've got plenty of customizations that you don't have to pay for. There's one small difference between ESPN, Yahoo, and NFL. Whereas the first two leagues track your draft pick trades for you, NFL.com requires that you keep track of your draft pick trades on your own, off the site/app.
5. CBS Sports
We put CBS Sports in this last slot because it will cost you $149.99 in order to run a league that has the same customization options as you get with the free leagues.
Best Fantasy Football Site for Prize Leagues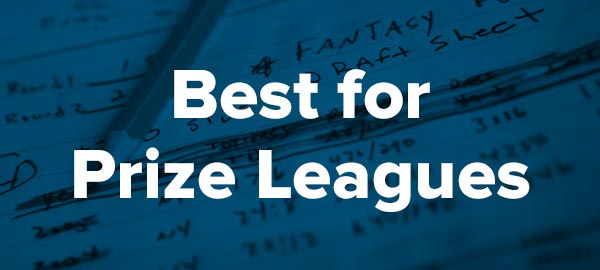 If you've progressed in your fantasy football skills to the point that you're ready to put money on the line in a public league with players you don't' know, then you'll want to find a site that offers prize leagues in which you put up an entry fee to compete for cash or prizes.
Not every site offers those types of leagues, which is why some are a better fit for you than others.
1. Yahoo
Yahoo's prize leagues are the superior choice. They provide payouts for the top three teams in all their prize leagues. First place wins 5x the entry fee, second place gets 3x the entry fee and third place wins their entry fee back. Entry fees range from $20 to $1,000, while prizes range from $1,000 to $5,000.
2. CBS Sports
CBS has cash-prize leagues just like Yahoo, with the top prize being $5,000 for a $999.99 buy in. We'd rank the site higher but a no payouts for the third-place finisher, limited payouts for second-place finishers and the roughly 35% fee that CBS takes from entry fees put it behind Yahoo.
3. NFL
The prize leagues on this site provide NFL merchandise in lieu of cash prizes. The entry fees for these leagues range from $5 to $59 and prizes start out as a yellow officiating flag or red challenge flag ($5 league) up to a signed NFL jersey ($59 league)
The fees the site takes are substantial. The jersey league earns $590 from 10 entry fees but a signed Carson Wentz jersey on NFL.com, at the time of publishing, sold for $180, which means NFL.com is getting a 69% ($410) cut of the entry fees.
4. ESPN and Sleeper
Neither of these sites has public prize leagues.
Important Things to Consider in This Category
One of the downsides to the cash leagues is that each site that offers a prize is also taking a cut of your entry fee, with NFL.com being the most egregious in this area. CBS Sports takes a big cut, too, whereas Yahoo's 10% cut is reasonable.
If you don't mind how much the website is getting from your league's entry fees, then Yahoo and CBS are a great fit. Keep in mind that Yahoo is the only one of the five sites that offers cash DFS games, where you pick a lineup on any given week and compete against others for cash payouts.
You can circumvent fees entirely if you sign up for a free league then use a site like LeagueSafe to act as an escrow account for league fees. They'll hold onto them until the end of your league's season, then pay out the prizes to the winners.
The site charges no fees if you and your fellow managers pay by e-check, but if you want to use a credit card or any other form of payment, LeagueSafe will tack on a 4% convenience fee.
For Deeper Analysis Read Our Reviews of Each Site
In this guide, we provided you our comparisons of top five fantasy football sites. For further examination of each one of these sites, please read our detailed reviews:
We follow a format in which we examine each site's league types, draft features, and the site's experts. We also do a comparison section in which we point out some of the commonalities and differences between the site we're reviewing and the competition.
Also, if you're looking for a site that provides draft assistance beyond what a particular site's experts or community says, read our review of FantasyPros' Draft Wizard. It's one of the more popular draft-assistance tools and we break down what it offers and how it can help.