Guide to Gym Memberships: Things to Consider Before Joining a Gym
There are several important factors when buying a gym membership. Our guide helps you make sense of the gym industry and the factors that lead to workout success and failure.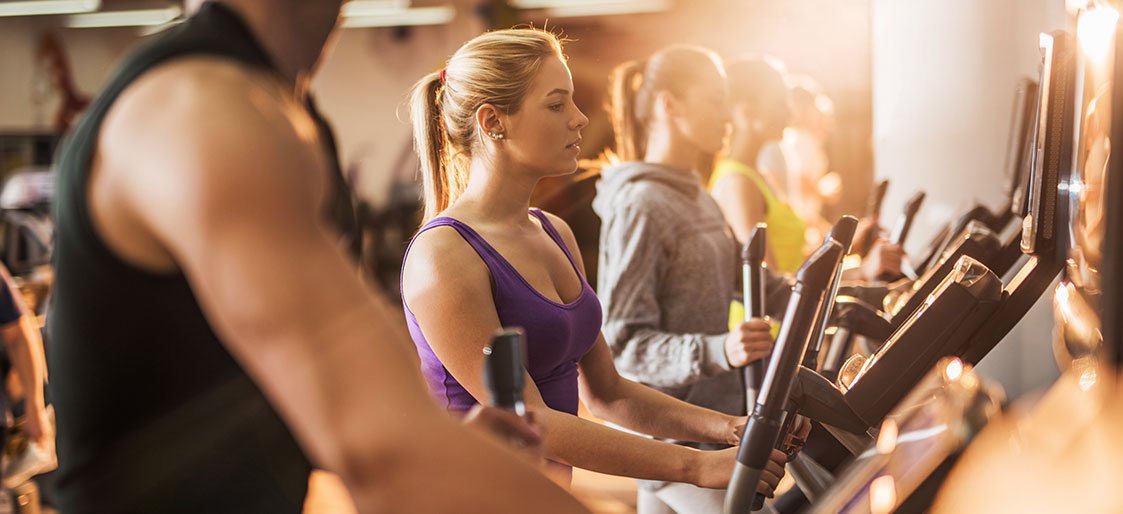 Do you remember way back in January when you or someone you knew vowed to lose a few pounds?
What's one of the first things you did? If your answer is, "Sign up for a gym membership," you aren't alone.
According to statistics website Statista.com, more than 50 million Americans had gym memberships in 2014. That's a lot of people. And guess what? All those members are paying a lot of money, making commercial gyms a $25.8 billion industry.
But you know what's even more crazy than that? Nearly 70% of people have gym memberships and never use them!
There's a pretty good chance you're a part of the more than 50 million people who are paying monthly fees for a gym membership. There's also a pretty good chance you aren't using that membership, which is costing you an average of $58 per month.
Nearly 70% of people who have gym memberships never use them.
Think about that. If the average gym membership is around $60 and about 70% of people don't use their membership, then a whopping $42 per month, per person is wasted on memberships.
Now, the purpose of this article isn't to uncover crazy scams in the gym industry or give you alternatives to gym workouts.
What we want to do is provide a practical guide to gym memberships and list important things to consider before joining a gym. We hope that this guide will help you better understand how the gym industry works, where you fit in and how you can set yourself up for success.
What Does the Gym Industry Look Like?
It's hard to drive through a city of any size these days without passing by a gym, whether it's housed in a stand-alone building or tucked away in a downtown storefront.
According to the International Health, Racquet and Sports Club Association's 2016 numbers, there are about 36,180 fitness centers in the United States. The Bureau of Labor Statistics indicates the fitness and recreational sports industry has more than 547,000 employees, including the people you see behind the desk in your gym all the way up to executives.
But those numbers are just for the American market. What about the global fitness/gym industry? Well, according to the International Health, Racquet and Sports Club Association's 2014 numbers, the United States had nearly as many gyms as Brazil and Mexico combined.
Here are some other interesting facts from the IHRSA's 2014 global report:
U.S. memberships were more than four times the amount of second-place countries Germany and the United Kingdom, and more than three times the number of members in all of Central and South America.
Overall, the number of global gyms grew by 4.7% in 2014.
During that same time period, revenue jumped 4% and membership rose 1.8%.
As you've probably noticed, the United States is the ultimate gym country. We've got more members than anyone else, generate the most revenue and have the most clubs.
But how does that apply to you? What's your place in the United States gym membership landscape? We're going to address that next.
What Joining a Gym Is Like?
The Physical Activity Council's 2015 report explains why there's a good chance you've thought about joining a gym sometime in the past year, or have joined one in the past.
More than 6 out of 10 Americans who exercise get their workout from fitness sports you'd find in a gym: treadmills, stationary bikes, ellipticals, aerobics, dance, step and other gym-centric activities.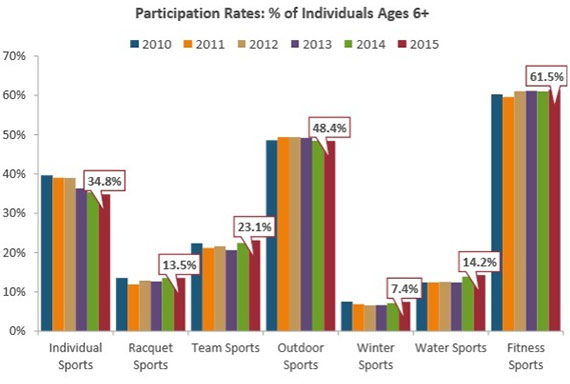 Americans who exercise at least once a week prefer gym-type activities over all else. ​
Gyms have this reputation for being the place where you sign up with high hopes only to abandon your dreams a few months later. Remember, about 7 out of 10 people with gym memberships never use them.
When you look at it like that, gyms seem like a rip-off. However, the data from the PAC's report shows that, without a gym, many of us would miss out on our weekly aerobic activity.
The question as to why we prefer fitness activities above other forms is an interesting one. There isn't a lot of research out there about the issue; Livestrong did a basic article about it, but the insights weren't too in-depth. However, they did bring up some good points:
It's relatively easy to find a workout partner, and workout partners increase the chances you'll stick with your exercise routine/goals.
Gyms offer a wide variety of exercise equipment that you most likely don't have or can't afford for your own home.
Gyms usually offer group classes. According to the American College of Sports Medicine, group workouts offer a communal, structure and safe environment that we enjoy.
Personal training industry website PT Direct points out that gym members have very specific habits about what times and which days they go to the gym.
At a typical club, member check-ins hit their peaks between 6 and 8 a.m., 12 and 2 p.m., then once more between 6 and 8 p.m.
Though the times we head to the gym are spread out pretty evenly across the day (most likely due to our work schedules), the days we go to work out are much different.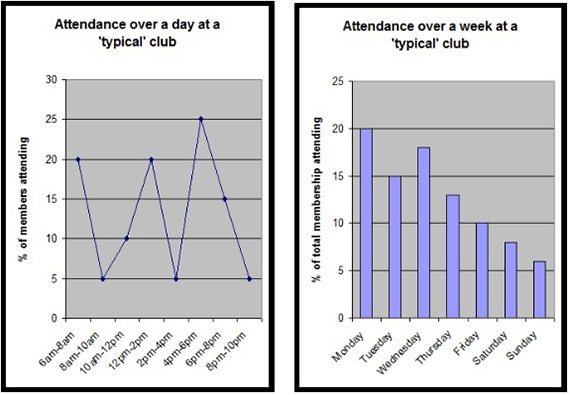 Most people who work out like to head to the gym on certain days and certain times.
Monday and Wednesday are the busiest days. After the mid-week hump, there's a huge drop-off in attendance. Sunday is the slowest day of the week. Here's what the PAC had to say about why that is:
"At the start of the week, coming off a reflective weekend, members mentally prepare themselves to go to the club," they said. "By mid-week their motivation starts to 'waiver' and by weeks end their focus is often elsewhere – Friday night drinks, the movies or planning for the weekend."
These statistics can be the key to having a successful gym membership.
Guide to a Successful Gym Membership
1. Ease the Intensity of Your Workouts as the Week Goes On
Knowing that the ACSM found we tend to lose steam the second half of the week is a great tool for you. Plan your workout schedule around the first three days of the week rather than spreading out your exercise over all five days of the work week.
If you're set on working out Monday through Friday, we don't' want to stop you. We recommend, however, that you plan accordingly.
I've spent the past few months heading to the gym, and I can tell you that, when Friday rolls around, I feel more sluggish and weak than I do on Monday. One trick you can try is lift weights or do high-intensity step/dance classes on Monday-Wednesday, then plan some longer cardio sessions on Thursday and Friday.
The idea here is that those cardio sessions will be a little easier on your body than weights and high-intensity stuff, and you'll be able to watch a little TV (most clubs have several channels) while you do your elliptical, treadmill or stair-stepper.
2. Choose Your Times Wisely
Look at the graphic we posted earlier about when people work out. You'll notice that gyms are busiest before work, during lunch breaks and after work.
Take a moment to think about what kind of person you are. Do you prefer to work out by yourself without a bunch of people around? That's definitely me at times, especially when I'm trying a new weight machine or I want to make sure there's enough machines open to quickly move through my workout.
3. Work Out When You Have the Most Energy
Also, at what times during the day do you have the most energy and how demanding is your work schedule? For me, I'm more of a night person but I work out in the morning so I can spend time with my family after work.
I pay a price for this, though. Remember how I said to ease up on the intensity of your workouts as the week goes on? Well, part of the reason behind that is because, by Friday, I'm pretty exhausted and can have a hard time focusing on my work. If you've got a demanding job, having zero energy by the end of the week could be a problem.
To counteract this, work out during the times of the day when you have the most energy. For you, that could be early in the morning or in the evening. If your work schedule allows for flexibility, try working out during the middle of the day.
Count the Cost Before You Buy a Gym Membership
Before we close out this article, we want to talk with you about your decision to sign up for a gym and how many of these locations are designed to get you to buy a membership even if you don't want one.
NPR wrote a tremendous article about this very thing a few years ago. We're going to refer to some of their observations.
First, remember that most gyms want you to feel at ease when you walk into their facility. Take my gym, for example: there's an open reception area with a modern desk, all kinds of gym merchandise behind the desk and young, relaxed employees welcoming you into the building.
Second, my gym's cardio equipment is in front. All of the free weights are tucked away in the back of the gym. You're much more likely to see someone in yoga pants pounding away at the treadmill than you are to see a bulky weightlifter hoisting insane amounts of weights.
There's a reason for those optics, NPR reporter Stacey Vanek Smith wrote.
"Instead of displaying challenging equipment like weight benches and climbing machines in plain view, gyms will often hide weight rooms and other equipment in the back," she wrote. "Many gyms now have lobbies that are designed to look like hotels and fancy restaurants."
"Many gyms now have lobbies that are designed to look like hotels and fancy restaurants."
My recommendation is to take a full tour of the gym. See the big, intimidating weights and weightlifters. Get a feel for what's there, both in the workout machines and the people. Do you feel comfortable? Do you feel like you could thrive in the environment you've experienced during your tour?
If those answers are no, head to the next gym on your list. It's important to feel like you could have success at your gym. Otherwise, you might find yourself regretting your decision to sign up.
There are plenty of other things you need to keep in mind when you're choosing a gym, but we'll get into more of those details in our second post on gym memberships.
Bottom Line: Things to Consider Before Joining a Gym
America is the undisputed king of the gym industry. We've got more locations, more members and more revenue than any other country in the world, and, in some cases, entire regions. As a result, gyms have become a part of everyday life for more than 50 million people.
But let's say you've never joined a gym, or you tried it once and didn't like it and now you're ready to start (or start again). Make sure you:
Take a few minutes to give yourself and your schedule an honest appraisal.
Write down when you have the most energy and the most time.
Try to formulate a workout schedule that meets those requirements.
Review what you've written down, taking into account that you'll be more tired at the end of the week.
Give your workout schedule another round of edits, if you think you're overextending yourself a bit, until you feel confident you can follow through on your plan.
We feel like these are really important steps to take before you ever step into a gym to inquire about memberships. But what do you do when you actually head out to a few gyms to figure out which one is best for you?
Additional Resources
In this article, we briefly discussed some tips on choosing the right gym. We've gone more in-depth with that question in another guide, where we talk about a few of the most popular gyms in the United States, what they offer, how much they cost and which ones might be a good fit for you.
If you find yourself thinking that you don't want to join a gym just yet but you want some exercise, we can help you with that decision.
First, check out an article we wrote about walking. It might seem like a simple exercise, but it's actually a really fantastic way to get your recommended weekly exercise. We share the science behind walking's health benefits: reduces arthritis, might curb your sweet tooth and cuts down the risk of certain types of cancers.
If you don't live in a place conducive to outdoor exercises, we've done reviews on popular in-home workout regimes, including DailyBurn, 21 Day Fix and CIZE. In each of these reviews, you'll get a good sense of the pros and cons about each of these programs, as well as what fees you can expect and what other people are saying about them.
» See Also: What is CrossFit: Your Comprehensive Guide to High-Impact Interval Training