Five Holiday Gifts You Should Never Buy Generic
Consumers are obsessed with bargain shopping, but it's worth it to pay more for certain electronics, fashion items, food and drink, and fragrances.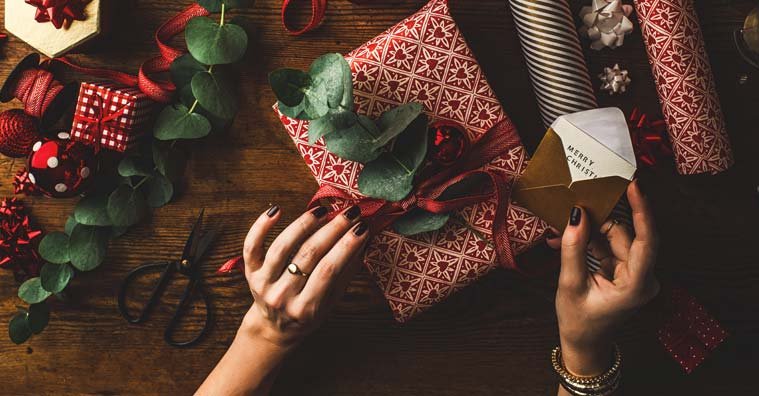 There are certain Christmas gifts you should never buy generic and there are multiple reasons why.
Not only does a quality gift provide the recipient with years of enjoyment, but it also gives you peace of mind knowing that you didn't waste your hard-earned money on a subpar item.
The trick, however, is knowing when to spend more on an item to make sure it lasts.
Is it worth it to pay big dollars for Beats headphones when you can get just as much happiness out of a pair of JVCs? If you buy off-brand shoes will they fall apart after five months?
These are the types of questions that popped into our head as we thought about which items are worth spending more money on. We've compiled a list of 5 different holiday gifts we think are more deserving of your money than an off-brand or generic version.
We divided this list into several different categories: electronics, fashion, food/drink and fragrances. In each of these sections, we'll give you one or two examples of items worth paying more for.
1. Electronics: Avoiding Generic Means Better Performance
Electronics is one of those marquee categories for two reasons – we use them every day and they cost a lot of money. So, it doesn't make sense to save a few bucks on something only to see it break less than a year down the road.
Christian Science Monitor's Trent Hamm did a quick article on name-brand vs. generic in 2012, and while the article wasn't really in-depth, it did point out the main reasons why, particularly with electronics, name brand is better.
"Generics can certainly save you money, but if the generic version doesn't actually fulfill the purpose you bought it for," Trent wrote, "you're losing money and time on the purchase."
As for electronics, he was very clear about his distaste for generic products.
"I've purchased off-brand electronics several times," he wrote. "More than once, the item ceased to work and when I would call the customer service number, I'd either get an out-of-service message or someone who didn't speak English and eventually hung up on me."
This has been my experience, too. I've purchased cheaper electronics, only to have them break after a couple of months or, in the case of a charging cord, short out and produce a quick burst of flame and smoke.
With these general principles in mind, let's cover the electronics that are worth the extra money.
Gaming Mice
For the PC gamer, a mouse is the single most important peripheral you own because it has a tremendous effect on gameplay. Because mice are such a crucial part of the gameplay, gamers are willing to pay for the right mouse, and, usually, that right mouse is a trusted name brand like Razer or Logitech.
"Not all mice are created equal," gamer expert Wes Fenlon wrote in an article about gaming mice. "There are many, many bad gaming mice out there, with sensors that aren't up to snuff, terrible driver software, or cheap build quality."
Best-of lists from tech sites like Tech Radar, CNET and PC Gamer are replete with name brands and generics are nowhere to be found.
Based on my own experience and what I read from Wes Fenlon, is that name-brand gaming mice are built from better parts, which results in a better gaming experience.
Tech Radar writer Kane Fulton put it this way:
"You'll assuredly find yourself at a disadvantage if you skimp on a competent gaming mouse," Fulton wrote. "Assuming you've already shelled out the dough for a robust gaming rig straight out of science fiction, there's no excuse for being stingy on control inputs."
Headphones
This product category is another area where it pays to spend more, in most cases (more on that in a few seconds).
A great example of the quality gap between generic brands and name brands comes from a 2010 article from Australian site PC Authority. The company conducted a headphones test that judged four different brands (Sennheiser, Sony, Apple and a generic) across 11 different categories. Twenty in-house judges participated in the rankings.
They found that the most expensive pair of headphones rated highest (Sennheiser, $500+), while Sony ($65) finished second, Apple finished third and the generic headphones finished last.
Judges said the generic headphones were tinny and weak. But while the Sennheisers got the highest ratings, judges noted they'd be more than happy using the cheaper (but still name-brand) Sony headphones.
"The good news is that you don't need to spend the earth to upgrade," PC Authority wrote. "The Sennheisers may take the audiophile crown, but our respondents' scores indicate that they'd be just as happy with the pumping Sony units costing one sixth of the price."
A 2014 article by TIME reporter Ben Taylor confirmed what we found in the PC Authority article, with one exception. Taylor rated 18 different headphone brands, relegating the off- or non-professional brands to the bottom eight.
One name brand product, mega-popular Beats by Dre finished 17th out of 18 products. Plantornics headphones aren't quite as expensive as Beats by Dre, but still cost more than what you'd pay for a pair of JVCs or Sonys.
"Today, the audio industry is saturated with marketing. Clueless consumers snap up name-brands at $300+ price points while merrily scrolling past better, cheaper pairs," Taylor wrote. "The problem? We're conditioned to shop by brand, rather than by true audio experience."
Taylor may seem like he's devaluing name brands, but he's not. He's encouraging people to buy name-brand headphones that work well, not just ones that are marketed well (Beats are a good example).
Our verdict? It's worth it to pay a little more for that pair of headphones you want to buy for someone. Stay away from brands like Skullcandy, which you may have noticed tend to end up on the shelves at Ross and TJ Maxx.
2. Fashion: Better Brands Mean Better Durability
We're only going to cover one area of fashion in this section, but we want to preface that one item – men's dress shoes – with an overall philosophy of fashion spending.
Clothes and shoes can make great gifts if you have the magical ability to know your friend, loved one or partner's style, but they can also be a colossal bust if you cheap out on bargain brands that unravel, rip or fray after a few days of use.
Because clothes are meant to be worn more than once (minus the occasional bridesmaid's dress), the conventional wisdom is that you should spend more money on them. Better to buy two pairs of good jeans that will last you years than five pairs of cheap jeans that will disintegrate after one or two seasons.
Lifehacker's Patrick Allen calls this the "comfort principle" – spend your money wisely on the things you use the most.
"Quality clothes last longer for the money you spend, they're more comfortable, and they make you look and feel pretty good while you wear them," Allen wrote. "Best of all, you can find quality anywhere. It comes down to buying less mediocre stuff and using that money on a few nice things that last forever."
In general, high-quality clothes last longer. However, there are some areas where the benefits are greater than others. For example, if you do a lot of running, cheap shoes and clothes don't make a lot of sense, frugal living website Making Sense of Cents says.
"Some of my runs are over two hours in duration. For these situations, I need high-quality performance gear," contributor Jordann Brown wrote. "I've run in the expensive gear and the cheaper alternatives, and the expensive gear performs better every time. It's worth it to get quality gear rather than relying on cheap gear."
In our opinion, it pays to spend more on the clothes you'll use a lot. The money you'll save by avoiding cheaply made clothes tends to be worth it. Now, for dress shoes, the swanky gift your fashion-conscious recipient will love…
Dress Shoes
If you're shopping around for a nice pair of dress shoes for a significant other or relative, there are certain standards you should have when making a purchase, Kinowear's Jeremy Reeves says:
Made of genuine leather: Real leather shoes can be refurbished several times over.
Soles should be stitched to the bottom of your shoe and not glued. Soles that are glued to the shoe tend to break loose over time.
Stitching should be neat and discreet. Shoddy sewing means shoddy quality.
These various factors are easy to check. Just take the shoe out of the box and give it a good visual inspection. Markings on the inside of the shoe should note whether or not the shoe is made from genuine leather (or just a simple sniff should do).
A 2010 article from CBS news corroborates Kinowear's opinion, noting that shoes are one of the bedrocks of a good outfit and should, for the most part, be of high quality.
"For classic fashion pieces you'll wear year-after-year, invest in quality items like leather wallets and shoes," CBS wrote. "The quality stands out with these items, because the leather is often hand-made, as opposed to factory-produced, and will last for many years, saving money in the long-run."
Though a good pair of dress shoes will run you between $200 and $300, the years your recipient gets out of them will more than make them worth it.
3. Food and Drink: Certain Products Are Worth Every Extra Penny
This is another category where you tend to get what you pay for.
A great example of this comes from the world of chocolates. Personal experience has probably taught you there's a world of difference between the chocolate used in a Hershey's Kiss and the chocolate used in a more expensive brand like Godiva.
The secret lies in the quality of the ingredients used in the chocolate. Just like shoes, headphones or a gaming mouse, the better the parts, the better the product.
Serious Eats contributor Clay Gordon talked about what makes excellent chocolate in a 2008 article about the sweet stuff.
"Not only must the chocolate maker select great (cacao) beans, but they must work with their farmers to ensure that the beans are optimally fermented and optimally dried," Gordon wrote. "Once the beans arrive at the factory they must be cleaned properly, roasted precisely, winnowed carefully, ground gently, blended tastefully, refined smoothly and finally, conched (the process of mixing in cocoa butter) lovingly."
His description of the chocolate-making process reveals how much care is put into the production of quality chocolate.
The same rules apply to liquor, which is the next gift on our list of things that are worth spending a little extra money on.
4. Liquor: For Gifts, Don't Buy Generic Spirits
Long a staple for a white elephant gift or a nice gesture for a boss or coworker, liquors and whiskeys are very similar to chocolate in that, the more careful the creation of the booze, the better the product.
Now, in a basic sense, you probably have a solid level of intuition about the fact that more expensive liquor tends to taste better.
Anyone who's downed a shot of an off-name vodka from your local liquor store can attest that the fiery burn that assaults your tongue, throat, and stomach is a far cry from a gulp of a premium brand like Tito's Handmade Vodka.
We headed over to Live Science to read up on exactly why a premium spirit tends to outclass a generic one, or even a well-known bargain brand.
The combination of ingredients used and processing are, in most cases, what set apart expensive brands from cheap brands, contributor Jeremy Hsu said.
"Paying more for a premium brand rather than the cheaper bottles of liquor might be a good idea," he said. "More expensive premium liquors often have natural ingredients and more careful distilling … so they earn higher price tags."
For example, premium rums use freshly pressed sugar cane, whereas cheaper brands use molasses. On the processing side of things, top-notch producers obsess over distilling. They are very selective about removing impurities as the alcohol distills.
To supplement his research, Live Science's Hsu talked with Alexis Kahn, director of beverage education at The International Culinary Center in New York City.
"If you use higher quality grapes, grains and fruits, you end up with a better quality product than using industrial alcohol and synthetic ingredients," Kahn told Hsu. "Using high-quality natural ingredients is a lot more expensive than the alternative."
Our suggestion? When it comes to a gift bottle of vodka, avoid the Gilbey's ($6.89 for 750ml) – VodkaBuzz called it "offensive" – and stick with at least a $20 bottle.
For example, VodkaBuzz gave Tito's ($19.99 for 750ml) a five-star review saying, "Tito's Handmade Vodka is vodka at its finest … Even at double the price, Tito's would still be worth every penny."
The same rules apply here for other types of liquor, too. Live Science's Hsu said, for the most part, scotch and whiskey also go up in quality as they go up in value.
5. Fragrances: Smelling Great Doesn't Come Cheap
The fragrance industry is replete with big names (Armani, Valentino, Calvin Klein, etc.) and generic brands who claim to offer the same aroma as the brand names at a fraction of the price.
So how do you know if that Giorgio Armani Acqua di Gio is really worth its $51 price tag at Macy's, and if that $7.58 bottle of G Eau from Walmart is a worthy alternative?
According to aromatherapy expert Tatiana Estevez, the ingredients make the difference (sound familiar?). Estevez wrote an article for Slate about the differences between cheap and expensive fragrances.
The two biggest differences, she wrote, are smell and endurance. Cheaper fragrances smell sweeter and their aroma doesn't last.
Also, she said, knock-offs which claim to match the aroma profile of real colognes or perfumes might hit some of the more recognizable smells (top notes), but they don't possess the subtleties (middle and base notes) which give a fragrance its full personality.
"More expensive perfumes are more likely to have several levels of fragrance," Estevez wrote. "The top notes you smell immediately and last about half an hour. The mid notes develop after half an hour for two to four hours after that. Then come the base notes, which is what is left on your skin at the end of the day."
This advice is invaluable; if you've got the money to buy a nice bottle of perfume or cologne for that special someone, do it. However, if you want to save a few bucks by purchasing your Acqua di Gio or other fragrance from eBay, we'd advise against it.
YouTube has dozens of videos of shoppers who've bought fake bottles of the stuff (and other fragrances) from eBay sellers who claim their Gio is 100% authentic. Here's a great example of that:
And it gets worse, too. Our research revealed that fake fragrance manufacturers use questionable ingredients to create their counterfeits.
"Apparently, knockoff perfume makers can't be bothered to use the same stabilizers used by perfume brands to make sure that those delicate scents don't expire," Autumn wrote. "Instead, they substitute human urine which, it should go without saying, is rather unsanitary and can cause skin problems."
Our advice? If you want to buy name-brand fragrances as gifts, pay for the good stuff and buy it from a reputable retailer like Macy's or Nordstrom.
And remember how we said buying headphones at Ross is a bad idea? Well, those discount stores tend to have a small collection of name-brand, non-counterfeit fragrances at significantly reduced prices.
The Bottom Line
Over the past five years or so, Americans have become experts at bargain shopping. Couponing has exploded. Discount sites like Groupon have grown like crazy. Everything in the retail world, it seems, is about bargains.
According to a 2014 Consumer Reports article, 83 percent of Americans say they consider themselves bargain shoppers, so much so that, if money weren't an issue, they'd shop for sale items.
We think bargains are awesome. However, sometimes it pays to pay up for certain items like electronics, clothing, liquor, and fragrances.
The key here isn't so much to blow your money on name brands but to "invest" your money wisely into gifts you know the recipient wants and will last.
There's nothing worse than giving a gift your friend, loved one or partner totally enjoys, only to see it fall to pieces a few months later.
And please, don't skimp on the gift booze and cologne or perfume. What you get in place of the real deal, or at least the name brand, will most likely be a poor substitute.
» Read Next: How to Determine the Perfect Gift for Anyone: An Expert's Guide