How Does Your Credit Score Affect Your Car Insurance Rate? Answers from a Study
A WalletHub survey shows that there is a clear link between credit scores and car insurance premiums. Consumers without credit scores pay an average of 65% more than those with excellent scores.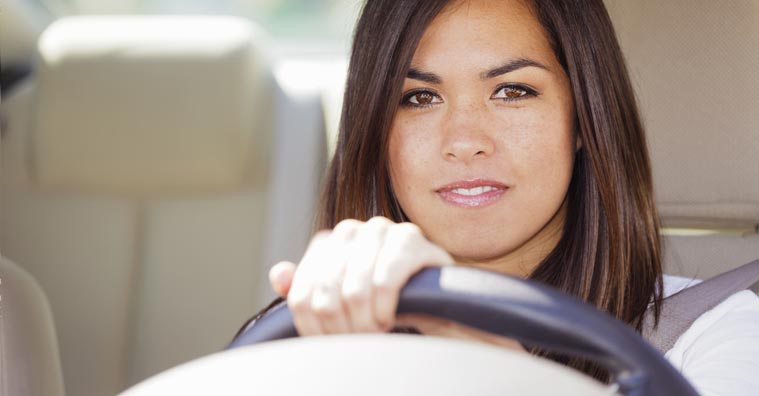 If there's one thing I've learned as a personal finance writer, it's that credit scores have a crazy amount of influence on everything from your utilities deposit to mortgages, jobs, car loans and auto insurance.
So, when I saw that WalletHub released a study on the impact of credit scores on auto insurance premiums, I was at once interested and a tiny bit stunned – credit scores have far more power than we think.
I wanted to learn more about the link between auto insurance premiums and credit scores, so I reached out to Jill Gonzalez, a WalletHub analyst who spends a lot of times gathering data, crunching numbers and investigating the relationship between credit scores, auto insurance and a variety of other personal finance topics.
"Consumers are largely unaware that on top of the miles you drive, age and type of vehicle, credit scores are another factor that most companies and states use for your coverage and premiums," Gonzalez said.
Yes, it's true. Your credit score affect your car insurance rate.
No Score or Bad Score? Your Premiums Aren't Going to Be Pretty
One of the most stunning stats Gonzalez and her colleagues discovered was that on average, "people with no credit pay 65% more for car insurance than people with excellent credit."
So, if someone with excellent credit (740-850) is paying $70 a month for their car insurance, then the person with no credit would pay, on average $115.50 a month. Over the course of one year, that's a difference of more than $540.
Why is it that auto insurance companies make you pay more if you have low or no scores?
Gonzalez says part of that is the responsibility factor – consumers with higher credit scores tend to pay their bills on time.
"The thinking here is that the higher the credit score, the less risk the company is taking on in terms of driving habits, but even more so in terms of paying habits," Gonzalez said.
Related: What Can You Do with a Good Credit Score
Bad Scores Will Hurt You More in Some States Than Others
Gonzalez and her fellow analysts have done the credit score relationship to auto insurance study for several years now. One of the biggest surprises, she said, is how much variance there is from state to state with respect to premiums and credit scores.
"I think what's most surprising is how much the data varies from state to state, even states that border each other," she said. "There's no regional causality here."
A great example of how much variation there is when it comes to states, credit scores and auto insurance is California, Oregon and Washington.
California has a law that makes it illegal to use credit scores when determining auto insurance rates. Therefore, there's no difference in premiums between those with no scores or bad scores and those with excellent scores.
Oregon, on the other hand, is a state where no scores or bad score gets you a premium that is, on average, 99 percent higher than California.
Washington, Oregon's neighbor to the north, is home to a 65% difference between auto insurance premiums paid by those with bad/no scores and those with excellent scores.
The Three Worst States for Consumers With No Credit
Oregon and Washington, although pretty tough on people with no credit, aren't among the worst states for those with no credit. That distinction belongs to the following states:
Pennsylvania: 113% higher
New Jersey: 100% higher
Michigan: 105% higher
According to numbers we found from ValuePenguin, here are the average monthly car insurance premiums in those states:
Pennsylvania: $120
New Jersey: $159
Michigan: $213
Now, it's hard to pinpoint exactly how much someone with excellent credit or no credit would pay in these states. The premiums listed above are averages, which means excellent-credit customers would pay less than the average and those with no credit pay more.
For the sake of example, we'll say someone with excellent credit pays $80 a month in Pennsylvania, which means someone with no credit would pay $170.
Not only would the no-credit customer pay twice as much as someone with excellent credit, but they'd also pay almost 50% more than the average rate.
A Study of Five Insurance Companies and the Way They Calculate Credit Scores
Another interesting aspect of WalletHub's study was a comparison of how car insurance companies factor credit scores into their calculations for premiums.
Analysts discovered that, in 2016, Farmers Insurance weighed credit scores more heavily than any other car insurance company.
"Farmers Insurance seems most reliant on credit data, with credit newcomers paying over twice as much as excellent-credit customers," the study read.
Here's a breakdown of how much more people with no credit will pay over those who have excellent credit:
Farmers Insurance: 102%
Allstate: 79%
State Farm: 58%
Progressive: 55%
Geico: 40%
Car Insurance Companies Disclose Premium-Scores Relationship Differently
While most consumers aren't aware of how much their credit can affect their insurance premiums, WalletHub found that many companies are actually doing a pretty good job of disclosing the fact that scores affect premiums.
They used a rating system that scored each company based on a variety of factors including:
If the credit-premium content was displayed on the first page
If the information is in a bigger or smaller font
How easy it is to find the info on the company's website
Based on those criteria, WalletHub found that The Travelers Companies scored highest, followed by a three-way tie for second: Progressive, Farmers and Allstate.
GEICO finished a close third followed by American Family, USAA and Nationwide Mutual.
Liberty Mutual and State Farm finished at the bottom of the pack.
What we find interesting here is how these numbers shake down when they're compared to the stats we presented earlier about how much more you'll pay if you have no credit.
Having no credit affects you far worse when you have Farmers Insurance, but, according to WalletHub's rating system, you'll most likely know that ahead of time because they do a pretty good job of presenting that information when they give you a quote.
On the opposite side of the spectrum is State Farm, who doesn't display their credit score information prominently even though those with no credit will pay 58% more than those who have excellent credit.
How a Credit Score Affect Your Car Insurance Rate: Conclusions for Consumers
Whenever you're confronted with a big chunk of information, it's easy to get overwhelmed. So, let's break everything down into a few simple principles:
Credit scores affect your car insurance premiums
No credit equals high premiums
GEICO cares the least about credit scores
Farmers Insurance cares the most
We would include a few bullet points about states but we're guessing that doesn't mean quite as much because you're probably not going to move to another state to get better car insurance rates.
1. Credit Scores Affect Your Car Insurance Premiums
Understand that, among the dozens of other things your credit scores can influence, your car insurance rate is one of them.
As a result, you need to be vigilant about not only monitoring your scores with free credit score websites, but you also need to build good habits that can raise your credit score over time and learn about quick (and legal) things you can do to raise it fast.
2. No Credit Equals High Premiums
If you don't have a credit history either because you always pay with cash or you're a college student who's never taken out a loan or signed up for a credit card, then you are going to pay higher prices for your car insurance.
Unless, of course, you live in the three states who made it illegal to use credit scores to calculate premiums: Hawaii, California and Massachusetts.
If you don't live in those three states, then you want to build your credit as early as you can.. Here're some simple tips for building your credit without without spending a dime:
The easiest way to get around not having a credit history is to be added as an authorized user to a parent or spouses credit card. You don't even have to make any purchases; just the fact that you're an authorized user can boost your score.

You can also ask your landlord if they'll report your rent payments to the credit bureaus.

Another great way to strengthen your credit history is to get a credit card designed for people with low or no credit. Many of these cards require a security deposit, which means your credit limit is equal to your deposit, which is usually $500 or less.

The Discover it Secured is a great choice because there are no fees for using the card. Also, Discover could give you your security deposit back after seven months if you prove that you use your credit responsibly. Technically, you're paying a deposit to use the card but you get that money back. All the while, Discover is reporting your account to the credit bureaus. If you don't have any late payments or balances, your score will go up slowly.
3. GEICO Cares the Least About Credit Scores
Gonzalez told us the data WalletHub gathered about GEICO indicates that consumers with no credit scores or bad scores should at least get a quote from GEICO and compare it to the rates they're currently paying.
There's a decent chance that, as the company's advertising campaign says, spending 15 minutes getting a quote from GEICO could actually save you "15% or more" over your current company, especially if its Farmers.
4. Farmers Cares the Most About Credit Scores
In a negative sense, Farmers is the enemy of people with low or no credit scores.
However, in a positive sense, the company presents a tremendous opportunity for consumers with excellent credit to save a little money on their premiums.
While it's no guarantee that Farmers will quote you better rates, the data does show that the lowest premiums go to consumers with the highest credit scores.
What Does the Future of Car Insurance Premiums and Credit Scores Look Like?
Wouldn't life be a lot easier if all states adopted one set of rules that regulated the car insurance industry?
Unfortunately, that's not going to happen anytime soon, Gonzalez said. As it stands now, each state can decide its own regulations for the car insurance industry.
"As far as the variation in state regulations, we won't see that change much, really. So, I think this is an industry where it kind of is how it is," Gonzalez said. "From the state-by-state perspective, we don't see much of a gripe about how it works, especially since so few consumers know how credit scores are used in their premium algorithms."
The fact that the current system probably won't change anytime soon leaves consumers with low or no credit "on the short end of the stick, and it's not just by a little bit."
While credit scores can be helpful in determining risk, Gonzalez said, the current system is pretty unfair for consumers without credit scores.
"There are some states where those who are new to credit are paying at least twice as much and I think that's pretty unfair," she said. "I can't say that I necessarily disagree with credit scores being used but I think (regulations) should be uniform between states and between providers."
Related: How a Good Credit Score Can Save You Money on Mortgage, Car Loan, and Credit Cards