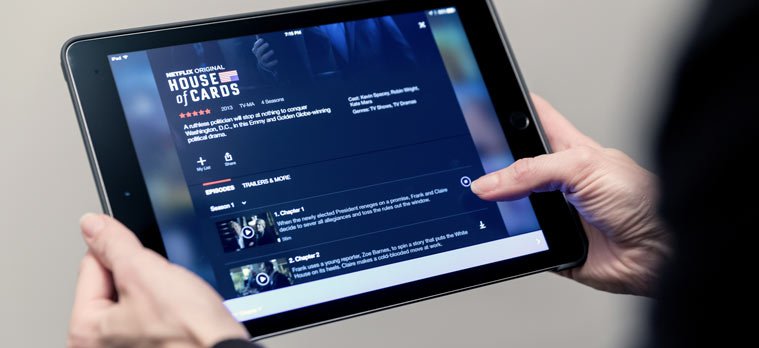 Image: iStockphoto/Onfokus
Cutting the cord became a thing shortly after my wife and I left the United States for a 3-year adventure in Southern Germany and Barcelona.
You see, cutting the cord in Barcelona wasn't such a big deal because telecom companies offered all your digital needs in one, and often for a really competitive price. So, instead of having one company for internet, several companies for streaming and another company for mobile, you could get everything from one provider.
I guess I consider myself insulated from the cord-cutting conversations at that time. However, I was about to get my lesson in the cost of the digital life in America.
When my wife, my baby girl and I returned home, we were hit with high cable prices, high mobile prices (we were paying about $14/mth in Barcelona) and pervasive chatter about cutting the cord.
I'm going to spend the next few minutes talking to you about how we managed to get all the shows we want, fast internet and solid mobile plans for right around $150 a month. I'm also going to present some out-of-the-ordinary ideas that you don't hear much in cord-cutting articles.
A Quick Word About "Here's How I Did It" Articles
As a consumer, one of the things that bothers me about these kinds of articles is that the authors downplay or don't mention the fact that they had several advantages over their readers.
For example, a few years ago I read a story about a family that was living off an insanely small budget every month. Come to find out, a big reason why they were able to keep their bottom line so low was that a few years before the article they bought their home with cash – it was a foreclosure with a rock-bottom price.
Another story I read detailed how a college grad was able to pay off tens of thousands of dollars of student loan debt. Impressive; that is, until you find out her mother gave her a condo as a graduation present and gave her a high-ranking job at her mom's non-profit.
The stories are meant to encourage people, but they end up discouraging me because the heroes of the story have those distinct advantages over the average person.
My cord-cutting story only has one so-called "advantage" – my wife and I were starting with a clean slate, so we were able to take advantage of first-time customer pricing from cable-internet companies and we weren't locked into contracts with mobile companies.
On top of that, we were able to use our unlocked GSM phones from Europe, so we didn't have the cost of buying new phones (more on that later).
Cutting the Cord: How Paying for Cable Can Actually Save You Money
When my wife, our baby girl and I returned from Barcelona, we chose to live in Jacksonville, FL. The city is close to my in-laws and, as far as big Florida cities go, it had the lowest cost of living.
I remember doing a basic search of cable/internet packages one morning, only to find that the two or three channels my wife and I really wanted were always the ones that pushed our cable bill from $60 a month to $90 a month.
Our requirements were pretty simple. She wanted Bravo, I wanted ESPN and both of us would have preferred to get HGTV.
After my initial inquiry into pricing, a day or so later I launched a full-on research expedition in which I spent about three hours comparing our two main choices: AT&T and Comcast.
DirectTV was also in the mix, but, at that point, they were merging with AT&T so it was kind of all one company.
What I found time and time again over the course of those hours was that I could never quite find the right combination of internet speed and channels.
Fast internet was non-negotiable for us because I was working from home. The channels were negotiable, but only begrudgingly so. Really, all I wanted was what a lot of people want: good selection and good speed at good prices.
In that moment, I saw why cord-cutting was so popular: Cable companies aren't concerned about giving you what you want at a fair price.
They offer low-priced packages; don't get me wrong. But those packages often include basic channels. If you want the good stuff – Bravo, ESPN, HGTV, Food Network – you have to pay at least $20 more per month and you end up getting a bunch of other channels you won't ever watch.
As you can imagine, this was really frustrating. But rather than tell you about the numbers, I'll show you a table of Comcast internet/cable prices in Jacksonville at the time of publishing. These are the prices for existing customers:
| Package | Internet speed | # of channels | On-demand TV? | HBO | Showtime | Length of deal | Price |
| --- | --- | --- | --- | --- | --- | --- | --- |
| Performance Starter | Up to 10 Mbps | None | No | No | No | 1 year | $19.99/mth |
| Better | Up to 25 Mbps | None | No | No | No | 1 year | $66.95/mth |
| Better w/TV | Up to 25 Mbps | 10+ | No | Yes | No | 1 year | $49.99/mth |
| Blast! | Up to 75 Mbps | None | No | No | No | 1 year | $49.99/mth |
| Blast! w/TV | Up to 75 Mbps | 10+ | No | Yes | No | 1 year | $59.99/mth |
| X1 Starter Double Play | Up to 75 Mbps | 140+ | Yes | No | No | 2 years | $89.99/mth |
| X1 Preferred Double Play | Up to 75 Mbps | 220+ | Yes | No | No | 2 years | $109.99/mth |
| X1 Premier Double Play | Up to 75 Mbps | 260+ | Yes | Yes | Yes | 2 years | $149.99/mth |
For me, the sweet spot was to find decent internet speed and a few channels. The solution was the "Better" plan with TV. We got 10 channels and free HBO for less than the cost of buying 25 Mbps internet by itself.
The lesson here? There are certain situations in which it's actually cheaper to get internet and cable – even if its basic cable – than to buy internet by itself.
Now, to Comcast's credit, they do make cutting the cord easy for people who want 75 Mbps. You can get stand-alone internet at that speed for $49.99, while the cheapest cable package is $59.99.
There's a drawback, though: The basic cable package does not provide you with HD channels. That's right – they send you back to the digital stone age.
In Jacksonville, non-HD cable channels were so bad that, when I was watching football on Sunday, the ticker across the bottom and the score box in the top right of the screen were so blurry I couldn't even read the numbers.
However, there was a solution.
Cutting the Cord: Buy an Antenna
After about a year of dealing with fuzzy 1990's TV cable, I decided it was time to buy an antenna so we could get digital TV channels.
You see, back in 2009, TV signals switched from analog to digital, which meant you could hook up an antenna and digital converter box to your TV and get digital channels for free.
Granted, you were getting NBC/ABC/CBS/Fox and not HBO, HGTV, Bravo or ESPN. But, still, HD channels were pretty great.
So, when I got tired of seeing fuzzy scores and mealy TV signals, I bought an antenna to capture all those digital channels. Here's the funny part: We don't even use our cable box anymore.
We have our rabbit ears feeding us HD local stations and we use our Chromecast to watch the free Showtime and HBO subscriptions we get with our cable package.
A decent antenna will cost you $30, at most. We use the GE Pro Crystal HD amplified antenna ($25.99) at Walmart and it works pretty well for us. "Amplified" refers to the fact that you can boost the signal by plugging it in, but, to be honest, we don't see much of a difference.
At HighYa, we've reviewed several other TV antennas. Here is a list of our recent reviews, along with the average ratings the product gets from HighYa readers:
The antenna we bought from Walmart has, at the time of publishing, a rating of 3.6 stars from 27 reviews on Walmart.com.
Pro tip: Use Antenna.org to figure out which way you need to point your antenna for the best reception.
Cutting the Cord: How We Pay $70/Month for Mobile Plans With 3GB of Data
As I mentioned earlier, we brought our unlocked GSM phones with us from Europe. Before we left, though, we had to make a decision about which cell phone provider we wanted to use when we got here.
I thought about going with Verizon, since they're the company we used when we were living in Florida previous to our move abroad.
I was super money conscious, though, and I didn't think that Verizon offered the best value. So, I looked for alternatives to the big names and tried to find a cheap way to get reliable service.
What I found really surprised me, not because of any one feature of service in particular, but because there were actually a decent amount of choices for cutting the cord on big-company cellular services.
MVNOs Are the Cable Cutter's Dream
These mobile carriers are called mobile virtual network operators (MVNOs). One of the more popular ones is MetroPCS, but there are plenty more.
These MVNOs offer plans you're familiar with, but those plans are usually significantly cheaper than the big companies like Verizon, T-Mobile and Sprint. Here's the beauty of it: MVNOs actually piggyback on the big company's mobile networks.
PCWorld's Ian Paul wrote about MVNOs in 2015, pointing out that Google has shown interest in the MVNO market.
"There are already numerous MVNOs running on networks from all four major carriers, and some that also offer Wi-Fi only plans," Paul wrote. "Many of the more interesting carriers run on Sprint, but there are also a number of options that use T-Mobile for anyone looking to use a GSM-based phone."
Paul's article listed 10 different MVNOs, none of which was the carrier we chose: Giv Mobile. We liked them because 2% of our monthly payment would go toward one of the several charities listed on their site.
Also, we were able to order our service while we lived in Spain. They sent our SIM cards to my in-laws' house and the first full day we were there I popped the SIM card in my phone and everything worked perfectly.
Seriously – there weren't any weird problems or low-brow issues. Coverage was great, internet was fast and all was well.
There were some limitations though, but those limitations had to do with our phones. Because they were European GSM phones, they weren't equipped to access 4G or 4G LTE networks. Later, I found out a way to unlock that capability through my Android's developer portal.
Unfortunately, Giv went out of business about a year after that, but the company gave us a referral code to use for Ting Mobile, our current mobile company.
Should You Cut the Cord on Your Mobile Carrier?
The beauty of Ting is that you pay for what you use. Their talk minutes and data usage are split up into tiers: S, M, L and XL.
Each tier costs a little more than the other, but the prices end up being really reasonable. My wife and I use about 3 GB of data total each month and just a few hundred minutes of our talk minutes, which results in our bill being around $70 a month after taxes and fees.
Here's a table that illustrates Ting's pricing compared to the other four major carriers:
| | Ting | Verizon | AT&T | Sprint | T-Mobile |
| --- | --- | --- | --- | --- | --- |
| 4 GB data | $40 | $75 | $85 (Unlimited data) | $80 (6GB data) | $110(Unlimited data) |
| 500-999 minutes | $18 | Free | Free | Free | Free |
| 100-999 text messages | $5 | Free | Free | Free | Free |
| 2 lines | $12 | $40 | $40 | $40 | Included |
| Taxes/Fees | $5.50 | $17.11 | $17.11 | $17.11 | Included |
| Total | $80.50 | $105 ( $10 AutoPay discount) | $132.11 ($10 AutoPay discount) | $110 ($10 AutoPay discount) | $100 ($10 AutoPay discount) |
So, as you can see, Verizon and AT&T have adopted a newer model of service that reflects the MVNOs we mentioned earlier. This is a refreshing development because it makes signing up for service so much easier.
Another thing we noticed, as I'm sure you have, is that these carriers are pushing unlimited plans in lieu of the old model of monthly plans with add-ons.
That being said, though, the big mobile carriers are still charging anywhere from $20 to $50 more per month for their plans than Ting.
Now, yes, AT&T and T-Mobile offer unlimited data, which is a pretty big deal. Their websites frame their unlimited offers around your desire to watch streaming movies and shows at will.
Consider this, for a moment: Is your ability to watch movies and shows at any moment worth the $240/year it would cost you for the cheapest unlimited plan?
For us, it just wasn't worth it. Throw in the fact that Netflix and Amazon Prime let you download movies to your phone and you've got the ability to watch a decent selection of movies and shows anywhere, without having to worry about connectivity issues.
So, while you get all the data you want from the big carriers, you'll end up paying for it:
Ting: $840
Verizon: $1,260/year
AT&T: $1,585/year
Sprint: $1,320/year
T-Mobile: $1,200/year
We often focus our cord-cutting discussions on cable, but, based on my research, it's mobile carriers who are actually costing you more money per year. My suggestion? Consider "cutting the cord" on your major mobile carrier and choose a MVNO.
You'll be forced to limit your data consumption, which is no small feat in today's world. But, I'm willing to bet you'll be surprised at how little you'll miss watching an episode of House of Cards during your lunch break at work.
Our Final Thoughts on Cutting the Cord
When someone says they've got secrets about cutting the cord or getting free cable TV, it really boils down to internet-only or basic-cable packages, HD antennas and streaming services. In that sense, there is nothing really secret about it.
But there's another issue at stake that goes beyond your favorite method of saving money on internet or cable – it's the matter of consumption.
I touched on this a little bit in the "cord-cutting" section on cell phones. Most of us want our information now, we want our shows now and, if we feel like watching a movie on the bus or in the subway, we want it now.
This obsession with the immediacy of goods could be the outworking of our general desire for more.
In a 2010 USA Today article titled, "Why are we so obsessed with stuff and more stuff," reporter Wendy Koch interviewed Annie Leonard, a Berkeley, CA, homeowner who authored the book "The Story of Stuff: How Our Obsession With Stuff is Trashing The Planet, Our Communities and Our Health – and a Vision for Change."
Leonard told Koch she wasn't anti-stuff, but that she wanted "people to understand its true costs."
"In the United States, we work more hours than folks in almost any other industrialized county in the world, and two of our main activities in our scant leisure time are TV watching and shopping," Leonard was quoted as saying. "So we go to work, come home exhausted, and plop down in front of the TV; commercials tell us we need new stuff, so we go shopping, and in order to pay for it all, we have to work even more."
Leonard brings up a really good point – we come home exhausted and all we want to do is watch TV. So, in that sense, yes, it makes total sense that we often pay more for unlimited data plans or juiced up cable packages that push our monthly bills past the $250 mark after taxes and fees.
Take a moment to think about your life. If you're a parent or a college student or someone who's working a couple of jobs, you know that life can be exhausting. Sitting down for a show marathon is, quite often, a remedy for the stress and craziness.
Now, examine how much you spend on your cable, internet and phone bill every month. There's a good chance there are opportunities to cut back.
Cutting the Cord on Cable: It's Pretty Easy
As I showed in this article, companies like Comcast often have a basic cable package that includes decent internet speeds.
If you're worried about channel choices, identify your favorite shows and find out if Hulu, Netlfix or Amazon Prime have them. If so, save yourself the cash you'd pay for a maxed-out cable package and order streaming services.
If you subscribe to all three of those streaming services, you're looking at an extra $26 a month on top of what you'd pay for stand-alone internet or basic cable and internet.
When you look at Comcast prices (yes, they vary based on location), you can easily save yourself at least $15 a month by cutting the cord, if not more.
Another creative way to cut down bills is to split the cost of your Netflix subscription with a family member who's willing to go 50-50 with you on the monthly bill.
Also, another thought: You can nix Hulu if you're willing to watch your favorite shows when they air on TV.
Pro tip: If you simply can't give up on live sporting events, then try SlingTV.
Cutting the Cord on Your Mobile Carrier: A Little Harder, But Still Possible
Cutting the cord on cable companies is widely accepted these days, so encouraging you to make changes in that area isn't as difficult as it is when it comes to cell phone plans.
Using an MVNO like Ting Mobile can save you at least $20 a month if you can limit your data usage to 4GB. Your savings go $20 higher if you can keep your two lines at 2 GB month.
I realize that this isn't possible for some people because they need the data for their job. Understandable. However, for most of us, mobile carriers have convinced us we need unlimited data, when, in fact, we don't.
As I mentioned earlier, Netflix and Amazon let you download content for free, which means you can load up a show or movie before you leave for work and watch it during your lunch break or, if you use public transportation, your ride to and from the job.
As someone who is living in the world of basic cable, streaming and MVNOs, I can tell you from experience that it's not as bad as you think.
More About Cutting the Cord: