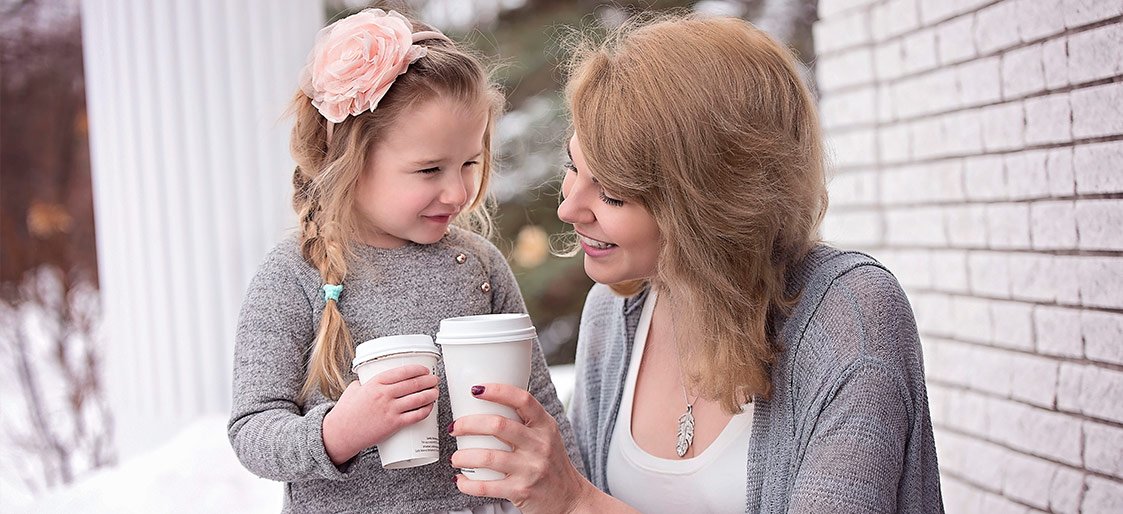 Did you know that more phone calls are made on Mother's day than any other day of the year?
Sure, mom appreciates the effort. But, many of us do more than just pick up the phone to celebrate Mother's Day. In fact, the average person shells out about $168 each year to show that we care.
While giving something homemade or taking mom out to dinner top the list of most frequent Mother's Day gifts, greeting cards, gift cards, flowers, and jewelry are also commonly purchased each May—making the holiday a 20 billion dollar industry.
That's a whole lot of spending, and it hasn't gone unnoticed by crooks who are all too eager to make a quick buck off of shoppers who are in a giving mood.
What should you watch out for? Here's our list of how to avoid top Mother's Day scams when shopping online.
1. A Fake Flower Delivery Service
You've thoughtfully purchased a beautiful Mother's Day bouquet weeks ahead of time. But, when May 10 comes around, nothing arrives at her door. What happened?
You've been scammed by a fake flower delivery service.
Ordering flowers online is convenient, particularly for the majority of gifters who only do so on special occasions. However, it can also be unbelievably expensive—and that sticker shock often leads shoppers to look around online for a better deal.
Scammers use this to their advantage by creating fake flower shops online that exist for only a few weeks out of the year.
Scammers create fake flower shops online that exist for only a few weeks out of the year.
These websites entice gift-givers with images of lush flower arrangements that appear bigger and better than the brand name competition. Even more appealing, they're advertised as available for what appear to be bottom basement prices.
Think you can spot a fake flower delivery service? Not so fast—these websites look clean and professional. Additionally, because most Mother's Day orders are placed to deliver on, you guessed it, Mother's Day, these scammers aren't inundated with complaints until after they've raked in all the cash.
There are actually two versions of the flower shop scam to watch out for. In the first, you shop for the perfect bundle of flowers, enter your credit card information, and then check out like a normal online purchase. However, the delivery never arrives.
In the second version, a real flower delivery company, i.e., a business whose name you may have already heard and trust, takes your payment for a relatively low-priced bouquet only to jack up the final charge with inflated shipping costs or other fees that weren't disclosed.
Both of these scenarios depend on naivete and lack of caution, as shoppers are more likely to bypass extra research or read the fine print when buying a gift.
How to avoid fake flower delivery services when shopping for Mother's Day bouquets?
Thankfully, avoiding this scam isn't all that difficult. However, because you likely don't buy flowers regularly, it does take a little legwork and common sense.
First, search Google for any business before making a purchase, and take extra care to read any negative reviews. Additionally, check the Better Business Bureau to investigate any complaints. If a delivery service doesn't have any sign of previous customers on popular consumer websites such as Yelp.com, you may want to take your business elsewhere.
Finally, if prices simply seem too good to be true, consider that they might be! Most scams depend on our desire to save trumping common sense. However, in the case of fake flower delivery services, you're lucky to get what you've paid for at all.
2. Other Bogus Mother's Day Gift Websites
Does your mom love a particular item or brand? When doting sons and daughters try to find unique Mother's Day gifts that match their mom's style, they often find themselves searching in unfamiliar territory—and all the more susceptible to scams.
Bogus gift websites can run the gamut from gardening knickknacks to well-known labels, and they're just as easy to create as the fake flower delivery shops we mentioned above.
Some are just outright thieves who set up shop to take your payment—without the intention of ever delivering a purchase. Instead, they'll steal your credit card information as soon as you check out, charging cards up to the limit within mere minutes.
Thanks to the security offered by well-known payment portals, these kinds of scams are less common. However, dishonest merchants are always devising new tricks to make illegitimate websites appear convincingly safe.
Here's what to look at to best ensure that your online purchase is secure:
The URL of the website: If it begins with "https" instead of "http," that's a good indicator that the site is secured using an SSL Certificate (the "s" stands for secure). SSL Certificates secure all of your data as it is passed from your browser to the website's server. More importantly, to get an SSL Certificate, the company must go through a validation process.
That being said, not all SSL Certificates are the same. The lowest level of security only validates an owner's name and the legitimacy of an organization. In other words, someone could buy the domain "amaz0n.com," and then qualify for an SSL Certificate, since they own the domain.
Sites that are truly secure have the highest level of SSL Certification, called Extended Validation (EV). To qualify for an EV, companies need to show proof of their identity and the legitimacy of their business. Even better for consumers, an EV is easily spotted by looking at the address bar of your browser. That "https" we mentioned earlier should appear to be green, as shown below: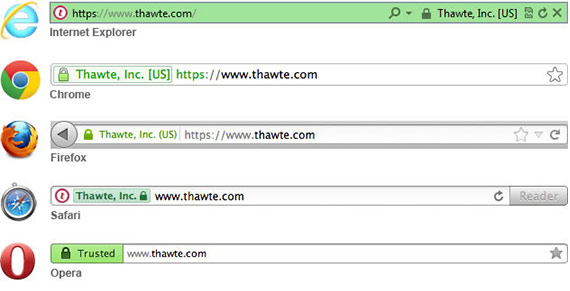 Image via thawte.com
The domain name: Scammers will sometimes create fake websites that mimic the websites of existing brands to try and trick people into purchasing. While checking the "https" is important, also double check the actual domain name to make sure you're not being tricked—like in our "amaz0n.com" example above.
Scammers who use duplicate websites usually do so by sending out email offers, hoping that you'll click the link. The best way to avoid these is by typing a URL in yourself instead of using the button in an e-coupon that just so happened to wind up in your inbox.
Other signs that the company is real: Before entering your payment information, look to see if they display a physical address and telephone number—it doesn't hurt to give them a call either. Also, read their return policy and privacy statement to ensure that your purchase and personal information are protected.
Related: 6 Ways to Spot a Scam Website in Less than 30 Seconds
3. Malware-Infested Mother's Day Ecards
Just like ordering flowers or shopping for gifts is easier online, convenience has made ecards an increasingly popular choice for Mother's Day. And, since many mothers expect a card each May, they often open up emails without taking a good look at the sender.
Unfortunately, cyber criminals are all too aware that recipients rarely look at ecards with suspicion and have created ecards that can infect Mom's computer with malware upon opening.
Malware, the term for any software that is installed on your machine and performs unwanted tasks, doesn't just cause your computer to work slowly.
These programs can range from annoying pop-up ads to serious computer invasion damage that harvests your passwords and transmits information about your accounts across the web. More so, the people who work to write malware, or malicious software, are very experienced in using tricks to get unsuspecting victims to download their programs, and you often don't know that something is wrong until it's too late.
How to avoid malicious Mother's Day ecards?
Thwarting cyber-scammers is as easy as knowing not to open emails from strangers—and never clicking on any unknown links!
However, you can't be there to scan your mom's inbox for scams. So, if you do send your parent a Mother's Day ecard, be sure to tell her what the subject of the message will say. That way she's not tricked into opening something with serious consequences.
For anyone expecting an ecard this Mother's Day, check the subject line for specific names. For example, a genuine ecard email should say "Jane sent you an ecard!" instead of something more general, such as "your children" in the place of a name.
Bottom Line: Don't Buy Gifts From Businesses You Don't Know Or Trust
Shopping online is extremely convenient and can make finishing up your Mother's Day gift list quick and easy. However, the anonymity of online commerce also makes it all the more simple for scammers to earn your trust.
And, while finding out that you've been taken for a ride on a flower delivery purchase can ruin anyone's Mother's Day, the consequences of identity theft is much worse.
Remember, scammers are always looking for new tricks; whether fake gift card purchases or too-good-to-be-true Twitter offers. Protect your personal information by applying the tips above to any and every online purchase to avoid any Mother's Day scams.
What Should You Do If You Think That You've Fallen for a Mother's Day Scam
If you have bought something online and there is a problem, you should first try to contact the retailer on the chance that there's a legitimate reason for the problem.
If you are not satisfied with their response and suspect that it may be a scam, your next step is contacting the bank or credit union you used to make the purchase.
By filing a dispute, you may be able to get your money back. At the very least, they'll make sure that you are issued a new card to protect your accounts from future fraud. Additionally, you may wish to contact your local consumer protection agency to seek assistance.
Learn More About Online Scams: