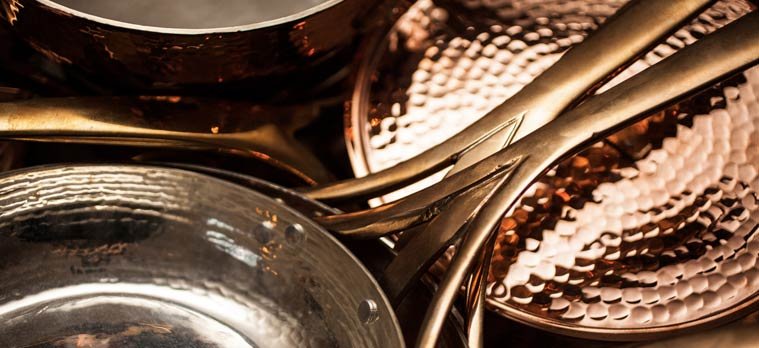 Ready to shop for copper cookware? The quality of copper varies – even within brands. In this guide, we share how to pick top-notch copper pieces that won't let you down and, if properly cared for, will last for generations. We also include a comparison of top copper cookware brands.
If you're planning on making your new copper pots and pans a daily workhorse, knowing what to look for will help you buy the best copper cookware for your kitchen and budget. Let's start with perhaps the most important factor – thickness.
What's the Optimum Copper Thickness for Cookware?
The perfect thickness for copper cookware is 2.5mm. The thickness of copper cookware is important for three reasons:
Thicker copper delivers more structure and durability, without the need for additional support.
A thicker base (starting at 2 mm) won't warp, making it more suitable for electric, glass, or ceramic stoves.
Thicker copper translates to higher valued cookware.
In Mastering The Art of French Cooking, Julia Child says that copper cookware must be one-eighth of an inch thick to experience copper's full benefits. That's 3.175mm.
Since nearly all quality copper cookware we researched online—including the most famous Mauviel—are made to be 2.5mm at most, was Mrs. Child wrong?
It turns out that any copper cookware thicker than 2.5mm is unnecessary and provides no difference in performance. Copper thicker than 3mm starts to decrease in performance, as it takes longer to heat and cool.
On top of response time, copper cookware's cost is influenced by the thickness of the material, which is why most manufacturers have discontinued their lines of copper cookware that were 3mm and above.
So, what's the optimum copper thickness for cookware?
The answer is a universal 2.5mm whether you're buying a saucepan, skillet, crepe pan, fait tout, or rondeaux.
Now, 2.5mm thick is ideal, but know that anything up to 3mm is just fine. However, avoid copper cookware that's thinner than 2mm since it's considered to perform poorly.
Don't Assume Every Piece in a Set is the Same Thickness
If you're shopping for new copper cookware, the thickness should be clearly stated in the description. However, when ordering a complete set, don't assume that all examples are of similar quality and of the same thickness.
Instead, you should check on the exact weight of the item and ask how thick the copper actually is for each individual piece before ordering.
The same goes for within brands. Some of the better manufacturers also make lower priced sets, such the Mauviel Presentation Line noted in our comparison section.
Pro Tip: Steer clear of any kind of cooking vessel that has a rolled edged. If the metal is thin enough to roll, it is much too thin to serve as a cooking platform and these should be confined to decorator duties or, at most, to boil water.
A Nifty Trick to Check the Thickness of Second-Hand Copper Cookware
What if you find an older piece at a garage sale or discount shop? Assuming that you don't carry calipers in your bag, you can use pocket change to measure the thickness of copper cookware:
Dime: 1.4mm
Nickel: 1.95mm
Quarter: 1.75mm
Penny: 1.52mm
This means that a piece should be at least slightly thicker than a nickel, while ideally slightly thinner than two dimes.
Tin vs. Stainless Steel: Which Lining is Better?
Because copper is a reactive metal, most copper cookware is lined with either tin or stainless steel. Which is a better buy?
We explore the pros and cons of both linings in part one, and discovered that the matter of material comes down to personal preference. However, most consumers will find stainless steel the superior option.
If You Like the Idea of Traditional Manufacturing, and Don't Mind Extra Maintenance, Choose Tin-Lined Copper Cookware
Like copper, tin is a great conductor of heat and offers non-stick properties. But it can't be used beyond 450 degrees or it will melt. The soft metal is prone to scratching and must be treated with care. You'll need to use wooden and silicone utensils with tin lining (no stainless steel), and be sure to use the soft side of your dishwashing sponge.
Tin-lined copper cookware will need to be re-tinned throughout its lifetime, which is both a pro and a con. The extra expense is irksome. However, if your cookware becomes scratched and pitted, re-tinning can make it like new.
See Also: How to Use, Cook and Care for Copper Pots and Pans
If You Prefer Convenience, Stick With Stainless Steel-lined Copper Cookware
Stainless steel is by far the hardier option for copper cookware lining. It won't bubble and flake at high temperatures, can withstand metal utensils, and even a good scrubbing.
On the flip side, stainless steel is rougher in texture and will require regular seasoning to create a non-stick surface that won't snag your ingredients while cooking. It's also worth noting that should your stainless steel lining become pitted or deeply scratched, there's no way to repair the piece.
Even with those caveats, the strength, durability, and easy care of stainless steel generally makes it the preferred choice.
Copper Cookware Handles
When shopping for copper cookware, you'll notice that there are usually four types of handles available: cast iron, stainless steel, or brass. Which is best?
If you're shopping for heavy copper pans, look for a cast iron or stainless steel handle. Cast iron is preferred since the pitted material gives you a better grip, and its poor thermal conductivity allows cast iron to stay cooler to the touch. It's also oven safe.
Stainless steel, while hardy, is slick and offers no grip adhesion. Although, it is oven safe up to 500 degrees.
In general, thinner pieces of copper cookware will feature brass or bronze handles. These two alloys are attractive. However, they can break easily and may discolor after extensive cleaning. Brass and bronze also become hot to the touch quickly, increasing the risk that you'll burn yourself while cooking.
If you're shopping for secondhand copper cookware, you may notice a few alternatives—especially with older examples made in Villedieu, France. At one time there were many makers in this village and many of them experimented or offered various handle combinations. Should you spot one, consider yourself lucky as they're considered rare and sometimes quite valuable.
Mind the Rivet Material When Examining Copper Cookware Handles
The highest quality copper cookware features copper rivets so as not to create any cool spots on the piece's rim. Quality made copper work may also display a rounded finish of the visible copper rivets which is an additional step after the rivets are attached.
However, copper is expensive and rivets made of iron or steel are sometimes used instead. You can spot the material by simply looking at the rivet—those that aren't copper-colored are either iron or steel.
Note that if rivets are visible on top of the lining when you examine a piece's interior, meaning that the tin or stainless steel was bonded before the handle was attached, you're better off not purchasing that particular piece. Rivets inserted after tin or stainless is a sign of poor quality copper cookware.
Other Factors to Notice When Shopping for the Best Copper Cookware
Because of the cost of copper, original manufacturers used to sell lids separately. Since most modern consumers prefer to have a top for their pots and pans, these have been incorporated into sets.
While the reasoning for wanting copper rivets is understandable, we couldn't find any research indicating whether copper lids affected cookware's performance. That being said, whether copper or Pyrex, be sure that the matching lids to any piece fit nice and tight.
Comparing Best Copper Cookware Brands
Now that you've got a handle on what factors impact copper cookware's performance, what's the best brand on the market? Here are our recommendations:
1. Mauviel (M'Heritage Line)
The Mauviel brand has been making copper cookware for 200 years and their craftsmanship reflects the experience. The M'Heritage line is beautifully crafted and claims to be highly heat sensitive, as marked by:
A 2.5mm thick copper exterior
A thin, stainless steel lining
Extended cast iron handles (other materials available)
An entire Mauviel M'Heritage cookware set costs thousands, which is certainly intimidating. However, purchasing Mauviel piece by piece might be more palatable—plus, it allows you to get the best item for each intended job.
Examples of individual costs from Mauviel M'Heritage line include:
M'héritage 8" Copper & Stainless Steel Round Frying Pan ($225)
M'héritage 1.9-Quart Copper & Stainless Steel Saute Pan ($350)
M'héritage 9.6-Quart Copper & Stainless Steel Saucepan ($600)
We mention Mauviel first because so many consumers state that this brands, specifically, their heritage line, represent the be-all-end-all of quality copper cookware.
However, be warned that the line of Mauviel copper currently available at Williams & Sonoma, which is still a hefty $2,000, is not the same quality as it features brass handles and a thickness of 1.5 mm of copper.
2. De Buyer (Inocuvier Prima Matera Line)
Using 1.8mm of copper between two stainless steel layers (0.2 mm and 1.0 to 1.5mm, depending on the cookware) and a built-in magnetic steel disk attached to the underside, the De Buyer Inocuvier Prima Matera line is the first and only to work with an induction range.
This is a big reason that Foodal calls the Prima Matera Line the "most responsive and evenly heating cookware available on the market today that works with an induction stove."
Given its added functionality, the De Buyer Prima Matera expectedly comes at a higher price:
De Buyer Prima Matera 9.4" Frypan ($414.95)
De Buyer Prima Matera 3.2-Quart Stainless Steel Saute-pan ($423)
De Buyer Prima Matera 9.6-Quart Stainless Steel Stewpan ($829.95)
Although 2mm is thinner compared with Mauviel M'Heritage's 2.5mm copper, reviews state that De Buyer's frying pans performs well without any hot spots on induction and is on par with Mauviel when tested on an electric or gas range.
3. Ruffoni (Historia Line)
The Italian brand Ruffoni is unique for offering hand-hammered copper cookware that features traditional wiped-tin lining (as opposed to electroplating).
Tin, as we've mentioned, is the lining material of choice for copper cookware purists, but is likely too delicate for your daily home cook. With that in mind, the real appeal of Ruffoni is to own copper that is as close to traditional cookware as one can find without rummaging through estate sales in France or Italy.
Of course, old world artisanry doesn't come cheap:
Ruffoni Historia Decor 10" Copper Fry Pan ($479.99)
Ruffoni Historia Decor 4-Quart Copper Brazier Pot with Lid ($548.51)
According to reviewers, even though this hand-hammered copper cookware is on the expensive side, it's worth it. While certainly beautiful, we'll go out on a limb and say it's certainly not necessary to spend on this quality to experience the benefits of copper cookware.
Who Makes the Best Copper Pan? Here's a Side-by-Side Comparison:
To highlight what to expect from different brands, we've compared key characteristics of one of any cook's most frequently used pieces: the frying pan.
While the above lines all boast excellent reputations and feature thicker (2mm+) copper, remember to check the description on individual pieces when comparing between brands, as you can see in the two Mauviel examples in our comparison.
Other brands to consider when comparison shopping are Matfer Bourgeat and Falk, included below:
| | Size | Weight | Thickness | Lining | Cost |
| --- | --- | --- | --- | --- | --- |
| Mauviel M'Heritage M250C Copper Frying Pan | 10.5" | 7 lbs. | 2.5 mm | Stainless steel | $440 |
| Mauviel M'Heritage Copper M150S Frying Pan | 8.6" | 3 lbs. | 1.5 mm | Stainless steel | $144 |
| Matfer Bourgeat Copper Frying Pan | 11" | 6 lbs. 9 oz. | 2.5 mm | Stainless steel | $330 |
| Ruffoni Historia Decor 10″ Copper Fry Pan | 10" | 4 lbs. | 2.5 mm | Traditional tin (hand hammered) | $479 |
| De Buyer Prima Matera 9-Inch Frypan | 9" | 3.5 lbs. | Copper/ steel blend | Stainless steel | $414 |
Smaller Copper Cookware Brands That Deserve Consideration
These are some of the most established and highly-reviewed names in copper cookware, but they're not the only companies that offer traditionally-made copper pieces for sale.
Brooklyn Copper Cookware is small, independent a New York-based brand that's received accolades in the Wall Street Journal, the New York Times, and Food & Wine for their fine finish and comfortable, ergonomic-minded handles.
Navarini is a third-generation Italian brand that creates hand-hammered, tin or stainless steel-lined masterpieces with 100% copper, claiming that theirs is the purest material of any brand.
Consider Restored Copper Pieces for Your Cookware Collection
We've mentioned that traditional tin-lined copper cookware needs to be re-tinned, but you might not know that many of these shops also restore old copper pieces for resale.
If you're interested in piecing together a collection of tin lined copper cookware and don't mind having a mismatched set, consider visiting the websites of East Coast Tinning, Rocky Mountain Retinning, or a metal coating company near you.
You might be able to score an authentic heritage piece in fully restored condition for roughly the same price as new copper cookware.
Final Thoughts on How to Buy the Best Copper Cookware
We started this series by lauding copper cookware's fantastic benefits: uniform heating, immediate responsiveness to temperature changes, and comfortable handling. But, as you can see from our product comparisons, those perks come at a cost.
If budget is a concern, consider starting out your copper collection with just one piece. After all, cookware sets are a relatively new trend—even Julia Child purchased her copper cookware one piece at a time.
See Also: The Pros and Cons of Copper Cookware