Caring for Your Skin During Chemotherapy: Do's and Don'ts
Cancer treatments like chemo and radiation can cause itchiness, dehydration and other uncomfortable skin issues. We've gathered expert advice of proper skincare that can help.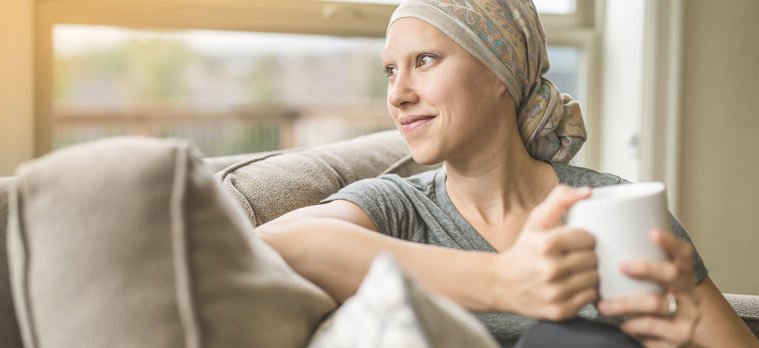 People with cancer who are undergoing medical treatment face many unique challenges – and caring for their skin is no exception.
A diagnosis of this potentially deadly disease is hard enough. But how can a cancer patient address skin issues that result from treatments?
Fortunately, there are ways to address skin problems that occur. This article takes a look at caring for your skin during chemotherapy and radiation and offers potential solutions for issues such as skin dehydration and itchiness, which are common side effects.
We've spoken with Lupe Guthrie, a 64-year-old clinical esthetician and breast cancer survivor, who underwent chemotherapy and radiation in 2005. Guthrie plays a major role with the American Cancer Society's "Look Good Feel Better" program, in which she teaches cancer patients about the best ways to care for their skin.
We've also combined information from other sources, including a dermatologist at the Memorial Sloan Kettering Cancer Center, about the best skincare practices for those undergoing chemotherapy or radiation.
Let's begin by taking a quick look at what happens to the skin when a cancer patient undergoes treatment – and thus why certain skincare is necessary to address these issues.
Skin Changes During Chemotherapy
These skin conditions can be caused by chemotherapy, which harms quickly dividing cancer cells:
Dehydration
Itchiness
Sun sensitivity
Rashes/hives
Fragile skin
Inflammation
During chemotherapy, the skin's healthy cells also divide at a rapid rate and are damaged in the process.
Other cancer treatments, like radiation, harm the skin cells through a radiation beam. Cancer medications in the form of pharmaceutical drugs can also have adverse effects on the skin.
The Do's and Don'ts of Caring for Your Skin During Chemotherapy
The Memorial Sloan Kettering Cancer Center and Mayo Clinic both provide information for patients who are suffering skin problems due to cancer treatment.
Keep in mind the following tips should not be substituted for medical advice. Rather, these general guidelines are intended to serve as an aid.
The 5 Do's of Skincare During Chemotherapy
1. Do Wash with Warm Water: It's important to wash with warm water instead of hot water because hot water can irritate and dry the skin.
2. Do Use Mild Unscented Soap: Some recommended soaps for those undergoing cancer treatment include Basis for sensitive skin, Cetaphil, unscented Dove and Neutrogena.
3. Do Be Gentle: Being gentle is also crucial to prevent more damage for cancer-compromised skin. That means staying away from scrubbing with a loofah or any other method that can be abrasive.
4. Do Moisturize: Cancer patients who use moisturizer when they begin chemo or other treatment can help address the skin's reactions. Select moisturizing products without added fragrances or lanolin, such as Eucerin, which can be bought over the counter or online.
5. Do Use Moisturizer Twice a Day: It's recommended that cancer patients undergoing treatment apply moisturizer at least twice daily. Talk to your oncology doctor about the best times to moisturize your skin in relation to the frequency of your cancer treatments. For instance, it's recommended that those undergoing radiation in the morning should apply moisturizer after treatment and before bedtime.
The 5 Don'ts of Skincare During Chemotherapy
1. Do Not Use Products on Areas Being Treated: While cancer treatments like radiation target cancer cells, such treatments also affect the healthy cells around the area being treated. Try to avoid products like perfume or aftershave on the area of your skin that's being treated. These products – as well as makeup and powders – can cause the skin to become more irritated.
2. Don't Shave: Shaving can cause irritation to even the healthiest skin, so it's important for cancer patients to avoid shaving the area being treated for cancer. If you feel you have to shave, try using an electric razor to avoid potential cuts. But if you experience irritation, stop immediately.
3. Don't Expose Skin to Extreme Hot or Cold: Try to avoid coming in contact with anything that's too hot or too cold, such as ice packs or heating pads – or even hot tubs. While showering or bathing, try to use lukewarm or cool water.
4. Don't Scratch: Patients undergoing cancer treatment sometimes experience itchy skin. But it's crucial not to scratch, because this can obviously create more irritation. Itchy skin is frustrating at best, so ask your physician about products that can help you can relieve the itching, such as steroid creams.
5. Don't Tan: There's enough evidence out there to support the fact that tanning beds and the sun cause skin cancer. So it's especially important for cancer patients to avoid any tanning methods like these during and after treatment. If you can't live without a tan, try self-tanning creams or bronzers. But ask your doctor before buying these products to make sure there aren't any adverse effects.
Now that we've looked at the do's and don'ts, here are a few more aesthetic tips for both men and women who want to address problems like redness, loss of eyebrows and concealing imperfections that can result from chemo, radiation and cancer meds. But before implementing any of these tips, talk to your doctor first.
Skincare Tips for Women Undergoing Cancer Treatment
1. Disguise Redness: Chemotherapy can cause high color flushing and blotchiness. Using a green color corrector can help even out skin tone and disguise redness.
2. Recreate Eyelashes & Eyebrows: Eyeliner can help define and shade the eyes to create the appearance of eyelashes that may have been lost through cancer treatment.
3. Look After Your Lips: Lips may become dry during cancer treatment, so look for richly hydrating lipsticks that have moisturizing properties.
Skincare Tips for Men Undergoing Cancer Treatment
1. Use an Electric Razor: Some doctors recommend using an electric razor to help avoid potential cuts. While shaving, avoid using products containing alcohol or any strong fragrance. It's also helpful to soften the area first with products like shave gel.
2. Soothe After Shaving: If your skin is flaky or dry, gently apply alcohol-free toner with a cotton ball. You can also apply a tiny amount of moisturizer on the dry spots. Products containing harsh disinfecting ingredients can irritate the skin, so try to avoid them.
3. Conceal: Women aren't the only ones who use concealer for imperfections. Men, too, can apply a concealer or tint to diminish the look of dark circles under the eyes or facial discolorations. Men should choose concealers that match their skin tone. Another option is a moisturizer containing a tint, which can be applied as easy as a facial lotion.
FAQ – Caring for Your Skin During and After Cancer Treatment
Mario E. Lacouture is a dermatologist at the Memorial Sloan Kettering Cancer Center who specializes in treating skin conditions that can result from cancer treatment.
The following information comes from an interview published by the center entitled "Caring for Your Skin during and after Cancer Treatment."
Dr. Lacouture suggests writing down any skin reactions you notice from your treatment and bringing them to the attention of your physician.
Your doctor can tell you before treatment whether the cancer meds prescribed may cause skin reactions. In fact, for some medications, a rash is considered an indication that the therapy is working, according to Dr. Lacouture.
Overall, dry and itchy skin is common, he said, as well as a rash, which may appear like acne or even measles.
Are Cosmetics Safe to Cover Rashes?
According to Dr. Lacouture, it is perfectly fine to use cosmetics on rashes. But keep in mind that anything that comes in contact with the skin may cause irritation.
"When you first begin applying cosmetics, I recommend trying only one product at a time," Dr. Lacouture noted. "Some people find they have developed new allergies, even to products they used regularly in the past."
If you have an acne-like rash, he advises avoiding acne medications, because they may cause even more irritation.
How Can a Cancer Patient Address Itchy Skin?
Dr. Lacouture suggests fragrance-free ointments and creams because they can be more effective than lotion when it comes to retaining moisture. He advises applying such products twice daily within 15 minutes of bathing or showering.
He agrees with other experts to use lukewarm or warm water instead of hot water. He also said to avoid loofahs or scrubs, because they can potentially strip away natural oils.
Over-the-counter creams with anti-itch properties can help, such as menthol, camphor, or pramoxine. Taking an oral antihistamine can also help to alleviate itching.
What Are the Best Ways to Soothe Swelling and Itching from Radiation Therapy?
Radiation therapy can result in inflammation, swelling and itching – and even pain.
Dr. Lacouture recommends washing the affected spot with mild soap and warm water, and gently patting the area dry with a towel.
He said in many cases, skin issues that can result from radiation can be alleviated with products like corticosteroid creams.
Is a Dermatologist Necessary If I'm a Cancer Patient or Survivor?
Whether you are currently a cancer patient or a cancer survivor, Dr. Lacouture recommends finding a dermatologist who can help you with your skincare needs.
"It's a good idea to bring your medical records to your first appointment, so your dermatologist knows the specifics of your treatment," he noted.
Can I Still Go Out in the Sun?
Yes, but be safe.
"Being safe in the sun is the most important general piece of advice I can give," Dr. Lacouture emphasized.
That's because the majority of medications and radiation therapy can increase a person's sun sensitivity. Additionally, he noted studies have shown that skin cancer rates can be higher with survivors.
"In most cases, good skin care and early intervention are all that is needed to achieve the best possible skin health," Dr. Lacouture said.
Breast Cancer Survivor Shares How She Healed Her Skin
As a cancer patient undergoing chemotherapy and radiation treatments in 2005, Lupe Guthrie knew she was going to lose her hair. But she never imagined what was going to happen to her skin.
"Chemotherapy can be particularly hard on the complexion, especially when your white cell count is low," Guthrie said. "Common skincare is often ineffective and can cause more irritations."
In her case, she developed a severe skin dehydration problem from chemo's side effects. Her skin also became painful, thin and irritated, with spotted sores and rashes. She also developed dark purple spots on her cheeks, and blisters on her eyelids and lips.
"So I put in an emergency call to the oncologist who offered a prescription and then another, that did not work," Guthrie remembered. "I called dermatologists who offered more prescriptions that did not work."
With that, she was determined to find a remedy on her own. As a licensed esthetician, Guthrie researched and tried numerous consumer and professional skincare products. However, nothing was both effective and gentle enough to help.
So Guthrie spent hundreds of hours of research and development to create a skincare line called Remédios – which is Spanish for remedy. The gentle products are irritant-free and all-natural and contain ingredients such as peptides, botanicals, herbs and extracts.
"I learned to treat my skin with specific herbal face serums to provide smooth and consistent texture to the grey tone that the skin takes on during medical treatment," Guthrie said. "These products are considered ideal for sensitive and chemo-compromised skin."
But before you take on any skincare routine, talk to your oncology doctor about what's best for you.
Natural Ingredients That Can Address Skin Issues from Chemotherapy
Through Guthrie's personal research, she discovered certain plants and extracts can help diminish the uncomfortable side effects that cancer treatment has on the skin.
For instance, she found that aloe barbadensis gel helps relieve the burning and itching associated with dry skin that can result from chemo and radiation. Barbadensis is extracted from the leaves of an aloe plant and is considered one of the most potent sources of aloe.
The following is a list of ingredients and how they can potentially help address skin issues for people undergoing cancer treatment. This advice was provided by Guthrie as well as other experts.
Keep these ingredients in mind while searching for a skincare product that's right for you. Also, be sure to select paraben-free items, as well as products that are free from alcohol, which can dry the skin.
And again – check with your doctor before applying any of these ingredients to make sure they're right for you.
Aloe Diminishes Inflammation
Aloe has been used to help treat the redness and rash that can result from radiation therapy, according to the Memorial Sloan Kettering Cancer Center.
The center also reports that scientists believe compounds in the aloe plant help inhibit the molecules that play a role in inflammation, which can be a side effect to the skin from cancer treatment.
Natural Oils Alleviate Dryness
Oils from avocados, olives, sesame, and sunflower – as well as macadamia nuts and hazelnuts – are rich in emollients and vitamins. Shea butter and jojoba seed oil soften the skin and provide deep hydration.
As such, these oils help lubricate the skin and seal in moisture to alleviate dryness, which can result from treatments for cancer.
Birch Bark Tree Extract Decreases Scratching
Birch bark extract, which comes from the bark of a tree indigenous to the Arctic Region, has the potential to decrease scratching and skin inflammation, according to a study published by the National Center for Biotechnology Information at the U.S. National Library of Medicine.
The properties contained in the birch tree have been known for many years for their healing potential, and have been used in the past to help treat skin diseases like eczema and psoriasis.
Chamomile Extract Can Comfort Inflammation
Chamomile extract contains soothing properties that can help calm and comfort delicate skin.
Studies using animals have shown that substances in chamomile can reduce inflammation, however, human data is lacking in this area, according to the Memorial Sloan Kettering Cancer Center.
In other studies using animals, chemicals found in chamomile can inhibit substances in the body that cause an inflammatory response.
Broad Spectrum SPF 30 Protects the Skin
The sun can cause major damage to the skin, so it's important to wear a broad spectrum of at least SPF 30 any time you go out in the sun. This is especially important for people with cancer undergoing treatment, who might experience sun sensitivity as a result of cancer treatments.
Guthrie created her SPF 30 sunscreen with soy proteins rich in essential amino acids to help increase metabolic activity for cell energy and rejuvenation. It also contains macadamia seed oil and hazelnut oil, which provide nourishment and moisture to the skin.
Free Resource for Cancer Patients
The Look Good Feel Better program is a free national resource for cancer patients who experience skin changes from radiation, chemo or cancer medications.
The effort is a collaboration of the American Cancer Society, Professional Beauty Association and the Look Good Feel Better Foundation of the Personal Care Products Council.
While this effort primarily targets women, it also offers advice for men.
Look Good Feel Better is a nonprofit effort supported by thousands of volunteers. These include beauty professionals and makeup artists who are trained specifically for the program.
They travel throughout the United States and present workshops and educational sessions at places like medical hospitals, cancer support communities and breast cancer centers.
To find a program near you, visit Look Good Feel Better Programs or call 800-395-LOOK.
The Bottom Line
Good skincare practices can help alleviate skin problems caused by chemo, radiation and medication.
There are ways to address dehydration, itchiness, inflammation and other skin issues. For instance, aloe and chamomile can comfort inflammation and natural oils can help alleviate dryness.
There are also do's when it comes to caring for the skin, such as washing with warm water instead of hot water, and using mild unscented soaps. The don'ts include scratching or exposing the skin to temperatures that are too hot or too cold.
Free resources are available to help cancer patients who are experiencing skin issues. The Feel Good Look Good program, which is supported by the American Cancer Society, offers educational workshops in local communities.
By minding the advice in this article – and talking to your oncology doctor – you can help alleviate the adverse effects that cancer treatments can have on your skin.