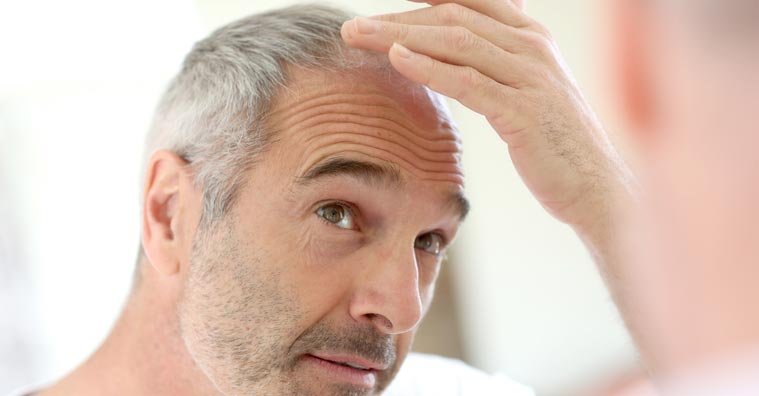 Tired of wearing hats? Loathe getting ready every morning, because you know you'll have to style your hair for 30 minutes in order to make it look like you're not balding? Are you constantly afraid someone is going to point out that your hair is thinning, and of becoming extremely embarrassed when they inevitably do?
We know it's tough, but the good news is that you're not alone. In fact, more than 55 million men and women in the U.S. are going through the same struggle with their hair loss as you, and there's definitely strength in numbers.
However, because of the prevalence of hair loss, there are hundreds of companies out there selling products and services that don't work anywhere near as well as they're claimed, and in some instances, are outright scams.
Here at HighYa, our mission is to make sure you spend your hard-earned money only on the products and services that deliver results, including those related to hair loss. After all, we understand that you want to stop worrying about your hair, and want to feel "normal" again. Because of this, we've created this quick 3-step guide on how to choose the best hair loss products and services available.
And because the root (no pun intended) cause of your hair loss directly impacts which products or services you should choose, figuring this out should be your first priority. Let's take a closer look.
Step 1: What's Causing Your Hair Loss?
Why is this important? Because in order to figure an appropriate treatment, you first need to figure out the cause. After all, different treatments can address different causes (we'll talk more about this in a moment), and you don't want to use a product or service based on a cause you don't have.
Male & Female Pattern Baldness
Whether you're a man or a woman, androgenetic alopecia (more commonly known as male pattern baldness and female pattern baldness, or MPB and FPB, respectively) is the primary cause of hair loss. And while you may feel alone in your battle against hair loss, keep in mind that roughly 40 million men in the U.S. suffer from MPB, along with 40% of women over the age of 40 from FPB.
However, even though MPB and FPB are extremely common conditions, the medical community doesn't fully understand how this type of hair loss occurs. With this said, based on what we do know, here's a basic rundown of what happens:
These hereditary conditions take place when an enzyme known as type II 5-alpha-reductace converts testosterone into dihydrotestosterone (DHT) within your body. This DHT then "attaches" to hair follicles and begins to shrink them, so that their natural lifecycle becomes increasingly shorter. Eventually, the follicle ceases producing hair altogether.
Other Causes of Hair Loss
But while androgenetic alopecia is the primary cause of hair loss for men and women, there can be a variety of other contributing factors such as:
Poor nutrition, especially related to an excess of vitamin A or insufficient amounts of iron.
Certain types of infections.
Some medications, including those for high blood pressure, diabetes, heart disease, and cholesterol, as well as those used in chemotherapy.
Trauma, which includes not only severe stress, major surgery, childbirth, and radiation, but also the constant tugging and pulling from placing hair in ponytails and using styling tools.
Poor grooming habits, such as not regularly cleaning the scalp, as well as excessive use of styling products.
The good news is that, except for male and female pattern baldness, most of these causes of hair loss are reversible, at least to some degree. However, although it's generally easy to identify the cause of your hair loss using the information above, you'll definitely want to speak with your physician to make absolutely sure that you don't have secondary conditions that need to be addressed, which can help you chart a course of action.
Step 2: How Advanced Is Your Hair Loss?
Despite the fact that both men and women can suffer from hereditary hair loss, the rate at which hair is lost—as well as the pattern—can differ significantly from person to person. Because of this, after you've identified the cause of your hair loss, you'll need to determine the extent.
Taking a look at the chart below, you'll notice that there are five common patterns that hair loss follows in men and women. And for each of these patterns, there are seven different classes, ranging from "none" to "complete."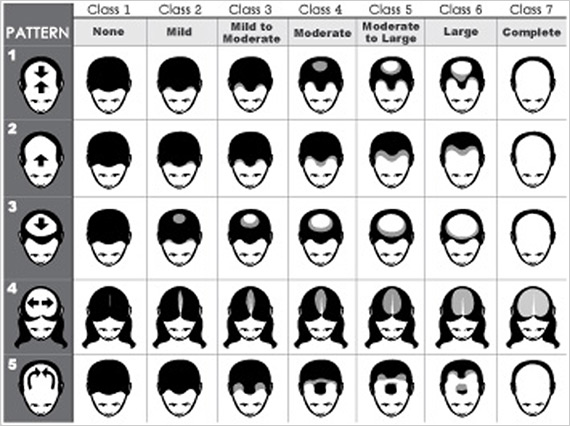 The Ludwig Hair Loss Classification Scale for men and women.
But why is determining the extent of your hair loss important in choosing which products and services to use? Because depending on the stage of your hair loss, some products or services will be more relevant than others.
Step 3: Choosing Your Hair Loss Product or Service
Now that you've identified the cause of your hair loss as well as the extent, you might think that the hard work is behind you. Unfortunately, this may not necessarily be the case. This is because, according to the American Hair Loss Association, "American hair loss sufferers spend more than 3.5 billion dollars a year in an attempt to treat their hair loss. Unfortunately, 99% of all products being marketed in the less than ethical hair loss treatment industry are completely ineffective for the majority of those who use them."
Not to put too fine a point on it, this means that the vast majority of hair loss products you see advertised online and through your television are basically worthless. But don't get discouraged, because there are some products out there that have been shown to work, which we'll cover here.
Topical Hair Loss Treatments
According to Medscape, "Minoxidil is the current standard treatment for hair loss," because its "efficacy in pattern hair loss has been proven in doubleblind, placebo-controlled trials." As such, you'll find minoxidil as a standalone generic product at your local drug store, as an ingredient in popular topical products such as Rogaine, as well as in shampoo and conditioner "systems" such as Scalp Med. Strengths range between 2% and 5%, so you'll need to speak with your physician about the appropriate strength based on your specific diagnosis.
"99% of all products being marketed in the less than ethical hair loss treatment industry are completely ineffective." –American Hair Loss Association
WebMD claims that minoxidil side effects are rare, although when they do occur they're typically mild, including "burning, stinging, or redness at the application site." Also, just because minoxidil tends to work at 2%-5% concentrations, in some instances, patients who were able to obtain concentrations greater than 5% actually reported increased hair loss. So at least in the instance of minoxidil, "more is better" may not always be the case.
Finally, minoxidil may not be appropriate for all patients, including those with larger surface areas of hair loss (remember the chart from the previous step?), and those who are older or who have been suffering from hair loss for more than 5 years. In addition, minoxidil will gradually stop working after you've discontinued using it, and although it has been shown to slow or stop hair loss, it's not particularly effective at regrowing hair.
Prescription Medications for Hair Loss
Although there are some other players in the world of hair loss prescription drugs, by far the most common is Propecia, whose main active component is finasteride. When compared to topical treatments that simply widen hair follicles, finasteride works from the inside to lower DHT levels, thereby reducing hair loss.
Unlike minoxidil, finasteride should only be used by men. In fact, medical professionals recommend that women and children avoid handling finasteride tablets altogether due to the complications that can result. Even for men taking finasteride, common side effects include chills, cold sweats, confusion, and dizziness, with more severe (although less common) side effects including bloating, itchy skin, rapid weight gain, skin rash, and more. If you experience any of these symptoms when taking finasteride, be sure to speak with your physician immediately.
Like minoxidil, finasteride will also slowly lose its effectiveness once you stop taking the medication, although your doctor may be able to reduce your dosage after it's had enough time to build up within your system, while not impacting its overall efficacy.
What if you don't just want to stop hair loss, but actually want a full head of hair like when you were younger? This is what we'll look at next.
Hair Loss Transplants/Surgery
Based on what we discussed in the previous two sections, here's the reality of your situation: If you want to have a real, full, thick head of hair reminiscent of your youth, the only surefire way of accomplishing this is through hair transplants. Note: There is some promising research related to the use of stem cells for hair loss, although this field remains in its infancy, so you'll have to wait until these therapies become widely available and commercially viable.
With this said, surgical hair replacement, as offered through companies such as Hair Club, involves "a procedure in which a dermatological surgeon moves hair from a hair-filled section of the head to a bald area of the head. The hair is usually transplanted from the back or the side to the front or on top." Your surgeon will accomplish this by removing a section of your scalp from the back of your head, and then separating the follicles into different groups, which are then grafted onto the bald areas. Once in place, these follicles will continue to grow and match the appearance of the surrounding hair, and can be styled and cut as needed.
Compared to the past, hair transplant surgeries have come a very long way as far as looking as natural as possible, so you can get the image of hair plugs (shudder) out of your head. In fact, although physicians don't keep track of patient satisfaction related to hair transplants, Bosley has reported satisfaction rates as high as 94% (be sure to take this number with a grain of salt).
Perhaps the biggest downfall related to hair transplant surgery is its high cost, which generally ranges between $4,000 and $15,000, and is almost never covered by insurance. In other words, if you want a fuller, thicker head of your own hair, you'll certainly have to pay for it. In addition, common side effects from any surgery can rear their ugly heads after a hair transplant, including bleeding, infection, and swelling/inflammation. Also, keep in mind it can take up to a full year before you experience full results from a hair loss transplant.
Toupees, Wigs, & Weaves
Yeah, yeah, we know you're thinking: "Toupees? Wigs? Really? I would never…" Perhaps not, but bear in mind that the hot, sweaty rat's nests from your grandfather's generation aren't at all what you'll find today. In fact, according to the AHLA, "there are some incredibly natural hairpieces being made today," although "most hair loss consumers have no clue what to look for." So let's take a look.
If you're searching for a toupee or wig, it's definitely the case that you get what you pay for. Toupees and wigs made of mesh fabric and real human hair will be considerably more realistic (and can even give you a perfect hair line), although they'll need to be replaced more often, and are much more expensive.
On the other hand, toupees and wigs constructed of polymers and featuring animal or artificial hair can be less expensive and require less frequent replacement, although they may not look real, and can be uncomfortable, especially in hot weather.
Also, in addition to the material and hair type, you'll need to consider the attachment method for your toupee or wig, which includes:
Adhesives intended to be removed every 6 weeks or so
Adhesives that allow you to remove your hairpiece whenever you like
Clip attachments
Pro Tip: If you're a woman and find that your hair is only thinning in certain areas, you may not need a full wig. Instead, consider partial solutions.
Finally, if you still have a fairly decent amount of hair on your head, but find that it's thinned significantly, you might benefit from hair additions using techniques such as "weaves, fusion, bonding, cabling, micro links, and beading." Whatever it's called, this non-surgical procedure involves attaching hair strands to your existing hair, in order to give it a fuller and thicker appearance.
Although this can certainly be less expensive than hairpieces, it will still have to be professionally cared for on a regular basis, which can really add up from a cost perspective.
Light Treatments for Hair Loss
As we've learned more and more about the benefits related to certain wavelengths of light, an increasing number of light-based hair loss treatments (known as Low-Level Laser Therapy) have emerged. This includes the Extreme LaserComb used in Hair Club centers, as well as at-home products such as Theradome.
Some of the biggest benefits associated with light-based hair loss therapies are their ease of use, the fact that they can be administered in the comfort of your own home, and their non-invasive nature.
On the other hand, light-based hair loss devices can be expensive (generally ranging between $300 and $1,000+), they may need to have parts replaced or recalibrated at some point, and there's not much evidence showing they're any more effective than traditional treatments, such as Rogaine or Propecia.
Hair Loss Vitamins & Supplements
In your quest for a fuller, thicker head of hair, you've undoubtedly seen advertisements for vitamins and supplements (TLS Hair and Viviscal Hair Growth, for example) claiming to "promote healthy hair growth" and to "nourish thinning hair and promote existing healthy hair growth from within."
But ultimately, when it comes down to it, "can vitamins really stop hair loss, or even regrow your hair? In the case of pattern baldness (androgenetic or androgenic alopecia), the answer is 'no.'"
» RELATED: Everything You Need to Know About Hair Supplements Before You Buy
However, this isn't to say that many of these hair loss vitamins and supplements won't provide you with some kinds of benefits—just that these benefits almost certainly won't be in line with the high prices you pay. Instead, you'll want to speak with your physician about much less expensive vitamins you can take to improve your hair quality (but remember, they will never regrow your hair).
Miscellaneous Hair Loss Treatments
Finally, there are some hair loss treatments that don't necessarily fit into any of the categories above, or simply defy categorization altogether.
These include hype-filled presentations for informational products like Hair Loss Protocol that claim to provide a "100% natural hair restoration method that can give you a thicker, fuller, and healthier head of hair in less than 4 weeks," as well as fiber-based products that are shaken onto your scalp, such as Toppik and Caboki (pass the grated parmesan, please).
As with vitamins and supplements, there isn't a natural method currently known to science that can stop hair loss or regrow thinning hair, so you can almost wholly dismiss these products outright. And unless you wan to avoid any kind of moisture (including humidity and sweat) like the plague, then fiber-based hair loss products might not be your cup of tea.
With this said, as we outlined in the first section, there are numerous causes of hair loss other than heredity, so WebMD recommends taking a look at your nutrition, managing your stress, and identifying all your styling tools that can promote hair loss, including "rubber bands, dyes, perms, straightening irons, and curling wands."
Your Next Step in Addressing Hair Loss: Taking Action
Now that you're armed with all the basic information you'll need to choose a hair loss product or service, the next step is to reach out and give one a try. After all, no matter how much information you're given, hair loss solutions are a very personal decision, which involves getting away from the computer and testing them out. But because of the information in this guide, you're now one step closer to spending your hard-earned money on a hair loss solution that really works.
» SEE ALSO: 6 Solutions for Thinning Hair & Hair Loss for Women