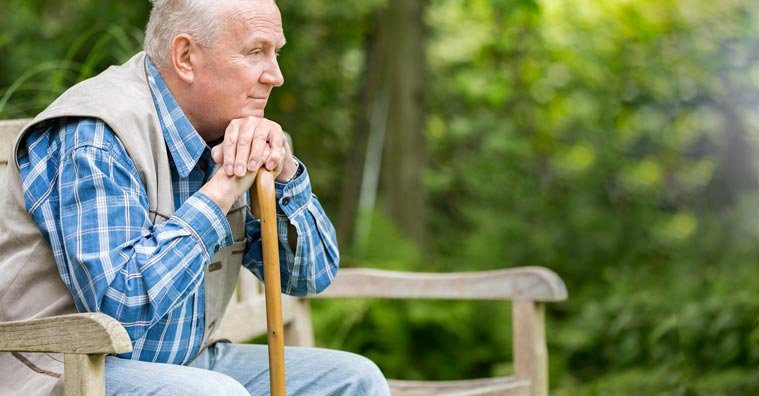 The primary purposes of walking canes are for stability and support, and there are numerous types to choose from – with the overall intention to provide a point of balance so you don't fall.
This guide takes a comprehensive look at walking canes so you can decide which one is right for your specific needs. We've obtained input from three experts on this topic, who discuss the different types of walking canes available, important features they should have, and other factors to consider before you buy one.
Keep in mind that this article is not intended as medical advice. A walking cane is considered a medical device, so it's important to talk to a professional who can size you properly. Consulting with a professional is critical so you don't injure yourself, or cause more harm to your body by purchasing the wrong walking cane for your specific needs.
Purposes of Walking Canes
Stability and support are the primary purposes of walking canes, said Paul Dwork, owner of Merlin Medical Supply Pharmacy in Southern California, where he is also a pharmacist.
Dwork has more than four decades of experience in the medical supply and rehab industry and has developed extensive knowledge of medical equipment and supplies, as well as walking canes.
The user or patient has to be able to support themselves, he said.
"The most important issue is that it's designed for you," said Dwork, emphasizing that you don't want to fall and break a bone.
That's why it's important to make sure it's adjusted to the proper height, "so you do not injure other parts of the body, such as the shoulder or hip, for example," he said. "A walking cane is for stability and support to prevent an accident."
Lower extremity weakness compensation is another common reason why a person would need a walking cane, said Aram Kadish, head of the Occupational Therapy Program at United Cerebral Palsy of Los Angeles, Ventura and Santa Barbara Counties in California.
"They provide a third leg for additional support and stability," Kadish noted.
From an Occupational Therapy perspective, "I'd want to see it improve balance/gait, without inducing postural changes that will result in up-chain injuries or repetitive strain injuries," Kadish said. "Also, I want to see that the individual is now able to perform activities of daily living more safely and efficiently."
According to Ron Goldberg, the founder and CEO of Isowalk, a Los Angeles-based startup developing a hardware and software platform for next-generation mobility assistance, walking canes don't work well enough, "and it's a serious problem."
"One out of three seniors fall each year; thousands end up in the emergency room because they fell from their cane," he said. "Millions more live with daily pain, risky balance and fear of mobility because their cane is ineffective or badly adjusted."
Canes are basically a stick, he said, and "we shouldn't expect much of them."
"They're probably older than the wheel; the ones you see in hieroglyphics look the same as they do today," Goldberg said.
"A cane isn't meant to actively help you walk," he noted. "Its function is to provide a point of balance so you don't fall. While that's not a lot of assistance, it's obviously better than not using a cane. Many people who need a cane don't use one because of the emotional stigma. They become a serious fall risk."
Cane Use with the Middle-Aged
Cane use among the middle-aged is now commonplace: About 12% of Americans aged 45 to 64 – 22 million people – report a disability, with mobility issues cited 51% of the time, said Ron Goldberg.
"Aging affects each body in its own way, but many Americans live with chronic conditions that take a toll as they get older," said Goldberg, noting that 27 million people suffer from osteoarthritis, which causes joint pain and mobility problems.
"This helps drive more than a million joint replacements in the U.S. each year," he said. "Diabetes, obesity and other chronic diseases also take their toll."
People use canes in personalized ways – for instance, some use one lightly or carry one occasionally, for a bit of security, Goldberg noted, while others can't walk safely at all without one.
"If you think you're finally ready for a cane, you've probably needed one for a while," Goldberg said.
Types of Canes
The two main types of walking canes are the single point and the quad point.
"The single point is the most popular – it's what we think of when we visualize a cane," Goldberg said. "The quad point, also called a platform cane, has a large base with four feet on the floor, and is used by people who are extremely impaired or need to offload a lot of their weight as they walk."
The platform bases are bulky and heavy, so these are difficult to maneuver and live with, he said.
"They're often the last stop before a walker," Goldberg said. "Single point canes all work in the same way; with minor variations, there's little functional difference among them."
Types of Handles
As far as handles are concerned, they are made from foam, rubber or plastic "that are ergonomically shaped for a better fit to the hand – they come in left and right," Dwork said.
"Grip is a strictly personal comfort," Dwork explained. "An ergonomic grip would be if somebody has issues with arthritis or Rheumatoid Arthritis which could cause deformity of the hand; someone with arthritis might now have the full grip so an ergonomic handle would be better contoured to the hand."
There are many different styles of handles, Goldberg noted, some claiming to be more comfortable or ergonomic.
"Users pick one or the other based on personal preference, though all common styles can be problematic," Goldberg said.
When you walk with a cane, your hand bears the force and impact produced by ground contact, he explained. As you move forward, the wrist flexes at a compromising angle just as you need to apply your weight.
"Hands and wrists are among the most fragile regions in the body, especially in the elderly and the arthritic, yet they're taking the brunt of the walking load," Goldberg said. "It's no wonder there is pain and fall risk."
The exception, he noted, is called the palm cane. It's a single point cane with a molded handle that seats the heel of your hand.
"This design produces a more favorable orthopedic alignment for comfort and strength," Goldberg said. "Palm canes are sold specifically in left and right-handed models; be sure to choose the correct side."
Important Walking Canes Features to Consider
Proper height is the most important consideration, Goldberg said, because if the cane is too high, there's pain and compensations; and if it's too short, you're disrupting balance.
"Most aluminum canes are adjustable in one-inch increments," Goldberg explained. "This isn't exactly precision, but it gets you close to the mark."
Wooden canes need to be cut to individual size.
"To know the correct height on a cane, hold your hands naturally to your side," he explained. "The cane's grip should be as high as the inside fold where your wrist meets the hand."
Some single-point canes have a larger diameter tip or a trio of smaller ones.
"These can offer better stability than a conventional tip, though only when fully parallel to the ground, which is a minority of the gait cycle," Goldberg said. "An oversized foot isn't necessarily safer, so users still need to be careful."
Cane Materials and Cost Considerations
Walking canes are typically made from wood or aluminum – and there are also collapsible canes, Dwork said.
The average aluminum cane costs $15 to $30, Goldberg said.
"Wooden ones often cost a bit more, plus they have to be cut to size," Goldberg said. "You can also spend hundreds of dollars for a custom carved model, or one from exotic or luxury materials."
Canes, as we've known them, are a commodity item, like flip-flops, he noted.
"There's little functional difference between them," Goldberg explained. "It's not like one works better than the other. People choose based on perceived style, or because they like one shape or color better than the other, or because it folds up into their handbag."
Safety Tips for Best Use
Once you've chosen a cane and made sure it's the right height, understand that this is not a cure for mobility problems; it's a way to cope with them, Goldberg advised.
"You'll need to get used to a new way of walking," he said. "You'll have to be paying attention more – the cognitive demands of cane use are surprising, and can be more taxing than the physical, especially for the elderly."
He further explained as you walk with a cane, your brain is continually making tiny guesses and decisions: Did I plant the cane securely? Is there good ground contact? Is it safe to apply my weight? Will it hurt? Do I need to favor around it?
"These cognitive loads happen in microseconds, with every step," Goldberg said. "As people get older and slow down, their ability to process all the mental and physical tasks required for cane use becomes more challenging. Safe usage means staying aware and paying attention: you are walking with a mobility aid."
Dwork agreed that a critical point is the height of the cane.
"When someone buys a piece of medical equipment, proper sizing adjustments and education are critical for the efficient use of a product," he said. "People need to get the advice from a professional for proper size adjustment and usage. The height of the cane, if not adjusted properly, could lead to other issues. Proper height adjustment is critical to any use of medical equipment and a cane is medical equipment."
It's also important to maintain the bottom of the cane, which is also known as the tip, Dwork added.
"The cane tip is actually the bottom – a rubber tip with a tread ring on the bottom…which allows the canes to balance while standing up," said Dwork, noting you have tips that will bend as the person walks rather than just be solid straight.
"The number one issue after the cane is properly adjusted to the correct height, is to make sure the cane tip is in good condition and not slick and worn down on the bottom," he said. "This could lead to it slipping on a wet surface or slick tile for example. The replacement is less than $5 and easy to remove and install the new one. Safety is the most critical factor."
Factors to Keep in Mind When Buying a Walking Cane
"My advice is I would buy from someone who can give you the professional adjustment and show you how to use it properly," Dwork said. "When you by a piece of medical equipment you want that professional advice from a professional who will size it properly so you don't get injured. Most people adjust them improperly due to the lack of knowledge."
It's important for users – especially new users – to always remember that a cane isn't a cure for walking problems, Goldberg emphasized.
"Your body and your brain need to do more work now," he said. "The weight-bearing specifications that sellers brag about don't mean much in practical terms. Canes users typically offload only 15% to 20% of their body weight."
Choose a cane you like and can live with, that you know you'll use, Goldberg advised.
"The difference between canes is minimal," he said. "The difference between using one and not using one is significant."
The Bottom Line
When you decide you're ready for a cane, you should get one immediately, Goldberg said.
"This is one instance where it's much better to be safe than sorry," he said. "Don't feel married to what you buy; most people own multiple canes and you can always get another. And don't feel bad about using one – millions of people do."
Better walking aids beyond the cane are coming soon, aided by advancements in biomechanics, materials, sensors, and data, Goldberg noted.
"Soon we will have replacements that actively help the user walk and address the cane's numerous fall hazards," he said. "At the same time, they'll analyze how well the user is walking and help coach mobility."
These new smart mobility aids will alert caregivers when there's a fall risk and tell doctors and therapists how well patients are recovering, in-office or remotely.
"Mobility health has been a missing vital sign for too long, and today's crude walking aids can't do anything about it," said Goldberg, adding that Isowalk is out to change that.
» Related Articles: