How to Decide If Usage-Based Car Insurance Is Right for You
Usage-based auto insurance could save a lot of drivers money, but it's not for everyone. We'll explore how you can figure out if you should make the switch.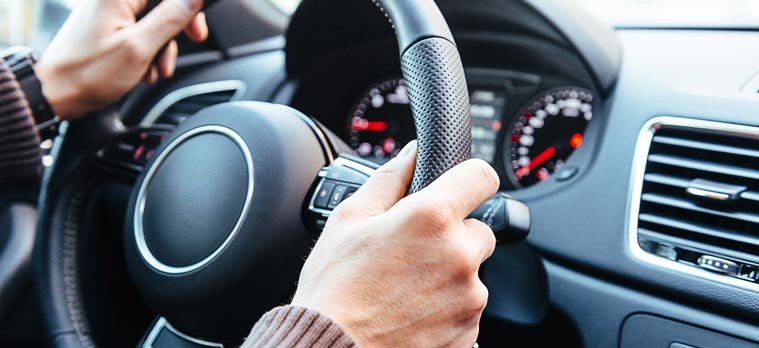 Auto insurance is a big expense, so it's no wonder you're exploring different ways you can save money on your monthly bill. But is a usage-based policy the best way to go about it?
Undoubtedly, this can be a massive topic. In this guide, we'll provide a complete overview about what usage-based car insurance is, its potential advantages and disadvantages, and how you can decide if it's right for you.
What Is Usage-Based Insurance and How Does It Work?
Usage-based auto insurance (UBI) is exactly what it sounds like; an insurance policy that, when calculating rates, takes into account your current driving habits. From a coverage perspective, though, a UBI policy is no different than a standard auto insurance policy.
Most major insurance carriers offer some form of usage-based insurance, including Allstate Drivewise, Progressive Snapshot, The Hartford TrueLane, Nationwide SmartRide, Safeco Rewind, State Farm Drive Safe & Save, Travelers Intellidrive, and Esurance Pay Per Mile.
Other insurers have entered the market with UBI-only insurance, the most popular of which is Metromile.
Comparatively, traditional auto policies are rated based on aggregated data like driving record and past claims (accidents and violations), credit-based insurance score, garaging location, age, gender, and marital status.
Here's a good way to think of it: Traditional auto policies calculate rates based on past data, while UBI policies calculate premium based on present information. How do they do this?
How UBI Insurance Policies Track Your Data
In the instance of usage-based insurance, most companies utilize self-installed in-vehicle telematics devices to track data, which plug into your car's diagnostic (OBD-II) port. Some companies also use built-in smart car features like OnStar, others use mobile apps, and some even require you to fill out an odometer form each month.
Regardless of which method they utilize, most usage-based auto insurance carriers minimally monitor mileage. In many instances (especially with OBD-II devices), they'll also monitor data like time of day and location(s) driven, along with behaviors such as hard acceleration, braking, and cornering.
This information is then sent to the insurance carrier, which analyzes the data and charges an appropriate premium based on the changes in risk.
An admittedly simplistic example is that someone who drives a lot and displays reckless behavior will pay more than someone who drives very little, safely.
Just keep in mind that each insurer uses a different rating model based on their overall business strategy, so one carrier's premium could be much more competitive than another's based on your specific driving habits.
What Are the Different Types of Usage-Based Insurance?
The simple reality is that there are really just two different types of usage-based insurance:
Pay-As-You-Drive (PAYD)
Also known as pay-as-you-go (PAYG), pay-per-mile (PPM), and distance-based insurance, most pay-as-you-drive policies only monitor mileage. Depending on whether the number of miles you drove increased or decreased over the past month, your premium will go up or down accordingly.
As a result, most PAYD policies are very dynamic and quickly reflect driving behavior, but they're also the simplest form of usage-based insurance and don't account for your acceleration, cornering, or GPS data.
As a result, if you'd like to achieve the savings associated with a UBI policy, but also want to minimize the amount of information collected by your insurance carrier, a PAYD policy might be suited to your needs.
Pay-How-You-Drive (PHYD)
Pay-how-you-drive policies are typically more complex than PAYD policies, since they factor safety data into the equation like acceleration, cornering, location, time of day, weather conditions, and where your vehicle is driven.
Like PAYD, though, PHYD policies are dynamic and generally change on a monthly basis, depending on the driving behaviors tracked by your telematics device during the previous month.
With the additional data available to help calculate rates, PHYD policies have the potential to lower your premium even more than a PAYD policy. On the other hand, depending on your driving habits, you could end up paying a lot more.
What Are the Pros and Cons of Usage-Based Insurance?
Despite its inevitable increase in popularity, usage-based auto insurance certainly isn't perfect. Let's quickly take a look at some of the pros and cons.
Potential Advantages of Usage-Based Auto Insurance
Control: One of the clearest benefits related to UBI is that policyholders gain much greater control over what they pay. Specifically, it quickly and directly rewards drivers who exhibit lower-risk behaviors and who don't drive a lot of miles each month.
Lower premium: If you fit this mold, you could potentially save a lot of coin by switching to a usage-based auto insurance policy. In fact, John Kramer, UBI expert and Director of Business Development at Octo Telematics told us that some drivers might expect discounts up to 40%.
Society: There are also potential benefits for society as a whole, since focusing on safety and driving volume (improved behavior) could improve road accidents, congestion, vehicle emissions, and overall safety.
Smart car: John Kramer of Octo Telematics adds other potential benefits that consumers might overlook. Namely, that the "connected car" model of UBI's telematics devices can deliver smart features like "alerts to road conditions on your route, weather hazards or vehicle maintenance needs, as well as on-demand assistance from your insurer in the case of a crash."
Potential Disadvantages of Usage-Based Auto Insurance
Increased premium: From a habits perspective, usage-based insurance can be a double-edged sword. If you're a low-mileage, safe driver, it might save you a lot of money. But if you're the exact opposite, you could end up paying a lot more than with traditional coverage.
Data privacy: All the data collected by your UBI telematics device is anonymous, and none of the carriers we researched sell their data to third parties. But many did expressly state that it could be used to locate your car, provide information related to a claims investigation, or when legally required, such as in response to a subpoena in a civil lawsuit or by police.
And while the NAIC notes that "some states have enacted legislation requiring disclosure of tracking practices and devices" and that "some insurers limit the data they collect," it's important to keep in mind there's no overarching legislation currently in place that protects all consumers' information.
Penalizations: The next logical question is, "Can I get a ticket based on my driving habits under a UBI policy?"
Troy Peterson of Friedle Insurance in Wauwatosa, WI helps quell this fear by telling us via email that, "Companies don't report anything to authorities, so I don't see a speeding ticket showing up in the mail through your insurance (the same question can be had about automated tollway devices). But there is certainly a Big Brother aspect to it."
Similarly, it's against the law for an insurance carrier to penalize drivers who travel through or live in more dangerous neighborhoods.
Eligibility & Compatibility: Finally, since usage-based insurance is in its relative infancy, not all carriers offer these types of policies. And even among those that do, they might be restricted to certain states.
Also, while the OBD-II dongles used by UBI carriers typically work in all vehicles built after 1996, they're certainly not universal.
How to Decide If Usage-Based Car Insurance Is Right for You: 4 Factors to Consider
Although we've covered a lot of ground here, the reality is that deciding if usage-based insurance is right for you can be whittled down to four simple steps:
1. How Many Miles Do You Drive?
Since all usage-based insurance policies at least monitor mileage to determine rates, perhaps the biggest factor when deciding if one is right for you is how much you drive.
If you don't drive much, or go short distances when you do, then this lower mileage could certainly help you save money with a UBI policy. On the flip side, if you drive long distances, you could end up paying a lot more than with a traditional insurance policy.
While it's not hard and fast, Edmunds.com reports the general rule of thumb is that you'll want to drive 12,000 miles or less per year if you're looking to achieve any kind of meaningful savings by switching to a usage-based insurance policy.
2. PAYD vs. PHYD Usage-Based Insurance: It's All About Your Behavior
While basic pay-as-you-drive policies (PAYD) only factor mileage into your premium, pay-how-you-drive (PHYD) policies also factor in driving behaviors like time of day, location, hard acceleration, braking, cornering, and so forth.
Given this, it's easy to see that if you suffer from road rage and frequently speed, slam on your brakes, and take corners like a Grand Prix driver, you're probably going to pay a heck of a lot more with a PHYD policy than with a standard once.
But keep in mind that other factors can impact your PHYD policy rates, such as when you drive your vehicle (statistically, nighttime driving is more dangerous than during the day; rush hour is more dangerous than at noon, etc.) and in what type of weather.
So, even if you don't drive like a maniac, your UBI rates might be higher if you typically drive during rush hour or in inclement weather, or work night shifts (as but a couple of examples).
Pro tip: Writing for Digital Trends, though, Jeff Zurschmeide points out that "most telematics do not reveal how they want you to drive around corners, or what they consider a troubling tendency to accelerate too fast." So don't expect to know the perfect formula for achieving the lowest possible rate.
Even the 2015 Edmunds.com article referenced earlier reiterates this fact: "While no company would offer precise details about how discounts and surcharges are calculated, most made it clear that they look at the whole picture of a driver's behavior behind the wheel over a period of time."
Specifically, they noted that the following driving habits could cost you most with a PHYD policy:
Times driven between the hours of 12 a.m. and 5 a.m.
Hard braking (decreases in speed of 7 mph per second or greater)
Quick accelerations (increases in speed of 9 mph per second or greater)
Speeds exceeding 80 mph
Total mileage
Bringing it all together, a PAYD policy might not be ideal if you engage in statistically "high-risk" activities that might increase your premium. On the other hand, if your habits are squeaky clean, a PHYD usage-based policy might be able to save you a decent chunk of change.
3. Are You Comfortable Sharing Your Data?
Here again, the exact data you share can differ greatly between PAYD and PHYD auto policies. With the former, you'll only share your mileage, while the latter might (depending on the carrier) also track location, driving behavior, and time.
The information collected can also vary a great deal between insurance carriers. As we mentioned above, most UBI companies are open and honest about the information they collect, how it's used, and how it's stored (including for how long).
The bottom line is that the easiest way to learn is by checking the carrier's privacy statement, or contacting customer service directly. Still, it might feel like you're providing a lot of personal driving data in exchange for a potentially lower insurance rate, and only you can decide if it's worth the tradeoff.
Pro tip: To help keep things in perspective, the reality is that your smartphone almost certainly reveals much more about you than a telematics device in your car ever will (well, forseeably, at least).
4. There Are Other Methods of Saving Money on Your Auto Insurance
Outside of moving to a usage-based policy, there are many other ways to lower your car insurance cost. These include:
Exploring all possible discount options on your existing auto policy, including level of education, career, marital status, home ownership status, and good student credits (for any school age drivers in your household)
Raising deductibles
Waiving medical payments if you currently have health insurance
Removing collision if you have an older vehicle without a loan
Reaching out to your agent and shopping around for quotes from different carriers (just keep in mind that you might want to avoid comparison sites in the process)
Avoiding citations (or attending a defensive driving class if you get one)
Driving defensively and avoiding accidents. And if you are at-fault for one, in the long run, it might be less expensive to pay out of pocket
Bottom Line on Usage-Based Car Insurance:
If you drive 12,000 miles or less per year, don't engage in high-risk driving behavior, don't mind sharing your data, and have already explored all your options on your current policy, usage-based insurance might be a solid solution for saving a meaningful amount of money on your monthly expenses.