How to Eat Healthy on a Tight Budget: Simple Money-Saving Tips
There's a big misconception that healthy eating isn't feasible for people on a tight budget. But there are ways you can eat nutritious meals by following a few simple tips each time you shop.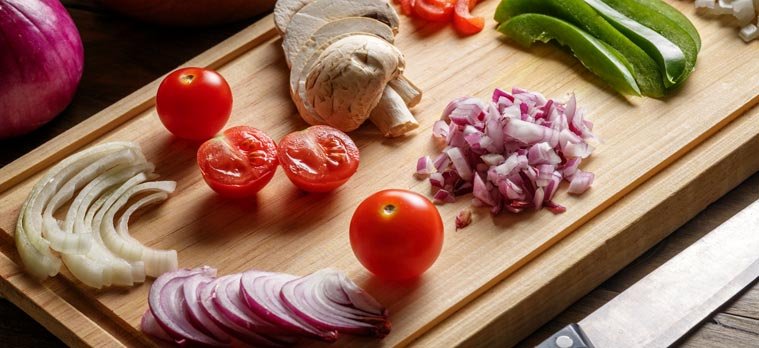 Is it possible to eat a healthy without breaking the bank? Absolutely – and it's simpler than you might think.
If you're on a limited income, or have a set amount of money to spend on your weekly grocery bill, there are easy ways you can eat healthy on a low budget.
At Highya, we strive to help you learn ways you can save money while maintaining a healthy lifestyle. Eating healthy on a budget is a hot topic these days, and these tips are designed to help you plan nutritious menus without going broke.
We've compiled research and talked with a registered dietician about the best ways to stretch your hard-earned dollars while shopping for the healthiest food choices.
Whether you're planning a healthy menu for one or the entire family, this advice will help you make the best food choices without sapping money from your pocket.
Search for Food Specials
Grocery stores offer food sales or discounts on a regular basis. Current deals can be found online or through your local newspaper. Many stores also distribute flyers with weekly specials.
Look for healthy foods on sale, such as lean meat, fat-free and low-fat dairy items, and fresh or frozen fruits and vegetables.
Make a List Before You Shop
Before you go shopping for food, make a list – and be sure you never shop hungry. This mindset will help you stick to the healthy items on your list without buying food on impulse, which could lead to overspending.
Find a Place to Shop That Offers Good Deals
According to the U.S. Department of Agriculture, the following places offer good deals:
Dollar Stores
Ethnic Markets
Farmers Markets
Retail Supercenters
Wholesale Clubs
Buy Seasonal Fruits and Vegetables
Fruits and veggies cost less when they are in season because their bounty meets demand. For instance, strawberries are less expensive between the spring and summer, and broccoli costs less during the wintertime.
For a list of what's in season, check out the Seasonal Produce Guide.
In other ways to save money on these items, the U.S. Department of Agriculture recommends buying fruits and vegetables in a can because they cost less and are just as nutritious. But it's important to choose fruit that's canned in 100% fruit juice, and veggies with low sodium or no salt added.
Buy Frozen Fruits and Vegetables
If you have enough space in your freezer, buying frozen fruits and vegetables can save you quite a bit of money, especially if you stock up on these items when they're on sale.
Most fruits and vegetables can be found in the frozen food section. But make sure you read the ingredients, and choose items with no added sauces, butter or sodium.
Buy Fixings Instead of Pre-Packaged Meals
Prepackaged meals seem simple, especially when you're on the go or don't have time to make meals. But by setting time aside to plan these meals, and buying all the fixings instead of a prepackaged dish, you will save money.
For instance, a pre-packaged salad can cost up to $6 for one to two servings. These pricey little packages contain everything, from greens to croutons.
But you can make your dollars stretch a lot further by purchasing salad items separately. You can buy a head of lettuce on sale, as well as salad dressing and seasonal veggies that are offered at a discount.
By shopping this way, you will get more bang for your buck, because you can make these salads last for several days when you buy the fixings separately.
Make Meals from Leftovers
It goes without saying that you can save money by making meals from leftovers. All it takes is a little improvisation and imagination using items you already have in your pantry, or by adding inexpensive ingredients.
For instance, if you have leftover chicken from the night before, you can make another meal like a casserole, crock pot dish, chili or stir fry. Add simple ingredients, such as a can of kidney beans or black beans, which can be found for $1 at places like Wal-Mart.
Many grocery stores also offer regular deals on canned beans – sometimes as little as $1 a can – so do your research on current sales.
You can also add brown rice, which is considered a healthier alternative than white rice. Rice can go a long way when purchased in dry bulk. For instance, a 5-pound bag of dry brown rice costs around $3 at Wal-Mart.
Avoid Instant Rice or Oatmeal
Anything "instant" will cost more money, especially if it's rice or oatmeal. Some of these "instant" items also tend to have more sugar, and therefore more calories.
Although you must spend a bit of time cooking these items, rice and oatmeal in their regular form typically cost less, and are considered more healthy and nutritious.
Buy Healthy Bread at a Bargain
Bread lovers take heart: You can make healthy bread choices without hurting your budget.
Try to select whole wheat or whole grain bread, because this kind of bread contains more nutritional value than plain white bread. Read the ingredients, and pick the bread that has a whole grain listed first, such as whole wheat, whole oats or whole rye.
You can find terrific deals by shopping for bread in the discount section. This bread is typically removed from shelves because of an expiration date. However, bread can remain fresh for a day or two after the expiration date – and can also be stored in the freezer to last even longer. As long as there's no mold, it's considered safe.
Shop Smart to Save on Dairy Items
To find the best prices for low-fat milk, yogurt and cheese, check your local paper or supermarket for the top money-saving deals.
Keep in mind that large containers of these dairy items are less expensive than smaller sizes, so you can save money in the long run by selecting the biggest size.
It's also important to check the expiration dates to make sure what you're purchasing will last as long as possible without spoiling.
Take a Break from Meat
Protein can be pricey, especially if it's a steak or slices of meat from the deli. But you can save money by taking a break from meat a few days a week and choosing less expensive protein options.
Beans, for instance, are an inexpensive alternative for protein whether they are canned or dried.
You can take it a step further by adding beans to rice, which is a healthy and filling dish. Depending on the brand, a pound of rice can range from $1 to $5, and a pound of dry beans can be found for as little as $1. If you want canned beans instead of dry beans, a can may cost as little as 50 cents for 15 ounces.
If you can't stand the idea of cutting down meat, make healthy selections that won't kill your budget. Chuck or bottom round roast, for instance, contains less fat and is less expensive than sirloin steak.
You can also buy meat on sale in bulk packaging, and freeze portions you don't use for future meals.
Surf the Internet for Healthy, Inexpensive Recipes
There are many healthy, cost-effective recipes online. You can find these options by entering keywords for your search, such as healthy foods on a budget, or healthy meal planning on a budget.
The U.S. Department of Agriculture offers some nutritious dishes online at What's Cooking?
These meals include potato skins with buffalo chicken, fish with spinach, and sweet potato and black bean stew. Each recipe also comes with nutritional information, including the number of calories per serving.
How to Eat Healthy on a Budget: Advice from a Registered Dietician
Most people believe they cannot eat healthy on a budget, said Silvia Lopez-Navarro, a registered dietician and program administrator for the Ventura County Public Health Department.
However, this belief is false.
"It's definitely possible to eat healthy on a budget," she said. "With $20, for instance, you can really stretch that money if you plan ahead and make smart food purchases."
As a public health educator, she offers the following tips:
Tip #1: Cook at Home
Prepare meals at home instead of eating out at a restaurant, which can cost considerably more with tax and tip – and will most likely only provide one meal.
If you are cooking at home for a family, get the children involved with meal preparation, such as cleaning and chopping vegetables. By making healthy dishes together as a family, the children are more likely to absorb the information and carry it on later in life.
Tip #2: Plan a Week Ahead
If you sit down and plan a healthy menu for a week before heading to the grocery store, chances are you'll stick to it.
Being prepared will leave less room for a temptation to make impulse buys, which could lead to spending more money.
Tip #3: Plan Menus Around Sale Items
Look at your supermarket ads and plan your menu around foods that are on sale, like seasonal fruits and vegetables and lean meats. For instance, if broccoli is on sale, plan a meal like stir-fry, and incorporate the broccoli with lean protein, such as chicken.
You can even stock up on sale items for future use. Supermarkets are known to offer terrific deals on items like frozen veggies with two-for-one specials.
Tip #4: Swap Ingredients for More Affordable Options
If you're following a recipe that calls for specific ingredients, a little improvisation can help you save money.
If you want to make a stew, for instance, fresh vegetables are not required. You can use frozen or canned vegetables, which are typically less expensive. With canned goods, however, make sure you read your labels, and buy items without any added sugar, salt or fatty ingredients.
Tip #5: Plant a Garden
Growing your own herbs and vegetables, like tomatoes, is a sure way to save money. And you don't need to be a farmer or have a huge backyard to do it.
If you have space in your kitchen for a small container, you can grow a variety of herbs, like parsley and thyme. Same goes for the patio, where a small container can be used to grow vegetables like tomatoes.
Not only will you save money, veggies and herbs plucked directly from the garden taste better, because they are super fresh.
Bottom Line: To Eat Healthy on a Low Budget Plan Ahead, Shop for Sales, and Cook at Home
It is absolutely possible to eat healthy on a budget.
This goal can be achieved by planning nutritious meals ahead of time, finding the best deals at your supermarket, and avoiding pre-packaged foods like salads with all the fixings.
Additionally, you can save money by limiting your intake of meat and replacing it with another form of protein, like beans, which are less expensive.
Eating healthy on a budget can also be fun with a little bit of improvisation. For instance, if you have leftover veggies and chicken, you can make another meal or two with a stew or stir-fry.
You can even take it a step further by growing your own herbs and veggies at home. All it takes is a small space and a small container – and a little bit of TLC.