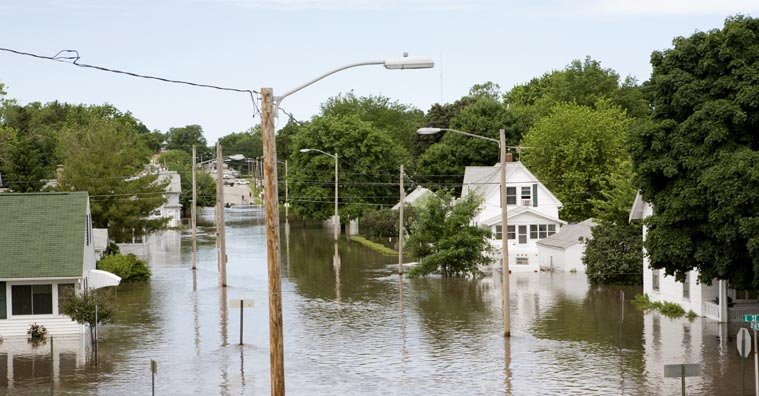 Image: iStockphoto/PickStock
Once a natural disaster like Hurricane Harvey strikes, experts agree that preparedness is the key to minimizing your hardship, whether related to money, shelter, food, or medical needs.
In other words, from creating off-site back-ups of sensitive data and having a pre-planned escape route, to maintaining emergency kits and stashing cash in a secure location, there can be a million ways to make your life easier by planning ahead.
Whether you prepared for a natural disaster or not, though, what happens in the aftermath?
With the help of professionals, we're going to concentrate on the essential details related to four core aspects of your life following a natural disaster: safety, shelter, finances, and prevention.
3 Tips to Help You Stay Safe After a Natural Disaster
1. Focus on Short & Medium-Term Needs
The Ready.gov national public service campaign notes that you should start by making sure everyone's safe, sound, comfortable, and well fed, and that anyone who requires medical attention receives it as soon as possible. After all, getting back on your feet financially and materially are secondary to your good health.
In the hours and days that follow, make sure that you remain mindful about regularly washing your hands, drinking plenty of water, and monitoring your exhaustion.
2. What If You Stayed Home?
If you sheltered in place, LifeHacker advises that you should "continue to monitor local weather conditions and emergency radio before you head out. If you're without power, avoid using candles (for fire safety reasons) and try to use flashlights to get around."
Furthermore, as you move around your home, watch out for broken or frayed wires (and resulting sparks), as well as roof, foundation and chimney cracks, damaged pipes, and chemical spills. When opening cabinets, watch out for falling objects.
3. Returning to Your Home After an Evacuation
On the other hand, if you were evacuated, it's important to check with authorities before attempting to return home. On your way, Ready.gov notes to "watch for washed out roads, contaminated buildings and water, gas leaks, and damaged electrical wiring." Weakened walls, bridges, roads, and sidewalks could also be a concern.
If you encounter any of these safety issues along the way, be sure to inform local authorities, but stay out of the way of emergency personnel.
Once you make it home, you'll probably be eager to go inside and collect valuable items (documents, records, heirlooms, and so forth). However, do not enter if floodwaters remain, or if the property was damaged by fire and hasn't been declared safe. Animals could be around, especially poisonous snakes or fire ants after a flood, so use a stick to poke through any debris.
Emily Long, the disaster aftermath expert for Safewise, emphasizes that it's really important for homeowners to understand that, "Even if the home appears safe, always wear protective gear like gloves, boots, headwear, and waterproof clothing (in the case of flooding). Assess any space for obstacles and collapse potential before entering."
4 Tips for Repairing & Cleaning Your Home Following a Natural Disaster
1. Reach Out & Minimize Long-Term Damage
As far as getting your home back in order, Ready.gov recommends that you start by calling your insurance agent, or even the carrier directly (including both homeowner's and flood insurance companies) and taking pictures of damages.
Afterward, Emily Long notes that homeowners should turn their attention to minimizing long-term damage. Since Hurricane Harvey-related flooding is currently a relevant topic, she recommends doing things like:
Removing water with a wet vac
Opening doors and windows (if the weather allows) to begin airing out spaces
Removing and cataloging damaged items
"Mold can set in within as little as 24 hours, so moving quickly on valued possessions is key. If they have been exposed for longer than this, they may not be salvageable--though carpets and floors (even some electronics!) are able to survive being waterlogged if given enough drying time," she says.
However, Touro Law's Disaster Relief Clinic, which was created in the days following Hurricane Sandy to provide affected families with pro bono legal aid, points out that "you'll need to decide whether it holds enough monetary or sentimental value to try to do so."
2. Make Sure You Document, Itemize, & Track What's Important
Before removing or repairing any damage, the Disaster Relief Clinic emphasizes that you should "fully document all damage for your insurer by taking photos or video." Otherwise, "If you clean, dry and/or make repairs prior to photographing the damage, or you may decrease the amount of your flood insurance recovery."
They added, "Digital versions are best, so they can be easily stored and copied."
You'll also want to focus on completely inventorying and valuing costs to repair, clean, or replace damaged property, regardless of whether or not you're covered by insurance. When doing this, be sure to document what the natural disaster did to your home and possessions.
To do this, the Disaster Relief Clinic recommends making "a chart including: (1) item, (2) location of item at time of loss, (3) condition and age of item, (4) actual cash value and replacement cost of item."
In How You Can Avoid Financial Ruin From Natural Disasters, we provide some additional tips for record keeping, home and personal property valuation, and how to avoid scammers.
3. Choosing the Right Contractor & Dealing With Insurance
It's important to point out that scammers—known as storm chasers—are known to flock to areas recently affected by natural disasters, promising to help customers rebuild their lives, but ultimately running away with their money and/or stealing their identity.
In Insider's Tips for Finding a Reliable Home Contractor, we outline the following advice for avoiding these predators:
Speak with multiple contractors. Don't choose the first one you call.

Make sure the company has a professionally designed website and mostly positive online customer feedback. Also, verify they have an active license, which can usually be handled online.

Be wary of contractors who quote exceptionally low prices, request money upfront, don't provide a detailed bid, don't listen to your needs, or don't offer a written warranty.
The Disaster Relief Clinic adds that you'll want to "be extra cautious about contractors and vendors that show up at your front door uninvited. Most reputable companies will not go door-to-door seeking business."
"Try to make all payments with a check or credit card. In the event you make any payments in cash, make sure the contractor provides a signed receipt stating the amount paid, and what services that payment covers," they tell us.
We'll continue discussing finances in the next section, but it's important to quickly pass along what we learned about insurance denials during our research.
See Also: Natural Disaster Scams: How Scammers Take Advantage of Hurricane Harvey
4. Was Your Natural Disaster Insurance Claim Denied?
PBS tells us that you shouldn't "accept as gospel an insurance company's denial of coverage. Insurance companies tend to resolve doubts over coverage in their own self-interest. [For example,] after Katrina hit New Orleans, many insurance companies denied coverage due to a flooding exclusion in the policy, despite the fact that coverage existed for wind damage."
The Disaster Relief Clinic adds that, "If a home or flood adjuster says damage isn't covered, get an independent professional opinion before giving up on collecting insurance benefits for repairs."
Bottom line: Don't take no for an answer and get more than one opinion, if necessary.
See Also: Does Home Insurance Cover Hurricane Damage?
How to Handle Your Finances & Credit After a Natural Disaster
Any financial topic can be nuanced, and handling your money and your credit following a natural disaster is no different. On top of this, as we discussed earlier, a lot of how well you'll weather the financial storm largely depends on what you did in preparation.
With this in mind, Fox Business' Tamara E. Holmes tells us that some of the most important things you can do to protect your credit in the aftermath include:
Obtaining a copy of your credit report
Creating a post-disaster budget
Contacting your creditors and finding out if they can provide any consolations (payment moratoriums, assistance programs, etc.)
Documenting all conversations you have, including what occurred, who you spoke with, and what they promised or advised
She also recommends looking for long-term recovery funding if needed through insurance or government assistance programs (see resources section below).
We talked about it earlier, but Touro Law's Disaster Relief Clinic reemphasizes:
"Keep good records, a journal and receipts: If there is repair or remediation work completed prior to an adjuster coming to your home, keep a copy of the invoices and receipts for work which has already been performed and materials purchased. Keep a diary of conversations and all correspondence with insurance, repair, government, and other professionals."
Looping back around to potential scams, PBS notes that, "If someone wants to verify your social security, only provide the last four digits. This is a unique enough number that this along with your license will show that you are who you say you are."
In addition, "If someone purporting to be a government official insists on more, find out where they are headquartered locally and arrange to drop it off at the office. Obtain a phone number (not a cell phone number) where you can verify their identity."
The Best Way to Get Back on Your Feet After a Natural Disaster? Be Prepared
What are some of the most useful ways to prepare—and consequently recover—from a natural disaster?
From a safety perspective, John Adama, preparedness expert and founder of ThePrepared.com told us that "most Americans have less than 12 hours worth of food and water in their home. They assume they'll be fine or can just run to the store and buy bottled water and bread, which Harvey yet again showed is a horrible plan."
Instead, he noted that there are at least two basic steps everyone should take:
Have two weeks of supplies in your home. Stored potable water, non-perishable food, heat, light, etc.

Have a bug-out bag packed and ready to go so that you can leave at a moment's notice. This should include insurance information you can provide to FEMA or government relief representative before the rush.
"The evacuation orders for Harvey were unclear, and people ended up in shelters with nothing," he noted.
Financially, a new survey from the non-profit Private Risk Management Association found that "56 percent of homeowners living in a special flood hazard area do not take steps beyond purchasing basic flood insurance coverage to reduce damage to their home or belongings (such as elevating home-system equipment, building barriers around systems and equipment, etc.)."
Furthermore, less than 20 percent carry excess flood insurance protection and that as many as "92 percent homeowners are open to risk mitigation measures only after suffering a loss, versus before a loss."
To make sure you're financially prepared beforehand, start by learning about some of the most common homeowner's insurance gaps. Then, reaching out to your agent or carrier directly and discussing with them any potential issues, based on natural disasters that occur in your area, is a great next step.
Additional Resources to Help Provide Immediate Assistance After a Natural Disaster: