How to Get Rid of Under Eye Bags: Find Which Method Is Right for You
There are three ways to diminish under eye bags: natural methods, clinical procedures, and creams and serums bought over-the-counter. Find which one is right for you.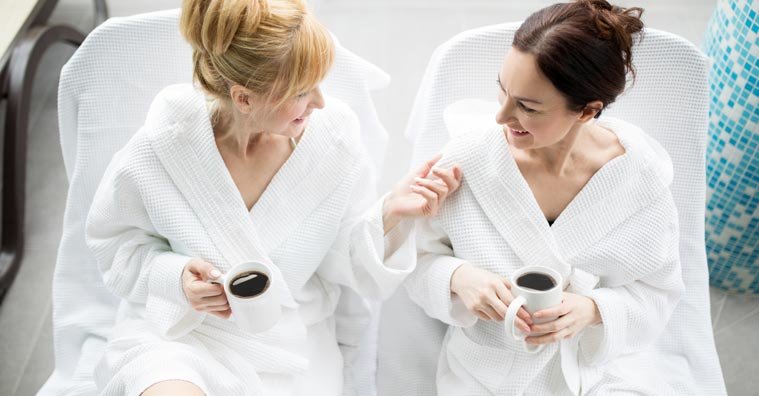 While under eye bags are a common side effect of aging, many people are unhappy with the look that's caused by fat protruding through the muscle on one of the most visible parts of their face.
Whether this look is caused by age, genetics, or both, the muscle just behind the eyelid skin weakens, allowing the fat layer behind the muscle to push through the muscle fibers. As a result, there's a common perception that under eye bags are due to fatigue, and make people look tired or older.
This article offers a comprehensive look at how to get rid of under eye bags. More specifically, we've explored three options to address this:
We provide you with details about each of these three options, including the cost, potential side effects, and overall effectiveness, so you can decide which choice is right for you. This decision largely depends on the severity of your under eye bags, how much money you want to spend, and whether or not you're willing to go under the knife.
We've interviewed several experts on this topic, including board-certified plastic surgeons and a board-certified dermatologist, who offer their input on ways to get rid of under eye bags. Keep in mind that this article is not intended as medical advice, so it's important to talk to your medical provider before you try any of these methods.
What Causes Under Eye Bags?
Under eye bags refers to the noticeable puffiness or pouches that can start to develop under the eyes in our mid-30s and 40s, according to Dr. Kally Papantoniou, a board-certified dermatologist specializing in cosmetic, laser and surgical dermatology in New York City.
This is usually caused by the weakening of structural collagen and walls of the area under the eye which allows fat pockets to protrude, she said, or can result from chronic swelling and water retention which can happen due to allergies, medications, sensitivity to salty foods, and certain disorders.
Dr. Ted Lain, a board-certified dermatologist and Chief Medical Officer at Sanova Dermatology in Austin, Texas, said there are two reasons that cause this look, one being "herniation" of fat through the muscle of the lower eyelid. The other cause is lymphatic swelling because the lymph system is a "waste pathway" and accumulation of lymph fluid can occur quite often in the lower eyelids.
If under eye bags are a result of allergies or water retention, they may be possible to diminish with home remedies or natural treatments, which we cover in the next section. These natural options may be ideal for those who don't want to spend a ton of money on more invasive procedures, like plastic surgery. Also, some of these natural treatments require ingredients you might already have at home.
Natural Treatments & Home Remedies for Under Eye Bags
If you decide to treat your under eye bags with natural methods or home remedies, it's important to have realistic expectations, Dr. Papantoniou said. She recommends the following "harmless" remedies you can do at home that might provide temporary relief, but said to "be aware" that improvement will likely only be mild with any of the following options.
These at-home remedies include using a cool compress, or gel refrigerator packs, to help temporarily minimize under eye bags. If you choose this option, apply the cold for no more than 15 minutes, and this can be done daily, as needed.
Just like a cool compress, applying things like cold sliced cucumbers, or seeped Chamomile tea bags, can also help reduce swelling under the eyes temporarily. You can also apply hemorrhoid cream, which will work for several hours to reduce swelling, but some patients have an allergic reaction, so try the cream out on a test area, first.
More Reading in Case You're Interested in Diving Deeper:

Something as simple as a gentle massage with a moisturizer can also temporarily reduce the look of under eye bags, especially if they are due to lymphatic swelling, Dr. Lain said. The process is simple: starting near the nose, gently massage with a moisturizer by pushing the fluid down and away from the lower eyelids.
If you're willing to spend a bit more money, another natural treatment for under eye bags is the use of ultrasound waves administered through radiofrequency treatments, which Dr. Papantoniou said can reap "great results" and has no downtime. She offers Exilis Elite, an under eye tightening treatment that utilizes energy to naturally stimulate collagen production. The cost is $400 per session, and typically requires three to four sessions for maximum results. After that, maintenance is recommended once or twice annually.
Most Effective Surgical & Clinical Treatments for Under Eye Bags
If you're seeking a more permanent solution and are willing to spend the money, fat removal, radiofrequency, fillers and lasers are among the most effective surgical and clinical treatments to get rid of under eye bags, according to our experts.
For instance, "there is a surgical option to restore the fat to its correct, anatomical position and support the muscle such that the fat cannot herniate through again," Dr. Lain said. "Clinically, there are options including the placement of wrinkle fillers around the bags to help camouflage them, and studies are underway for injections to help dissolve the fat pockets as well."
At Dr. Lain's practice, he commonly places wrinkle filler around the bags to make them less apparent, improving the transitional "trough" between the bag and the cheek such that the lower eyelid seems to blend much more smoothly with the cheek.
This involves the injection of a gel comprised of hyaluronic acid, a natural component of the skin, and Dr. Lain's go-to products include Juvederm Volbella and Restylane Silk. The downtime involves small bruises and slight redness and swelling, and the latter usually resolves within 2 to 3 days, and the bruising in 5 to 7 days. The cost depends on the severity of the bags, and how much product is required, but usually costs between $600 and $1,200.
"The results last around a year to 18 months," Dr. Lain said. "This treatment is considered off-label in that studies have been performed, yet is a commonly performed procedure by dermatologists. Ideal candidates are those with mild-to-moderate ender eye bags, who prefer to avoid surgery, and understand that the results with fillers are not permanent."
Another option is lower eyelid blepharoplasty, which involves the surgical removal of fat with an invisible incision on the inner portion of the lower eyelid. This cut cannot be seen from the outside and heals very quickly. The cost is around $5,000 or more, depending on the surgeon, and the recovery time is around 10 days with some bruising.
Orbital fat repositioning is also considered effective because instead of removing the fat, the tissue can be moved around to fill the hollows under the eyes. The cost ranges from $4,000 to $6,000, and the downtime is typically around a week – but this method is not ideal for those who suffer from dry eyes.
"If you have dry eyes, you don't want to have surgery unless you clear it with your eye doctor because you could make it worse," advised Dr. Kouros Azar, a leading Board Certified Plastic Surgeon in Southern California with 20 years experience in aesthetic surgery of the face and body. "And with a very small number of patients, you can have abnormal healing. That's why it's really important that you see a board-certified plastic surgeon because they'll have all the training to not operate on people who aren't good candidates."
Some people might need an additional procedure called a canthoplasty, which involves tightening of the lower eyelids. The cost is about $2,000 and is typically done simultaneously with the orbital fat repositioning.
"It's done at the same time as the lower eyelid if they're a good candidate for it, but not everybody needs that," said Dr. Azar, further noting that people who choose this option are typically in their 60s. He added that both methods together reap "amazing results."
More Reading in Case You're Interested in Diving Deeper:

For people who don't have severe bags under the eyes, a good option is fractional CO2, which involves nonsurgical tightening of the lower eyelids without making any cuts. At Dr. Azar's practice, the cost for both eyes is around $1,500. As an out-patient treatment, it only takes about five minutes, and patents wear a protective shield in their eye while undergoing the procedure.
"It takes about a week of downtime and there's new skin that grows in one week so you get immediate improvement," Dr. Azar said.
Radiofrequency devices can also be used for skin tightening, and have no downtime at all, according to Dr. Papantoniou. Popular devices used for skin tightening are the Thermismooth and Exilis Elite, which stimulate collagen growth. The average cost is $400 per session, with three to four sessions required. Maintenance might also be needed once or twice per year.
Creams & Serums to Diminish Under Eye Bags
Eye creams and serums that contain anti-oxidants, growth factors, and retinol also help to maintain the integrity of the topmost layers of the skin.
While experts say that surgery to remove the bags is the most effective option to get the biggest bang for your buck, those unwilling to go under the knife can try creams and serums found over-the-counter or online.
It's important to understand that most creams or serums work by bringing in more water into the top layer of the skin, causing immediate hydration and plumping, Dr. Lain said. And because the cream or serum is not actually causing any long-lasting changes to reduce the bags, it's hiding them through increased hydration.
"I would advise against the expectation of true, lasting changes in the skin or the bags," Dr. Lain said.
If you still want to give creams or serums a try, make sure they contain effective ingredients, such as anti-oxidants like caffeine or green tea extracts, as well as retinol. Dr. Lain also suggests looking for humectants, such as hyaluronic acid or glycerin, along with moisturizers, like ceramides and petrolatum.
Additional ingredients that can help temporarily diminish under eye bags include Tetrapeptide, Acai Berry Oil, Vitamins A, C and E, Soy Proteins, and CoQ10, according to Lupe Guthrie, a board-certified clinical esthetician with a practice in Southern California.
As far as specific products are concerned, the following products were either recommended by experts or backed by scientific studies.
Dr. Papantoniou recommends Peter Thomas Roth Instant FIRMx Eye, which tightens and smoothes under eye bags as the product dries. While this will temporarily reduce the appearance of bags, it contains no anti-inflammatory component. This product, available at Macy's and other online retailers ranges from $23.50 to $38 depending on where you make your purchase.
Dr. Ahmed Maki, a Board Certified Surgeon who completed a fellowship in Full Body Cosmetic Surgery, recommends the SkinMedica® Uplifting Eye Serum, which can reduce the look of puffiness, as well as fine wrinkles. This product is sold on several sites online, with the cost ranging from $33.99 to $60.
Another product, Tensage® Stem Cell Eye Cream by Biopelle®, has been clinically proven to work. With twice a day application, studies showed a 119% increase in collagen; a 50% increase in elastin; and a 26% increase in epidermal thickness within 90 days. Biopelle® products are available through licensed skin care professionals. It can also be purchased online at eBay and LovelySkin, with the cost ranging from $118 to $130 respectively.
Final Thoughts
If you decide to go with a natural option like at-home remedies for under eye bags, know that the results are only temporary.
The same goes for creams and serums bought online or over the counter. Dr. Maki advises to meet with an expert, such as a dermatologist or even a plastic surgeon, to discuss the best products on the market and what would work best for your specific needs.
Depending on the severity of your under eye bags, and how much money you want to invest in yourself, surgical or clinical options are a better choice because they offer more long-lasting results.
No matter what you decide, routine skincare maintenance with quality products is still crucial to sustaining the results for as long as possible.
Was this article helpful? Read more we've written on related topics: