How to Spot Fake Online Reviews and Websites When Buying a Supplement
When buying supplements online, it can be difficult to discern between a real review and a fake one. In this guide, we'll show you easy ways to spot fake websites.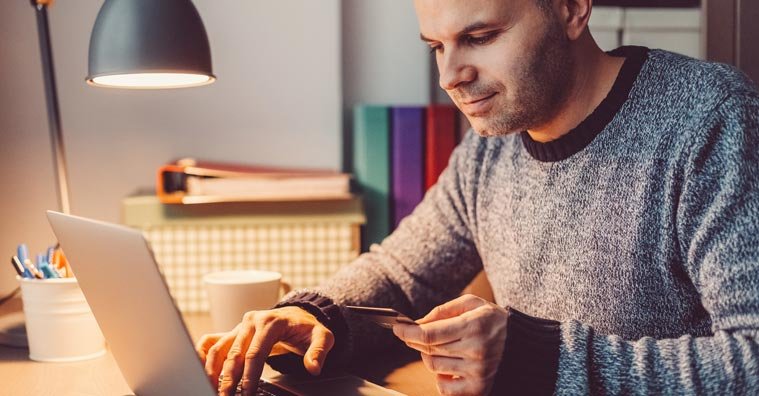 Study after study has shown that, when we're looking for opinions about a new product or service, an online review can be as powerful as a personal recommendation from a friend. So, it's no surprise that having reviews have become a successful marketing tactic for selling a variety of products.
However, some unscrupulous marketers—especially those promoting dietary supplements—devise websites that look like legitimate customer feedback, but aren't anything more than fake reviews intended to mislead readers into making an ill-informed purchase. This can have a big impact on your expectations, your bottom line, and your overall satisfaction.
This guide will provide easy ways to help you spot fake online reviews and websites when researching your next dietary supplement.
What Is an Affiliate Marketer?
In his affiliate marketing guide, Neil Patel explains that independent contractors, formally known as affiliates, can earn a commission—or a share of a company's revenue—in exchange for promoting their products or services online.
Exactly how affiliates earn their commissions can vary, although it's frequently based on the number of sales or leads they generate. Or, it could be based on each click a website visitor makes on an embedded advertisement.
In short, affiliate marketing is just a fancy way of saying that someone gets paid a pre-set amount of money for referring business to a company. And there's nothing inherently wrong with this underlying business model, regardless of the product being promoted.
The problem, as Neil Patel explains, is "whether the consumer knows that they are part of an affiliate marketing system or not," which "is mostly up to the affiliate."
"More and more tend to be transparent about their marketing being incentivized financially," he says, "but others don't."
And in our experience, one of the most common ways less-than-stellar affiliates hide this incentivization is by creating fake review websites. Next, we'll discuss the most frequent methods they use.
The Three Most Common Types of Fake Reviews Used by Marketers
To date, the HighYa Team has collectively investigated close to 650 dietary supplements. And in that time, we've learned there are three main categories, or themes, used by affiliate marketers when creating fake review websites (note: some affiliates will combine more than one—or all three—of these aspects, although rarely).
1. The Landing Page Website
There's no need for a marketing lesson here, but a landing page is a standalone web page designed to accomplish a single objective. In this instance, it's to convince a prospective customer to purchase a supplement.
These websites feature a lot of pictures and will use the same design to sell different products, substituting only the product name and image. These types of websites almost always prominently feature questionable customer feedback somewhere on the page.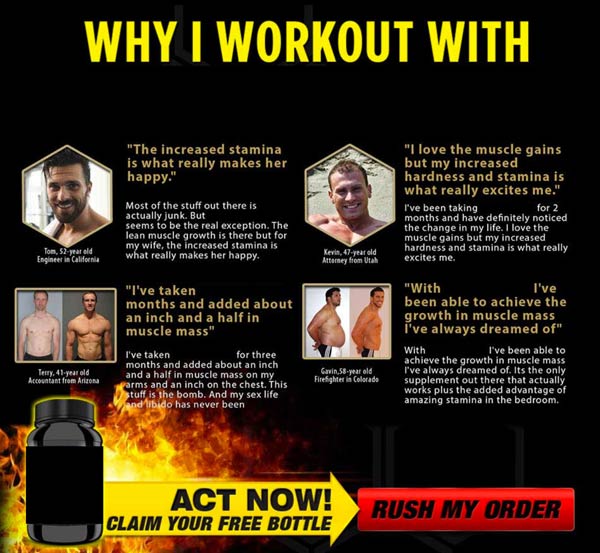 Website templates almost always dedicate a large section to often fake consumer feedback.
2. The Fake Article, Press Release or Blog
The main goal of fake articles, press releases, and blogs is to pass off marketing hype as experience-based feedback and facts. In addition to the hype, it's not unusual for them to also contain fake celebrity endorsements, doctored statistics, as well as fake (or at the very least, dubious) clinical trials or other scientific proof supporting the efficacy of their supplement.
Often going hand-in-hand with these are fake websites, which attempt to piggyback off the reputation of a larger, well-known organization in order to boost sales.
Using the screenshot below as an example, we can see in the upper left-hand corner that it's intended to mimic the look and feel of a TMZ article. Even the URL is tmz.truefacts.news, which—as you probably guessed—isn't related to TMZ in any way.
However, if you're not paying attention, it could be easy to overlook this small, but important, distinction.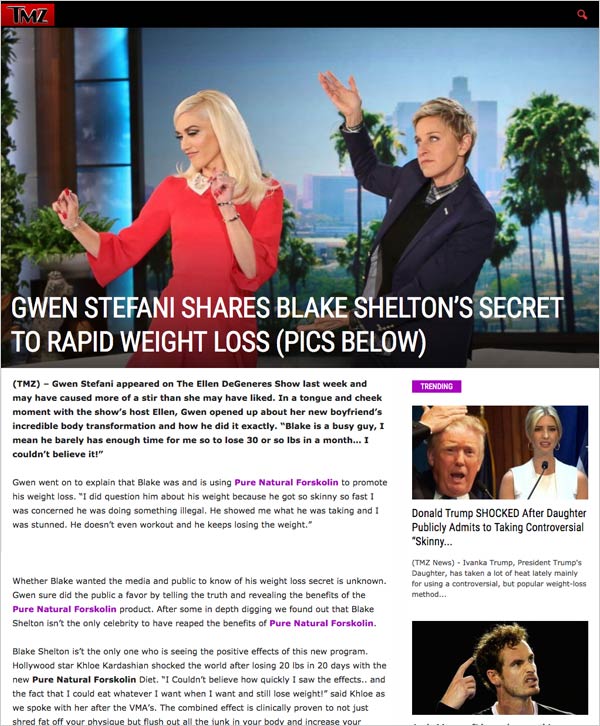 Celebrities losing weight with supplements: A popular storyline used in fake affiliate reviews, articles, and blog posts to boost sales.
3. A Website Selling a Competing Supplement
Here, marketers will create websites that appear to fairly review a supplement, but will then suggest that readers purchase another supplement – a recommendation that is rarely based on fair guidelines and principles.
Instead, it's often the case that marketers are making a commission from the products they are recommending.
While certainly misleading and ethically questionable, we don't think this tactic always results in a fake review. But, we include it here only to point out that you might not always get an unbiased opinion.
How to Spot Fake Online Reviews and Websites: Ask These Five Questions
The bottom line is that if you know what to look for, quickly identifying fake review websites is easy, and something that any regular internet user can accomplish.
But before diving in, it's important to emphasize that the presence of one (or even a couple) of these factors doesn't necessarily mean that you're dealing with a fake website. Just because a website is run by an affiliate marketer doesn't necessarily mean you're encountering less-than-savory marketing tactics.
With this caveat in mind, here are some tried-and-true, experience-based questions we've learned to ask over the years that can help you decide whether or not you're reading a legitimate review of a supplement or a fake one.
1. Does Every Link Lead to a Sale?
Although it's common for a landing page or micro-site to promote only one product or a handful of similar products, if you find that every link you click on—such a Home, About, Contact, and so forth—leads you to an ordering page, this could be a sign you're dealing with an affiliate.
2. Is the Review Website Transparent?
Is the website well designed? Does it feature easy-to-use functionality? Is it simple to find out more about the company behind the review website, as well as the people behind the company?
Does the company disclose whether or not they test the products written about in their reviews? If not, do they explain how they come to the conclusions, as well as how they make money?
Honesty and openness are key traits of a genuine, independent review website. So, if you don't encounter this information, at the very least, it could indicate you're not dealing with a completely professional company. At worst, it could mean you're dealing with a fake review.
3. Does the Review Website Use a Template?
It's possible for an affiliate to have simultaneous contracts in place with hundreds—perhaps even thousands—of different companies. And, in order to achieve the most bang-for-their-marketing-buck, they'll often promote several different supplements within the same category (e.g., testosterone boosters, nootropics, weight loss pills, etc.) using identical website templates.
We already discussed some of the details earlier, but keep in mind that if you find several other supplements using the same site design as the one you're considering, this could indicate it's from an affiliate and not based around legitimate customer feedback.
» See Also: How to Safely Buy Supplements Online
4. Are Their Products Only Sold Through a Free Trial & Autoship Program?
Again, this is a cumulative approach. As such, the fact that a supplement is sold through a free trial and subsequent autoship program—alone—doesn't necessarily indicate that you necessarily have any reason to question their the information provided in their review.
But in general, based on frequent HighYa reader feedback, there seems to be a strong correlation between products sold through these methods (which are often used by affiliates) and complaints related to dissatisfaction.
5. Do Their Supplements Come With Ultra-High Prices?
In our experience, it's not uncommon for online-only nutritional supplements to reach $100 or more for a 30-day supply. And based on some of our conversations with supplement sellers, we've learned that they often only cost $3-$5 per bottle to produce.
Where's all this money going? In many instances, marketing payouts. In fact, it can be the case that an affiliate marketer makes more per sale than the manufacturer, with payouts reaching $60+, or 50-60 percent commission, per sale.
Given this, if you find that the supplement's price is ridiculously high compared to those sold through national retailers like GNC, Vitamin Shoppe, Lucky Vitamin, and so forth, it could indicate you're paying a hefty fee to an affiliate.
Our Final Thoughts
With all the recent news coverage, it might be difficult not to understand the very real damage that fake news can cause, because it can lead people to make ill-informed decisions that potentially harm more than just those directly involved.
Fake supplement reviews—those that pretend to provide real-world opinions, but are nothing more than biased marketing material—can cause much of the same harm, while making thousands of consumers feel scammed.
Instead, the five tips we've outlined above can help you avoid making a decision based on false information.
Also, keep in mind that picking up the phone and speaking with customer support before you buy and using consumer advocacy sites like HighYa to learn what customers are saying can also go a long way toward improving the likelihood that you'll be satisfied with your next supplement purchase.
» See Also: How to Tell If an Online Store Is Legit: 11 Steps to Check Any Website