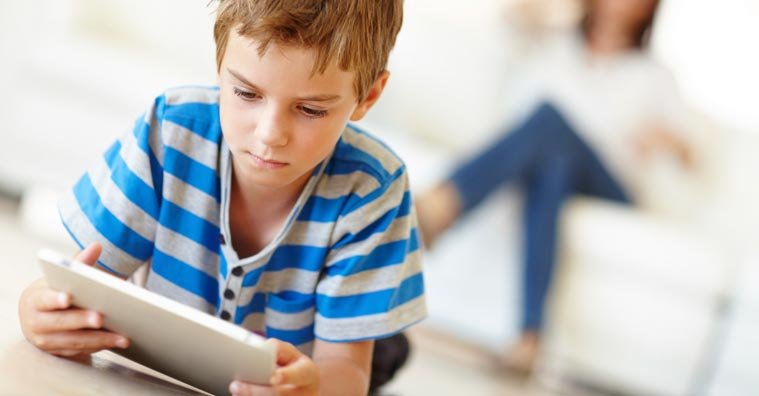 As a parent, you know the internet can be a double-edged sword.
After all, when you have a question or problem (or a meltdown), you can learn more about raising a child in an hour than your parents could after reading through dozens of books.
On the other hand, today's children have the potential to be exposed to more unsuitable (and downright dangerous) content than parents—even those from a couple short decades ago—could have fathomed.
And if there's one place your child is likely to come across this type of content, it's YouTube, since more than 300 hours of video are uploaded to the site every minute, which is viewed by nearly 5 billion visitors (70% of whom come from outside the U.S.) each day.
But despite the scale of YouTube's content (not to mention the massive problem of online child safety), the reality is that it's fairly straightforward to shield your children's eyes from objectionable content while using the hugely popular social media site.
Which is what we'll outline in this article. In just a few short minutes, we'll keep it real (note: some readers might find portions of this discussion objectionable), while talking about a handful of actionable tips and fundamental principles you can immediately put to use.
A Little Bit of Background…
Baby dolls that eat and drink have been around for decades, but a specific brand is hugely popular these days. And my daughters are obsessed.
They spend hours making up stories about their dolls, taking them along on adventures, and constantly changing their outfits.
They also frequently hop on YouTube to watch short movies that other children have uploaded about their dolls, as well as to learn different tips (such as how to make custom food packets).
Now, although I spend a lot of time researching online, I was definitely naive about some of the content my children had access to on YouTube. I just thought, "What bad content could possibly pull up when searching for short stories about baby dolls?"
Wow, was I ever in the dark!
After browsing through my daughters' browsing history one day, I was horrified to find they'd gained easy access to dozens of near-pornographic videos featuring mothers breastfeeding their children, some of whom were old enough to be in grade school.
What gives, YouTube? I thought things like that weren't allowed!
So, this made me wonder: How many other (seemingly) tech-savvy parents out there don't have a clue how to keep their kids safe on YouTube, but also don't have a lot of time to perform their own research? That's exactly who this article is written for.
Before we dive into some expert feedback and actionable tips, though, let's find out where YouTube stands on these important matters.
How Does YouTube Help Keep Children Safe?
Taking a look at YouTube's Community Guidelines, the company seems to have some pretty cut and dry positions on things like dangerous, graphic, hateful, and sexual content. You can't post:
Nudity, pornography, or other "sexually explicit" content.
Harmful or dangerous content that encourages others to do things that might lead to injury.
Violent or graphic content that's "shocking, sensational, or disrespectful."
Hateful content that promotes or condones violence.
However, once you dig under the surface a bit, you might find that your views about what constitutes "sexually explicit" (for example) material might not be the same as YouTube's views.
To outline what we mean, YouTube notes that fetish content is not allowed—or at the very least, it will be age-restricted by moderators.
The problem is that 1) based on how much content is uploaded every minute, only a small percentage can be viewed by moderators, and 2) there's an exception for "educational" content:
"A video that contains nudity or other sexual content may be allowed if the primary purpose is educational, documentary, scientific, or artistic, and it isn't gratuitously graphic. For example, a documentary on breast cancer would be appropriate, but posting clips out of context from the same documentary might not be."
Now, I consider myself to be fairly open-minded. But in my opinion, there was nothing even remotely educational, scientific, or artistic about the "breastfeeding" videos my daughters happened to land on when browsing YouTube.
My point here isn't to argue where the line should be drawn. After all, that's completely up to you. Instead, it's to outline the fact that your definition of sexually explicit (or harmful, violent, or hateful, or anything else) content might not match YouTube's.
And even if you took the time to submit a complaint for any objectionable content you happened to encounter, all complaints are rightfully handled on a case-by-case basis.
This means it could take weeks for the video to be removed, which might not be an ideal method of enforcing YouTube's guidelines or making your kids meaningfully safer.
Ultimately, it's clear that YouTube clearly wants to strike an even balance between free speech and hosting content that's suitable for a broad audience.
But as parents, how can we take matters into our own hands and keep our kids safe, while simultaneously fostering their curiosity and thirst for knowledge?
To know where we're headed we need to know where we are, so let's talk about some of the current online laws that help keep kids safe (it might be less than you'd expect!).
Are There Any Internet Laws Protecting Children?
Overall, there are only two main laws in place that help keep kids safe when browsing the internet:
The Children's Online Privacy Protection Act
In effect since 2000, the Children's Online Privacy Protection Act (COPPA) limits what information a person or company can collect from individuals under the age of 13.
This is why you'll often find click boxes on sites that say something along the lines of, "Click here to verify that you're 13 years of age or older."
The problem is that 1) anyone can click this box without their parents' permission and 2) it mostly relates to the content your child uploads, not the content they can view.
The Children's Internet Protection Act
Also signed into law in 2000, the Children's Internet Protection Act (CIPA) requires that all K-12 schools and libraries implement extensive technological measures to prevent students from gaining access to questionable content, in order to qualify for federal funding.
Obviously, this only applies to your child while they're attending school (which must also receive funding from the federal government), and won't provide any protection while they're at home.
Were you expecting more robust legal protection for your children while they're online? Probably so, but keep in mind that these types of laws are often challenged legally—a recent one, COPA, was found unconstitutional and overturned in 2009 after being in place for more than a decade.
Second, these are only federal laws. Additional ones are likely in place based on the state, county, and even city in which you live, so it might not be quite as bleak as it looks.
Regardless, this further emphasizes the fact that it's up to us as parents to take control of the situation. Now, let's get to those tips!
Tips for Keeping Your Children Safe on YouTube
When researching the topic, you'll find that one of the most frequent recommendations for keeping kids safe on YouTube is keeping computers in common areas of the home, preferably in areas with high traffic. This way, you can always keep an eye on your kids.
While this is undoubtedly good advice, in my mind, it seems a bit outdated. After all, with so many smartphones and tablets these days, it's rare that a central computer acts as the sole means of online access.
In fact, to drive the point home, half of all views on YouTube now come from mobile devices.
Instead, let's take a look at some tips that might be more relevant to modern households.
First, we'll take a look at the traditional YouTube experience, followed by a brief discussion about the new YouTube Kids app.
Do you have older children in the household? Great! We'll then wrap up by discussing different methods of talking with them about YouTube safety.
1. Review and Adjust YouTube's Parental Settings
Whether you're using the full-featured version of YouTube on a PC or a mobile device, the company's Parental Guide should be your first stop improving your child's safety.
Here, you'll learn about features like Restricted Mode (often called Safety Mode), which is YouTube's primary—and some might say only—tool for limiting "potentially objectionable content that you may prefer not to see or don't want others in your family to see."
The problem is that many YouTube parents report that this feature is difficult to use, and/or don't necessarily filter out enough inappropriate content.
For example, Restricted Mode must be enabled for each profile on every browser on your computer, and on every device in your home. This is a highly labor-intensive process, to say the least.
To make things even more complex, Restricted Mode only works if the video's uploader clicked Enable Age Restriction. If not, things you'd never want your kids to see could be on full display.
To help get around these limitations, Lindsey Cummins, CEO of Winq, a social polling app for millennials, recommends creating a family account so you can keep track of what your children are watching.
Additionally, this gives you the opportunity to "create a playlist for your child with videos you've already watched completely and pre-approve of."
Caroline Knorr, Senior Parenting Editor for Common Sense Media, also recommends that you "encourage your kids to subscribe to their favorite channels rather than hunting around on YouTube for the latest ones from a specific creator."
This way, all their channels will be available under the My Subscriptions section, they'll be notified when a new video is uploaded, and accessing all their favorite content will be easier and faster.
Both of these options allow you to track which videos your children are watching (and if they've left the confines of your playlists or pre-approved subscriptions). You'll also have the ability to:
Investigate the video's uploader (searching for their name online and finding out if there's any information available about them through third-party websites)

See what the account's recommendations are (YouTube will recommend videos based on your child's browsing habits)

Take note of any advertisements (similarly, YouTube may deliver ads based on the account's viewing history)
Depending on your child's age, though, you might be able to make this whole process a lot easier by downloading the YouTube Kids app.
2. Take Advantage of the YouTube Kids App
Are you a fan of one-stop shopping? If so and your child is under the age of 13, downloading the YouTube Kids app is perhaps the fastest, easiest tool for maximizing their safety.
Available for most Android and iOS devices, the YouTube Kids app features a simplified layout; a bigger, brighter interface designed specifically for small hands and fingers, kid-safe content, and more. To this last point, according to a 2015 TechCrunch article:
"The content in the app is first algorithmically filtered for its child-friendliness … Then YouTube takes a second step towards curation, using a team who manually samples the videos for quality control. This two-step process means there may be a slight delay between when content appears on YouTube initially and when it becomes available in the app."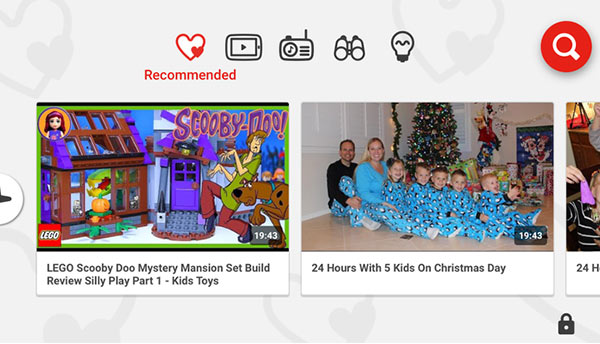 A screenshot of the iOS YouTube Kids app, showing recommended videos. At the top, children can also select from popular shows, explore other content, listen to music, and learn about different topics.
Additional parental features include a built-in timer that lets kids know when it's time to stop watching (but won't actually prevent access), the ability to turn off search capabilities, setting the home screen age level (e.g. all kids, preschool, school age), and setting a custom passcode.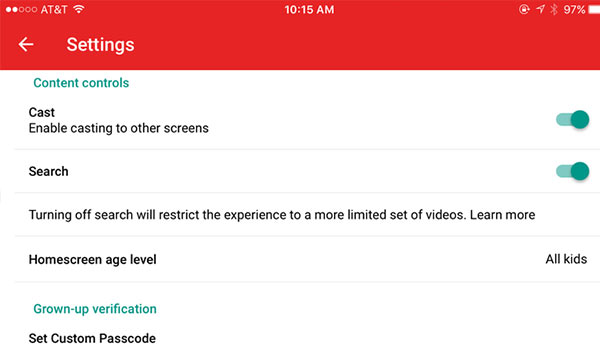 Accessing YouTube Kids' Settings area is as easy as clicking the gear icon in the lower right-hand portion of any screen.
On both iTunes and Google Play, the YouTube Kids app had an average rating of 4.5 stars, based on tens of thousands of individual reviews. There, common compliments referenced ease of use for children, curated content, and more robust parental controls.
However, some parents complained that the app runs slowly (this seems to be more prevalent with Android users) and that it still allows some inappropriate content through. Also, several tweens (between 10 and 13 years old) mentioned that much of the content was too young for their tastes.
During this age range, it's also common for children to begin uploading their own videos to YouTube. When the time comes, how should you handle the situation?
3. Understand Proper Settings for Uploading Videos to YouTube
If your child is new to uploading YouTube videos, many professionals recommend starting off in Private Mode, which ensures that only friends and family with the specific URL can view them.
Another common recommendation is to disable comments on any videos your children upload that are available to a public audience, or at least block the comments until you have time to manually approve them.
After all, YouTube comments are notoriously harsh and are a common source of cyberbullying.
For more, be sure to read through YouTube's Parent Resources.
Writing for MetroKids, family, ethics, and environmental author Carolyn Jabs also recommends taking a look at whether or not:
The video contains any identifying information, including a show of your home, your address, the license plate on your car, or even clothing, such as a school t-shirt.

Your child has the permission of anyone else in the video to post it online. If not, your child might be violating the privacy of other children.
Are you interested in having your child's content appear on YouTube Kids? If so, keep in mind that there's no guarantee this will happen. Also, since each video is manually reviewed to ensure age-appropriate content, it can take a while to appear (if at all).
Pro tip: To increase the chances your child's uploads will be featured on their Kids app, YouTube recommends creating family-friendly content; including titles, descriptions, tags, and thumbnails for your videos, and organizing content into sections and playlists.
Now, everything we've talked about up until this point has hinged on your intervention as a parent. But how do you empower your kids to stay safe on YouTube, while giving them the space they need to grow as individuals?
4. Talk to Your Kids About Responsible YouTube Usage
To help foster effective communication with your children (whether about YouTube or other online matters), parenting expert Tom Gagliano recommends a 5-stage approach:
Provide a safe environment for your children, "where they can share their feelings, even if they tell you something you don't want to hear."

Confer with your Inner Child and be compassionate with your words. "When our children struggle with something on the internet, stop and think about what you wanted to hear from your [parent] at that age."

Be curious about what they do on the internet. What sites they visit, who they converse with, and how long they spend online.

Choose your battles. "Instead of telling them what they're doing wrong, we can choose to be close by identifying with our children's struggles and listening to their feelings."

Allow your children to make mistakes. If they do something online they shouldn't have, they certainly need to reap the consequences, but make sure it's done with compassion and understanding.
Caroline Knorr also recommends watching YouTube videos with your kids by simply asking and joining in. After all, they're probably eager to share content they like.
Specifically, she advises watching subscriptions together and making "an event out of watching the newest uploads."
Remember the video recommendations and advertisements we talked about earlier? If your child isn't being as open as you'd like about the content they're viewing on YouTube, you can use this information to sleuth around a bit and learn more on your own.
In fact, Caroline notes that, "Even if your kid deletes her 'watch history', the recommendations all will be related to stuff she's watched."
Final Thoughts
Even when discussing something very specific like YouTube child safety, parenting is a massively complex topic. As a result, what ultimately brings success with your child might be an epic fail for another, and vice versa.
But when it comes to parenting—whether learning to change diapers, navigating the birds-and-bees discussion, or anything else—it's all about starting with a solid foundation.
And based on what we've covered here, you should now be able to lay the groundwork for successfully keeping your kids safe on YouTube and—once they're old enough—for having a healthy discussion.
More on Protecting Your Kids Online: