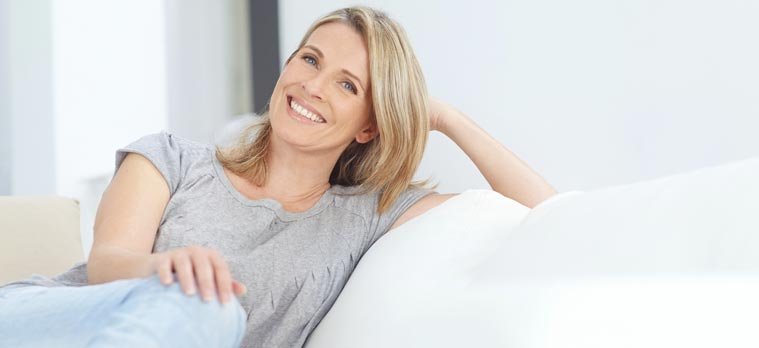 Is 40 really the new 30?
For women over 40, this adage is absolutely attainable – thanks to modern technology and a wide range of skin care products.
But with so many beauty products out there, how can women over 40 make the best decisions? How can women in this age group discern the best treatments to preserve their skin beautifully for years to come?
At Highya, we strive to provide you with the latest information about health-related topics. Healthy skin is no exception, as the health of our skin is a direct reflection of our mindfulness with its care.
This is a story about my personal experience as a 46-year-old woman on a quest to find the best products and treatments for my aging skin.
I've met with Lupe Guthrie, a clinical esthetician since 2002, to discuss the best skin care to treat visible signs of aging. I also underwent an anti-aging facial with immediate results that I will share with you.
This story also includes tips from the American Academy of Dermatology.
Let's begin with my personal journey that led me to Lupe Guthrie.
Crow's Feet, Jowl Droop, Raccoon Eyes, Oh My!
Since my 20s, I haven't paid too much attention to my skin.
My go-to products have typically been the latest fad or anything my girlfriends suggested I try.
I've even been as lazy to wash my face with body soap while in the shower, and use body cream on my face. I'd slap on whatever foundation I was using at the time, usually without sunscreen, and head out the door.
For years, this method worked – or so it seemed.
But about three years ago, I was washing my hands in a restroom before dinner at a restaurant.
The face looking back at me was different. I noticed crow's feet in the outer corner of my eyes. My diamond jaw was less pronounced due to drooping jowls. And below my eyes, dark circles appeared, making me look as though I hadn't slept in days.
» See Also: 4 Types of Wrinkles and How to Treat Them
It was a depressing reality check.
At first, I blamed the unflattering fluorescent lighting in the restroom. But when I returned home and looked in my own mirror, the results were the same.
I was saddened by the image of my older self. This was partly due to my own self-blame: I hadn't taken the best care of my skin.
And the results were written all over my face.
Tips from a Clinical Esthetician Who Specializes in Skincare for Women Over 40
This state of mind prompted my own research, which led me to Lupe Guthrie. I chose her because of her experience – 15 years as a clinical esthetician. And I'll be honest: I wanted to pick her brain because she's 64 years old, and looks like she's in her 40s.
To my surprise, Guthrie told me she started taking care of her skin around age 40.
At first, I didn't believe her, because her skin looks years younger than mine. She has no crow's feet, no drooping jowls, and no raccoon eyes.
I thought, for sure she's had plastic surgery. But I later discovered, she's never gone under the knife.
Rather, Guthrie spent many years researching products and treatments – all of which she personally uses on a regular basis. She also invented an anti-aging skin care line, Remedios Skin Care, that's produced in a lab in Chicago.
As the owner of Therapeutic Skin Care in Agoura Hills, California, Guthrie happily shares her findings with women over 40 like me who want to age gracefully.
Sometimes, women over 40 who've never done anything for their skin want changes overnight, and that's impossible, Guthrie said.
But it is possible to reverse the damage, she told me, and reveal younger looking skin. And if you take care of it, the skin can remain youthful looking as the years go by.
How the Skin Changes in Our 40s
At the age of 30, our body stops the production of collagen, and collagen plays a big part in our organs, especially our skin, which is the biggest organ in our body.
According to Guthrie, the most typical changes women tend to see in their skin when they hit 40 include:
Pigmentation
Melasma
Dark Spots
Large Pores
Dehydration
Wrinkles
Expression Lines
Neck Lines
Research Your Products First
Guthrie recommends not purchasing facial products from salesmen – or because the containers are pretty.
One reason why is because many of these products contain alcohol, which can dehydrate the skin, so make sure you're aware of the ingredients.
Guthrie suggests getting advice from your esthetician or even your doctor because they know how the skin works and can make recommendations based on your skin type and desired outcome.
Start with a Skin Assessment
Guthrie will not give any treatment without a skin assessment first – and she advises anyone pursuing a skincare regimen to do the same.
She uses a dermascope, a device used to examine the skin at deeper levels.
Before my treatment, Guthrie had me place my face inside the machine, which consists of a light source and magnifying glass. This technology enabled her to see every bit of damage I've caused to my skin, and helped her determine what kind of facial would be most beneficial.
The dermascope has a mirror inside, which allowed me to see the damage.
I was shocked. I was covered with freckles, and saw a giant age spot on my right eyelid. My raccoon eyes looked even more pronounced, with dark drooping circles under my eyes.
The tip of my nose was filled with tiny orange-colored dots, which I discovered was a form of bacteria. My forehead was speckled with white dots, which are another form of bacteria.
I learned my freckles were likely caused by sun damage, and the dark circles under my eyes were a result of not using eye cream. My skin was also horribly dehydrated.
I also discovered our skin gets thinner as we age. If I don't start taking care of my skin now, my appearance around age 70 will look like the image I saw of myself in the dermascope.
Guthrie called the image I saw in the machine "the grey shield." Her description refers to the visible top layer of skin that's gone neglected over time.
In my case, the grey shield was caused by years of sun damage, combined with using the wrong products on my face for too long. Also, it had been five years since I had a facial, so my pores were filled with five years of toxins.
Skin Must Be Cleaned and Nourished
After my skin assessment, Guthrie came up with a skincare plan.
She reiterated that some women over 40 tend to seek aggressive treatments because they want immediate results, but if you start too aggressively, the skin just won't respond.
Guthrie compared the process to cultivating land for crops.
"You want to grow vegetables, but the land was never used for growing anything," she hypothesized. "How are you going to plant a seed?"
The facial skin is the same: it must be cleaned and nourished. Once you start nurturing your skin, it returns to a healthy state.
My skin was definitely in need of care because I have a combination of skin damage from the sun and using the wrong products.
For instance, the bacteria that created bumps beneath my skin were most likely caused by using body lotion on my face. I learned that every part of the skin on the body is different, so when it comes to the face, it's important to use products specifically designed for this area.
» Recommended Reading: How to Take Care of Your Skin: 10 Steps to Good Skin
The Anti-Aging Facial
After my assessment, we moved on to the facial.
Guthrie determined I needed a deep cleaning, extractions, exfoliation and deep moisturizing with paraben-free products that are specially designed for anti-aging.
She began by putting me under comfortable steam to open my pores. The next few steps involved Guthrie using several products from her line, as well as micro-current technology.
Pumpkin Peel
One of those products was the pumpkin peel.
This resurfacing treatment is designed to gently exfoliate the skin and contains properties that help reduce the appearance of fine lines and age spots, as well as freckles and rough skin.
The peel had a very mild burning sensation, which I visualized as the grey shield being removed from my face.
Papaya Enzyme Cleanser
Guthrie chose the papaya enzyme cleanser for my needs because the product is enriched with exfoliating properties.
Because I hadn't had a facial in five years, Guthrie washed my face with this product three times to remove debris on the surface as well as deep within my pores.
I discovered that big pores can be very common for people in their 40s if they don't keep them clean on a regular basis. So this step, if maintained on a consistent basis, will help prevent the appearance of giant pores.
Vitamin C
One of my favorite products was Guthrie's mild exfoliating scrub that contains vitamin C and orange peel.
For one, it smelled delicious. And two, I learned that vitamin C is considered ideal to help treat some skin conditions that relate to aging, such as pigmentation.
Guthrie doesn't like to use heavy chemicals, so she uses products containing vitamin C because it's a "natural way" to help alleviate pigmentation and calm dark spots.
Facial products containing vitamin C in a stabilized form may also soften fine lines, according to the American Academy of Dermatology.
Guthrie noted that her vitamin C scrub is not made out of sugar or salt. Rather, the exfoliating properties are found in the orange peel.
Extractions
A big part of my treatment involved extractions because I had gone so many years without a proper pore cleaning.
For this part of the process, Guthrie used a magnifying glass and an extractor tool to remove debris from my pores.
Guthrie is different from many estheticians in that she does not use her fingers for extractions, because she said this method can break the capillaries in the skin.
Because my pores were so filled with toxins, Guthrie had to take this a step further by using a sharper, pointed tool to dig out the white and orange debris which she said were another form of bacteria.
She explained that this particular type of bacteria creates a little piece of hard tissue, like a tiny ping pong ball. Sometimes, these hard tissue pieces will travel and start creating in other areas.
"If these are not removed, lumpy skin can result," Guthrie said.
Collagen Masque
The next step involved the use of a soothing and cool collagen mask. Guthrie used a soft small brush to cover my face with this cold product, which contains ingredients including soluble marine collagen and aloe.
Guthrie likes to finish her facials with something a little cooler to ward off bacteria.
To that end, it's important to avoid washing your face with hot water, she said, because this heat causes dehydration and raises the chance of bacteria forming on the skin.
Micro-Current Therapy
Guthrie topped off the facial with modern micro-current technology. This involved the use of a machine that produces electricity and light.
When this therapy is used on the face, the benefits include instant firming and the reduction of fine lines and wrinkles.
For me, the machine caused a tickling sensation as Guthrie concentrated on my areas of concern, including my drooping jowls and crow's feet.
Micro-current technology has the ability to "penetrate" the cell as opposed to "passing over" the cell, and "normalizes" the cell's activity if it has been injured, according to Bio-Therapeutic, a company that specializes in advanced clinical skin care with a focus on anti-aging technology.
This normalization can result in an increase in collagen production, among other benefits.
After this therapy, I noticed an immediate difference – overall, my skin looked tighter and brighter. And the results can last about three weeks.
Sunscreen
Before Guthrie allowed me to leave her office, she insisted on putting sunscreen on my face.
This step is crucial, she said, because the sun can cause major damage to our skin, and speed up the aging process.
The American Academy of Dermatology reports that exposure to ultraviolet radiation – from either the sun or tanning beds – is the most preventable cause of early skin aging. The academy suggests using a "broad-spectrum" sunscreen with a minimum SPF of 30.
Wearing sunscreen is more than skin deep.
According to the Skin Cancer Foundation, the U.S. government has identified ultraviolet radiation from the sun as a known cause of cancer.
The Skin Cancer Foundation also reports that sun exposure without protection can result in premature wrinkling, sagging and leathery texture, as well as age spots.
Lessons Learned
The bottom line is: I need to take better care of my skin if I want it to last for decades to come.
This means using the right products for my skin type – and wearing sunscreen every day.
I will also follow Guthrie's advice to undergo a facial every five weeks because the skin cells change every 21 days. This frequency will help continue the healing of my skin from past damage while maintaining fresh results.
"Depending on your skin type, it's very important to have a professional esthetician to guide you, and help you pick the proper professional products," Guthrie said.
Tips from the American Academy of Dermatology
The American Academy of Dermatology echoes much of Guthrie's advice on the topic of aging skin and skincare products:
1. Be Careful of Sun Exposure
The sun emits ultraviolet radiation, and too much skin exposure to the sun can cause premature aging. Seek shade and wear protective clothing. On a regular basis, use a broad-spectrum sunscreen with 30 SPF or higher.
2. Tanning Beds and Wrinkles
According to a study on "Tanning salon exposure and molecular alterations," exposure to ultraviolet radiation from indoor tanning beds causes damage to the DNA in skin cells. This could lead to premature skin aging – and potentially skin cancer.
3. Ideal Product Ingredients for Aging Skin
Products that contain a stabilized form of vitamin C may soften fine lines. The appearance of fine lines can also be diminished with the use of alpha hydroxy acids, which help exfoliate the skin surface.
L-ascorbic acid, also known as vitamin C, may lighten pigmentation or dark spots. Other ingredients that might help include glycolic acid, hydroquinone, kojic acid, licorice extracts, N-acetylglucosamine, vitamin B3 or soy.
Recap: How to Maintain Youthful Skin After 40
One of the easiest ways to maintain youthful looking skin is to limit sun exposure. Always wear sunscreen with at least 30 SPF if you're going out in the sun. That's because the sun, as well as tanning beds, emit ultraviolet radiation, which causes skin damage, including premature aging and potentially cancer.
Extractions are important to help reduce the appearance of big pores.
Research and select products with anti-aging ingredients, such as vitamin C, which may soften fine lines and lighten pigmentation or dark spots. Avoid products containing alcohol, which could dehydrate the skin.
Micro-current technology is a non-invasive way to help tighten and tone the skin.
Undergoing a facial at least once every five weeks is ideal because the skin cells change every 21 days. Facials that involve exfoliation remove the top layer of skin, enabling products to seep into the cells for maximum results.
It's absolutely possible for women in their 40s to have youthful, healthy-looking skin with the right products and treatments.
» Read more on the topic: