How to Pick the Best Flat Iron for Your Hair Type & Budget
Shopping for a flat iron can be overwhelming. We asked two industry experts for their advice to help you choose between materials, features, and sizes.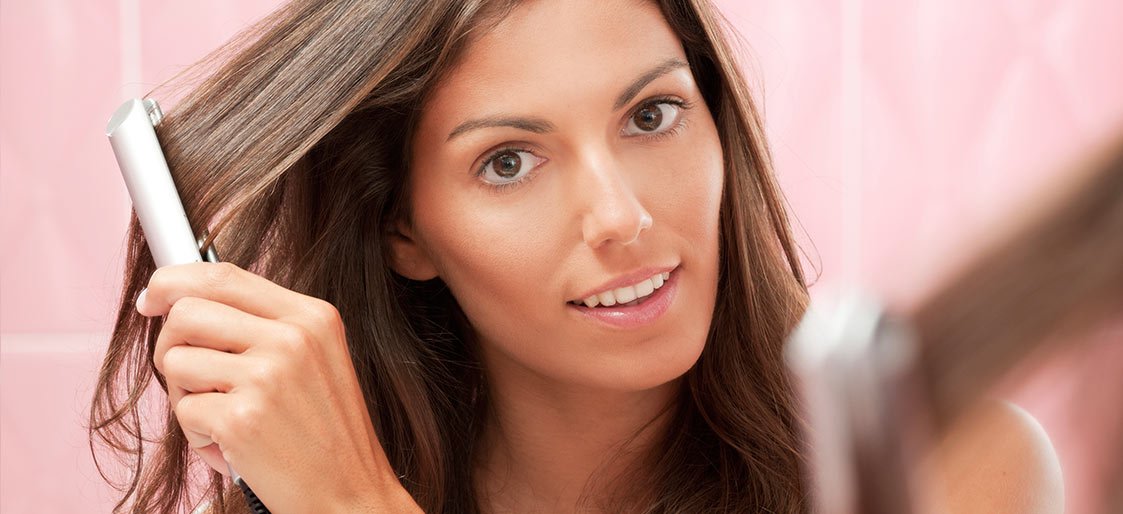 Your trusted flat iron is on its last legs, or maybe it's almost old enough for a driver's permit. Either way, you need a new tool, but which one will work best to straighten and style your specific hair type?
Flat iron technology has come a long way in recent years, offering consumers a dizzying array of options to choose from. We reached out to two industry experts to get the lowdown on which brands, materials, and features work best for your hair and budget.
First, Know When It's Time To Upgrade
A trusted tool should make your life easier, not harder. Further, your flat iron should create beautiful results while minimizing hassle, styling time, and heat damage.
So, if you feel like you're suffering through the task of straightening your hair every morning—either because getting individual locks to straighten is a struggle or your ends come up looking more fried than breakfast—it's definitely time to shop for a new flat iron.
A trusted tool should make your life easier, not harder.
While more expensive price tags don't always denote a top-notch device, paying more does generally mean that you're getting better quality since those companies have invested in research, design, and testing. We're not saying you need a $200 hair straightener, but spending a little more upfront can save you hours of time and frustration in the future.
The Basics: What Every Hair Straightener Should Do
Depending on the size of your hair straightener's plates and the way you use it, this handy hot tool can create a ton of different styles.
But before we get into specifics, let's look at what every flat iron should deliver. First, the plates should heat quickly and evenly, without noticeable hot or cool spots.
While an adjustable temperature gauge is technically a feature, professional stylist Taylor Kramer says that she'd never consider purchasing a hair straightener that isn't equipped with one.
Why is a temperature gauge so important?
We asked Aileen Nunez, a professional stylist and the International Education Manager for Andis Company (you might recognize the brand as a global manufacturer of beauty styling tools), to learn what makes this feature a must-have. It comes down to avoiding damage:
"Regardless which type you pick, you need to make sure that you adjust the temperature according to hair type to avoid damaging the hair," said Aileen.
Both stylists agree that those of us using hair straighteners at home have a bad habit of turning up the heat too far past what's healthy, and suggested you use your hair type as a guide.
With plates that heat evenly and a temperature control to keep hair from frying, what else is left in the must-have category?
We suggest that any flat iron worth its weight have the following:
A 360° Swivel Cord: Properly straightening your hair can require your hands and wrists to do a surprising amount of twisting. A cord that stays put can make the job harder, as well as limit the angles that you can run the flat iron through your hair. Instead, look for a cord that swivels in a full circle, so that you can straighten in whatever position works best for you.
An Indicator Light: Your basic flat iron should be equipped with a light that shows when the iron is on. Though, some newer models go the extra mile by displaying when your optimum temperature has been reached.
Automatic Shutoff: Frantic mornings are a fact of life, as are forgetful moments. What's worse is going through the day wondering if your flat iron is slowly melting surrounding objects, or worse, has caught fire. After all, some hair straighteners reach super-high temperatures that match your kitchen oven—not something you want sitting on your armoire all day. Despite being what we consider a must-have feature, not every hair straightener comes with an automatic shutoff. So, be sure to read the packaging for this important safety feature before purchasing.
We'll delve into optional features later. But, when it comes to picking which flat iron is the right fit for any style, we wouldn't recommend any model that doesn't include the five features listed above.
Choosing Between Different Flat Iron Materials
For the longest time, flat irons were only available in aluminum. The cheap metal is a great conductor of heat. But, while it gets hot quickly, aluminum is prone to hot spots. Those hot spots cause double damage, searing certain areas while leaving others undone, which leads to users having to make multiple passes through their hair. If that wasn't unappealing enough, aluminum has a rough, abrasive surface that causes friction, damaging hair further.
Thankfully, manufacturers upped their game by offering flat irons with ceramic plates. Ceramic, a crystalline, non-metallic solid, has been in use for well over a decade and is now synonymous with higher-end hair straighteners.
Ceramic Flat Irons
Taylor Kramer swears by her ceramic plates, both for use in the salon and at home. Aileen Nunez agrees, stating, "Ceramic plates distribute heat evenly, and prevent you from burning the hair."
Another bonus? Those tiny particles make for a super-smooth plate that won't catch your delicate strands.
Shoppers should know that the quality of ceramic plates does vary. Despite what you might read, 100% ceramic flat irons aren't available as pure ceramic is too soft. Instead, the ceramic is mixed with other elements, such as titanium, to help it maintain shape.
However, there's a difference between mixed materials and coatings. Those interested in a ceramic flat iron should be sure that the plates are solid, not aluminum coated with ceramic, which are lower quality and don't hold heat as well as needed.
Bottom line on ceramic plates? This material is good for every hair type, heats quickly, and offers even heat distribution. But, be sure to check that your ceramic flat iron isn't just a coating before purchase.
Tourmaline-Coated Flat Irons
Tourmaline isn't a material for plates unto itself, but is a coating made of crushed gemstones, which can then be spread over ceramic plates.
"Tourmaline coatings help to protect your hair and keep temperatures where you need," says Taylor Kramer. "You get a consistently heated surface, and it helps to trap in the moisture to keep your hair healthy."
That shiny, moisturized effect is created by the presence of negative ions—tourmaline plates can contain up to six times the number of negative ions as their ceramic counterparts. While the negative ions in tourmaline offer hair extra protection, it also creates a sleeker finish.
This is great for anyone looking to counteract frizz or achieve a shiny, pin-straight style.
However, those looking for extra body and volume should shy away from tourmaline flat irons.
Titanium Flat Irons
"Titanium holds the maximum amount of heat without creating hot spots that could damage your hair. It helps create a sleek, smooth look without damaging the hair," says Aileen Nunez. The lightweight material has a smooth surface and heats hair evenly.
"All three of these materials are similar and have the benefits that they're known for. Regardless which type you pick, you need to make sure that you adjust the temperature according to hair type to avoid damaging the hair.
For fine, thin hair, you'll want to iron at under 350-degrees Fahrenheit. For medium-to-normal hair, anywhere between 350 and 400 degrees Fahrenheit will work great; and for coarse, thick hair you should turn up the heat to between 400 and 450 degrees."
That being said, Taylor Kramer cautions that titanium might get too hot for those with fine or damaged hair and doesn't recommend anyone eek past 410 Fahrenheit on the temperature dial.
Whether you teeter at 410 or bump it up, both experts agree that, no matter your hair type, you should be using a heat protectant before beginning the straightening process.
What's Width Got To Do With It?
When shopping for a flat iron, you'll notice that they also come in various widths. Conventional wisdom dictates that the longer your hair is, the wider the plates on your iron should be. But, unless you've got very long hair that you intend to keep long for some time, the average 1-inch plates works just fine.
The reason being that plates made out of quality materials will do the job quickly, regardless of hair length, and the skinnier plates allow you to get closer to your roots for all-over straightening.
What Else Sets Better Hair Straighteners Apart?
Both experts we spoke with agreed that a beveled (curved) edge is an important feature to help you achieve most styles. Beveled edges are also a must if you're going to use your flat iron to create curls or waves, since the rounded edge allows for a more fluid movement as you run the iron through your hair.
The slightly rounded shape is particularly important for anyone with extremely curly hair, or hair that kinks, since you'll need to get as close to the scalp as possible to achieve a consistent look.
Taylor Kramer also suggests that anyone who struggles with getting hair straight down to the root look for a flat iron that has a comb attachment. The exception being those with fine, damaged, or brittle hair, which might be stressed to breaking point by the extra tension.
One hot trend Aileen Nunez loves is flat irons that let you swap out plates, giving you more options and versatility with your tools.
What about the new breed of hair straighteners that emit oils or moisturizing vapor? Taylor suggests that, while they might have good intentions, these products come off as gimmicky. "There's only so much that they can protect your hair. Not only does all that extra product go to waste, but it can also end up collecting in between the plates and causing your hair to fry."
What Flat Irons Do Professional Stylists Prefer?
We polled salon professionals to find out which brand of flat iron they depend on daily and why:
Mone't Ha-Sidi of Couture Cuts in Sacramento says that her favorite flat iron is the BaByliss Pro Titanium at 1" width because it can tackle even the thickest, most textured hair, delivering flawless results. Even better, despite being depended on three to four times every day, she's only had to replace hers once in eight years.
Melissa Peverini, Celebrity Hairstylist & Cricket Co. Ambassador says, "The Cricket Co. Ultra Smooth (tm) Professional Styling Iron is my go-to flat iron because the plates are infused plates with Argan Oil and Keratin protein that assure a frizz free 'do whether I use it to straighten or make waves!"
Michelle Forst, Senior Stylist at George the Salon in Chicago says, "The best flat is the HAI; the titanium plates make it easy to glide through the hair and the 1 inch is awesome and very easy to control. George The Salon carries them and we've used them for the past 10 years.
Also, you are able to control the temperatures; 150-450 degrees Fahrenheit. This is great because we wouldn't want to use something that could be damaging. This is perfect for fine textures to hair that is extremely thick or coarse and curly."
Lauren Carelli, Director of Operations at Blushing Brides Boston says, "My all-time favorite flat iron is the Croc Greenion Flat Iron. It can reach 450 degrees, has excellent temperature control, and features a cord that doesn't get stuck while you're working.
As a bridal hairstylist, I depend on my flat iron for creating volume, waves, tight curls, loose curls, and smoothing. The Croc Greenion keeps an even temperature and the titanium plates slide beautifully through the hair. With this flat iron, there is no fear of tangles or unnecessary damage to the hair."
Sai Hernandez, co-owner of the Color Lounge Salon in Burbank, CA likes the Babyliss Pro for work on her TV/movie studio clients but says that home users may get salon-style results with any flat iron that uses titanium plates.
That's because titanium heats quickly and makes straightened hair shiny. However, to avoid damage to hair, Sai recommends treating it with a protective serum or spray such as Young Again by Kevin Murphy or Thermo Builder by Black Caviar.
Further, Sai states that super-hot flat irons (those that heat up to 450 degrees) are good for just-washed hair. But, if you use a straightener between shampoos, switch to a lower temperature hot iron—one with a high temperature of 380 degrees.
Rocky Vitelli of Locale J Hair Design says, "The CHI Dura Hairstyling Iron is my favorite iron because the heating element in the iron is ceramic. This heats the hair from the inside out that helps to retain moisture which allows the hair to feel softer, shiny, healthier and more manageable which also holds the curl or smoothness much longer as well."
Bottom Line: What To Remember When Buying Your Next Flat Iron?
You know what features are a must (temperature gauge, swivel cord, indicator light, and automatic shut off), as well as which materials are better suited for your hair type.
But, how to go about making the final cut when selecting a flat iron—and is there any way to wield it like a pro?
Aileen suggests that your best bet is to be aware of the quality of materials used, as well as how the tool feels in your hands. If you need further help narrowing down the many options?
"Ask your stylist what flat iron they like to use. They're using their tools every day and can always give a great recommendation—especially if you like the look of your hair when you leave their chair!"
Taylor cautions that, while you should expect to spend close to $100 for a quality flat iron, look closely at anything priced over $150 to understand what you're really paying for. Is it really the quality of materials, or is the price bumped up because of unneeded bells and whistles?
What about duplicating that salon-worth style like a pro? According to Taylor, aside from a heat protectant, the most important thing you can do is ensure hair is completely blown dry before starting to straighten.
"Remember that your flat iron should be used as a finishing step, not to change the texture of your hair from completely curly to straight."
Did we cover everything you needed to know before selecting your next hair straightener? If you have any remaining questions, please let us know in the comments below.
Acknowledgments:
Aileen Nunez is a professional stylist and the International Education Manager for Andis Company.
Taylor Kramer is a professional stylist at Shades Hair Color Bar & Salon in Sacramento, California.
Melissa Peverini is a celebrity hairstylist with over two decades of experience. She's been featured in Truth In Aging, Stylecaster, and U Interview.
Michelle Forst, Senior Stylist at George the Salon, currently one of ELLE's Top 100 Salons in America.
Lauren Carelli is Director of Operations at Blushing Brides Boston, a Boston-based boutique hair, makeup, and nails service that travels to brides on their wedding day.
Sai Hernandez is a professional stylist and co-owner of the Color Lounge Salon in Burbank, CA.
Toronto, Canada-based Rocky Vitelli of Locale J Hair Design has twice won Canadian Hairstylist of the Year, styling for Extra, Entertainment Tonight and Access Hollywood during Oscar Week, Fashion Week Toronto and performing makeovers on The Mom Show.
Mone't Ha-Sidi works at Couture Cuts in Sacramento, California.