How to Stop Robocalls
Robocallers are a frustrating annoyance in which computer-generated callers can attempt to steal your personal information and money. Learn how apps, smartphone subscriptions, and due diligence can help prevent robocalls.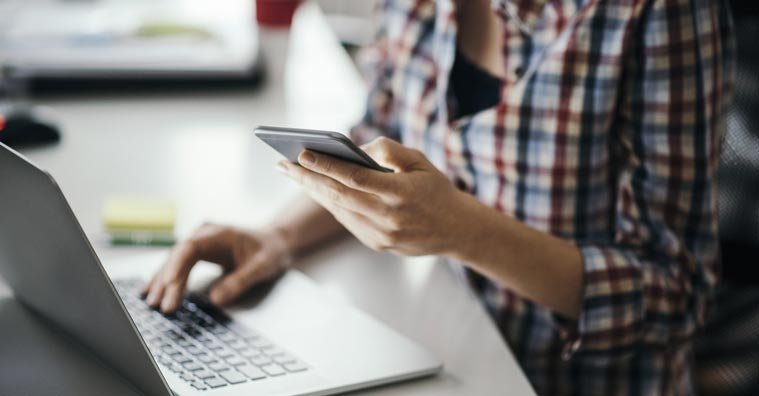 The Federal Trade Commission, Federal Communications Commission, and law enforcement officials are warning the public that robocalls remain rampant; but fortunately, there are ways that you can protect yourself from this crime that attempts to steal your personal information, your money – or both.
This article offers the most up-to-date information about robocalls to help you understand what this scam is all about, how it works, and why technology makes it easier for this crime to be committed.
We've also included tips on the best way to handle these robocalls, smartphone apps that can help keep robocallers away, and cell phone providers that offer options specifically designed to help with this problem.
Robocall: What It Is and How It Works
Simply put, a robocall is a computer generated call, said Detective Timothy Lohman, who solves forgery, fraud and financial crimes in Southern California.
"The computer will dial a series of numbers that it has in a database, and it's basically looking for people to pick up the phone and engage with them," Detective Lohman explained. "We see that a large percentage of them are nothing more than scams, so we need to be real careful."
The purpose of robocalls is "to get your personal information," he said, "or to basically separate you from your money."
For instance, a robocall might involve telling you that you've won a sweepstake or a prize and that you only need to pay a portion of the taxes. Or you might get a robocall from a bogus credit card company stating that they want to lower your rates.
"The bottom line is, they want to get your personal information, your money, or both," Detective Lohman warned. "Some people accidentally answer the phone because the number might look familiar. If this happens, do not give out any personal information, and never wire money."
If you hear a recorded message instead of a live human being when you pick up the phone, it's a robocall, according to the Federal Trade Commission.
The FTC notes that some robocalls involve candidates running for office or charities asking for donations and that these robocalls are allowed. However, the FTC warns that if the recording is a sales message and you haven't given your written permission to receive calls from the company on the other end, "the call is illegal," and in addition to the phone calls being illegal, "their pitch most likely is a scam."
Robocalls on the Rise
The Federal Trade Commission reports that it has seen "a significant increase" in the volume of illegal robocalls. That's because these internet-powered phone systems have created a simple and cheap way for scammers to make illegal telephone calls from literally anywhere in the world – and ultimately hide from law enforcement by displaying bogus caller ID information.
According to the FTC, companies are using auto-dialers that can send out thousands of phone calls every minute for "an incredibly low cost," and the companies that use this technology don't bother to screen for numbers on the national Do Not Call Registry.
"If a company doesn't care about obeying the law, you can be sure they're trying to scam you," the FTC warns.
To date, the FTC has brought more than 100 lawsuits against more than 600 companies and individuals responsible for billions of illegal robocalls and other Do Not Call violations.
In ways to help combat this problem, the FTC spearheaded initiatives to develop technology-based solutions, including robocall contests in which technology experts are challenged to design tools that block robocalls, as well as help investigators to track down and put a stop to robocalls.
In other measures, the FTC's game plan to combat robocalls includes:
Continuing aggressive law enforcement
Building better tools for investigating robocalls
Coordinating with law enforcement, industry, and other stakeholders
Stimulating and pursuing technological solutions.
What to Do When You Receive a Robocall
First and foremost, "if you don't recognize the number, don't answer it," Detective Lohman advised.
He noted that some people "like to mess with these robocallers" and actually answer the phone, "and start saying stuff and pushing buttons."
But when people do this, "you're allowing this computer to recognize that it does belong to somebody, and there's someone at that number," he warned. "If you have to answer your phone, never engage and don't push buttons. All you're doing is promoting that computer to access that information."
In more advice, the Federal Trade Commission recommends doing the following if you get a robocall:
Hang up the phone. Don't press 1 to speak to a live operator and don't press any other number to get your number off the list. If you respond by pressing any number, it will probably just lead to more robocalls.

Consider contacting your phone provider and asking them to block the number, and whether they charge for that service. Remember that telemarketers change Caller ID information easily and often, so it might not be worth paying a fee to block a number that will change.

Report your experience to the FTC by calling 888-382-1222.
Apps That Can Help with Robocalls
Detective Lohman said there are several apps – including free apps and those that cost a fee – that you can download on your smartphone to help combat robocalls, including Truecaller, YouMail, Nomorobo, and RoboKiller.
"It's hard to recommend one over the other," Detective Lohman said in reference to paid apps versus free apps. "When we really get down to it, it's about not answering the phone. I know that nobody likes their phone to ring multiple times a day with numbers from someone when it can be a scam."
Truecaller
As of January 2017, Truecaller had reached 250 million users worldwide, according to a Truecaller Blog published in mid-January of that year.
Developed by True Software Scandinavia AB, a privately held company in Stockholm, Sweden, Truecaller is a mobile app that finds mobile number details globally given a telephone number, who are either using this app or their synced contacts and has an integrated caller ID service to achieve call-blocking functionality and social media integration to keep the phone book up-to-date with pictures and birthdays. The app is available for Android, iOS, BlackBerry, Symbian, Windows Mobile, and Windows Phone.
Truecaller is a free app to download and use for all supported platforms. However, consumers can also purchase a "Premium/Pro membership" for about $2.99 per month to unlock some extra features. For instance, Premium/Pro enables users to send a certain amount of contacts requests, removes ads in the app, and gives the user a "professional badge" on their profile.
YouMail
The YouMail app, with both free and paid options, is described by the company as "an intelligent call manager" that stops robocalls with its "highly accurate" caller ID and smart blocking technology.
According to the company, YouMail's free service includes several of the following features:
A great call blocker: Will automatically stop robocalls, and gives you custom call blocking to block calls from other numbers.

Always know who called: Auto-reply texts callers to have them update their contact info, while missed caller ID and reverse lookup identify your missed callers.

Custom voicemail greetings: Gives every caller personalized voicemail greetings.

Cloud-based visual voicemail: Lets you get your messages anywhere, and even includes simple voicemail sharing.
Optional subscription plans include YouMail Plus for $5 per month; and YouMail Professional for $10 per month. These paid services add more powerful call handling features, including a free phone number to give out instead of your cell, and a privacy guard that eliminates the hassle of blocked numbers. Additional features of a paid subscription include a unified inbox for all your numbers, with unlimited voicemail to text, delivered by email or TXT message, to have all your messages in one place.
Nomorobo
Nomorobo robocall protection, which is available for both iOS and Android devices, has stopped more than 980,728,972 robocalls, according to the company's website.
Nomorobo offers free 24/7 protection for VoIP landlines. The "premium" option for smartphones costs $1.99 per device, per month, and consumers have the option of selecting a free, 14-day trial.
Nomorobo is a winner of the Federal Trade Commission's Robocall Challenge, which was designed to help solve this problem by spurring innovation in the marketplace and garnered nearly 800 eligible submissions. The creator of Nomorobo, Aaron Foss, was among two winners in a tie for the $50,000 prize for Best Overall Solution to block illegal robocalls.
In Foss's proposal, Nomorobo is described as a cloud-based solution that would use "simultaneous ringing," which allows incoming calls to be routed to a second telephone line. In the Nomorobo solution, this second line would identify and hang up on illegal robocalls before they could ring through to the user.
It's important to note that the Federal Trade Commission, by selecting winners, "isn't endorsing any particular products or services," according to the FTC website. "Before implementing any service involving personal information, companies should conduct a thorough privacy review and must consider and comply with the federal and state privacy, consumer protection, and other laws that may apply."
Robokiller
RoboKiller – described by the company as "the app that stops spam calls forever" – automatically blocks more than 1.1 million telemarketers and robocalls from ringing, even if they are spoofing or changing their numbers.
RoboKiller for Android costs $2.99 per month; or $24.99 per year. For iOS devices, this app cost 99 cents a month and is available on the App Store.
Currently, Verizon, AT&T, Sprint, T-Mobile, Cricket, MetroPCS, business class C-Spire are compatible with RoboKiller. However, if you have a prepaid carrier that uses Verizon, Sprint, or AT&T's network, you may not be compatible with RoboKiller.
Created by Ethan Garr and Bryan Moyles, RoboKiller gives consumers greater control over how and when they receive calls by sending robocalls to a SpamBox that consumers can access at any time, utilizes consumer-controlled white and blacklist filtering, and provides personalized setting options, according to information published by the Federal Trade Commission.
In 2015, the RoboKiller creators won first place in the FTC's contest, "Robocalls: Humanity Strikes Back." They received this honor for building a mobile app that blocks and forwards robocalls to a crowd-sourced honeypot, which is an information system that may be used by government, private and academic partners to lure and analyze robocalls.
RoboKiller is known for a "fun" feature called "Answer Bots," which automatically answers calls that RoboKiller blocks. According to the company, "from grumpy old men and big-time producers with clout, to drunken waste-oids and a guy with bad gas, our Answer Bots are as hilarious as they are cunning."
Users of this app can choose an Answer Bot already provided or create their own. According to one user who posted a review on the company's website, "I can tell you, beyond a doubt, that THIS app not only works, but is actually entertaining!!! The amazing thing is, that it traps the caller BEFORE ringing your phone! And THEN, let the games begin!!!! The Answer Bots take over and completely screw with the idiot caller. But, the best part is that it RECORDS that conversation for your evil pleasure. And I gotta tell you...it's flat out GRATIFYING!"
Cell Phone Providers That Help with Robocalls
AT&T Call Protect
Cell phone companies offer protection from unwanted calls, Detective Lohman said, such as AT&T, which offers a service called AT&T Call Protect.
"What this does is block or flag certain calls where it recognizes it as a possible scam call," he said. "Some smartphones have it built in and some you can get through your carrier by downloading an app."
AT&T Call Protect is available for free to AT&T consumer postpaid wireless customers with iOS or Android smartphones that are eligible for AT&T HD Voice.
According to AT&T, add the feature through your myAT&T account, or through the AT&T Call Protect app, to receive the following benefits:
Automatic fraud blocking which helps reduce the chances that a customer will become the victim of a phone fraud or scam by stopping these types of calls in the network before they even reach the phone.

Suspected spam warnings on the incoming call screen which let customers choose whether or not to answer calls that originate from a suspected spam source. (Must be in HD Voice coverage area).
Verizon Caller Name ID
According to Verizon, Caller Name ID alerts you to incoming spam calls and lets you report and block unwanted numbers. Additionally, when you receive an incoming call, text or voicemail from an unknown number, you'll see a name, picture, city, and state.
Caller Name ID costs $2.99 per month, per mobile line if you have multiple numbers on the same account, and some data charges apply.
The Caller Name ID app is pre-loaded on most Android and some BlackBerry devices, as well as available for download in the Apple App Store. To begin using the service, you can subscribe from the Caller Name ID app or in My Verizon.
For step-by-step instructions, visit the Caller Name ID How to Use Guide.
T-Mobile Scam ID and Scam Block
With a T-Mobile postpaid plan, Scam ID and Scam Block are free.
When calls come in from likely scammers on both smartphones and feature phones, the Scam ID displays "Scam Likely" on your screen. Then, Scam Block allows you to block "Scam Likely" calls.
"You can turn them on or off at any time," according to T-Mobile. "And now, network level protection has been added to stop the increasingly common 'Neighborhood Spoofing' and prevent hijacked numbers – where scammers temporarily match the area code and 3-digit prefix of the person they are targeting – from reaching your phone."
T-Mobile noted that the Federal Communications Commission mandates that mobile carriers allow callers the ability to block their caller ID information and place anonymous calls.
"T-Mobile is obligated to honor the privacy of the caller in these circumstances," the company states on its website. "T-Mobile can't block anonymous calls or override the privacy choice of the caller, but you may choose not to accept them."
Sprint Premium Caller ID
Premium Caller ID, offered through Sprint for an additional $2.99 per month, identifies callers who are not already in your contacts, and some devices will provide enhanced spam identification features, according to the company's website.
All current iOS and Android devices in Sprint stores are eligible for Premium Caller ID. Here's how it works: incoming calls will be identified with the calling party's name if available, and will also contain text and graphical warnings to provide you with the best information available to determine how you want to manage the call.
Detective Talks About the Do Not Call Registry
The Do Not Call Registry, a database maintained by the United States federal government, is a listing of the telephone numbers of individuals and families who have requested that telemarketers not contact them.
"This was supposed to be the best thing since sliced bread," Detective Lohman said. "But we found out that the Do Not Call Registry does not always work. That's why we have to find a different way around the Do Not Call Registry."
Sometimes, when people put their number on the registry, they're still susceptible to getting scammed, he warned.
"I think it has to do with Google voice," Detective Lohman noted. "Scammers have found their way around it and people are still getting scam calls, even if they're on the registry."
That's because these robocall scammers "are getting better, and technology has made it easier," he said. "They even have software now that can interact with your voice. So when you say 'hello,' a computer is going to feed off that, and will answer you. These computers are so good, they sound human. How many times have you received a scam call and replied, 'no I'm not interested.' It's because it's computer-generated."
If Detective Lohman's warning isn't good enough, "you can do your own research on how good these computers are," he advised. "These computer systems are so good that I can have a full conversation, and it will react to what I'm saying."
FCC's 11 Consumer Tips to Stop Unwanted Robocalls
In further advice, the Federal Communications Commission offers the following 11 tips to help you stop unwanted robocalls:
1. Do NOT answer calls from unknown numbers. If you answer such a call, hang up immediately.
2. If an incoming call is spoofed, you may be unable to notice immediately. Be aware: Caller ID showing a "local" number does not necessarily indicate that the caller is actually local.
3. If you answer the phone and the caller, or a recording, asks you to press a button to stop receiving the calls, you should hang up immediately. That's because scammers often use this trick to identify potential targets.
4. Do NOT respond to any questions, especially questions that can be answered with the word "Yes."
5. Never give out personal information such as account numbers, Social Security numbers, mother's maiden names, passwords, or other identifying information in response to unexpected calls – or if you are at all suspicious.
6. If you receive an inquiry from someone who says they represent a company or a government agency, verify the authenticity of the request by hanging up and calling the phone number on your account statement, in the phone book, or on the company's or government agency's website. Keep in mind that you will typically receive a written statement in the mail before you get a phone call from a legitimate source, particularly if the caller is asking for a payment.
7. Use caution, especially if you are being pressured for information immediately.
8. If you have a voicemail account with your phone service, be sure to set a password, because some voicemail services are preset to allow access if you call in from your own phone number. If you don't set a password, a hacker could spoof your home phone number and gain access to your voicemail.
9. Talk to your phone company about call blocking tools they may offer, and check into apps that you can download to your mobile device to block unwanted calls.
10. If you're already using robocall-blocking technology, it's helpful to let that tech company know which phone numbers are producing unwanted calls. That way, they can help block those calls for you and others.
11. To block telemarketing calls, register your number on the Do Not Call List. Legitimate telemarketers consult the list to avoid calling both landline and wireless phone numbers on the list.
Final Thoughts
To help prevent robocalls, "we have to go back to the fundamentals," Detective Lohman advised.
That means "don't answer your phone if you don't recognize the number," he said. "If it's important enough, they'll leave a message."
If the message states something like threatening to shut your power off unless you send money, "you can verify that information by looking up the number of your electric company and comparing that with the number (the robocaller) left for you," Detective Lohman recommended.
"You have to verify before you do anything," he re-emphasized. "Don't just send the money because they're saying they're the electric company."
In further advice regarding the verification process, "we've seen these scammers give out a number and say it's AT&T. If they call me out of the blue, I don't do anything until I can hang up and verify the number is actually the company."
Do your research, he advised, "and go back to square one."
"You can take any number and put it into Google to see if others have been scammed by the same number," Detective Lohman said. "If a number of others have been scammed, people post about it online, which helps others."
Due diligence is the key, he added.
"I can't stress enough: verify, verify, verify," Detective Lohman said. "Most phone companies are now offering services to protect you, and some phone makers have software already installed. They're doing their part to help the consumer, but again, it falls back on us. That's why we need to be diligent when and when not to answer the phone."