How to Tell If an Online Store Is Legit: 11 Steps to Check Any Website
Can you spot a fake online store? From verifying a domain to evaluating customer reviews, we share how you can determine if a website is safe to buy from.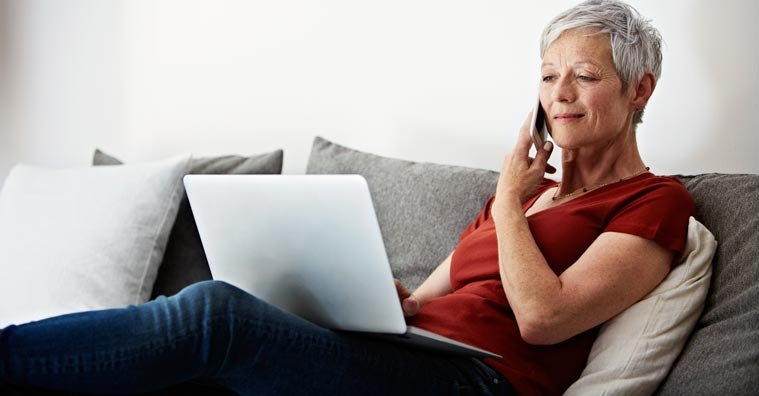 "How can I know if an online store is legit before ordering?"
At HighYa, that's a question we ask ourselves every day when reviewing different online products and services.
Experience has taught us that there isn't a single answer. Instead, we've developed a toolbox of checks to help us determine if an online company or website is reputable.
Yellow Flags: Factors That Make a Company's Website Look Questionable
Recently, a friend called with that same question. She'd saved up for a particular pair of designer shoes and, when it came time to finally make the purchase, she noticed that a website not directly associated with the brand offered the exact same pair of shoes for significantly less.
But something about the website just felt "off."
When asked what about the website, called BorderFree, made her shopping Spidey-senses tingle, my friend said "First, that I hadn't ever heard of the site. Second, after checking the Contact page, I couldn't even determine if they were located in the U.S."
What really struck her was that, instead of categorizing products based on type, everything for sale on the website was subdivided into "stores," and each store had its own set of return policies.
Finally, there weren't any customer reviews to guide her purchasing decision or to assure her that customers ever received their orders.
The lack of reviews combined with multiple points of contact for customer service and varying return policies for each store led her to wonder if this particular retailer was too risky to order from.
Three Types of Not-So-Safe Websites
"Illegitimate" websites aren't all one in the same. Some are completely fake copycat websites masquerading as legitimate online stores or service providers.
Their purpose? To harvest your bank account information—called phishing scams—or trick you into downloading malware.
Other websites might simply use questionable billing methods, such as promoting free trials or ordering that commits you to an autoship membership.
Even if a website is "legit," there's still the risk that it's operated by a fly-by-night company who falls short of offering attentive customer service for tasks like processing returns in a timely manner.
How to Check If a Website or Online Store Is Legit?
Despite their many variations, these websites tend to share some common traits. From checking for copycats to the quality of customer service, follow these steps before you even think about paying for something online:
1. Double-Check the Website's Domain Name
A Uniform Resource Locator, called a URL, is used to locate files, resources, and documents on the Internet. The URL, like the address of your home or business, allows you to find these sites.
For example, the URL of HighYa is "https://www.highya.com," which consists of the:
Protocol (https)
Domain Name (highya)
Domain Type (com)
A lot of phishing scam websites will use a domain name similar to a company name that you're already familiar with, in an attempt to appear safe. For example, a Nike copycat website might have a URL of "www.nikeoutletdiscounts.com."
Thankfully, most browsers, including Firefox, Chrome, and Internet Explorer, now include a color-change on the left side of the location bar to indicate that the site has been verified as legitimate.
If you don't see a green "https", it's always a good idea to type in the URL by hand. If you're in doubt, go to your preferred search engine and type in the name of the business or website you want to visit.
Scroll past the ads – legit websites will be listed on top of the organic results.
2. Closely Examine the Content for Errors
When you read through the written content on a website, look out for these indicators that it might not be the real deal:
Broken English
Simple spelling mistakes
Major grammatical errors
Read the content closely to see if it makes sense. While poor grammar isn't a sure-fire indicator that the website isn't trustworthy, mistakes are rarely seen when shopping big-name brands.
3. Check the Contact Page
There's nothing more frustrating than realizing that the website you ordered from doesn't provide any customer service contact information only after you've experienced a problem with your order.
Before entering any payment details, it's important to visit the Contact Us page. Any legitimate online retailer should list where their business is located, as well as a phone number an email to reach them.
To be really thorough, it's best to actually try to reach someone before you order. How long does it take to reach a live person? Are you forced to sift through endless call tree options or listen to upsell offers that try to get you to buy more?
If so, this is a company that might not be worth your business.
What if there's no phone number listed, with only a contact form in its place? There's a chance that you might have stumbled upon a fraudulent website.
To ensure someone is on the other end checking customer requests, we recommend filling out the contact form using only your email as a contact (to save you from potential telemarketer calls), and holding off on your purchase until you hear back from customer service.
4. Find Out Who Owns the Website Domain
Checking for an unfamiliar domain name or poorly written content is the equivalent of kicking the tires on a car – they're merely indicators of a potential scam.
To really determine whether a website is legitimate, you need to check under the hood by determining who the website belongs to.
All domains have to register their unique web address or URL and provide certain details, and that info is free to look up. You can check the details by entering the domain name online on websites like:
You'll see something like this: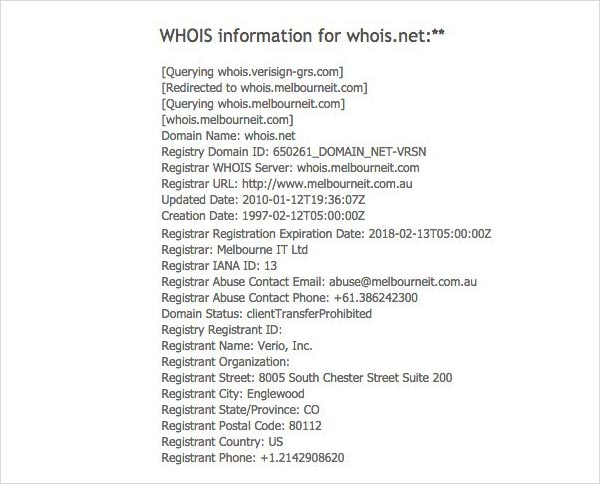 Knowing the name of the company or individual responsible for the domain will help you identify if a site is run by a genuine business or someone putting up a front. Specifically look at the registrant name, address (street, city, state, postal code, country), and phone number.
5. Note If the Domain Is Brand New (and Know What That Might Mean)
In our experience researching certain industries, specifically anti-aging and supplement products, some less reputable companies will try to ditch bad customer reviews by slapping a new label on their old product and website for a quick image makeover.
Unless you spend a lot of time researching these products, it's difficult to recognize the repetitive look of their websites. However, when using Whois, you can also check the domain creation date.
To avoid fly-by-night companies, we recommend not buying anything from websites with domain names that have been registered in the last month or two. It's the simplest way to avoid dealing with one who's attempting to outrun their poor reputation.
6. Check Domain Ownership Against the Website's Contact Information
By this point, you've been pretty thorough. However, to appease any final suspicions of a website's legitimacy, it's worth taking a look to see if the domain registration information matches the contact information provided on a website.
Note that it's possible the website is registered to the webmaster or developer responsible for maintenance.
However, if you notice that the company's contact information and the domain registration list two different countries, be sure to follow through with the rest of our safety check steps.
7. Read Customer Reviews of a Product or Service
Once you're confident that a website is legitimate, there's still the possibility that you might not be satisfied with the quality of their product or service.
Searching Google for "(company or product name) + review" is an easy way to learn about other customer's experiences before ordering.
Be aware that dishonest companies can also set up a fake review site, or simply generate their own reviews to fool consumers into trusting them.
However, the best way to ensure that reviews are honest is to search verified review websites, such as HighYa, the Better Business Bureau, or the Consumerist.
8. Know How to Read Customer Reviews
You might know to keep an eye out for customers complaining that a company is a "scam." But what does that really mean?
A real scam is when a company takes your money and runs for the hills. However, these websites usually get shut down pretty quickly. (See our above tip for checking the domain age to confirm).
More often than not, when an unhappy customer says "Scam!" it implies that the company employs some tricky billing practices that were only disclosed in the fine print.
Common examples are promising a free trial, but discretely stating that after a period (usually 14 or 30 days), that you'll be billed for the product or service.
Or, that what you thought was a one-time purchase actually signs you up for an autoship membership which results in ongoing charges.
While it's always best if a company clearly states ongoing charges upfront, there are some legitimate products and services that use both of those billing methods that we've mentioned.
If you're still interested, your best bet is to contact customer service and ask about their billing and cancellation policies before proceeding.
If you can't seem to reach a representative, then it's probably time to take your business elsewhere.
9. Visit a Company's Facebook Page to Check Customer Service Response Times
Unhappy customers who are still holding out hope that their problems might be resolved often head to a company's Facebook page to air their grievances.
Checking there can give you unfiltered access to what consumers are saying, both good and bad.
It's worth noting that even great companies sometimes fall short of meeting a customer's expectations.
Instead of just focusing on complaints, look to see if a customer representative has responded to comments, and what kind of help they've offered in the past to get a good idea of how highly the company values their reputation.
10. Before You Buy, Look for a Secure Sockets Layer (SSL)
By this point, you're confident that a company and their website is legitimate, that their customer service is responsive, and that consumers are happy with the product or service that they've ordered.
What else could possibly be left to check? Before ordering, it's important to confirm that your payment information will be secure.
The SSL is a security protocol that protects payment information by encryption. Essentially, it "scrambles" your credit card details so that they can't be intercepted.
If there's an SSL in place, the URL of the site you're visiting will change from "http://" to "https://." There should also be an icon of a closed padlock or an unbroken key on the left-hand side of the address bar that looks like this: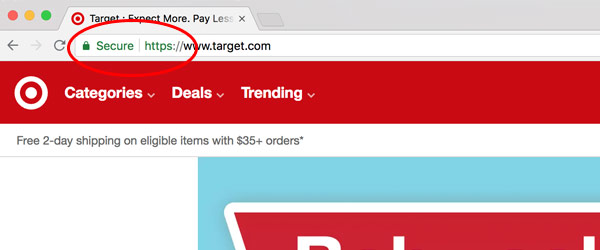 Why do we care about hackers when checking to see if the company behind a website is legit?
Getting an SSL certification takes some extra effort. If the site you are visiting has a valid certificate, it means that the site has been verified by a Certificate Authority as "trusted," which could be a good indicator that it's run by a legitimate company.
11. Use Google Safe Browsing to Check That a Website Is Malware-Free
Most of these steps are specific to evaluating the safety of purchasing a product or service online. But savvy Internet surfers know that just following a bad link can sometimes lure you into trouble.
For example, you're browsing Pinterest and see the perfect product. Or, your friend posted a raffle page to Facebook that promises easy winnings if you click.
Why not follow links with wild abandon? Because there's a chance it'll lead you to malware.
Thankfully, there's an easy way to verify a website you're about to visit is safe by using Google Safe Browsing.
Google Safe Browsing will tell you if a website has hosted malware in the last 90 days. Meaning it's great for checking just about any link, including that hilarious video a friend posted to Facebook that could be viral in more ways than one.
You Can't Always Judge a Book by Its Cover, But You Can Judge a Website With These Steps
After going through each of the above steps, my friend decided it was safe to order her shoes. Sure enough, ten days later a package arrived and she was delighted to receive her much-anticipated shoes while having saved some extra cash to boot.
The lesson being, the online marketplace is pretty crowded with new and old companies trying for your business.
Sometimes the look of a website is handicapped by budget constraints, but they're still perfectly safe to do business with. Other times, companies use sneaky methods to squeeze your wallet dry.
While keen observation is vital to shopping online safely, it's just as important to know what you're looking for.
So, no matter if a website looks professionally polished or a little rough around the edges, the steps we've outlined will help direct you to make safe choices when shopping online.