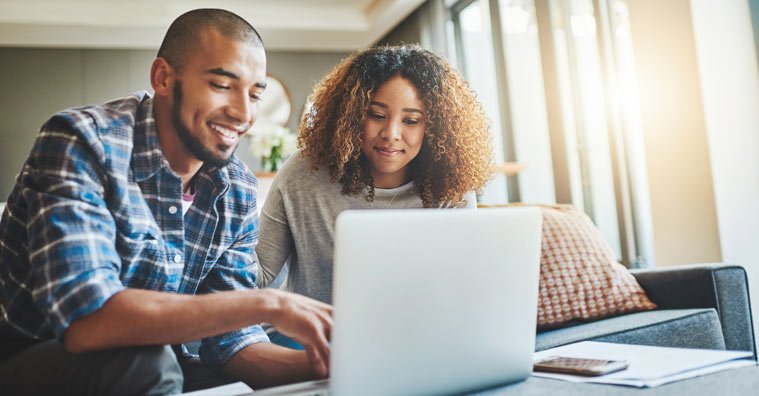 Mortgage calculators are often the first step in determining how much home you can afford.
A quick Google search of the word can turn up dozens of different calculators, each with their own style, feel and parameters.
When I bought my first home, the moment we were serious about finding a house I went straight to a mortgage calculator to find out how much I could afford. According to the multiple mortgage calculators I used, we could afford a $200,000.
Figuring that out was easy, too. I plugged in an interest rate and a monthly payment that we could afford, based on our budget, and then watched as the calculator brought me the good news: You can afford a $200,000 house!
A short time after that, my wife and I found a beautiful home for $205,000 that had everything we wanted and was in a decent neighborhood. We told our real estate agent we wanted to put a bid in but that we had to get pre-qualified first.
So, that weekend I filled out a preliminary mortgage application with PrimeLending. And guess what? The mortgage calculators were wrong. We were approved for $180,000. Both my wife and I were supremely disappointed.
Our situation showed that while mortgage calculators can be an excellent tool for certain people, they carry with them some inherent flaws that are a testament to just how complex a mortgage application can be.
In this guide to mortgage calculators, we're going to show you how mortgage calculators work, provide a few examples of popular calculators and then, using the insight of mortgage and real estate experts, point out some of the flaws or mortgage calculators.
What Do Mortgage Calculators Do?
Mortgage calculators are simple online tools that tell you how much your monthly payments will be for a mortgage at a percentage rate and down payment that you supply.
They also do the opposite of that – you plug in how much you want to pay per month, an interest rate and repayment period and the mortgage calculator will tell you how much house you can afford.
Google's mortgage calculator is a great example of this. It calls the two types of number-crunching "Monthly cost" and "Maximum loan" and features interest rate, monthly payments, repayment period and total mortgage amount: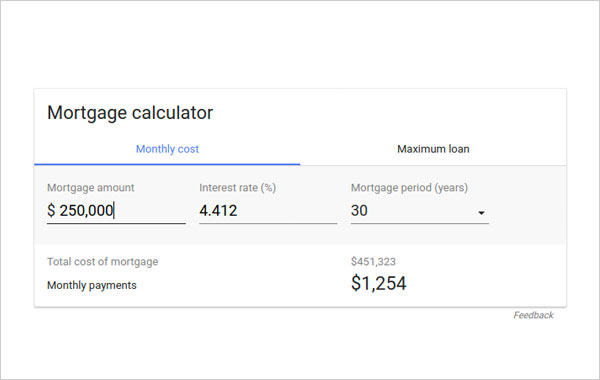 Once you've chosen one or both of these methods, you can take the monthly payment number, compare it to your monthly budget and decide if you can afford the payment.
For us, mortgage calculators were a great source of encouragement because I consistently found that monthly mortgage payments on a $200,000 home would be cheaper than what we were going to pay if we chose to stay in our rental.
However, the mortgage calculators I was using were like Google's: basic. They did not account for mortgage insurance, homeowners' insurance or property taxes.
These factors, along with something called debt-to-income ratio, are supremely important to your lender and will ultimately decide how much they'll give you to buy a home (more on that in a few minutes).
Now, just because a mortgage calculator is simple doesn't mean they aren't helpful. Ralph DiBugnara, CEO founder of Home Qualified, told us they can be good tools for people just starting out.
He also notes that, while basic calculators are great, it's important to start using more complex ones the deeper you get into your commitment to finding a home.
"To truly understand what you can spend on a home, a mortgage calculator is a great tool, especially to figure out what your mortgage payment will be," DiBugnara said. "The best mortgage calculators will enable you to calculate how much you can afford and will also enable you to calculate how long it will take to pay off or pay down your mortgage. All are important details in shopping for a mortgage."
Editor's note: In each of the examples below, we assume a 3.5% down payment and 4.412% interest on a home that costs $250,000.
Popular Mortgage Calculators
We alluded to the fact that some mortgage calculators are basic and some are more complex. In this section, we'll cover some of the popular mortgage calculators to give you a sense of what they offer and how they differ.
Zillow
Zillow's mortgage calculator offers multiple tools, the most important of which is an Advanced menu through which you can factor in property tax, homeowners insurance and HOA fees where applicable. The calculator also lets you include "PMI" in your calculators, which is private mortgage insurance.
PMI is something most mortgages require if you don't make a 20% down payment and, on average, the monthly cost is between 0.5% - 2% of your mortgage amount divided by twelve.
In our earlier photo of the Google mortgage calculator, you probably noticed that the monthly payments were $1,254. Zillow's mortgage calculator, however, shows the monthly payment as $1,932: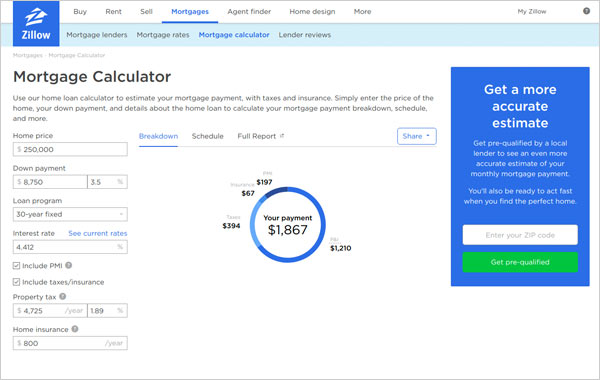 The nearly $700 difference is due to the addition of property taxes, homeowners' insurance and private mortgage insurance.
One of the strengths of Zillow's mortgage calculator is that it provides you a full report that itemizes all the various aspects of your mortgage payment and also includes an amortization schedule.
This schedule shows you, month by month how much of your mortgage payment goes toward interest and how much goes toward principal.
Bankrate
Bankrate's mortgage calculator is a mix between Google and Zillow's. It provides basic information about your mortgage payments: principal and interest. Their estimate of how much you'd pay on a $240,000 mortgage at 4.412% is more precise than Zillow: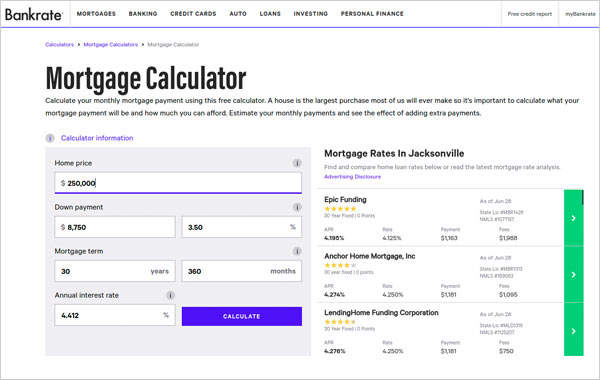 While it provides the basic information that Google does, it also provides an amortization schedule like Zillow does.
Also, Bankrate's mortgage calculator page includes a column to the right side that features mortgage lenders in our area.
Jeffery Hensel, who works for real estate lender North Coast Financial in Oceanside, CA, says websites featuring rates alongside their mortgage calculators is common, but that doesn't mean they're just a marketing tool.
"While many mortgage calculators often exist primarily to advertise mortgage rates to potential borrowers, they are important tools that help homeowners understand the many monthly costs associated with a mortgage and homeownership," Hensel said.
Dave Ramsey
Dave Ramsey is a well-known financial expert who encourages consumers to avoid debt and pay for everything in cash.
When it comes to buying a home, Ramsey recommends putting at least 20% down so you can avoid private mortgage insurance. That being said, his website does feature a mortgage calculator that allows for mortgages with less than 20% down.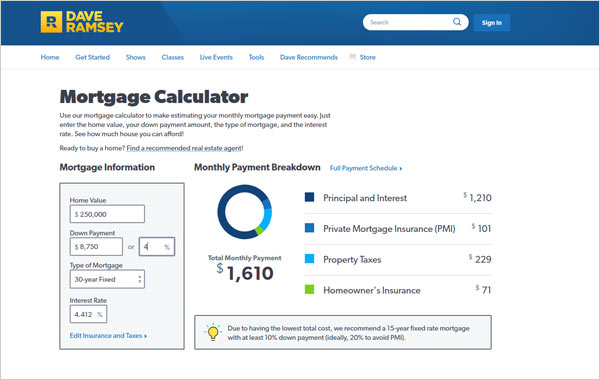 Ramsey's calculator is similar to Zillow's in that it provides calculations for mortgage payments that include PMI, property tax and homeowner's insurance.
Like the Zillow tool, you can choose how much your homeowners' insurance and property taxes, too.
Because this calculator is comprehensives in that it allows you to include all factors into your mortgage payment, we believe it's the best choice along with Zillow.
Drawbacks of Mortgage Calculators
Mortgage calculators definitely have their role when it comes to buying a home, especially for first-time homebuyers who are new to the process and need a simple way to understand what goes into a mortgage payment.
However, several experts with whom we spoke noted that mortgage calculators aren't the 100% accurate tools that people think they are.
Some Calculators Are Too Basic
As we pointed out a couple of times, basic mortgage calculators leave out critical information. For example, Google and Bankrate's tools don't provide an estimate of what you'll pay in property taxes, homeowners' insurance and PMI.
This information is vitally important because if for no other reason than accuracy: calculators that included those expenses churned out mortgage payments that were around $700 higher than Google and Bankrate.
"It is essential to use a mortgage calculator that includes as much detailed cost information as possible. These costs can contribute 40% of the total monthly expense," Hensel said. "Not including these costs in the mortgage calculator is setting up the homeowner for sticker shock and disappointment when they later realize these costs are required."
Closing Costs and Interest Rates Vary Too Much
If there's one thing I and other homeowners know about getting a mortgage, it's that the process is extremely taxing and there are multiple surprises. In my case, our pre-qualification was about $20,000 lower than what mortgage calculators told me.
And, perhaps most surprising of all, is the way that interest rates can change from lender to lender. Mortgage calculators can't peer into your credit history and your debt, so they can't properly judge your interest rate.
Brain Simmons, CEO of Ask a Lender, told us this is one of the weaknesses of mortgage calculators.
"Most of these calculators assume the borrower knows what their interest rate will be and how much money they will need to bring to the closing table to complete the transaction," Simmons said.
He brings up a good point. On a site like Bankrate where the mortgage calculator is positioned near lenders' rates, you could easily make the mistake of assuming what you see is what you get.
However, as we've found out in our research, the interest rates shown on a lender's website are often rates given to borrowers with excellent credit scores and income who can make a sizeable down payment.
"On interest rates, you can never trust online advertised interest rates because those rates only go to the highest qualified borrowers," Simmons said. "I'm talking the people with 800+ credit scores who have high-paying, stable jobs, enough cash reserves in the bank to pay at least six months if not a year's worth of payments and enough cash on hand to make a 25 to 30 percent down payment."
Since most Americans don't fit that profile, there's a good chance that your rate will be higher than the lowest rates a lender posts. And, because you don't know what your rate will be, it's next to impossible to plug in the right interest into a mortgage calculator.
Another aspect of the loan process that mortgage calculators miss is closing costs, which is a relatively impossible thing to pin down if you haven't been pre-approved for a loan.
We often go to a mortgage calculator and plug in our down payment and interest rate, Simmons said, without considering closing costs.
"The average cost of completing a mortgage today is around $8,000 in fees and origination costs. So, the average homebuyer at closing will need to come up with a down payment plus $8,000 to get that house," he told us. "Most of these costs can be rolled into the mortgage, but again, those costs will either increase the monthly payment or decrease the amount of house a person can afford."
Mortgage Calculators Don't take Into Account HOA Fees and Utilities
One of the things that my wife and I noticed is that, because the home we bought was bigger than the home we were renting, our utility bills went up. The bigger the house, the more area there is to heat and cool.
This is just one of several factors that come into play when considering the true monthly cost of owning your own home, says Evan Roberts, a real estate agent with Dependable Homebuyers. At times, mortgage calculators can give the illusion of affordability, Roberts said.
"Too many times I've seen individuals purchasing a home at the top of their budget only to find themselves financially strapped when it came to unexpected home repairs, utility costs, and HOA fees," Roberts said. "What I'd love to see is a mortgage calculator that also gives estimates of these additional ownership costs based if area averages. This would give users a better picture of what they really can afford."
They Don't Complete the Information a Lender Can Provide
Several of the experts with whom we spoke agreed that the best choice for homeowners looking to see how much they can afford is to go to multiple lenders and get pre-qualified.
This process entails the lender doing a soft credit check and gathering information to give them a general idea of how much they want to lend to you.
Considering this process only takes minutes, Jeff Smith, chief lending officer and VP of Massachusetts-based Freedom Credit Union, says a pre-qualification is far more effective than a mortgage calculator's results.
"Pre-qualifications are available online or in-person. They are free. If completed online, an answer is generally available in a matter of minutes," Smith said. "Due to the ease of this process, there is no reason to get hung up on mortgage calculators."
Once you choose your lender, then you'll do an in-depth pre-approval process that involves an extensive credit check.
"Mortgage calculators are an okay starting point, but … the very best way to figure out how much you can spend on a house is to find a lender you trust and get a pre-approval from that lender," Simmons said. "This will mean giving them access to all of your financial information so they can make the assessment, but this will give you all of the information you will need to confidently go out and look for a house."
Another aspect of a mortgage calculator's deficiency is that it can't take into account your debt-to-income (DTI) ratio, which is the amount of debt you pay each month as compared to what you earn.
Different mortgages have different DTI's; they usually range between the 35% and 45%. So, while you may think that the monthly payment a mortgage calculator seems affordable, your lender may not agree because they know your DTI is too high for the mortgage you want.
The Final Word: Pros and Cons of Using Mortgage Calculators
Based on our research of mortgage calculators from Google, Zillow, Bankrate and Dave Ramsey, along with our interviews with experts, we believe that a mortgage calculator is a great tool for the infancy of your house search.
It's more of a novelty that you can use to get a basic idea of the least amount of money you'd pay each month for a mortgage.
You shouldn't consistently depend on these calculators to formulate your post-purchase budget, though.
As the experts pointed out, the best way to know exactly how much you can borrow and how much that will cost is to go through the process of getting pre-qualified and pre-approved.
Mortgage calculators are limited in that they can't peer into your credit history and financial past to judge whether or not you can afford as much as it says you can afford.
If you want to use a mortgage calculator, then we recommend trying Zillow or Dave Ramsey, as our research showed that these two tools are the most comprehensive.
Future homeowners who know they'll be paying HOA fees can plug those into the Zillow calculator, too.
In general, our advice echoes what our experts said. Before you start shopping for a home, get pre-qualified from a trio of lenders, Simmons said, so you can get an idea of the rates they offer and fees they charge.
The other benefit of this is that you can get a pre-qualification letter that shows real estate agents you're preliminarily approved for a loan. This document provides you, as a buyer, far more legitimacy than the results of a mortgage calculator.
» For Further Reading: First-Time Homebuyer Tips That Will Help You Avoid Costly Mistakes