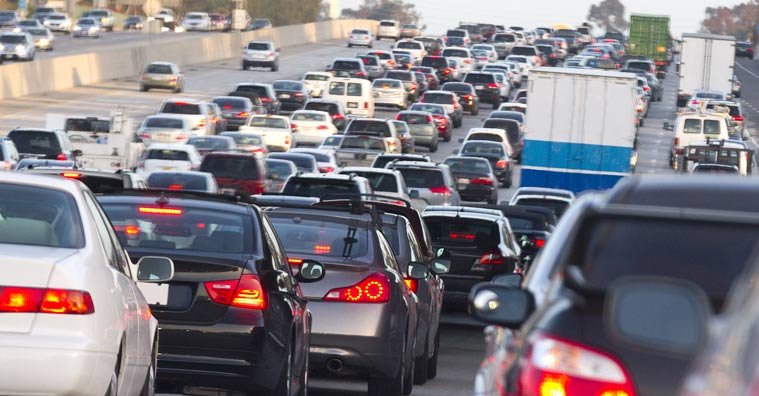 I clearly remember the first time I could've used a solid list of tips for hurricane evacuations.
It was Sept. 8, 2017. All of Florida, it seemed, had its eyes on the projected path of Hurricane Irma. At that point, the monster of a storm was supposed to creep across the northern outskirts of the Caribbean and then turn north, grazing Florida's Atlantic coast.
That changed at 5:00 p.m. that day, when NOAA's latest projection model said Irma would make landfall in the Florida Keys and plow straight through the state, barreling over Jacksonville on her way to Georgia.
I'd say that my heart sank, but that's not accurate. I felt a deep sense of fear, one of those fears that makes its way into your gut and shakes up all of your peace and contentment. It was time to for a hurricane evacuation.
The next 110 hours were a crazy time for myself, my wife, our daughter and our dog. Through the ups and downs of fleeing our home, I learned some pretty important tips for hurricane evacuations.
I'm going to share these tips here; they're meant to supplement the information provided by local, state and federal authorities.
1. Have a Plan in Place About When You'll Leave: Deciding in the Moment Can Be Tough
My wife and I followed Irma's track every day for what seemed to be a week before the hurricane made its dreaded turn northward on Sept. 9.
During that time, we were debating about what we should do. It's a decision that millions of people had to make. And, to be honest, it's not as easy as it seems.
On Tuesday night, our local weatherman showed four models of where the hurricane would go. All four models showed Hurricane Irma heading north and basically missing Florida's eastern coast. Relief. We decided we'd stay.
On Wednesday night, the projections shifted west. Not a problem, I thought; it looks like the hurricane would pass near Jacksonville. Still not too big of a problem; but, it started to get nerve-wracking because we were supposed to do our family vacation in Orlando on Sept. 10.
My solution was this: We'll book two nights on the west coast of Florida, then, once the hurricane passes, we'll drive to Orlando and start our vacation. It seemed like a good idea; after all, Irma was only supposed to graze cities like Tampa and Sarasota.
So, my wife packed up all our stuff for our trip to Sarasota and for our vacation in Orlando.
I booked the room on Thursday morning. As the day went on, though, we thought it better to stay in a hotel in Orlando just in case there was a lot of wind and rain. Why drive nearly two hours from our Sarasota hotel and risk inclement weather when we could stay in Orlando and then drive 20 minutes?
We canceled the Sarasota reservation and booked the Orlando room. Hotels were allowing free cancellations, which was nice, so we ended up paying nothing to make the switch. And we had the benefit of traveling opposite of the flow of evacuation traffic.
That night we got the news that Irma would be plowing through Jacksonville. And we decided to leave…like, really leave.
This back and forth is very typical of people who are considering evacuation. As our local weatherman pointed out, projections can change seven or eight times over a matter of days. And while those projections are a matter of science, for the average person they're the difference between staying put or leaving.
Looking back on our decision, we realized that the constant limbo we were in was extremely stressful. In a certain sense, we were letting the hurricane decide when we'd evacuate. My advice to you is this: Put yourself in a position where you decide when you leave.
Make a plan that you can follow whenever a hurricane is headed your way. The next time a hurricane is projected to hit Jacksonville, we will plan to leave three days before the storm makes landfall. The main reason behind this decision to leave is peace of mind – I know that my family will be safe and sound.
But there's another important reason why you'll want to leave a couple of days before the storm comes: traffic.
2. Anticipate an Insane Amount of Traffic
Okay, so remember how I told you we decided we were for sure leaving after the Thursday model showed the hurricane going right through our city? Well, our plan was to leave that night. So was everyone else's (more on that in a second).
I didn't want to evacuate without a plan to get updates on what was happening to our house, so I went next door to our neighbor's and asked her if she'd be willing to exchange phone numbers and text us if trees fell on our house or other hurricane-related horrors befell our home.
She was happy to help. During our conversation, I told her that we were planning to go to Atlanta to stay with family and that we were driving up Interstate 75 to get there. There are two main south-to-north interstates in Florida: the 75 and the 95.
When I told her this, she shook her head no and said she just talked to her husband – he drives FedEx trucks to and from Atlanta every night – and he said that the 75 was a total mess.
Google Maps Won't Always Be Right
I checked Google Maps to confirm. Turns out Google was saying it was taking the normal amount of time to get to Atlanta: 5 hours and some change.
Confused, I asked her again about the traffic and she called her husband, who confirmed that the 75 was a veritable parking lot, but that one of his fellow drivers had found smooth sailing on a different route.
This bit of first-hand information made me realize that Google Maps – which was still showing good commute times – isn't always right when there's a massive rush of traffic.
I reached out to Google about this because I felt like the commute times were misleading, something we did not need at such a crucial time.
Their response was tepid:
"Google Maps shows real-time traffic conditions and computes those conditions based on aggregate, anonymized location data. Google has built a history of what traffic is usually like on specific roads at specific times, which means it can predict how traffic will change over your drive. That means that the traffic conditions you see at one time, may not be the same an hour later or once you're further along your route. If conditions change while you're en route, Google Maps automatically reroutes you the fastest way."
The difficulty I have with this response is that I checked Google Maps multiple times over the course of the night and it still gave the same results.
What's even more interesting is that the normal travel time quoted – 5 hours – was betrayed by the individual delays Google Maps showed along the way.
For example, there were multiple crashes and traffic sections in red whose combined delay times totaled more than an hour, yet Google Maps still showed commute times under 5 hours and 30 minutes.
Call Restaurants Along the Route You Want to Take
I went back home and called my uncle, the family we were going to stay with in Atlanta. He suggested taking back roads to avoid the traffic on I-75.
Skeptical of Google Maps' estimated trip duration, I zoomed in on one section of a road we were thinking of taking and called a restaurant I found on that road.
The employee I talked with said the traffic was busier than usual and that we'd probably be better off driving north near the Georgia-Alabama border and then jumping on an interstate heading into the west side of Atlanta.
Other back roads, he said, would be too busy and he listed one or two we should avoid.
Hearing what he said about traffic and the long detour we'd have to take in order to get around the traffic on I-75 helped us make our decision to drive up the 95 and then head into Atlanta from the east.
Consider how many major highways and interstates are leading out of your city. If there's only a few, then it would be a good idea to plan alternate routes that avoid these major thoroughfares.
We left the next morning at 4:15 a.m. and hit barely any traffic. On top of that, Google Maps guided us to country highways that took us through some very beautiful places.
We were relieved to finally reach my uncle's house, partly because it was a long drive and partly because we knew that getting lodging in Atlanta amid a hurricane evacuation was nearly impossible.
3. Using Airbnb Is No Longer a Secret: Evacuees Will Book Them Quickly
Remember when I said we decided on Wednesday to leave? What I didn't reveal is that my wife had spent a couple of hours searching Airbnb for rentals in the Atlanta area. I keep mentioning Atlanta because that was a prime destination for hurricane evacuees.
So, after my wife searched, she found just two properties that matched our search preferences: entire home, internet and pets allowed.
Here's the thing: Atlanta has hundreds of rentals and they were nearly all booked three days before Irma was supposed to hit Florida.
In fact, while my wife was deciding on a cottage she found in an Atlanta suburb, the rental was snatched up by someone else. Soon after, that she found out that the owners of the other rental were using it to house family members who had evacuated.
Lesson: Airbnb's book up super fast in the biggest cities near the state being hit by a hurricane. We searched Atlanta, Charleston (S.C.), Savannah (Ga.) and Charlotte (N.C.) and found fewer than five Airbnb places that met our requirements.
And remember this: Airbnb owners aren't always diligent in updating their availability, so even though a place may be open based on the availability calendar, it may already be booked.
While the pricing on Airbnb rentals may not always present a savings over hotels, they do provide an attractive option for evacuees who want lodging with a kitchen they can use to save money on eating out.
4. Hotels Will Book Up Way Faster Than You Think
Our Airbnb search was a bust and, as it turns out, our hotel search was equally as maddening.
As you remember, we were ready to leave on Thursday night but our neighbor's timely advice kept us from driving through the night to Atlanta.
But before we got that timely word, I'd booked a hotel room through Orbitz.com. And here's the thing: It was one of only three or four reasonably-priced rooms still available in or near Atlanta.
Before we booked that room, we spent a good 30 minutes trying to find vacancies at a La Quinta or Red Roof Inn, two pet-friendly hotels that don't charge you pet fees.
I called La Quinta thinking that I'd be able to pinpoint open rooms more quickly and here's what I was told: The nearest vacancy is in Kentucky. Yes, Kentucky, where the border is at least a 9-hour drive away from Jacksonville.
We passed on Kentucky and went with the Orbitz option I found. But, when I realized that driving to Atlanta was out of the question because of the traffic, I called Orbitz and canceled my reservation. Though it was a non-refundable room, they were able to talk with the hotel and get my money refunded.
I discovered that hotels and booking sites were more lenient on cancellation fees and refunds because of the situation. I think part of that was driven by compassion, but also keep in mind that hotels aren't hurting for occupants during evacuations. My canceled room was probably booked within minutes of it opening up again.
Looking back on this craziness, we decided that, whenever there's the possibility of a hurricane hitting Florida, we'll book refundable rooms at least a week in advance to make sure we've got a place to go if things get real and traffic prevents us from staying with relatives.
Pro tip: Want to save cash? Use points from credit cards like the Hyatt Visa, Marriott Rewards Premier, and Starwood Preferred Guest AmEx to book free or discounted nights. In the case of the Hyatt card, you can cancel points bookings 48 to 24 hours before check-in for most hotels.
5. Use Multiple Tools to Keep Tabs on Your Neighborhood and City
I mentioned earlier that I exchanged numbers without our neighbor so that we could get updates on how our house is doing.
However, what we realized is that we were concerned about our neighborhood and our city and that getting text updates from one person wasn't going to keep us informed about everything that was happening.
So, while we were in Atlanta, I used a variety of helpful resources to find out which areas of the city were flooding; what, if any, damage was happening to our neighborhood and which areas were suffering power and internet outages.
Neighborhood Information: Nextdoor and Facebook
These two websites tend to be excellent resources for what's happening in your immediate community.
For example, after seeing a photo of our neighborhood on Twitter (more on that later), I posted to our Nextdoor group, asking for updates on what was happening with flood levels (Nextdoor is an invite-only neighborhood social networking website).
I received multiple responses – even photographs – within a couple of hours.
In our previous neighborhood, many people had joined a private neighborhood Facebook group that become the premier place to find out who suffered damage, who didn't have power and who needed help. It was also a great resource for finding reliable contractors to help with clean-up work and damage repair.
These groups are also an invaluable resource for getting alerts for any natural-disaster scammers who are working their way through the neighborhood looking for victims.
Reddit
I use Reddit's Jacksonville subreddit ("sub") to find out all kinds of information, get recommendations and voice my opinion on local issues.
The Jacksonville sub hosted a Hurricane Irma mega thread that encompassed questions about traffic on certain areas of interstates leading into the city and which restaurants were open to specific question about the condition of certain neighborhoods, links to useful local government sites and photos of flooding in various areas.
Twitter and Instagram
I went to these two social media channels to see photos of the damage that Hurricane Irma caused. I mainly searched hashtags created by local news stations for the specific purpose of showing where flooding and damage had taken place.
It was through these hashtag searches that I found a photo of a nearby river cresting up to the top step of someone's backyard deck.
The tweet indicated that the flooding was happening near or in our neighborhood. I was freaked out. So I tweeted the person who posted the pic and he confirmed that flooding was happening just a block away from our home.
A few nervous hours later I tweeted the guy again and he told me that the water hadn't risen for hours, a fact that gave me some comfort.
I went to Nextdoor and asked for updates from other people in the neighborhood, and, over the next day or so, people posted photos of various parts of our community. Many of those photos included substantial flooding. Thankfully, our home was spared from any damage.
Live Online Streaming from Local News Sites
Many local news stations offer live online feeds of their broadcasts, which came in handy for us when we were in Atlanta.
I found that my local Fox news station was the best source for comprehensive coverage of the hurricane, offering the insights of their meteorologists, press conferences with city leaders and on-site reporting about specific sections of the city.
6. Buy Gas and Water as Soon as You Can
Starting at about four days before the hurricane's arrival, gas and water started selling out at local gas stations and grocery stores.
Now, if you're going to evacuate, bottles of water aren't a necessity when you're away but they're a big deal if you come back to a home without electricity.
It's a good idea to have a case of water on hand in the event that you don't have power at home, but also for your evacuation drive as well as your hotel or Airbnb stay.
As for gas, lines were starting to pile up at the gas stations near our home in the days leading up to Irma's arrival. Many stations were sold out of premium gas and there were those without regular, too.
Know that if you're going to take an evacuation route that's going to be packed with traffic, the gas stations along that route will be crowded, too, and may very well run dry as the day goes on.
This is why I recommend taking back roads – not only do you avoid traffic, but you're more likely to find all the gas you need at out-of-the-way gas stations.
7. Consider Flood Insurance
In the week leading up to the arrival of Hurricane Irma, I did some research on the National Oceanic and Atmospheric Administration's National Storm Surge Hazard maps to find out how much storm surge (rush of water that comes with a hurricane) would have to hit our neighborhood in order for our home to flood.
The maps are great because they show you how far inland flood waters will go based on the category of a hurricane you're facing.
What I saw made me consider buying flood insurance, which is something that federal evacuation resource site Ready.gov recommends you do in advance of a hurricane.
I emailed our insurance agent on Sept. 1 and asked about policies. He gave me two options: FEMA flood insurance and private flood insurance.
The main difference between the two is that FEMA requires a 30-day waiting period before the flood insurance kicks in while private flood insurance, at least in Florida, only had a 3-day buffer. Our choice had to be the private insurance, as buying a FEMA policy to cover ourselves during Irma wouldn't work because of the 30-day rule.
See Also: Does Home Insurance Cover Hurricane Damage?
I told my agent I'd take some time to think about whether or not I wanted to buy a policy. The following Wednesday – Sept. 6 – I emailed him and told him I wanted to buy a policy. His response: the private insurance market has closed down and isn't writing new policies.
So, keep this in mind when you're considering flood insurance. If you think you should buy it, then do it before it's too late. The private insurers can close the market at their discretion.
Pro tip: Flood insurance can't be escrowed like property taxes or homeowners' insurance. You have to pay for it up front. Our insurance options cost between $350 and $380 for one year of coverage.
Some Final Thoughts About Tips for Hurricane Evacuations
What I find most interesting about our hurricane evacuation is that many of the elements we discussed here tie together.
Planning ahead of time not only gives a plan of attack for when you evacuate but also gives you enough time to book a room in the place to which you want to go.
Choosing a smart way to get to the place your going can help you avoid major traffic headaches, but it will also help you avoid running out of gas by sending you to less-traveled areas with well-stocked gas stations.
Finally, remember that all of these decisions are based on your financial situation and your appetite for risk. If you don't have the money to travel somewhere, you can't get the time off work or you don't mind riding out a hurricane, then evacuating probably isn't going to be your choice.
Believe me, it's stressful. There are a lot of decisions you have to make in a very short amount of time.
As I mentioned earlier, our house made it out of Hurricane Irma unscathed. Not everyone is as lucky and those who suffered damage to their homes will have a long road ahead.
We can help you down that road by providing sound advice on which resources are available to help you recover and what specific steps you can take to get back on your feet after a natural disaster.
This is also a good time to assess your homeowner's insurance. Were there gaps in your policy? Our guide will give you six of the most overlooked gaps and why they matter.
We've also talked with experts to create a guide on how you can prepare yourself financially for a natural disaster. There are specific steps you can take to make sure your home and your belongings are insured in the event that your property and possessions are destroyed by a fire, flood storm or tornado.