How to Find a Reliable Home Contractor: A Comprehensive Guide
Hiring a home remodeling contractor can be a stressful process. In this guide, we'll show you how to find a reliable contractor and change your living space for the better. We will also discuss warning signs to watch out for, as well as how to avoid common rip-offs.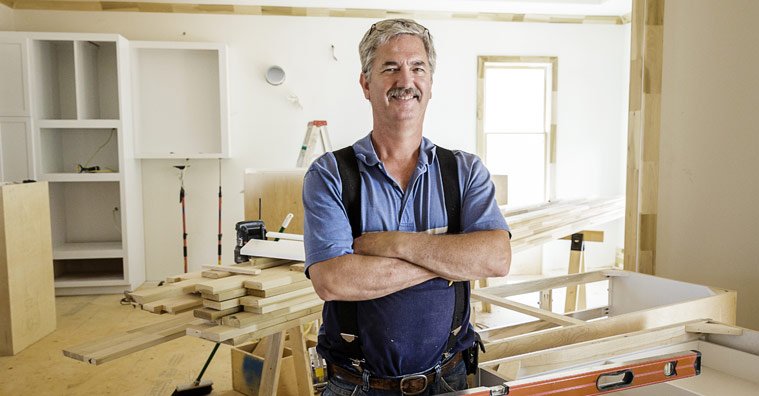 A lot of us don't know how to hang a picture, much less hang sheetrock. Plumbing? Electrical? HVAC? Forget about it.
Fortunately, we don't need to be jacks-and-janes-of-all-trades, because professional contractors can take our home improvement ideas and turn them into a reality.
How? In a nutshell, they act as the main point of contact between homeowners and crews that perform different tasks (known as subcontractors), such as framing, roofing, carpentry, and so forth.
Because of this role, residential contractors need to have experience in a variety of disciplines, including products and materials, codes and regulations, architecture and design, and much more.
Not only this, but they need to be able to take all of these skills and "glue" them together in order to provide clients with a cohesive vision of what they want.
Here's a question, though: What happens when a general contractor betrays their client's trust and, instead of creating a dream home, turns the whole thing into an absolute nightmare?
If you're thinking about hiring a contractor soon, you've come to the right place. In this guide, we'll reveal some professional advice you can immediately put to use. We'll talk about:
How do you go about finding a reliable home contractor?
What should you look for?
Are there any red flags to be especially watchful of?
If things go south, what can you do and where can you turn?
Tips for Finding a Reliable Home Contractor
To provide us with inside information, we tapped into the knowledge of Andrey Ruzhin, a Seattle-area Customer Account Manager for Exterior Crew, who has 15+ years of experience in the residential construction industry.
He has seen his share of contractors who are more than willing to leave customers in the lurch if an issue arises, such as:
Underbidding (they'll ultimately lose money on the project)
Failure to account for unexpected problems (e.g. dry rot, water damage, etc.)
Lack of knowledge
Conflict with the client
And much more
After all, in today's market, these contractors know they can quickly pick up new clients without missing a beat. The good news is that Andrey gave us some great advice that can help you avoid dodgy contractors altogether.
1. Don't Rush
If you just had a pipe burst or a hole appear in your roof, you probably won't have the luxury of taking your time. Unless it's an absolute emergency though, Andrey first recommends creating a short list of possible contractors, whether you learned about them from friends or family members, or from an online Google search.
When performing your online search, be sure to input a few different terms. For example, if you live in Seattle, you might search for "Seattle home contractors," "Seattle residential contractors," "Seattle remodeling contractors," and so forth. This quickly makes sure you're casting a wide net and getting as many relevant results as possible.
» See Also: Finding a Home Contractor: A Guide to the Five Best Websites
2. Perform Your Due Diligence
After you've created your list, dig in and learn everything you can about each of the companies. Andrey tells us that if they don't have a strong online presence, then you might not want even give them a call. This includes not only a professionally designed website, but also mostly positive customer feedback, especially on high-profile trade review sites like BBB, Yelp, Angie's List, and Houzz.
In WA state, Andrey regularly uses the Labor & Industry website to find out if contractors have any liens, unpaid taxes, or lawsuits against them. This way he, and other prospective clients in the state, can easily see the company's position before proceeding any further.
Unfortunately, most states don't have an easily searchable Labor Department website like Washington. The good news is that you can at least search by state to see if a contractor you're considering is licensed—which should be a basic requirement for anyone on your list.
3. Understand Your Role in the Process
While your chosen contractor will do the vast majority of the heavy lifting, it won't be a hands-off process for you. Instead, you'll be responsible for doing your homework in advance, so that you'll be able to clearly convey what you're looking for and what your expectations are. Even after the project has commenced, you'll need to pick out colors, design features, and focus on other aesthetics—basically anything your contractor needs in order to keep things moving.
Dozens and dozens of new home products are released daily, and although professional contractors should know their stuff inside and out, it's almost impossible to keep up with everything. To this extent, if there are certain products you'd like to implement in your project, be sure to let your contractor know up front.
Why? Several reasons. Doing your homework can let your contractor know that you're engaged in the process, ready to maximize your time and theirs, and preferably help them deliver a much more accurate bid.
In the end, if you don't already have these things lined up, it could lead to long delays and friction between you and your contractor.
Warning Signs the Remodeling Contractor Might Not Be Right for You
Outside of company reputation, Andrey recommends that price should never be your primary motivating factor when choosing a contractor. Instead, pay close attention to the following signs:
1. The Contractor Is Much Lower Than Everyone Else
Like your grandparents always told you, you usually get what you pay for. For contractors, it takes years of experience to be able to simultaneously juggle a hundred different aspects of any project, and to build strong connections with high-quality subcontractors (remember, contractors rarely perform the work themselves).
When it comes down to it, this experience and knowledge doesn't always come cheap—nor should it. Keep this in mind if a contractor is coming in meaningfully lower than others you've interviewed.
2. The Contractor Is Selling, Not Listening
Since you've formulated what you want and can clearly convey it to different contractors during the interview process, it shouldn't be difficult for them to patiently listen to your needs, absorb what you're saying, and then formulate a plan. It doesn't hurt for them to get excited about your project, too!
In other words, unless they're asking questions to gain a clearer understanding of your needs or express their interest, you should do most of the talking during the meeting.
However, remember that contractors are salesmen—sometimes very good ones, at that. Signs that you might want to continue looking at other options are frequent high-pressure selling tactics that make you feel rushed, requests to obtain a deposit before materials or equipment arrive (something the BBB also warns about—more about this soon), or are providing strong body language cues.
Andrey claims you should even pay attention to how they park their car and whether or not they take off their shoes before they enter your home.
Ultimately, if a contractor is selling instead of understanding, they probably won't be capable of sharing your big vision. Avoid those with their own agenda.
3. The Contractor Doesn't Provide a Detailed Bid
If a potential contractor makes the grade on price and professionalism, they could still lose you during the bidding process. Andrey recommends that any successful bid will include lots of important details, including "what they're going to be doing, where they'll be working, and the specific products they're quoting."
After obtaining your bid, Google the name of any products listed to learn more about their quality and overall customer satisfaction levels. If you can't find the product online, it could indicate that it's a lower quality item that might meet your budget, but could provide little long-term value.
Something that many less-than-stellar contractors also conveniently leave out of their bids is what happens if extra work is required. As mentioned above, it's extraordinarily common to encounter unexpected speed bumps along the way, and if there isn't a clear plan to address them, it could cost you thousands more than you were expecting.
4. The Contractor Doesn't Provide a Warranty
According to Andrey, while nearly all major manufacturers offer industry standard (or better) warranties on their products, you need to make sure the contractor clearly warranties their work—basically, anything they touch throughout the process should be covered for a period of time. This goes a long way toward indicating they stand behind their work and will be there for you if something goes wrong down the road.
While Andrey told us there aren't any warranty minimums that apply across the board (it largely depends on the product), he recommends no less than a 2-year warranty on paint, and 5 years on roofs and siding.
What about those lifetime warranties you always hear advertised?
In general, Andrey recommends avoiding contractors that use lifetime installation warranties to distinguish themselves from the competition. Why? Basically, because true lifetime warranties could bankrupt an independent contractor if they were forced to repair their work for free, forever.
While some home improvement contractors might advertise these lifetime warranties, Andrey tells us they often include very fuzzy language in their contracts that greatly limits what kind of real-world coverage you can expect should something go wrong. This basically makes them nothing more than sales tools empty of any real value.
While these are certainly some red flags, they're not always outright scams. Next, let's outline some common schemes you might encounter during your contractor search.
Common Contractor Rip-Offs and Scams to Watch Out For
1. Constant Change Orders
What's a change order? Formally, it "represents the mutual consensus between the parties on a change to the work, the price, the schedule, or some other term of the contract."
In layman's terms, if something comes up during the course of your project that requires a change in the scope of work or materials, a change order is used to make it official.
We already outlined that any professional contractor worth their salt should know how much to pad their bids in order to account for unexpected changes (Andrey claims it's usually somewhere around 10%). So, if everything goes smoothly, these change orders might be used only to formalize the process and maintain a paper trail, without costing you any more money.
However, Andrey said that it's exceptionally common for less-than-stellar contractors to lowball a project in order to get the business, but then include some fuzzy language in their bid that basically grants them the ability to submit an unlimited number of change orders. As a result, projects can sometimes run over by tens of thousands of dollars.
To make matters worse, some of these contractors fully recognize that they have you under their thumb in these situations, and intend to "hold you hostage," as Andrey puts it, until you pay up.
What can you do? Again, Andrey reinforces that everything in the bid (or contract, if you choose to proceed) should be crystal clear and spelled out to the letter, including if change orders are acceptable (and how many).
2. Requesting Money Up Front
Another prevalent scam is for contractors to request money as soon as the ink dries on the contract, who then might skip town and leave you holding the bag.
What can you do? Andrey tells us that he typically doesn't make a client pay anything until 7 days after the work on the project has begun, which allows plenty of time for subcontractors to commence work, which goes a long way toward bolstering the client's confidence. While not everyone will work the same, it's important that you don't pay any money until work begins.
In some states (such as CA), it might be illegal for a contractor to request more than a certain amount of money before beginning work.
3. Bait and Switch
We've talked about products several times now, but outside of labor and miscellaneous fees, they're important because they determine the bulk of your project's overall cost.
As such (again), bids and contracts must specify exactly which products will be used. Otherwise, it's all too easy for a contractor to bid unrealistically low, and then submit change orders because the "price of the products" increased, or some other such nonsense, thereby inflating your costs—and lining their pockets—by thousands.
Never Take Their Word for It
Finally, based on how much we've talked about bids and contracts, it's probably obvious that you should always get everything in writing. It might be unfortunate, but the days of doing business with a handshake—especially when tens of thousands of dollars are on the line—are long gone.
Instead, never allow contractors to begin work without having a formal contract in place. Otherwise, you're giving them all your money and creating an environment ripe for being scammed. This is a fairly common angle for scammers who show up on your doorstep claiming to have extra material from another job, which they'll provide for unrealistically low prices—including labor.
The only catch is that they'll have to do the work immediately, without any kind of paperwork in place.
What happens if you've already been burned by a contractor, though? We'll talk about this next as we wrap things up.
What Can You Do If You've Been Ripped-Off by a Contractor?
When it comes down to it, Andrey believes it's extremely important for you to understand that "contracting is a highly competitive business, and as the buyer, you are the one in control."
This not only means that you'll need to make (and take responsibility for your) decisions, but that you have the right to go after a contractor if they fail to uphold their end of the deal.
Keep in mind that exactly what rights you have largely depend on the state where you live, as well as whether or not the project involves new construction or remodeling an existing home.
Should you find yourself in this situation, Andrey recommends following the following 3 steps:
If you have a hunch something's wrong, get a certified third-party professional to come take a look (you can even do this over the weekend or after business hours, so the existing contractor won't be any wiser) and provide you with their opinion.

If this third-party confirms there's a problem, Andrey says it's time to wield your "power over the job site," immediately inform the contractor they're no longer involved with the project and that they won't be allowed on the property.

Finally, get legal representation. The faster you can have someone actively working on your case who can document the state of the job site, not to mention chronicle everything that's occurred up to this point, the better your end result might be.
Based on our experience, we'd add a fourth recommendation: speak out! Write about your experience on as many popular review websites as possible, including the Better Business Bureau, so that you can help others avoid a similar fate. Just be sure to stick to the facts and avoid doing anything not recommended by your lawyer—otherwise, you could end up in the hot legal water yourself.
» For Further Reading on This Topic: