IRS Debt Collection Scam: A Complete Guide to What Legitimate Debt Collectors Will and Won't Do
The IRS has started using private collections agencies to recuperate tax debts and, as a result, IRS debt collection scams have popped up. Identifying a debt collection scam is easier than you think.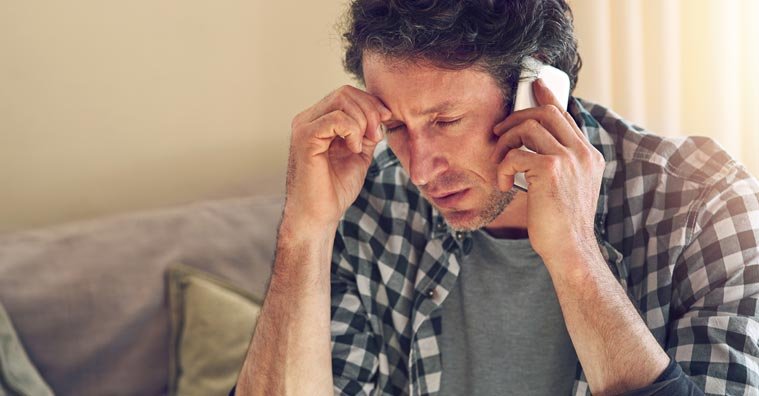 In 2017, the IRS started a new program in which they source out some consumer's tax accounts to four private collections agencies whose job it is to correspond with you to get your tax debt paid.
As this new program launched, a whole batch of new IRS debt collection scams popped up. "Companies" claiming to be calling on behalf of the IRS try to strong-arm innocent people into paying their tax debt on the spot.
They use a variety of high-pressure tactics and, in some cases, threats, to get you to pay up.
But guess what? In most cases, these high-pressure moments are fabricated – a ruse conjured up by crooks who want your money.
However, knowing whether or not the scenario you're in is a scam can be tough, especially since the people who get these specific fake collection phone calls have been avoiding the IRS out of fear or inability to pay.
This guide is intended to help you understand four things:
What the private collection program is
What the IRS will always do to collect a debt
What the IRS will never do
What you can do if you've received a scam phone call
What is the IRS Private Collection Agency Program?
According to the IRS, they launched their Private Collection Agency program (PCA) for two main reasons: they stopped pursuing old accounts and/or they don't have enough manpower to service past-due accounts.
The Four Companies Who Collect Debt
The IRS hired four specific agencies to help them collect tax debts:
CBE: 1-800-910-5837
ConServe: 1-844-853-4875
Performant: 1-844-807-9367
Pioneer: 1-800-448-3531
These are the only companies who are allowed to contact you in regard to your outstanding tax debt.
Accounts That Won't Get Sent to a PCA
Now, not every consumer with a tax debt will get sent to a PCA. In fact, only consumers with outstanding tax debts who've ignored the IRS' attempts to reach them will most likely be contacted by a PCA.
However, there are certain consumers who will never be serviced by a PCA. Here's a list of those consumers, as given on the IRS' private debt collection page:
Dead
Under 18
In designated combat zones
Tax-related identity theft victims
Under examination, criminal investigation, litigation or levy
Working out a deal with the IRS
Repaying through an installment agreement
Subject to a right of appeal
Designated as an "innocent spouse case"
In a "presidentially declared disaster area" and requesting "relief from collection"
The IRS is very clear about this saying that they "will not assign" these accounts to private collections agencies.
What IRS Private Collection Agencies Will Always Do
We read through several IRS documents to compile a straightforward list of things that a PCA will always do when contacting you. Understanding these simple things will help you distinguish between a legit IRS debt collection agency and a scam.
The IRS and Its PCAs Will Always Contact You by Mail First
Before you get any phone calls about tax debt collection you'll receive a letter from the IRS that says they'll be sending your account to one of the four PCAs. That letter will also include, the IRS says, a unique 10-digit number assigned to your case.
Sometime after you receive the first letter from the IRS, you'll receive another letter from your PCA confirming that they'll be working with you to help you pay off your IRS tax debt.
"The IRS will give taxpayers and their representative written notice that the accounts are being transferred to the private collection agencies," the IRS' website says. "The agencies will send a second, separate letter to the taxpayer and their representative confirming this transfer."
Pro tip: Representative refers to any representation you've hired to help sort out your tax debt.
The PCA Will Always Identify Themselves as Such
The IRS' PCAs are required to identify themselves when they call you. If they don't, ask them to do so by requesting the agency name (it has to be one of the four we listed earlier) and your 10-digit case number.
The PCA Will Always Tell You Four Things
Even though the IRS is hiring out their accounts to private companies, those companies are still bound by the rules listed in the Fair Debt Collection Practices Act (FDCPA).
The FDCPA says that all debt collectors must give you four pieces of information within five days of their first contact with you:
Amount of debt
To whom you owe the debt
A 30-day disclaimer of debt validity
30-day promise to verify your debt
The 30-day disclaimer means that you have 30 days to dispute your debt. If you decide to dispute it within those 30 days, the collection agency is required to verify you do, in fact, owe the money and mail you the evidence within 30 days of your dispute.
If you don't dispute the debt within those first 30 days, you are passively saying the debt is yours.
Your Payment Will Always Go to the Same Place
In a post titled "How to know it's really the IRS calling or knocking on your door," the IRS noted that any payments requested of you will always be sent to the United States Treasury.
In addition to this requirement, a legitimate PCA will also direct you to make payments through the IRS' Payment page.
This is one of the easiest ways to determine whether the person calling you is a legitimate private collections agency or just a scammer.
The goal for the PCA is to get you to pay the IRS, not the agency itself or anyone else.
What IRS Private Collection Agencies Will Never Do
The list of things the IRS and its PCAs will do is pretty straightforward and can help you quickly figure out if you're being scammed.
However, in the heat of the moment, it can be tough to think clearly and logically. So, we've also included a list of things that the IRS and its PCA collectors will, by law, never do in order to get you to pay up.
IRS Private Collection Agencies Will Never Tell You to Pay Them With Non-Credit or Debit Cards
According to the IRS' consumer guidelines for private debt collection, the four PCAs will never, under any circumstances, ask you to pay all or part of your debt via a "prepaid debit, iTunes or gift card."
As we mentioned earlier, the point of collecting your debt is to get you to make payments to the Treasury Department, the organization that handles the money side of tax returns and payments.
Asking you to email gift cards is a blatant scam and far, far outside the IRS guidelines for fair debt collection.
"Taxpayers will be informed about electronic payment options for taxpayers on IRS.gov/uac/ways-to-pay-your-tax-bill," the IRS' private debt collection page says. "Payment by check should be payable to the U.S. Treasury and sent directly to (the) IRS, not the private collection agency."
Related: Tax Season & IRS Scams: Why They Work & 7 Tips for Avoiding Them
IRS Private Collections Agencies Will Never Call You Before Letters Are Sent
One of the tell-tale signs of an IRS debt collection scam is that the person or organization calls you out of the blue without any prior warning.
As we wrote earlier in this guide, the IRS and its PCAs are required to notify you of a collections transfer before any PCA collections calls are made.
You should always get a letter from the IRS first, then a letter from the PCA, then a phone call from the PCA, in that order.
Even when your account isn't going to collections, the IRS' website says that you'll always receive notices first before receiving phone calls requesting payment.
IRS Private Collections Agencies Will Never Call You at Strange Hours
The Fair Debt Collection Practices Act has a section called "Communication with the consumer generally" which lists appropriate times for debt collectors to call.
According to the act, you shouldn't receive any phone calls from your PCA before 8 a.m. and after 9 p.m. If you're getting calls very late at night or very early in the morning, there's a good chance, based on the FDCPA, that the caller is a scammer.
The IRS PCAs Will Never Threaten You With Violence or Vulgarities
As we read further into the FDCPA, we found an interesting section that addresses "harassment or abuse". By law, PCAs will never threaten you or your loved ones with violence if you don't pay up. This is merely an intimidation tactic to get you to pay them as soon as possible.
Illegal threats also extend to your reputation and your property or the property of people you know.
This section of the FDCPA also says that "the use of obscene or profane language or language the natural consequence of which is to abuse the hearer or reader" is also prohibited.
If the supposed IRS-backed collections agency is hammering you with threats and foul language, there's an excellent chance you're being scammed.
IRS PCAs Will Never Threaten You With Arrest or Deportation
While it is heartbreaking, there are scammers out there who will call consumers who owe taxes and threaten to get them arrested or deported if they don't pay their tax debt immediately.
In the IRS' article about how to spot collections scams, they make it very clear that they don't have the legal authority to:
Revoke your driver's license
Revoke your business license
Revoke your immigration status
The IRS goes on to say that "threats like these are common tactics scam artists use to trick victims into buying into their schemes."
Who to Contact If Someone Tries to Scam You
If you receive a scam phone call or you, out of fear, give into a scam by sending a prepaid debit card, iTunes card or gift card, then you can file a complaint with the Treasury Inspector General for Tax Administration (TIGTA).
According to the IRS, you can report on TIGTA's website scam attempts or illegal actions by PCA employees.
You can also call their hotline at 800-366-4484 or mail your complaint to: Treasury Inspector General for Tax Administration Hotline, P.O. Box 586, Ben Franklin Station, Washington, DC 20044-0589.
In the event that a private collections agency employee threatens you, report them immediately to the TIGTA Office of Investigations.
Wrapping It Up: Some Final Thoughts on IRS Debt Collections Scam
We've discovered through our research of the IRS' guides and regulations that the easiest way to spot a tax-debt collection scam is to be aware of when they call you.
If it's before you get a letter from the IRS and a letter from the PCA, it's most likely a scam.
If the call comes after you get those letters and the employee properly identifies themselves as a representative of one of the four IRS PCAs, there's a good chance it's a legitimate call.
Remember, the IRS' goal is to get you to at least make monthly payments toward the debt you owe them. When you make those payments, the money is going to the U.S. Treasury. Therefore, you'll never be asked to provide a prepaid debit card, iTunes card or gift card.
You'll never be asked to pay the collection agency itself; all payments are made to the U.S. Treasury.
If you want to learn more about other IRS scams floating around, head to the IRS "Dirty Dozen" page, where they release a list of 12 popular scams that pop up during and after tax season.
Also, another good place to check for the latest IRS scams is the IRS Consumer Alert page, where you'll get up to date information about some of the latest scams and schemes aimed at consumers.
More on IRS and Tax Season: