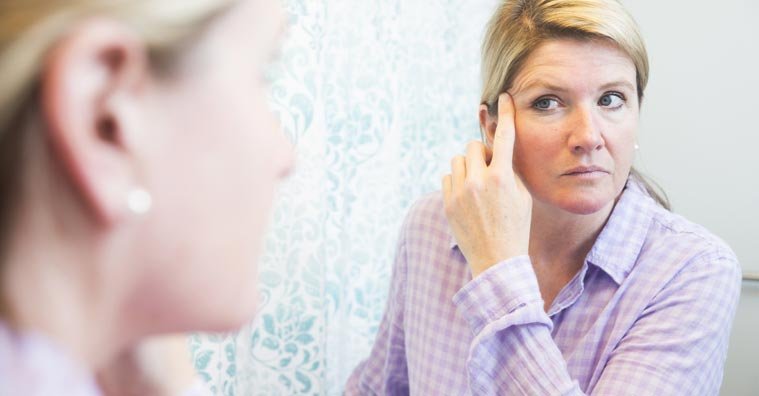 Microneedling for the face involves the use of a mechanized device that's claimed to be great for improving fine lines, acne scarring, and pore size, as well as the tone and texture of skin.
While this procedure is typically performed in the office of medical experts, microneedling can also be done in the comfort of your home.
While some experts say that this procedure is not safe to perform at home, other doctors claim it's absolutely safe and effective with the proper at-home microneedling devices, which typically come in the form of a hand-held roller designed with fine needles.
This article offers input from experts on both sides of the spectrum, to provide you with as much information as possible so you can decide whether microneedling at home is right for you.
We've interviewed four experts on this topic, including a chief medical officer, a board certified dermatologist, a clinical esthetician, and board certified plastic surgeon.
These experts explain what microneedling is, the difference between performing microneedling at-home versus undergoing this treatment in a medical practice, and whether or not this is safe and effective for at-home use. We also discuss potential side effects, as well as recommendations for microneedling devices that can be used at home.
Keep in mind that this article is not intended as medical advice. Before you try any kind of microneedling procedure at home, it's important to consult with your medical professional first.
Let's begin by discussing what microneedling is and how it's administered in a medical office, so you'll have an idea of how this works and what to expect if you decide to perform microneedling at home.
What Is Facial Microneedling?
Microneedling is also known as collagen induction therapy, according to Dr. Ted Lain, Chief Medical Officer for Sanova Dermatology and Executive Director of the Austin Institute for Clinical Research.
Microneedling uses controlled injuries to the first and second layers of the skin to both cause the production of more collagen in the second layer, and help rejuvenate the first layer through a variety of mechanisms, explained Dr. Lain, who practices general and cosmetic dermatology in Austin, Texas.
In-office microneedling involves the use of a mechanical "pen," to which the aesthetician attaches a cartridge containing multiple very fine needles, Dr. Lain noted. The pen causes the cartridge to oscillate vertically, thereby causing very fine punctures to the skin.
"By controlling the speed of oscillation and depth of penetration of the needles, the aesthetician individualizes the treatment for the client," Dr. Lain said.
Marc Kerner, a board certified plastic surgeon, describes microneedling as a technique that creates very small diameter needle tracks through the outer dermis of the skin into the subdermis where the blood supply is.
"By creating these small tracks you create a physiologic tunnel for nutrients or topical dermatological products to traverse the dermis and enter the subdermis," said Dr. Kerner, medical director of CalWest Head and Neck Surgical Institute and Dermatique Medical Center in southern California.
"The mechanical aspect of the procedure results in these tracks remaining open for approximately 30 minutes," Dr. Kerner said. "There is also a mechanical effect in which the actual procedure also stimulates collagen production."
Most clients tolerate the procedure very well, Dr. Lain said.
"However, those who require more aggressive treatments, to treat acne scarring or advanced sun damage for instance, may request a numbing cream or Tylenol," Dr. Lain said.
Next, let's take a look at how this procedure is performed in a medical office, so you have an idea of how this works if you decide to do microneedling at home.
How Is Microneedling Performed in a Medical Practice?
In Dr. Lain's practice, the microneedling device is moved over the face in a sweeping or circular motion during the treatment.
"To ensure smooth movement and avoid tearing of the skin, the aesthetician will first apply a lubricant glide prior to the treatment," said Dr. Lain, further noting that over the past few years, this lubricant has been replaced with either a growth factor serum or platelet-rich plasma.
"The puncture wounds caused by the treatment leave channels into which efficient delivery of rejuvenating products is achieved," Dr. Lain explained. "Thus, replacing an inert lubricant with active ingredients such as those mentioned above helps to improve outcomes and hasten recovery."
After each treatment, the skin remains red and slightly swollen for about 24 hours. Peeling ensues, lasting on average from five to seven days.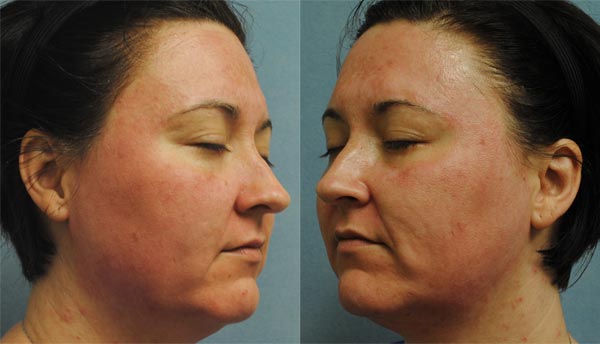 Dr. Lain's patient immediately after a microneedling treatment. The right side of the face was treated using a light oil as the glide for the microneedling pen. The left side of the face was treated using Biopelle Tensage Intensive Serum 40, a highly concentrated growth factor serum formulated for use during and after minimally invasive treatments such as microneedling.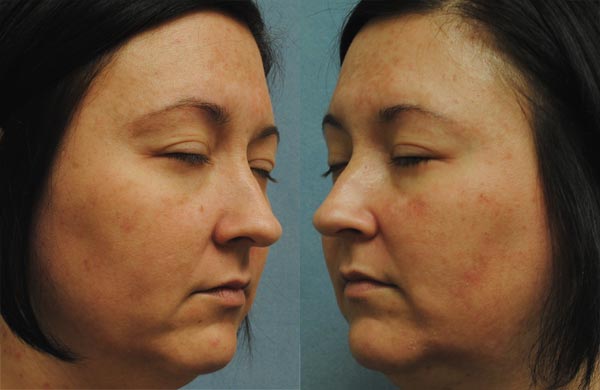 Dr. Lain's patient 48 hours after a microneedling treatment.
"Clients are asked to use specific skincare products, such as growth factors, sunscreens, and antioxidants, during this time to further optimize outcomes," Dr. Lain noted.
The immediate results after healing has completed include smoother texture, dewy complexion, and overall healthier appearance, he said.
"As the body repairs the wounds, new collagen is formed culminating in reduction of fine lines and wrinkles, improvement in acne scarring, and enhanced skin luminosity," Dr. Lain said.
Dermatologists recommend a series of treatments, usually spaced monthly, to achieve best results, he added.
"As with any minimally-invasive procedure, healing is much smoother and easier in the absence of sun exposure, therefore choosing the fall or winter to start a series of treatments is optimal," Dr. Lain said.
Microneedling at Home vs. Microneedling in a Medical Office
At home microneedling involves the use of a roller with small needles that vary usually from .5 to 1.5 mm in depth to essentially create controlled micro-injuries in the skin, explained Dr. Kally Papantoniou, a board certified dermatologist specializing in cosmetic, laser and surgical dermatology in New York City, Queens, and Eastern Long Island.
"This stimulates healing and repair of skin, and the production of collagen," Dr. Papantoniou said. "Microneedling is great for fine lines, acne scarring, pore size, and tone and texture of skin."
On the flip side, in-office microneedling involves a mechanized device that's adjustable for deeper treatment settings, and will be more effective for wrinkles and acne scarring, Dr. Papantoniou noted.
"The in-office treatment is better at treating the levels in the skin that are necessary for collagen production," Dr. Papantoniou said.
Microneedling or derma-roller therapy for home use is distinct from that performed in the physician's office, Guthrie said.
"The needles for home use are typically under 1mm, while those of the surgical variant typically are 1 to 3 mm," Guthrie noted.
Their purposes are distinct as well.
"The home derma roller is designed to maximize the penetration and effectiveness of active topical skincare products," said Guthrie, adding that it is literally pain-free and requires no topical numbing.
"Via microneedling, the derma roller painlessly creates micro channels through the surface of the skin, allowing active skincare products ingredients such as Retinol and Vitamin C to reach the depths of the skin more effectively," Guthrie said. "Their penetration, absorption and effectiveness are noticeably improved."
See Also: Can Cosmetics Really Penetrate Your Skin?
Conversely, the surgical derma roller is used to treat a wide variety of skin conditions. These include lax skin, wrinkles on the face, upper lip and neck – as well as the arms, abdomen, buttocks, and legs.
"Due to the length of the needle, this type of therapy requires at minimum a topical anesthetic, and in more severe cases, IV sedation or a general anesthetic is recommended," Guthrie said.
Perhaps one of the most important questions about microneedling is its safety and effectiveness when performed at home, which we cover in the next section.
Is Facial Microneedling at Home Safe and Effective?
Yes, according to Dr. Papantoniou.
"At home microneedling is very safe," she said. "It is important to use clean practices – this means cleaning the area to be treated with alcohol and treating the microneedling roller before and after each treatment with alcohol as well. Microneedling can be performed every week safely."
For the first time using a microneedling roller, it's best to look for a device that has 1mm needles that are made of titanium, Dr. Papantoniou advised.
Microneedling at home can provide impressive results, "but this primarily occurs if it is done regularly, and can take several months to achieve desired results, especially for deeper lines or acne scarring," Dr. Papantoniou noted.
It's safe to microneedle once per week, Dr. Papantoniou added.
"If your skin is more sensitive, you may want to do it every other week instead," Dr. Papantoniou suggested. "Switch out your roller after about six treatments – needles get dull."
While some medical experts say that microneedling at home is safe, other experts, like clinical esthetician Lupe Guthrie, warns: "Don't try this at home."
While home devices for microneedling are available, Guthrie advises people considering that option to think twice.
"I urge caution in doing this at home because the risk of infection and scarring is ever-present," Guthrie said. "You're creating a wound in the skin, which always carries with it the potential for scarring. This procedure is valuable and effective, but best done by a skin specialist, practitioner or dermatologist."
Home microneedling typically doesn't go as deep as a physician procedure, Dr. Kerner said.
"It is done with a roller device so it is not as precise for uniform depth as a mechanical needling device which can precisely control the depth more accurately," Dr. Kerner explained.
"The microtrauma caused by either technique results in collagen stimulation which results in textural improvement in the skin," Dr. Kerner noted. "The textural improvement results from thickening of the dermis. It can improve the texture of scars, it can result in tightening, albeit only incrementally."
There are many microneedling devices on the market today for at-home use. The next section offers a few details about five devices that are considered among the best.
Best At-Home Microneedling Devices
Redefine Amp MD Roller by Rodan + Fields
Suzie Sakata, a cosmetologist and independent consultant for Rodan + Fields, said that the "microscopic channels or micro injuries created by our Amp MD Roller, combined with Multi-Med® Therapy skincare helps reduce the appearance of fine lines and uneven texture, leaving the skin looking refined and rejuvenated."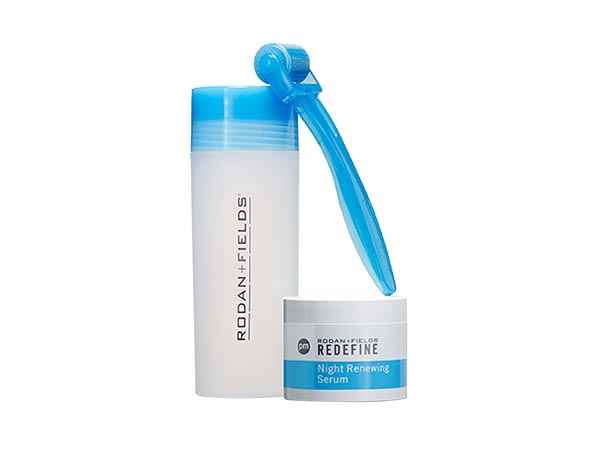 Image credit: Rodan & Fields, LLC
Sakata recommends the Redefine Amp MD Roller by Rodan + Fields. It is made with about 200 medical grade micro needle tips that gently exfoliate the epidermis of the skin.
"This allows our products which contain retinol and peptides to penetrate deeper, increasing the overall efficacy of the Redefine regimen by about 50%," Sakata said.
"While I have never had micro-needling performed in a doctor's office or by an esthetician, I have seen and heard of results that required days of recovery for unsightly abrasions and irritation," Sakata added.
"Using the Amp MD Roller is not only much more cost effective, but it also is gentle enough to go about your daily activities with no down time," she said. "Performed in the evening, as frequently as tolerated, it only takes a minute and the products do their work while you sleep."
The Redefine Amp MD Roller by Rodan + Fields is sold online. The retail cost is around $215.
This price includes the roller and 60 capsules of Night Renewing Serum, as well as a cleansing vial and 16 purification tablets to clean the roller.
Derma Roller System
Featured on the Rachel Ray Show and The Doctor's Show, the Derma Roller System offers a derma roller that's claimed to naturally stimulate collagen and elastin in the skin to promote healthier skin cells in the body.
According to the manufacturer's website, the derma roller utilizes 200 extremely fine medical-grade needles that painlessly create microchannels in your skin, which then triggers the body's natural healing process to create new, healthier tissue to replace the imperfections of older skin.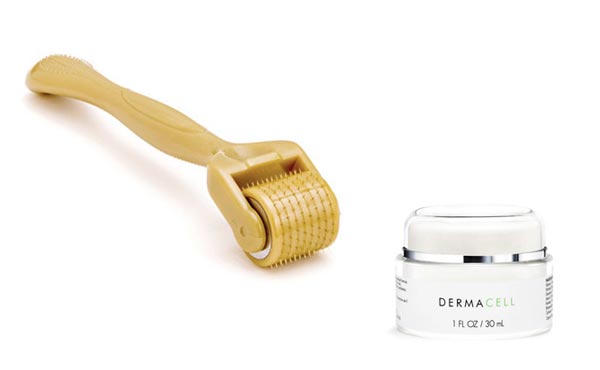 Image credit: Derma Roller System, Ltd
This derma roller can help improve the look of wrinkles, skin hyperpigmentation, scars and uneven skin – as well as stretch marks and even hair loss.
Depending on the type of treatment you are using the system for, the derma roller's steel micro-needles come in five different lengths: 0.5mm, 1.0mm, 1.5mm, 2.0mm, and 2.5mm.
The Derma Roller System can currently be purchased for around $90. This cost includes the derma roller and user guide, as well as a collagen face mask and derma roller travel case.
GloPRO®
Coined the "must-have beauty device for 2017," the GloPRO is a patented version of microneedling that's safe for at-home use, according to the manufacturer's website.
The GloPRO® addresses the look of wrinkles, crow's feet, lip lines, smile lines and pore size, as well as the "eleven" lines between the eyebrows.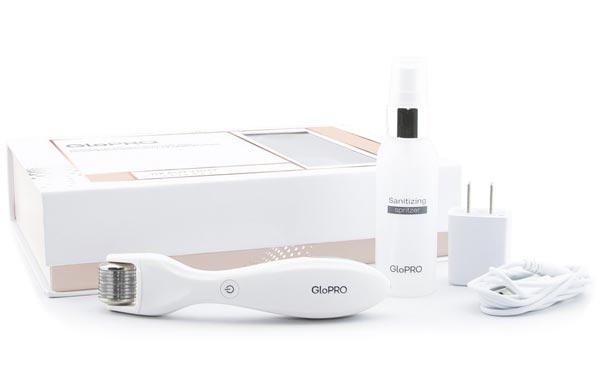 Image credit: gloprobeauty.com
In a consumer study using GloPRO® three times a week for 30 days, 97% of subjects reported an improvement in the look of the skin's firmness, 93% saw an improvement in the evenness of their skin tone, and 90% noted they would consider GloPRO® an alternative to cosmetic fillers. Additionally, 100% felt that GloPRO® helped stimulate their skin's natural collagen.
The GloPRO® microstimulation facial tool can be purchased online for around $200.
This cost also includes a storage case, sanitizing spritzer, instructional guide, power supply cord and power supply adapter.
Stacked™ Skincare
The Stacked™ Skincare collagen boosting micro-roller softens the skin by removing dull, dead cells from the top layer, giving it a smoother, plumper, and firmer appearance, according to the maker's website.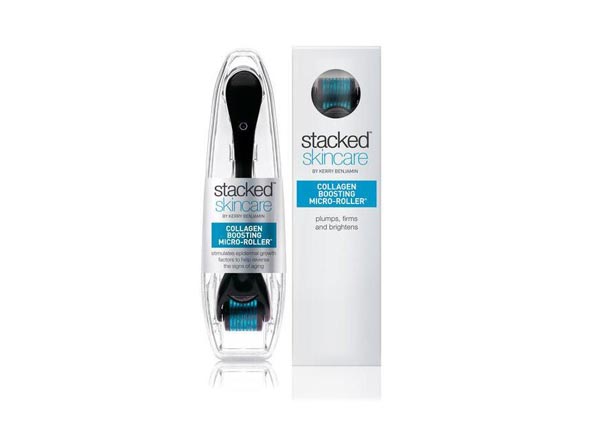 Image credit: StackedSkincare
This product was named a 2017 editor's pick award winner by totalbeauty.com.
Considered safe for at-home use, this roller contains .2mm stainless steel needles. With regular use, it helps minimize the appearance of fine lines, resulting in luminous, healthy-looking skin.
The Stacked™ Skincare collagen boosting micro-roller can be purchased for $30.
Nurse Jamie Beauty Stamp Micro-Exfoliation Tool
Different from a roller, this micro-exfoliation tool is a stamp that involves a gentle press and lift action to enhance delivery and promote increased effectiveness of skincare products.
The Beauty Stamp promotes collagen and elastin production for a more youthful appearance, according to the manufacturer's website. The beauty stamp can be purchased along with an EGF Stem Cell Complex, and used together, this treatment can result in overall tightening, smoothing and pore refining.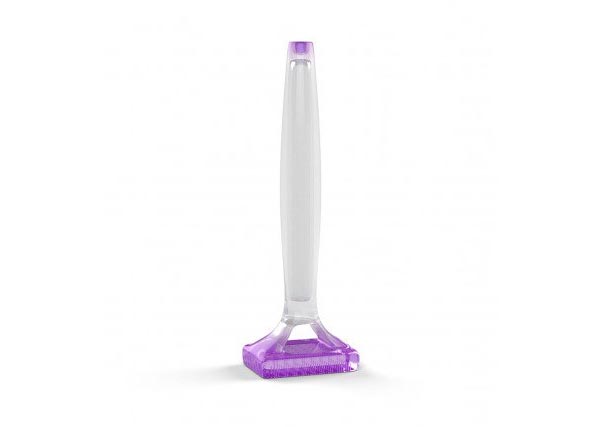 Image credit: Nurse Jamie, Inc
The Beauty Stamp alone costs $50. The Beauty Stamp and EGF Stem Cell Complex together cost $160.
The manufacturer noted that the Beauty Stamp Micro-Exfoliation Tool is not intended to diagnose, treat, cure, heal or prevent any condition or disease. If you have any questions about whether the use of this beauty tool is appropriate for you, seek the advice of a health care professional prior to use.
It's also important to consider factors to be avoided, as well as potential side effects, which we discuss in the next sections.
At-Home Microneedling – What Should Be Avoided?
Be careful of cheap rollers that are under $20 dollars, Dr. Papantoniou warned.
"These may not be made of quality materials, and may break easily," Dr. Papantoniou said.
Additionally, "for those with eczema, psoriasis, severe acne or very sensitive skin it is best to seek a dermatologist's care prior to treating yourself at home," Dr. Papantoniou said.
Longer needles increase the risk of infection or scarring and hurt more, Guthrie warned.
"Once you get over one millimeter, the risk of harm is real," Guthrie said.
There are many microneedling rollers available online, Sakata added.
"Many have longer and thicker needles that look pretty scary to me and are likely to cause unwanted and unnecessary bleeding," Sakata warned. "When purchasing, I highly suggest that you buy from a reputable source that offers medical grade product and that also offers support for the user if there are any questions or concerns."
What Are the Potential Side Effects of Performing Microneedling at Home?
If the equipment is not properly cleaned, an infection or acne breakout can occur, Dr. Papantoniou warned.
"If microneedling is performed too aggressively, or too frequently, there is a potential risk for scarring," Dr. Papantoniou said. "Irritation is the most common side effect with slight redness in areas treated."
Microneedling at home can be safe, however, any device used improperly can result in scarring, Dr. Kerner warned.
"Going too deep and causing too much local trauma to the skin could result in adverse scarring rather than textural improvement," Dr. Kerner said.
Typically, a home device should be safe and could be used a couple of times per week safely, Dr. Kerner added.
"By creating these channels in the skin temporarily, it allows greater absorption of skin products, so products such as topical vitamin C, or peptides get better a penetration through the skin after microneedling," he said.
Facial Microneedling at Home – The Bottom Line
When it comes to microneedling, there are many options for at-home treatments these days, Guthrie said.
However, "treatments made for use by the consumer are substantially less effective to ensure the safety of the consumer," Guthrie noted.
Professionals in the industry are trained on these devices and machines, allowing them to be much more aggressive during treatment for improved results, Guthrie added.
"That being said, you will receive a better outcome with professional treatments – just always trust whom you are being treated by," Guthrie said.
If you are taking medication or have any health issues, including pregnancy, it's wise to speak to your doctor first, Sakata advised.
Additionally, "the needles will wear down with time so it's important to replace your device once a year," Sakata further noted. "Also, it's vitally important to keep your roller clean. Be sure that whichever one you choose comes with the proper means to keep it sanitized."
In general, microneedling is very safe used within the manufacturer's directions, even home rollers, Dr. Kerner added.
"People with immune deficiencies, diabetes and other inflammatory conditions that affect the skin should ask their doctor before using a needling device," Dr. Kerner said.
Was this article helpful? Read more we've written on similar topics: