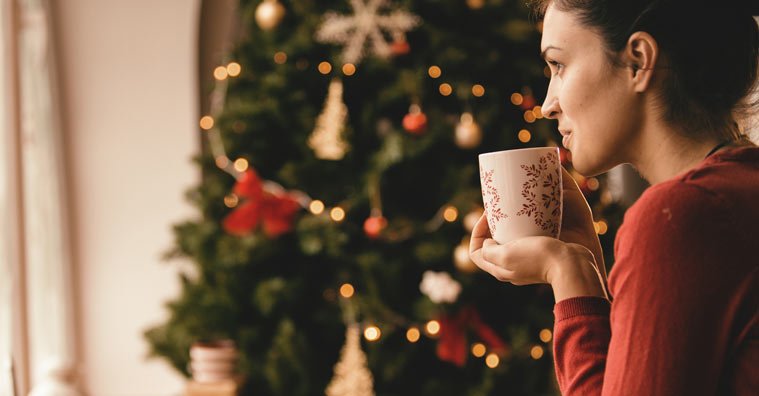 There's nothing quite like the fragrant scent of a live Christmas tree. It can lift your spirits, put you in a holiday state of mind, help uphold generations-old traditions, and act as a centerpiece for creating new memories.
How can you keep it as fresh as possible, though, for as long as possible? Here, we're going to make the process as simple as three steps.
In a few minutes time, you'll learn actionable tips that maximize your tree's lifespan—as well as the cheer it can bring—this season.
Step 1: Choose a Variety
According to MiracleGro, most Christmas tree shoppers should have at least a couple of varieties to choose from in many areas of the country. In fact, Better Homes & Gardens reports that "there are more than 35 different species of evergreens used as Christmas trees across the U.S. How to choose the best one?
Largely, it's going to come down to 1) available selection and 2) your specific needs and preferences. For example, Miracle-Gro explains that "Balsam fir trees have a stronger scent and stronger branches to hold all your ornaments. Scotch pines, on the other hand, will hold on to their needles for longer indoors. Spruces have that desirable conical Christmas tree shape, as well as strong branches."
Better Homes & Gardens adds:
Fraser fir – Feature a slender profile that might be ideal for small rooms
Eastern white pine – A rich fragrance with long branches that are ideal for ornaments
Grand fir – Another species great for ornaments
Noble fir – Only grows in the Pacific Northwest, but features "cool blue-green, well-spaced branches and densely set, upwardly curved needles"
Virginia pine – Holds its needles well and can tolerate warmer temperatures
Eastern red cedar – A pungent fragrance and drought tolerant
Step 2: Decide Between a Christmas Tree Farm & Pre-Cut Lot
Popular Mechanics interviewed Mark Derowitsch, a spokesperson for the Arbor Day Foundation, who advised that "the best way to ensure the most beautiful Christmas tree is to cut your own from a local farm, or to have one cut for you."
This way, you can guarantee freshness, help maintain sustainability, preserve local jobs and open space, and reduce carbon emissions related to transportation. How so?
According to Carolyn Forte of Good Housekeeping, "If you buy your tree from a garden store or roadside lot, it has likely come from out-of-state." Not only does this likely mean that a lot of fossil fuels were used getting it to you, but it also means that you can't know how long the tree has been out of the ground.
In some instances, it may have only been a few days or so, while in others, it could have been a couple of weeks. And it goes without saying that the longer the tree has been out of the soil, the more prone it will be to drying out.
Speaking of which, Carolyn Forte notes that trees transported over long distances have often been exposed to drying winds that could further reduce their useful lifespan. But whether you buy from a lot or a local farm, what should you look for during your search?
First, your tree should be green, with a minimal number of browning needles, and (preferably) stored in a shady—not sunny—location.
Second, its needles should also be flexible and healthy, which Good Housekeeping notes you can check by running a hand through the branches and seeing how many green needles drop to the ground. Then, look for the same after raising the tree a few inches off the ground and dropping it onto the trunk.
Keep in mind that when you do this, a few of the inside needles will likely fall to the ground. However, if its outer needles are falling as well, you should choose another tree. And if you experience this same scenario with several trees, then it's highly recommended that you leave and visit another.
Popular Mechanics also recommends that, if you're buying from a nursery instead of cutting a fresh tree, you should "ask them how recently they were harvested, and where they came from. If you aren't impressed with the answers, shop elsewhere."
Step 3: Prepare Your Christmas Tree for Setup
If you take a little extra time to properly prepare your tree before setting it up, the reality is that it should easily last up to four to five weeks.
If you don't plan on putting it up as soon as you bring it home, you can maximize its life by cutting an inch off the bottom of its trunk, wrapping a wet towel around it, and storing it in a cool (not cold) place.
This is because, according to Purdue University, "When a tree is cut and left exposed to air, the exposed cells become blocked to water uptake. When re-cut, the tree is then able to take up water (use cool water)." Most Christmas tree retailers, whether farms and lots, will perform this step for you.
While you (or the retailer's associate) have a saw in hand, take a couple of seconds to measure about six to eight inches up the trunk and remove any branches that are in the way. Why? This will allow it to fit into a stand more easily, as well as to place gifts underneath.
Related: How to Save on Holiday Decorations
Step 4: Optimizing Your Christmas Tree's Placement
Once you've taken a bit off the trunk and tidied up the bottom branches, it's time to bring your tree inside. During this process, you'll want a long-sleeved shirt and a good pair of leather gloves, because the tree's needles can be quite sharp.
Speaking of which, if you wrap your tree in an old sheet prior to carrying it in, it can drastically reduce the number of needles you'll have to pick up afterward. In many instances, the tree farm or lot you purchased from will wrap the tree in netting (or a sheet of plastic) to help minimize the mess and water loss until it's set up in your home.
Once your tree is inside, immediately place it in its stand, and fill it with at least one gallon of warm water (this temperature can be better absorbed by your tree).
According to the Arbor Day Foundation's Mark Derowitsch, "a rough rule of thumb is that a typical tree might absorb a quart of water for each inch of its diameter. This means many stands need to be topped off daily."
Speaking of which, Purdue University recommends that you avoid setting up your tree near "direct sources of heat such as warm-air floor vents, operating wood stoves, fireplaces, hot lights, etc.," which can quickly dehydrate your investment.
Step 5: Preserving Your Christmas Tree for as Long as Possible
In this same line of thinking, the bottom line is that the key to keeping your tree fresh for as long as possible is maintaining hydration.
As such, Purdue notes that you can often extend its lifespan by lowering the temperature in the room and even placing it next to a humidifier, which can help maintain needle freshness and reduce potential fire risk.
Keep in mind, though, that your tree will be especially thirsty the first few days, and it isn't unusual for it to drink as much as a gallon of water during this time. So, be sure to frequently monitor water levels after you first bring it home.
What about lights? Today's Karen Gibbs advises that "Lights are okay for trees, but do yours a favor and use only [those] that produce low heat, such as miniature [ones]. The lower the heat, the less the drying effect on the tree and the longer the needles will stay on."
Now, most of us have received (or bought) preservation products along with our Christmas trees, but do they actually help extend its life? In a nutshell, there are mixed reports as to their usefulness.
See Also: 6 Things To Consider If You're Thinking About Buying an Artificial Christmas Tree
Interviewed in the Popular Mechanics article cited earlier, Tchukki Andersen, a staff arborist for the Tree Care Industry Association, points out that "Many people have found success in their tree longevity by mixing a tablespoon of corn syrup or sugar in the basin water as a food source for the tree (Some people say they use aspirin.)"
However, she adds that "the jury is still out on this procedure, with some experts arguing that adding such substances doesn't do anything." Adding his two cents, Mark Derowitsch from the Arbor Day Foundation said that using additives is "totally unnecessary."
Along these same lines, LiveScience adds that, while a recent study at the University of Wisconsin-Stevens Point confirmed that watering trees will help keep them fresh and reduce needle loss, "the study's author, tree scientist Les Werner, says additives such as sugar, aspirin or even vodka don't help. Clean water still works the best, he advised."
And not to put too fine a point on it, USA Today interviewed forestry expert Steve Nix, who advised that "Your best bet is just plain tap water ... It doesn't have to be distilled water or mineral water or anything like that. So the next time someone tells you to add ketchup or something more bizarre to your Christmas tree stand, don't believe it."
The Bottom Line About Keeping Your Christmas Tree Fresh
While it's easy to become overwhelmed with all the information available online, the reality is that—according to industry professionals—maximizing your investment and keeping your Christmas tree looking and smelling ideal for as long as possible is as simple as following the five steps outlined above.
Do you have additional recommendations? Be sure to leave your comments below to help others keep their Christmas trees alive and green throughout the entire holiday season.
For more holiday tips and guides, head over to our 2017 Holiday Shopping Guide.