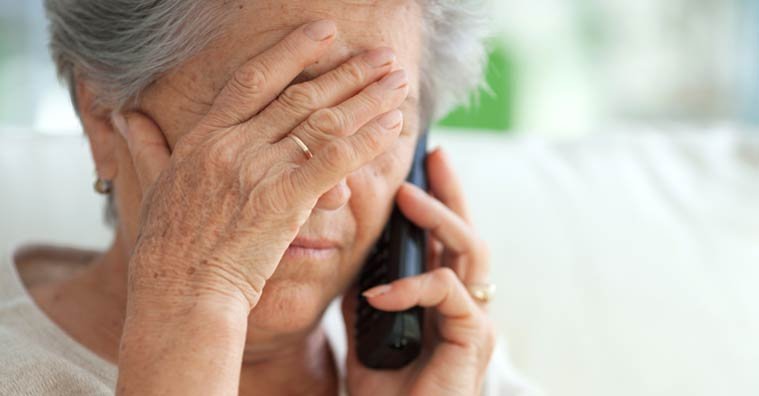 The kidnap and ransom phone scam is considered a particularity threatening variation of the emergency scam, in which a caller claims to be a lawyer or law enforcements agent from another country. With the emergency scam, your loved one has supposedly been in an accident or been arrested – and you need to send money immediately to help them out.
In the case of the kidnap ransom scam, however, the claim is that your friend or family member has been kidnapped and is in grave danger. The scammer elevates your fear, which causes people to react quickly. That's what the scammers count on.
While seniors with grandchildren have typically been targeted in the past, the elderly are not the only ones being victimized. In fact, a recent case involved a 39-year-old man in Southern California. This man received a call from a scammer who claimed to be holding his mother hostage, and threatened to kill her if the victim didn't wire ransom money immediately.
This article is about this man's first-hand experience with this scam, and the lessons he wants to share to prevent others from falling victim. We've also interviewed Timothy Lohman, the fraud detective who worked his case, as well as an official with the Better Business Bureau, about red flag warnings to look out for.
Let's begin by introducing Richard, whose real name has been omitted to protect his privacy. On June 21, he was a victim of the kidnap ransom scam, when he received a disturbing phone call that his mother had been kidnapped. The scammer threatened to murder his mother if Richard didn't come up with $6,000 immediately.
This first-person account offers specific details in order to prevent this scam from hurting other innocent victims.
Victim of Kidnap and Ransom Scam Recounts Harrowing Ordeal
On the afternoon of June 21, Richard was grabbing lunch at Jersey Mike's with his three-year-old son, when he received a phone call with no caller ID.
"I answered it which I normally never do, but for some reason I was distracted, so I answered it," Richard recalled.
The first thing he heard was his mother's voice – or so it seemed.
"It was muffled but it was exactly how I would expect my mom to behave," he said. "She was begging for help, but apologetic was the tone of her voice in the sense that she put me in this position, but still wanted to live life. It sounded exactly like my mom."
Not only did the woman sound like his 65-year-old mother, another man who got on the phone also knew his mother's name.
"This Hispanic guy gets on the phone and claims he's from the Mexican mafia," Richard said. "And he says, 'your mom was in the wrong place at the wrong time, and she saw something she shouldn't have seen.'"
Believing his mother was truly in danger, Richard complied with the scammer's instructions, which involved going to his bank and making a big cash withdrawal to wire to Western Union.
"He said make sure nobody knows what's going on…he told me to behave, or he was going to send me the location of where my mom was laying there dead," Richard said. "He's asking me how much my mom's life is worth. And I'm telling him I'll do whatever I need to do to make my mom safe."
"If the Phone Is Disconnected – I Will Kill Your Mom"
During this entire ordeal, which took place over a few hours, the scammer told Richard to remain on the phone the entire time, or his mother would be killed.
"He said, 'you're going to do everything I say; if the phone is disconnected, I will kill your mom,'" Richard remembered. "It's escalating…and I'm going to do whatever he wants."
Richard told the man that he only had access to about $6,000 – the full amount in his account at Bank of America. The scammer then instructed Richard to go to the bank and withdrawal the entire amount – and stay on the phone.
"This guy told me to act normal, so I go in the bank and I don't want to alert anyone because I don't want my mom killed," Richard said.
After the bank transaction, Richard was given a receipt. And in that moment, he decided to ask for help.
"I wrote on the back of the receipt 'I'm in trouble' and gave it back to her, but I didn't know if she saw what I wrote," Richard said. "But I thought, no matter what happens, I need to get something out there. If something is off, I should be tracked."
After withdrawing the $6,000, the scammer instructed Richard to go to the nearest Western Union, and wire a specific amount, $1,495 to the name: Abraham Ismail Boquino Hernandez.
"He said the $1,495 was going to be a signal to his boss that this is happening, like this is somehow code to him," Richard said.
After sending the wire through Western Union, Richard went back to his car – meanwhile, the scammer has remained on the phone.
The scammer's next instruction was for Richard to go to another Western Union, and wire more money. At this point, Richard was parked in his car in a shady spot, and reaching the end of his wits. That's when a patrol car from the Sheriff's department pulled up behind him.
"I start to freak out because I think this guy is going to kill my mom because the Sheriff is behind me," Richard said. "The Sheriff starts to get out of the car, and this guy on the phone is telling me to keep on driving."
Richard didn't realize at the time that the bank teller he notified actually did call the police, and Richard was being tracked by law enforcement.
"The officer comes up and I just start to literally break down," Richard said. "I cry because I think my mom is going to be killed, because the guy hung up the phone. The police ask me what's going on, and I said, 'I think my mom is dead.'"
Kidnap Ransom Scammer Revealed
Once all the pieces came together with help from law enforcement, Richard was made aware that he was a victim of the kidnap ransom phone scam.
"I'm able to get a hold of my dad on the phone and my mom happened to be with him, and I can hear her voice," Richard said. "I'm like, thank God I just got scammed. I couldn't tell you the feeling of relief. I was crying, just happy and broken down, thinking, what...did I just go through?"
In the end, Western Union flagged the $1,495, so the money was never sent to the scammer. But even after the criminal failed, the scammer attempted to bully Richard one last time.
"After this whole ordeal, my family and I were in the pool decompressing, kind of in shock," Richard said. "Then the phone rings, and it's no caller ID."
Richard's brother ended up answering the phone.
"The same guy was on the other line, and he says, 'how are the sheriffs? Are you with your mommy?'" Richard said. "That's pretty ballsy to call back again and basically play with our heads."
The police told Richard that this incident was a 99.99 percent scam, and that these scammers "have a bigger bark than bite."
"This is tough because I've read about this scam and what to do, but this guy got me so well that I was afraid," Richard said. "People were so surprised that I fell for this. I tell people it was real. Everything about it was as real as you can imagine."
How the Kidnap and Ransom Phone Scam Works
The kidnap and ransom scam has been around for awhile, according to Detective Lohman, who solves forgery, fraud and financial crimes in Southern California.
"But we are slowly seeing an increase – I had another one just two weeks ago, and five prior to that," he said. "A lot of people are still not aware of this scam, even though it's been around awhile. It's not one we talk about on a regular basis, like the IRS scam."
See Also: Tax Season & IRS Scams: Why They Work & 7 Tips for Avoiding Them
The recent rise in the kidnap scam prompted Detective Lohman to issue a public safety warning about how this scam works:
You receive a phone call, generally from outside the area code, from someone who claims to have kidnapped someone in your family. The scammer will demand a ransom be paid or the family member will be injured or killed. The scammer will go to the extent of having someone scream in the background to make the kidnapping more believable.
The scammer requests the ransom be paid by purchasing a re-loadable gift card or through wire transfer services like Western Union or Money Gram. The scammer will go through great lengths to keep you on the phone while you purchase the re-loadable card or make the wire transfer and will make threats if you attempt to hang up the phone.
"These scammers play on people's fears and emotions," Detective Lohman said. "If someone says they have a loved one of yours and you hear a scream, it's going to get your anxiety up because you're worried."
How do they get your name? The Internet.
"With social media, or even just Googling a person's name, they're able to get a child's name or the name of a wife or husband, all from doing research on a computer," Detective Lohman explained. "Everything is right there. Google your own name and you'll get all sorts of information about yourself."
There are a few ways to avoid becoming a victim, which Detective Lohman included in his public safety warning and are listed in the next section.
See Also: Latest Robocall Phone Scam Uses Popular Question: Can You Hear Me?
5 Tips to Avoid Falling Victim to the Kidnap and Ransom Scam
Detective Lohman offers the following five tips to avoid this scam:
If you do not recognize the phone number displaying on your caller ID do not answer the phone. If someone wants to talk to you, they will leave a message.

Be careful what you post on social media websites like Facebook. People tend to post more than they should, leaving you vulnerable.

If you receive a call from a scammer stating they kidnapped a family member, hang up immediately and call the family member.

If you are unable to get a hold of the family member, call the police.

Do not send money or purchase re-loadable cards at the scammer's request or read the numbers off of the back of the re-loadable cards.
The Better Business Bureau is also educating the public about the kidnap ransom scam – including major red flags – which we cover in the next section.
Red Flags and What to Do If You Fall Victim
Kidnapping is extremely rare, so just the fact that such a call comes in is the first red flag, said Katherine R. Hutt, national spokesperson for the Better Business Bureau.
"Our best advice is don't panic – if possible, try to reach the family member on a different telephone and confirm that they are OK," Hutt advised. "Understanding how this scam works is the best way to avoid failing for it."
The other big red flag is the payment method demanded.
"Real government agencies want you to pay by check or by a secure online payment," Hutt explained. "Scammers often ask for wire transfers, debit cards, even gift cards, all of which can be virtually untraceable."
The kidnap ransom scam is a variation of what is called the "emergency scam," Hutt said, in which the caller claims to be a lawyer or law enforcement agent from another country where your loved one has been in an accident or been arrested – and you need to send money immediately.
"We had 246 emergency scams reported to BBB Scam Tracker in 2016," Hutt said. "We've had 177 reported in the first six months of this year, so it has increased significantly."
All together, the BBB received six reports that mention the word "kidnap," and 36 that mention the word "ransom."
"It's too soon to tell if this is going to become a bigger problem, but BBB is on the lookout for increased reporting," Hutt said.
She agreed that scammers can get your phone number – and other personal information – online.
"It can be anywhere," Hutt said. "Google your own phone number and see the dozens of sites where it appears."
For this scam, criminals are most likely getting their information on both the target and the alleged kidnap victim from social media platforms.
"We advise everyone to lock down their privacy settings on social media so they are not sharing personal information, such as travel plans or family member nicknames, with total strangers," Hutt said. "These nuggets of information are used by scammers to be more convincing when they reach a target."
While this scam is still considered pretty rare – "it's very scary," Hutt further emphasized.
If you believe you have been a victim of this scam, you can file a complaint online with the FBI at IC3.gov.
"We can't stop these scam crimes alone and need your assistance to help educate," Detective Lohman said. "Remember, scams stop with you."
Was this article helpful? Read more about current scams and ways to avoid them: