How to Delete Your Social Media Accounts
Whatever the reason, there are times when you might want to kill one or more of your social media accounts. But it turns out that it isn't always easy to do. In this guide, we'll show how to permanently delete your Facebook, Twitter, Instagram, and Google+ accounts.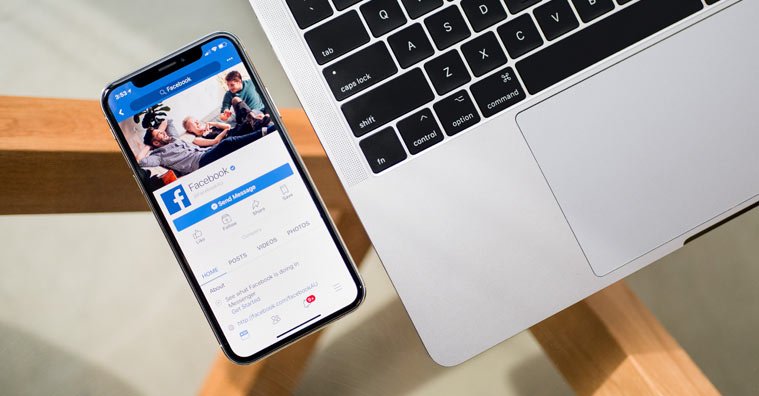 The New York Times recently reported that during the 2016 election, voter-profiling company Cambridge Analytica harvested the private information "of more than 50 million [Facebook] users without their permission," thereby creating "one of the largest data leaks in the social network's history."
This has led to a swift backlash from American and British lawmakers, as well as the stock market and the public at large. In fact, in another NY Times article, Tiffany Hsu indicates that this debacle is acting as a 'last straw' for many users—including some celebrities like Cher—to erase their accounts and jump on the #DeleteFacebook bandwagon.
Regardless of the platform you're thinking about deleting or your rationale, this guide will help you quickly learn how to efficiently take a break from the most popular social media sites.
Deleting a Social Media Account Is Not Always Straightforward
Deciding to exit the social media scene might be simple enough, but deleting your information could end up being more complicated than you're expecting. Why?
The bottom line is that Social media companies use your information to make money, primarily in the form of advertising (Facebook earned $10.14 billion in ad revenue during the last reported quarter alone). Therefore, the less information they have from the pages you visit, the information you share, and the things you "like," the less money they stand to bring in.
As a result, from storing files to sending emails prompting you to reactivate your account, many social media platforms have made it extra-complicated to completely delete your information. To help you disengage, here's a guide to getting rid of four of the most popular social media platforms.
» For Further Reading: What Facebook Knows About You and How They Profit Off Your Private Info
How to Delete Your Facebook Account
Before diving in, let's quickly make an important distinction: Deleting vs. deactivating Facebook.
If you've ever deactivated your Facebook account, you may have noticed that everything goes back to normal the next time you log in—as if nothing has happened.
That's because deactivating and deleting your Facebook account are two different things. Here's how Wired's Gordon Gottsegen and Josie Colt explain it:
"When you deactivate your account, you are just hiding your information from searches and your Facebook friends. Although nothing is visible on the site, your account information remains intact on Facebook's servers, eagerly awaiting your return."
With this distinction in mind, deactivating your account is as easy as going into your settings, clicking Security, and then the Deactivate Your Account link.
On the other hand, deleting your Facebook account is slightly more involved, although Just Delete Me ranks it as only "medium" in difficulty.
The easiest way to do so is by clicking the lock icon in the top-right corner. Then, click the search icon and type "delete account," which will bring you to the appropriate page. (Facebook provides more help here.)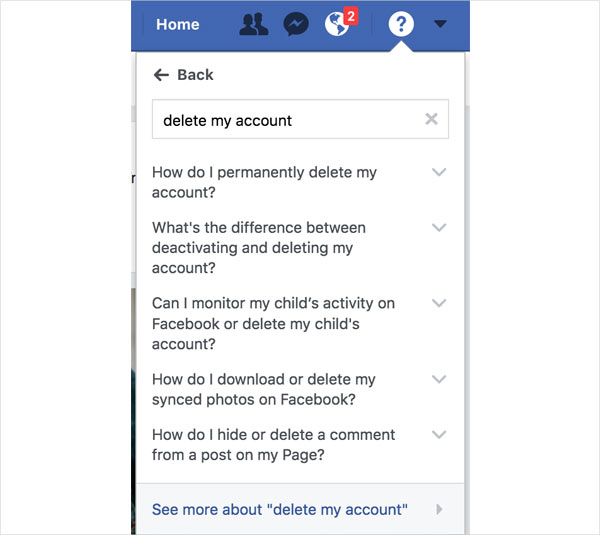 To delete your account, click on the lock icon in the top-right corner, then the search icon, then type "delete account."
Once you fill out the form on this page, Facebook will permanently delete your account. However, they don't do this until 14 days after you submit your request—in case you change your mind.
If you do decide to get rid of your Facebook account, you may want to download your archive before doing so. The information downloaded includes everything from the photos and statuses you've posted, to the ads you've clicked and IP addresses you've used. The list of what's included is extensive, but you can view it in its entirety here.
Note: Due to the nature of this data, you'll want to keep it in a safe place.
All set? Returning to the Wired article, they instruct:
"Go into Settings > General Account Settings > Download a copy of your Facebook data and then click 'Start My Archive.' When your download is ready, Facebook will send you an email with a link to download. For added security, this link will expire after a few days, so it's best to use it quickly before you lose resolve."
» See Also: 6 Current Facebook Scams and How to Avoid Them
How to Delete Your Twitter Account
Maintaining a properly manicured Twitter account can take a lot of time. The good news is that deleting one can be done in just a few minutes.
Do you have a history of tweets that you're particularly proud of? Before you delete your account, you may want to download your archive. This will include all your tweets in chronological order, which is great if you want to relive your highlight reel in the future.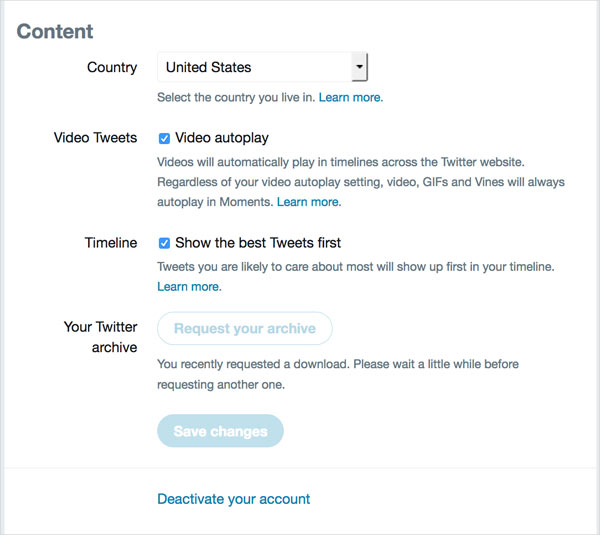 The Content section of Twitter's account settings page.
To download your archive, click your profile icon, then hit Settings, followed by "Request your archive." It'll take some time for Twitter to get your archive ready, but when it is, they'll send an email with a download link for a .zip file.
To delete your Twitter account, visit your account settings page, scroll to the bottom, and click the "Deactivate my account" link. This will completely delete your account, although it will continue showing up in searches for a few weeks.
How to Delete Your Google+ Account
Because Google+ is connected to the entire Google universe—including your Gmail account—deleting it can be a bit trickier.
Do you only want to remove your Google+ account and profile? Visit this website and click on the "Delete Google+ content" link, which will allow you to retain any other Google services you have.
On the other hand, if you want to close your entire account (which will also delete services like email, calendar, checkout, and so forth), start by signing into your primary Google Account homepage. Once there, click on the "Close account and delete all services and info associated with it" link.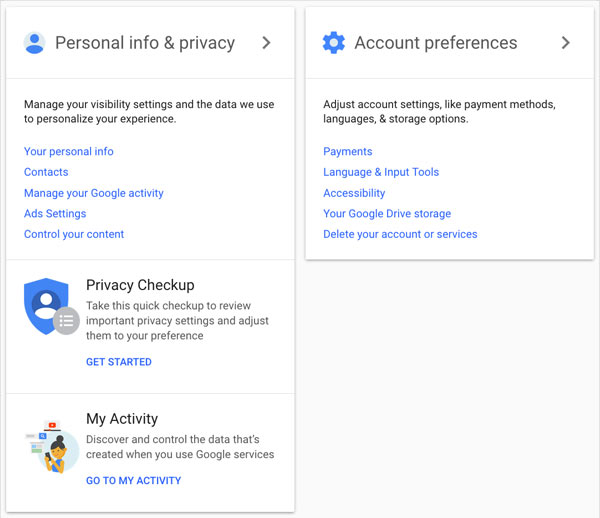 Google's account homepage.
How to Delete Your Instagram Account
Even though Instagram requires that you use a mobile phone to start an account, you can't delete your account through the app. Instead, you'll have to log in via the web.
Unlike Facebook, though, Instagram makes permanently getting rid of your account as easy as visiting the Delete Your Account page, entering your password, and clicking "Permanently delete my account."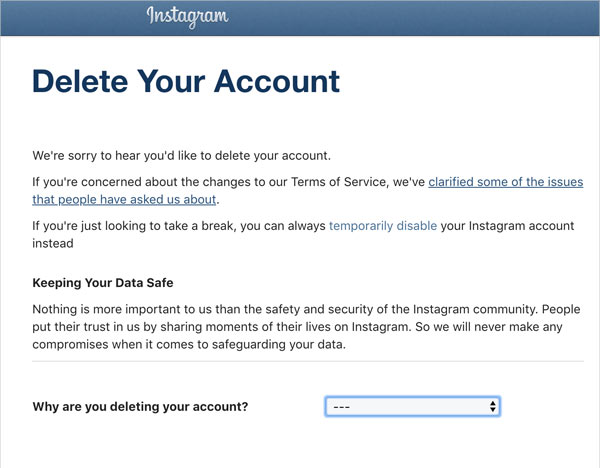 Instagram's Delete Your Account page.
Pros & Cons of Deleting Social Media Accounts
As difficult as some social media platforms make it for you to delete your account, the real complication relates to life after social media. For many age groups, social media messaging is now as normal a conduit for communication as email or telephone numbers.
If you're still up in the air as to whether to delete, here are a few commonly listed pros and cons:
You'll Experience Increased Productivity
Without the constant distraction of Tweets, Facebook notifications, and Tumblr notes, you'll have more time to focus on other important projects or endeavors.
How much more time? Let's consider that you probably check Facebook, alone, a few times a day. Assuming you don't fall down the rabid rabbit hole of reading status updates, clicking to see more, then updating your own, it might only be five minutes.
If you do that every hour of an eight-hour workday, that's 40 minutes. In a five-day week, that's 3.33 hours. In a year, that's 7.2 full days. If you've been on Facebook since 2007, that's about seven entire weeks! Almost two months of your life gone—at a minimum.
Regardless of whether you can even limit your browsing to 40 minutes a day, it's a great feeling to be able to accomplish things when you can limit distractions from the outside world—and often, social media can be a big one.
You'll Be Forced to Seek Out Face-to-Face Interactions
Another great aspect of not being active on social media is that it forces you to interact with friends and loved ones on a level beyond a computer or phone screen. There aren't enough likes, comments, or shares that can show someone you care about them.
You might even find that you can communicate more effectively. Most important, being physically present in someone's life is immeasurable, and the emotional bond that you build with someone is far more significant than transient social approval.
However, You May Feel Out of the Loop
One downside to no longer being active on social media is that you won't have immediate access to knowing what's going on with friends, family, and other loved ones. This holds especially true for those who live far away—or those who've fallen from friend to acquaintance due to lack of regular contact.
You Might Even Miss Out on New Opportunities
Millions of people around the world use social media to connect with one another based on sharing common personal and professional interests.
Although in-person networking opportunities still exist, there's a wider net cast when social media is involved. You may find yourself developing connections that wouldn't have formed without social media.
Final Considerations Before Closing Out
When model Essena O'Neill abruptly quit all of her social media accounts—with more than a million combined followers—in 2015, she said, "the trouble with the attention you get on the Internet is that it's both fickle and fleeting—once you get a little, you might find that you spend an unhealthy amount of time chasing more of it."
Or, arguably worse, as we're learning from the Facebook and Cambridge Analytica story noted at the beginning, you might find that all of your information falls into the hands of a company who may or may not align with your core ideals.
But, before deleting your Facebook, Instagram, Google+, or Twitter accounts, consider how frequently you use these platforms to keep in touch with those you value: Do you talk on Facebook? Do you exchange e-mails? Do you call one another?
Consider how things would change if you were to delete your accounts. Investigate different possibilities; consider people's open-mindedness and availability. Would you still have access to the same individuals? Would your Twitter friends, for instance, be willing to communicate with you through other means? Would you still be granted access to key information in one another's lives?
Finally, before you go through the trouble of deleting your accounts, consider whether or not you'll want to come back later. It's worth noting that taking a social media sabbatical can have the same effect, while still providing you with a handy place to keep in touch with friends once you're ready again.
» Read Next: How to Keep Your Children Safe on YouTube