Mortgage 101: What You Need to Know About Home Loans
Mortgages are complex financial products that require an understanding of interest, lending, and other factors. This overview helps you prepare yourself for the many details you'll face when buying a home.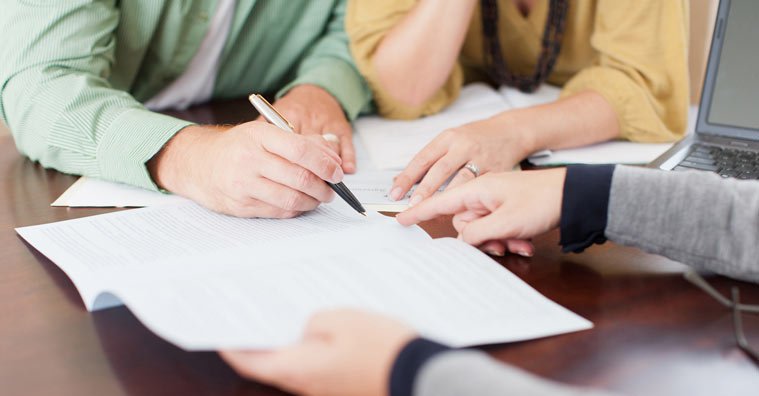 Mortgages are overwhelming.
Having a guide to understand them can go a long way in preparing you for what's ahead. As someone who has bought a home for the first time in the past two years, I can tell you that all the terminology, paperwork, and waiting is stressful.
Knowing this, we wrote this Morgage 101 guide not so much to serve as a dictionary of terms you've never heard of before, but as a way to identify the most important things you should know about the main components of a mortgage and the subsequent application process:
Interest rates
Types of mortgages
Credit scores
Choosing a mortgage lender
Closing day
For each of these topics, we'll include our own expertise along with the insight of mortgage experts from around the country.
Interest Rates: What You Need to Know
Interest rates and mortgages can be a deceptive topic. It's a general rule that lenders, whether they're all online like Quicken Loans' Rocket Mortgage or banks like Wells Fargo, will post on their website the absolute lowest interest rates they can offer.
The interest rate you get is something that's the result of dozens of calculations based on your unique financial situation so, while a site may advertise a rate as low as 4.25%, there's a good chance yours will be higher.
Also, remember that mortgages for bad credit will have higher interest rates than mortgages for those with good credit. Lenders see your bad credit as a risk and, therefore, will charge you more to get your mortgage.
Here are some additional thoughts from our experts:
Don't Give in to the Low-Rate Marketing
"Don't be lured by advertised rates that are lower than the market. Lenders who advertise rates are like doctors who make a diagnosis without performing an exam. Rates are very individualized, and based on many different factors; credit score, down payment, loan amount, lock term, property type, etc." – Michael Mandis, Alliance Mortgage Funding
Lock in Your Rate
"Your interest rate is not your rate until you lock it in with your mortgage lender. The length of time you need to lock the rate also affects the rate and the cost. Most mortgage rate quotes are 30-day rate lock quotes so if you need a 60-day rate lock, then you will need to pay a fee for a longer rate lock or you will need to take a higher interest rate. The interest rate is also not the only component of your mortgage payment." – John Thomas, Primary Residential Mortgage, Inc.
Types of Mortgages: What You Need to Know
Finding the right mortgage can be a frustrating endeavor but, with the help of the right mortgage lender, you can find the best fit for your particular situation. Most mortgages out there fall into the following categories:
Federal Housing Administration, or FHA loans
Veterans Affairs, or VA loans
Jumbo loans
USDA loans
Conventional loans
The FHA, VA and USDA loans are part of government programs. The FHA loan is best known for its low down payment of 3.5%, although, as we pointed out in our article on mortgages for first-time homebuyers, your credit score has to be at least 580.
VA loans are designed for members of the military (active, reserve, retired, National Guard). These mortgages don't always require a down payment and credit scores don't play as heavily into the rates as they would for other loans.
USDA loans are another government program through which you can get funding for a home that's located outside of urban areas (as designated by the USDA).
Jumbo loans, also known as "non-conforming" loans, are designed for homes that cost more than, in most cases, $453,000. And, finally, conventional loans are regular loans not attached to a government program and typically have low interest rates than the other mortgages we listed in this section.
Here's what our expert had to say about the most important things about mortgage types:
Options Work to Your Advantage
"Choose a lender that offers a wide array of programs – not just the standard 30-year fixed rate. A specialist who can offer VA, FHA, renovation loans, modular home loans, Jumbo, down payment assistance programs, etc., can often find the best program for you." – Bill Packer, executive vice president, eLEND
Mortgage Brokers Can Be a Big Help
"Most borrowers fall into one of four vanilla type mortgages: FHA, VA, conventional conforming, and Jumbo, and any lender or Mortgage Broker can serve your needs. If you have a unique situation, requiring 'out-of-the-box' solutions, contact a good mortgage broker. They work with many different lenders, each offering various niche mortgage programs." – Mandis, Alliance Mortgage Funding, Inc.
Credit Scores: What You Need to Know
Mortgage lenders take many factors into account and one of the most crucial is your credit scores and credit history. What your credit report reveals is an indication of how reliable you are as a borrower. And, since the lender is giving you hundreds of thousands of dollars, they want to be positive that you're the kind of consumer who will pay them back.
The last thing a lender wants is to see you stop making your payments, watch the house go into foreclosure and then have to deal with recuperating the cost of the money they lent you. From their perspective, credit scores help them weed out the unreliable borrowers.
Based on our research, we believe that you can greatly increase your chances of getting approved for a mortgage by getting your credit scores above 700. It's not something you can do overnight, but there are ways to increase your credit scores quickly.
Another advantage is that higher credit scores will most likely get you lower rates, provided other areas of your finances are in order (low debt payments each month in relation to your monthly income [DTI] is one of them).
As we mentioned earlier, FHA loans are available to those with credit scores of 580 or higher. If you have scores lower than that but higher than 500, you may be able to get an FHA loan if you can make a 10% down payment.
Do Everything You Can to Keep Your Scores High
"Your scores are important for any lender. They will have a big influence on the interest rate and different loan programs you can qualify for. You always want to keep your scores as high as possible." – Jason Barnes, Atlantic Reverse Mortgage
You Have Options...Even With Low Credit Scores
"If you have tended to your credit, congratulations – you've earned the best rate. But even if you haven't, many mortgage programs can still offer you a great rate, especially if there is a legitimate documentable reason (e.g. loss of a job, an illness, a sick spouse or child, or other temporary situation) and you are willing to spend a little time with a credit counselor." Packer, eLEND
Choosing a Mortgage Lender: What You Need to Know
As if picking the right mortgage wasn't hard enough, you're faced with hundreds of different mortgage lenders who want your business. Trying to figure out which one of those lenders is the best fit for you is a choice that, like mortgages, is based on your particular financial situation.
But, in general, our device is to find a mortgage lender with which you feel comfortable after your first conversation. The loan officer working on your mortgage application is going to be your main point of contact regarding where you are in the process and which paperwork is need to complete your application.
Customer service is an important part of the process, as you can see, and that's why we rely on J.D. Power's mortgage origination customer satisfaction survey to provide guidance as to which lenders may be the best for you.
According to their 2017 study, which is based on the experience of consumers with whom they've spoken, here are J.D. Power's top-five mortgage lenders:
Guild Mortgage Company
Quicken Loans
PrimeLending
Regions Mortgage
Fairway Independent Mortgage
Now, these rankings aren't a guarantee that you'll have a stellar experience. However, they're a solid place from which to start. My wife and I used PrimeLending to close our loan and we were extremely happy with the way our loan officer worked on our behalf to find the right lender.
But, again, our experience and J.D. Power's results aren't a guarantee that your mortgage application experience will be flawless and enjoyable.
On that note, here are the perspectives of our experts:
Go Local
"Choose a local lender. Get a recommendation from friends and read their online reviews. The experience of others will likely be your experience. Check their rates, are they competitive? Do they ask relevant questions? Are they available evening and weekends? Off-hour availability is critical if you are going to be a successful home buyer." – Mandis, Alliance Mortgage
Take Your Search Seriously
"It is important to work with a lender that will take the time to educate you on your loan options and discuss the short-term versus long-term benefits of each program, term, adjustable versus fixed, etc. Shopping for a lender should be viewed more like shopping for an attorney or doctor not like shopping for coffee. Choosing the wrong lender could cost thousands of dollars and/or cost a potential buyer their dream home." – Thomas, Primary Residential Mortgage, Inc.
Start Early
"Planning ahead is prudent. Start talking to a mortgage professional 3-6 months before you plan to purchase a home. Have a professional go over your income, assets, employment, and credit as if you were ready to apply for a loan today. By being proactive, you can identify circumstances that can be improved or items that may need to be addressed in order to obtain the best options available." – Donald Anfuso, Homeland Lending LLC
Closing Day: What You Need to Know
Your closing day is going to be an exciting and nerve-wracking one. You'll need to sign dozens of documents. The final bits of your funding have to go through. Any requirements listed by the lender need to be met. And, if you're lucky, you'll get to meet your loan officer if you haven't done so.
Also, in most states, this is the day you get your keys and walk into your home for the first time as owners, not potential buyers.
It's definitely a thrilling day – and tiring. However, our experts gave us some excellent tips that you should keep in mind the day of closing. These bits of advice go beyond the usual platitudes and provide some crucial reminders about your big day:
Triple-Check Everything
"To ensure that everything goes smoothly on your closing day, make sure you've triple-checked that you've done everything you need to. This includes having all required documents, including your certified check, making sure you've asked all pertinent questions, staying in contact with all parties leading up to closing day, and of course, working with the best possible mortgage professionals." – Anfuso, Homeland Lending
Review Your Estimated Closing Disclosure
"Your lender is required to provide an estimated closing disclosure at least 3 days before your closing so you should be prepped for anything you see at closing. The closing agent can walk you through the myriad closing documents needed at closing but while there are a lot, they are all similar." – Barnes, Atlantic Reverse Inc.
Our Final Thoughts on the Most Important Things You Need to Know About Mortgages
One of the best things you can do for yourself when it comes to mortgages is to educate yourself as much as you can before filling out your first application.
In addition to the information we presented above, we think it's important for you to apply the age-old principle of getting multiple quotes. Talk to several different mortgage lenders and get pre-qualified by all of them.
Doing so will give you an idea of how much they'll approve you for and roughly at which rates. From there, you can combine your feel for the loan officer along with the amount and rates they quote and decide which lender is best.
Should you take Anfuso's advice, starting early will help you sort out issues with your credit report that can lead to better rates and save you thousands over the life of your loan.
» See Also: First-Time Homebuyer Tips That Will Help You Avoid Costly Mistakes