Natural Appetite Suppressants 101: A Beginner's Guide
Natural appetite suppressants are foods or supplements that stop you from feeling hungry. Learn what they are, how they work, potential side effects, and healthier alternatives to taking them.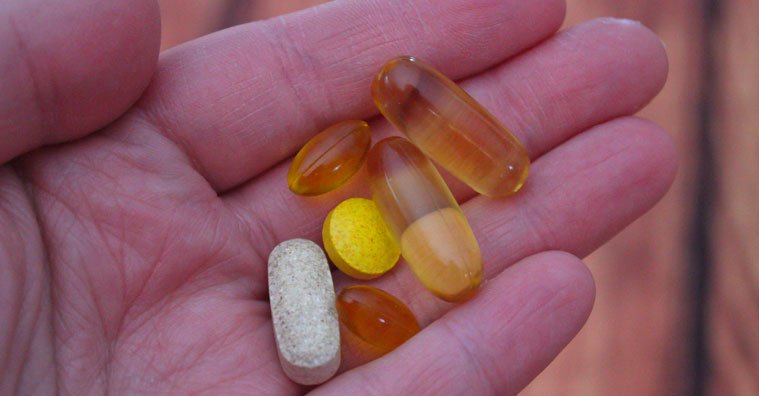 Natural appetite suppressants, which are foods or supplements that can prevent hunger, are often sought out by people wanting to lose weight. Some of these include herbal teas, a fiber extracted from yams, omega-6 fatty acids and even coffee.
This article takes a look at natural appetite suppressants, including what they are, how they work, potential side effects, and healthier ways to prevent hunger through simple lifestyle changes, like drinking more water, eating more fiber and engaging in regular exercise.
What Are Natural Appetite Suppressants?
Appetite suppressants are foods or supplements that stop a person from feeling hungry, explained Dr. Monica Flora, who is board certified in family medicine with special interest in obesity medicine.
You have naturally occurring appetite suppressants, and you also have anti-suppressant pills which can either be prescribed or over-the-counter – which are non-natural, said Dr. Flora.
The over-the-counter appetite suppressant pills do not have adequate studies showing their effectiveness, and they can also come with dangerous side effects, Dr. Flora warned. Natural appetite suppressants, on the other hand, can include her favorite, which is coffee, as well as the following:
Fenugreek (an herb similar to clover)
Glucomannan (a fiber extracted from the roots of the elephant yam)
Gymnema sylvestre (a shrub that's native to the tropical forests of India)
Caralluma fimbriata (an edible cactus from India)
Green tea (made from Camellia sinensis leaves)
Conjugated Linoleic Acid (an omega-6 fatty acid)
Garcinia cambogia (a tropical fruit also known as the Malabar tamarind)
Yerba mate (an herbal tea made from the leaves and twigs of the Ilex paraguariensis plant)
Natural appetite suppressants can also include something as simple as drinking a lot of water, which makes you feel full, said Robert Ferguson, CEO of Diet Free Life who is a certified nutritionist, author, and speaker. "Eating protein is another way, and eating a lot of food rich in fiber, because it satiates a person to not feel hungry."
How Do Natural Appetite Suppressants Work?
Depending on the natural supplement, they usually work by reducing your appetite, keeping you full, delaying gastric emptying, and also send feedback to your appetite suppressant hormones, explained Dr. Flora, who noted the following:
Using high-fiber supplements can make you feel full and delay gastric emptying.

Supplements can increase the serotonin levels in your brain, thereby increasing your feeling of satiety and help you decrease your carbohydrate intake.

Products rich in caffeine reduce food intake and also alter your hormone levels. They also have the added benefit of increasing your metabolism.
Ferguson added that his "go-to" drink when he doesn't want to overindulge in food is a cup of coffee, because "it boosts your energy, and when you're drinking coffee, it makes you not want to eat."
Soup is another great option because it has the same effect. "There are people who live on hot broth when they don't want to eat because it fills you up and you feel satiated."
Phytochemicals in the Control of Human Appetite
Phytochemicals, found in food items and herbal preparations, could potentially alter appetite beyond the effects expected by normal nutrient loads, according to a study published by the National Institutes of Health entitled, "Phytochemicals in the Control of Human Appetite and Body Weight."
The effects of certain phytochemicals in the regulation of appetite include the following:
Korean Pine Nut Oil: Korean pine nut free fatty acids "significantly increase" the release of satiety hormones such as cholecystokinin, which produces "a subsequent increased feeling" of satiety and a decreased appetite.

Palm Oil+Oat Oil Fractions: Olibra®, a fat emulsion formulated from palm oil and oat oil fractions, has a similar mechanism of action to Korean pine nut oil, increasing and prolonging the release of peptides that can generate an indirect satiety effect. Double-blind, placebo-controlled reports indicate that Olibra® administration to lean, overweight and obese individuals "significantly reduced hunger and desire to eat."

Garcinia Cambogia is a tree indigenous to Southeast Asia, and hydroxycitric acid is mainly extracted from the dried and cured pericarp of the fruit of this species. These pericarp rinds are reported to make meals more filling and satisfying without any reported harmful effects, and therefore hydroxycitric acid may promote weight reduction through reduced food intake.
Side Effects of Natural Appetite Suppressants
Many of the appetite suppressants have a mild benefit if used with a healthy diet and moderate amount of exercise, said Dr. Flora, adding that there are some that are more effective than others.
While natural appetite suppressants are usually safe, Dr. Flora always recommends speaking to your primary care physician, especially if you're starting any over-the-counter supplements, because many of them can interact with your prescribed medications, or some may worsen pre-existing symptoms from other medical conditions which you may have.
Natural appetite suppressants can also lead to malnourishment, Ferguson warned, because you may not be giving your body what it needs in terms of adequate vitamins, minerals and other factors.
As a result, "you're deficient, and the next thing you know, your hair and nails aren't as healthy. There are a lot of negative effects when you're purposely trying not to eat."
According to Dr. Flora, each appetite suppressant comes with its own side effects. For instance:
Conjugated Linoleic Acid can cause diarrhea, gas, and liver damage.
Garcinia Cambogia can cause nausea, headaches, and increase your chance for liver failure.
Glucomannan can cause abdominal pain, nausea, constipation and diarrhea.
Guarana is high in caffeine and can cause headaches, jitteriness, increased pulse, and anxiety.
Many of the natural appetite suppressants are safe, Dr. Flora noted, however, "they tend to cause palpitations, so for those with anxiety or heart problems, it may not be a good fit."
Some can also cause liver damage, so for those who have issues relating to the same, natural appetite suppressants should be avoided.
"As a general rule, consult with your primary care physician prior to starting any of the supplements so that we can look at not only the main ingredient but also the additives to ensure they do not interact with your general health issues and/or medications," Dr. Flora advised.
Better Alternatives to Taking Appetite Suppressants
In general, Dr. Flora doesn't believe in over-the-counter supplements, because "when you eat healthy and maintain an active lifestyle, there should be no need for supplements."
Lifestyle changes can be a better alternative to taking natural appetite suppressants, which can "make a drastic difference in weight," Dr. Flora advised. These include the following:
Avoid carbonated beverages
Avoid refined sugars
Avoid artificial sweeteners
Avoid processed food
Engage in at least 30 minutes of moderate aerobic activity 5 days a week
Additionally, "don't go long periods of time without eating – if you go a long time without eating, you'll probably overindulge," Ferguson said. Additionally, "eat good protein, and a lot of fiber-rich foods, like fruits and vegetables. Eating healthier is going to make you not as hungry."
The Bottom Line
Supplements alone do not seem to make a dramatic difference, said Dr. Flora, who is a big proponent of natural ways of maintaining weight through lifestyle changes.
"The supplements can only help so much – a well balanced diet, exercise, drinking plenty of water are definitely the way to go," Dr. Flora recommended. "Patients should eat healthy, cut portion sizes and exercise daily." In addition to an aerobic exercise, "implementing strength training can help."
People should also remember: "there are side effects to anything we put in our body," Dr. Flora added.
It's also important to work on your coping skills, Ferguson advised, especially with ways to cope with stress, because stress "tends to stimulate people's eagerness to want to eat. So when you learn how to de-stress, you won't be as hungry."
"The question is: why are you suppressing your appetite?" Ferguson added. "Perhaps it's because you really don't know how to eat. You're chasing the effects and not addressing the cause. It's all about learning how to eat in a way that you improve your body composition, and you won't need an appetite suppressant."
» Additional Resources: