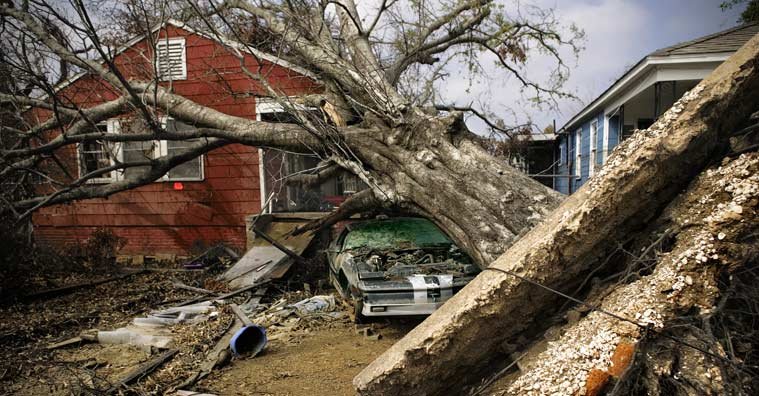 The Better Business Bureau and Federal Trade Commission are warning the public about scams that arise after natural disasters in an attempt to rob innocent victims.
The recent aftermath of Hurricanes Harvey and Irma has made way for current scams. However, the inner workings of these scams will remain timely as long as criminals are taking advantage of natural disasters to steal money from unsuspecting individuals.
This article takes a look at common scams that arise as a result of natural disasters, including charity, debris cleanup, home repair, remodeling and flood insurance premium scams. There's also a scam called the storm chaser scam, which is essentially a variation of the remodeling and repairman scams.
We've obtained valuable information from the BBB and FTC, which offer specifics about these scams as well as ways to detect them. Experts from the BBB and FTC also offer their advice on what action to take if you believe you've been a victim of a scam associated with a natural disaster.
Charity Scam Takes Advantage of Your Generosity
Some scammers will exploit natural disasters to appeal to an individual's sense of generosity. The FTC is urging the public to be cautious of potential charity scams and recommends doing some research to ensure that your donation will go to a reputable organization that will use the money as promised.
The FTC also offers the following tips to consider before you make a donation:
Donate to charities you know and trust with a proven track record in dealing with disasters.

Be alert for charities that seem to have sprung up overnight in connection with current events. Check out the charity with the BBB Wise Giving Alliance, Charity Navigator, Charity Watch, or GuideStar.

Designate the disaster so you can ensure your funds are going to disaster relief, rather than a general fund.

Never click on links or open attachments in emails unless you know who sent it. You could unknowingly install malware on your computer.

Don't assume that charity messages posted on social media are legitimate. Research the organization yourself.

When texting to donate, confirm the number with the source before you donate. The charge will show up on your mobile phone bill, but donations are not immediate.

Find out if the charity or fundraiser must be registered in your state by contacting the National Association of State Charity Officials. If they should be registered, but they're not, consider donating to another charity.
The BBB Wise Giving Alliance is advising the public to help as much as they can in the relief efforts – but to help with caution and make sure your donations get to the people who need it most.
"The devastation caused by [natural disasters] prompts us to do what we can to help as soon as possible," said H. Art Taylor, president and CEO of BBB Wise Giving Alliance. "But donors need to be aware of some key cautions so that their generosity will get to those in need quickly."
BBB Wise Giving Alliance suggests that donors keep the following tips in mind to help avoid questionable appeals for support:
Verify the trustworthiness of soliciting relief organizations by visiting Give.org to access free reports that specify if the charity meets the 20 BBB Standards for Charity Accountability.

See if the charity has an on-the-ground presence in the impacted areas. Unless the charity already has staff in the affected areas, it may be difficult to bring in new aid workers to provide assistance quickly. See if the charity's website clearly describes what the charity can do to address immediate needs.

Find out if the charity is providing direct aid or raising money for other groups. Some charities may be raising money to pass along to relief organizations. If so, you may want to consider "avoiding the middleman" and giving directly to those that have a presence in the region. Or, at a minimum, check out the ultimate recipients of these donations to see whether they are equipped to provide aid effectively.

Be cautious about gifts of clothing, food or other in-kind donations. In-kind drives for food and clothing, while well intentioned, may not necessarily be the quickest way to help those in need – unless the organization has the staff and infrastructure to distribute such aid properly. Ask the charity about its transportation and distribution plans. Be wary of those who are not experienced in disaster relief assistance.

Understand crowdfunding. Keep in mind that some crowdfunding sites do very little vetting of individuals who decide to post for assistance after a disaster, and it is often difficult for donors to verify the trustworthiness of crowdfunding requests for support. If you decide to contribute via crowdfunding, it is probably best to give to people who you personally know that have posted requests for assistance. For more Give.org tips on crowdfunding, check out this Wise Giving Wednesday post.

Phases of disaster relief. Remember that every disaster has several phases – rescue, emergency relief, and recovery. Each part relies on public support and continuing funding for success. The need for donations doesn't stop when the headlines do.

Recovery timeline. For many communities, recovery will be a long-term activity that can take many months or years to accomplish, depending on the extent of the damage. Those truly concerned about helping communities bounce back will have many opportunities to help.

Disaster planning. Although it may seem obvious, no one wants to experience a repeat performance of a disaster. Areas that work toward recovery will probably also need to develop plans to better respond to a similar storm in the future. Even those that already had measures in place can find ways to improve based on experience.
Robocall Scam Says Flood Insurance Premiums Are Due
Frank Dorman, a public affairs specialist with the FTC, noted that FEMA reported a robocall scam where the message states that your flood insurance premiums are due.
"In order to have coverage for Hurricane Harvey, consumers are told they need to submit a payment immediately," Dorman noted. "Don't do it. Instead, contact your insurance agent."
The agent who handles your homeowners or renters insurance policy could be the same agent who handles your flood insurance policy. If your agent can't help you, contact your insurance company.
If you suspect fraud, call the FEMA Disaster Fraud Hotline toll free at 1-866-720-5721. Also, report it to the FTC. Your reports help the FTC and other law enforcement agencies bring scam artists to justice and put an end to unfair and misleading business practices.
Debris Clean-Up and Removal Scams
After natural disasters, unlicensed contractors and scammers often come into the affected area promising quick repairs at discount prices, Dorman warned.
"Always ask contractors for references and call previous clients," Dorman said. "Write down the driver's license and vehicle information – make, model, and license plate number – in case you need to report the contractor to authorities."
It's also important to be skeptical of people promising immediate clean-up and debris removal.
» See Also: Tips for Finding a Reliable Home Contractor
"Some may demand payment up-front for work they never do, quote outrageous prices, or simply lack the skills, licenses, and insurance to legally do the work," Dorman said.
The FTC offers the following tips to protect yourself, your property, and your money:
Check with local officials to find out whether tree and debris removal contractors need to be licensed in your area. If so, confirm that the license for the contractor you're considering is current. Never sign any document or pay any contractor before verifying their license.

Ask a contractor to provide their license and certificate of insurance once they are on your property. If a contractor tells you certain work is covered by your insurance, call your provider to confirm.

Get a written estimate and sign a written contract that includes a description of the work to be performed, what materials are included, when the work will be finished, the price, and the address and phone number of the contractor. Read all agreements carefully before you sign. Make sure all blanks in a bid or contract are filled in. Speak with your neighbors about what they are paying for similar work.

Pay with a credit card or check, and be wary of contractors who ask for a deposit in cash or to be paid in cash. Negotiate a reasonable down payment with full payment to be made only upon satisfactory completion of work.

Trust your gut. If you have any doubts about hiring someone or entering into a contract, take your business elsewhere.
Remodeling, Repairman and Storm Chasers Scam
These three scams are essentially the same thing, according to Katherine R. Hutt, BBB national spokesperson.
"Storms, tornadoes, floods, wildfires, and other natural disasters often bring out the best in people, as strangers reach out to help others in need," Hutt said. "Unfortunately, the aftermath of a crisis also brings out contractors taking advantage of those who have already been victimized."
The BBB is warning homeowners affected by natural disasters to beware of "storm chasers" and out-of-town contractors soliciting businesses.
"Although not all storm chasers are scammers, they may lack the proper licensing for your area, offer quick fixes, or make big promises they can't deliver," Hutt said.
BBB offers the following tips for victims of natural disasters:
Do your research. Find businesses you can trust on bbb.org. "We have BBB Business Profiles on more than a million home contractors," Hutt said. "Check your state or provincial government agency responsible for registering and/or licensing contractors."

Resist high-pressure sales. Some storm chasers use tactics such as the "good deal" you'll get only if you hire the contractor on the spot. "Be proactive in selecting a contractor and not re-active to sales calls on the phone or door-to-door pitches," Hutt advised. "Disaster victims should never feel forced to make a hasty decision or to choose an unknown contractor."

Be especially careful of door-to-door contractors. Many municipalities require a solicitation permit if sales people go door-to-door. "Ask for identification," Hutt recommended. "Check their vehicle for a business name, phone number, and license plates for your state or province."

Get at least three estimates. Hutt suggested getting quotes in writing. "Don't accept estimates over the phone, and be wary of very low estimates, which could set up a bait and switch tactic," she warned.

Know your rights and responsibilities. "Check with your town or municipality to see what permits contractors need to work on your property," Hutt said. "Check with your insurance company to make sure your liability insurance covers falls or injuries to contractors."

Don't pay for the job in advance. "Be wary of any contractor who demands full or half payment upfront," Hutt warned. "Insist that payments be made to the company, not an individual." Additionally, "Pay by credit card, if possible; you may have additional protection if there's a problem."

Get a written contract. "Make sure it specifies the price, the work to be done and who will do it, the amount of liability insurance coverage maintained by the contractor, and a time frame," Hutt recommended. Additionally, "require a copy of their current certificate of insurance."

Be wary regarding places you can't see. "While most roofers abide by the law, be careful allowing someone you do not know to inspect your roof," Hutt said. "An unethical contractor may actually create damage to get work. The same goes for attics, crawl spaces, ducts, and other places you cannot easily access or see for yourself."
BBB is also warning contractors to beware of storm chasers who offer to pay local construction companies substantial amounts of money to use the business's established name, reputation, and phone.
"They masquerade as a local business, collect the insurance money and then move on, leaving the real business to deal with unsatisfied customers due to bad workmanship, unfinished work or unfulfilled warranties," Hutt warned.
The Bottom Line on Natural Disaster Scams
There is a potential risk of identity theft in relation to scams that result from natural disasters, Dorman noted.
"Make sure you know who you are dealing with," Dorman advised. "Ask for identification before you share your Social Security or account numbers."
Scammers sometimes pose as government officials, and ask for your financial information or money to apply for aid that you can request on your own for free, Dorman added.
"Government officials will never ask you for money in exchange for information or the promise of a check," said Dorman, who offered the following page with information about how to keep your personal information secure.
We also created a guide on ways to get back on your feet after a natural disaster.
The biggest red flags relating to scams associated with natural disasters are "unexpected offers of helping you help victims, or helping you recover," Dorman said. "If you suspect fraud, call the FEMA Disaster Fraud Hotline toll free at 1-866-720-5721. Also, report it to the FTC."
"The bottom line is – be aware that scams often follow the news, especially when there's a natural disaster," Dorman said.
» For Further Reading: How to Avoid Financial Ruin from Natural Disasters