Online Surveys: How to Determine Scams from Legitimate Opportunities
Taking online surveys can be a way to earn a few extra bucks or gift cards. But it's also a way for scammers to rob you. Learn how to tell the difference.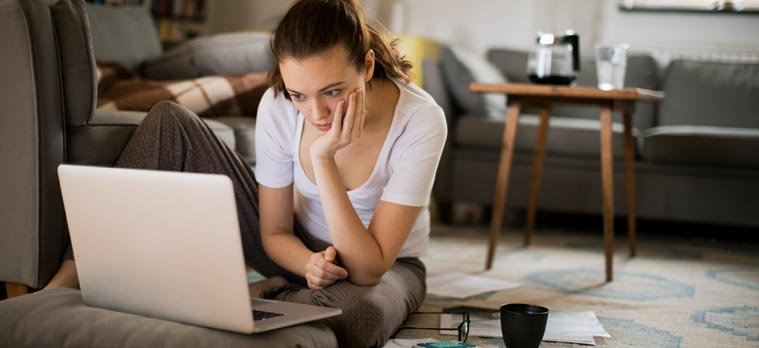 With the internet age, online surveys have become very popular. That's because it's generally more cost-effective for researchers to contact people and collect data electronically.
Unfortunately, the internet has also made it easier for scammers to take advantage of unsuspecting victims who think they're taking a legitimate survey online.
How can you tell the difference between a legitimate online survey and a scam? We've compiled information from the Better Business Bureau, local law enforcement, and other experts, who offer their advice so you don't fall victim to an online survey scam.
Let's begin by taking a look at how much money you could potentially make by participating in surveys online. Then, we'll list the red flags associated with online survey scams, as well as legitimate online surveys that earned an A+ rating from the Better Business Bureau.
Are Online Surveys for Money Legit?
Katherine R. Hutt, a national spokesperson for the Better Business Bureau, said the money a person can make from taking online surveys equals less than working 20 hours a week.
"It's not a full-time job, or even a part-time job," Hutt said.
Payment is usually less than $100 for surveys and focus groups and sometimes is in the form of a gift card. Some research firms also limit how many times you can participate, as they want to obtain a broad range of opinions.
"It can be an enjoyable source of occasional pocket money, but promises that you can make 'big bucks' answering surveys are far-fetched at best, a scam at worst," Hutt warned. "Sometimes the 'big bucks' is a drawing that all participants compete for, but sometimes it's just an empty promise."
If you still want to pursue making money by taking online surveys, consider taking surveys for money as an interesting, part-time or occasional side job.
"If anyone claims you can make a living doing it, you should be concerned and you should definitely do your homework," Hutt said.
Always consider if it's too good to be true, agreed Amy Garcia, an investigator who works financial crimes for the Moorpark Police Department located in Southern California.
"A person should research the company online as people will blog complaints which can save people from falling victim to these scams," Garcia advised.
The Risks of Taking Online Surveys
The use of surveys in scams appears to be on the rise, according to reports filed by consumers to the Better Business Bureau Scam Tracker.
"So far in 2017, we've had 380 reports that include the word survey – that's more than we had in all of 2016 with 347 reports," Hutt noted.
The criminals involved with these scams are attempting to obtain private information, like your credit card or banking account number. Their goal is to use this information to commit identity theft and steal money from your accounts.
This happens when the victim is asked to enter their banking or credit card information. In some cases, when you click on a link, malware infects your computer in an attempt to rob your passwords and other critical information.
» See Also: Common Work-From-Home Job Scams and How to Spot Them
"If people want to participate in surveys, it's always important to work with professionals who are doing the survey research," Hutt advised.
The most important factors to consider: Is the money worth giving up the information that is required of you when you share your opinions? Is there a risk that anything you are sharing could be used against you in the future?
"Always read the fine print about what your information will be used for and whether or not you will be identified with your information," Hutt said.
Before signing up for any online survey opportunity, be sure to know the warning signs that could indicate a scam. The next section covers what to watch out for.
8 Ways to Spot a Survey Scam
1. You are promised a high amount of money that seems too good to be true. Be leery of claims like, "Get A Quick Four Hundred In Exchange For Your Opinion."
2. You are required to pay a fee upfront just for taking an online survey. Anytime you're asked to pay money before you can move forward, chances are the opportunity is a scam.
3. There's no paperwork involved with your earnings, such as I-9 and W-2 forms. Anyone who has worked a legitimate job knows that certain paperwork is required to work and pay taxes in the United States.
4. The company offering the online survey doesn't reveal its exact location. Look for the "contact us" link on the webpage. If all you see is an email box, with no address or phone number listed, it's most likely a scam.
5. The company received a low rating by the Better Business Bureau for factors including complaints that have gone unanswered or unresolved. You can check the company's rating by entering the name at www.bbb.org. When doing this, don't just look at the letter grade – read the complaints and the customer reviews to see what others have to say.
6. You are asked to enter personal information online, such as a credit card or bank account number. Legitimate businesses will never ask for this information. If the company requests your address, confirm the company's privacy policy, and read this policy thoroughly.
7. You are promised a gift card for doing practically nothing, like only answering a few questions. If the online survey is legit, you may be entered into a drawing to receive a gift card. However, few companies offer gift cards for very little work on your part.
8. The URL is brand new, or the ownership is masked by a proxy service. A URL identifies specific pages on the internet. To check this, look up the website by right-clicking on the link itself, and select "copy link address." Paste this into the WhoIs.net directory, which will indicate when a domain is registered, and to whom.
Now that you're aware of the top red flags associated with online survey scams, let's take a look at legitimate opportunities that earned an A+ grade from the Better Business Bureau. Some of these offer money payments, while others allow you to redeem points for gift cards.
7 Legitimate Online Surveys That Scored A+ from the Better Business Bureau
1. Harris Poll Online
Participants offer opinions about various topics, from their favorite bands to presidential elections. Upon completion of surveys, you'll receive "HIpoints," which can be redeemed for rewards in the form or e-cards and gift vouchers for Amazon.com, iTunes, Starbucks and WSJ.
www.harrispollonline.com
2. Inbox Dollars
Individuals can earn cash in a variety of ways, including playing games and shopping online, taking surveys, reading emails and searching the internet. Payment ranges from 10 cents to $18 depending on what you choose to participate in.
www.inboxdollars.com
3. i-Say
Members who engage in surveys and polls earn reward points that can be redeemed for products such as handbags and dumbbells. The more surveys you take, the more points you earn. And if you complete a certain number of surveys, you get even more points. For instance, if you complete 200 surveys, you'll receive 600 bonus points.
www.i-say.com
4. MyPoints
MyPoints offers points for consumers who shop online from companies like JCPenney, The Home Depot, and QVC. Reward points can be redeemed for gift cards to retailers including AMC Theatres, Banana Republic, Bath & Body Works and Applebee's. Members can also get gift cards for taking polls and answering surveys.
www.mypoints.com
5. Nielsen
Members of the Nielsen Mobile Panel use a downloadable mobile app and earn points which can later be redeemed for prizes, such as electronics, gift cards, and home appliances. Individuals can also sign up for Nielsen Digital Voice, which involves downloading software on your computer, and simply surfing the internet. Those who register one computer will be entered into a monthly sweepstake for $10,000, and those who register a mobile device can earn up to $50 a year.
www.nielsen.com/us/en/contact-us/panels.html
6. SwagBucks
Participants earn points by answering surveys, watching videos, shopping online and surfing the internet. Points can be redeemed for Walmart and Amazon gift cards. You can also earn free gift cards and cash back through PayPal when you try special offers.
www.swagbucks.com
7. Valued Opinions
Members complete online surveys, test products from home and participate in diary studies. Rewards come in the form of credit, which can be swapped for gift cards from retailers including Target, Macy's and Amazon.com.
www.valuedopinions.com
The Bottom Line
Legitimate market research companies want to know about interests, spending habits, trends and other factors that affect consumers.
Legitimate online surveys offer ways to earn money or gift cards by redeeming points. However, there are also online survey scams that attempt to steal your personal information and ultimately rob money from your pocket.
Depending on the type of survey, the company may ask fairly personal questions, but they will never ask for financial information.
"Even if the survey was being done for a bank, they aren't going to ask for your bank account numbers," Hutt said. "They are going to ask more about your experience as a customer or about the type of financial products that interest you. Never share your Social Security number, bank account, or credit card number."
If you're in doubt, check BBB.org to see if there's a Business Profile on the company.
"Don't just look at the letter grade – read the complaints and the customer reviews to see what others' experiences have been," Hutt advised.
If there is no business profile, go to bbb.org/scamtracker and search for the company's name, their phone number, website and the street address if you have it – as well as any names of people you've spoken with.
You can also conduct your own research at the Internet Crime Complaint Center – IC3.gov – which shows the prevalence of certain online scams.
"If it's an ongoing scam, you may find reports from others," Hutt said. "Do the same thing at Google or another web search engine. Legitimate companies will have a website, will be mentioned in the news media – and will have an online reputation that will support their claims."
If you suspect you've been a victim, file a report with bbb.org/scamtracker.
"If they can trace an actual monetary loss, they should file a police report," Hutt said. "It's also a good idea to put a notice on your credit reports and consider a credit freeze. The Federal Trade Commission has a great tool – identitytheft.gov – that helps you put together a personalized recovery plan if you've been the victim of identity theft."
» See Also: 7 Legitimate Work-From-Home Jobs That Can Put Extra Money in Your Pocket