Real-Deal vs. Knockoffs: Drugstore Dupes of Your Favorite Cosmetics
Save up to $30 on your favorite cosmetics! We share drugstore duplicates that offer a shade-for-shade matches and similar performance to premium brands.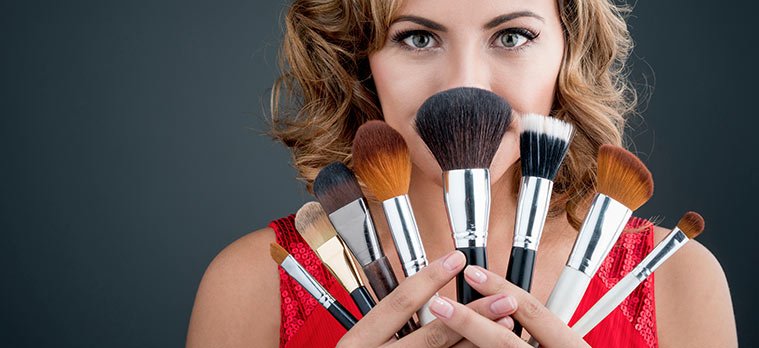 We recently published a review for Airtouch cosmetics brushes, which turned out to be a near-exact knock-off of the much more expensive Artis brush collection.
The review got us wondering what other low-cost beauty products were available—preferably ones that don't skimp on performance.
To make a list, we limited our search to popular, tried-and-true beauty products that have maintained strong endorsements from beauty bloggers for multiple seasons—think Urban Decay's Eyeshadow Primer Potion or Benefit's They're Real! mascara.
Then, a duplicate (aka "dupe") product had to meet one of two qualifications: either be significantly less expensive than the higher-priced alternative without sacrificing performance (e.g., Milani Eyeshadow Primer).
Or, cost moderately less while maintaining a near-exact color match (e.g., dupes for Naked Palettes).
Without further ado, here's a list of products we found that pack the same punch as the original or higher-priced versions while offering steep discounts:
1. Revlon PhotoReady Insta-Fix Stick Foundation ($12) vs. Bobbi Brown Skin Foundation Stick ($46)
With the cooler weather coming in, you might have already started eyeing foundation or base products that offer a little more moisture and coverage. Bobbi Brown Stick Foundation is a go-to fave for beauty bloggers, but the price is less than appealing.
In a direct comparison, vlogger Laura Lee found that Bobbi Brown's pricier version had slightly more yellow undertones when compared to Revlon PhotoReady's more pinkish shade.
Beyond undertones, the two foundation sticks were found to give the same buildable coverage—with Bobbi Brown's version offering just slightly more opacity. Lee followed up to say that both felt similarly weighted on the skin and offered coverage that lasted all day long.
2. Milani Eyeshadow Primer ($6) vs. Urban Decay Eyeshadow Primer Potion ($20)
Eyeshadow primers help your favorite lid pigment pop, prevent creasing, and extend the length of wear by hours. One of the best-known primers, made by Urban Decay, is also relatively pricey.
Enter Milani Eyeshadow Primer—it's almost a quarter of the cost of Urban Decay's version. And, according to the same comparison of dupes-vs-real deal products by Laura Lee, these two products felt and performed the same from initial application through the evening.
Even better, Milani products can be picked up at your local Walgreens, Walmart, or Target, saving you a trip to Sephora.
3. Various Copycat Colors ($3–$20) vs. Kylie Jenner Lip Kits ($29)
Kylie Jenner's Lip Kits each come with a liquid (matte-drying) lipstick and liner and are nearly impossible to snag. Stores that stock the kits often sell out same-day and online availability doesn't last much longer.
This makes it pretty difficult to test out colors before buying—and $29 per kit is quite a commitment.
However, that doesn't mean you have to go without it! We scoured beauty blogs to find the highest rated dupes for almost all of Kylie's signature colors:
Kristen: Kat Von D Everlasting Liquid Lipstick in Berlin ($20)
Reign: Coloured Raine Lip Lacquer in Fame ($17)
Heir: Jouer Long-Wear Lip Crème Liquid Lipstick in Praline ($18)
King K: Milani Amore Mattalics Lip Crème in Chromatic Addict ($8.99)
Literally: Nyx Cosmetics Xtreme Lip Cream in Skin Tone ($6)
So Cute: Rimmel London Show Off Lip Lacquer in Nude Eclipse ($4.99)
Kourt K: MAC Retro Matte Liquid Lipcolour in Oh, Lady ($20)
Candy K: Anastasia Beverly Hills Liquid Lipstick in Pure Hollywood ($20)
Dolce K: Colourpop Ultra Matte Lip in Beeper ($6)
True Brown K: Dose Of Colors Chocolate Wasted Liquid Lipstick ($18)
Koko K: Maybelline Vivid Matte Liquid in Nude Thrill ($6.39)
Mary Jo K.: Sephora Cream Lip Stain in Always Red ($14)
4. Maybelline Volum' Express the Falsies Mascara ($5.69) vs. Benefit's They're Real! Lengthening Mascara ($24)
Some dupes just happen to be a budget-minded swap, but considering the name of Maybelline's product, we're pretty sure they set out to create a carbon copy of Benefit's fan favorite mascara. And, according to thousands of beauty blogger reviews, they did a darn good job!
In my experience, both "The Falsies" and "They're Real" produce a lovely false lash look. However, I find both to be slightly clumpy when first applied.
This is likely due to the high fiber content that lends both formulas their lash-lengthening ability. Either way, it's easy enough to prevent by gently dabbing the mascara wand on a tissue to wipe off any excess before swiping, followed by a quick comb-through with a spoolie brush after the mascara has been applied.
One more note: Benefit's mascara has a plastic, spiked brush, while Maybelline's version sticks with natural-feeling bristles. If you're stuck on keeping Benefit's brush, you can always give one from a previous tube a thorough washing, then use with your next purchase of favorite mascara.
5. W7 Color Me Nude Eyeshadow Palette ($8.39) vs. Urban Decay Naked Palette ($54)
Urban Decay's Naked palettes are the holy grail of eyeshadows. Whether you long for Naked 1, Naked 2, Naked 3, or Naked 4 depends on your skin tone and preference for drama, but chances are you've lusted after at least one of these beautiful 12-shade spreads.
The only problem, of course, is their steep price! One palette will set you back a cool $54. And, if you want the whole collection, your best bet is waiting around for Urban Decay's annual holiday Naked Vault—$300 in 2016 for all four full-size kits, four mini-kits, and several liners.
Not feeling the idea of shelling out a minimum of $216 just to enjoy endless combinations of lid luster? I feel your pain. Sadly, Urban Decay seems to have strong-armed US brands into not copying their token eyeshadow tin.
Well, I almost felt your pain—when living abroad, I got my hands on a W7 Color Me Nude eyeshadow palette, which is a whopping $8.69 a pop and now they're available in America.
Let me repeat: I own this palette, it was a little over eight bucks, and it is a shade-for-shade dupe of Urban Decay's Naked. Even better (yes, better!) you can get all for W7 palettes on Amazon individually or bundle for $31.94.
That's a $184.06 savings on four Urban Decay Naked Palette dupes. You're welcome.
6. e.l.f. Cosmetics Blush ($3) vs. NARS Blush ($30)
NARS blushes are known for their beautiful colors, impressive staying power, and wallet-gutting price.
Can't drop $30 on your favorite NARS blush or bronzer? Thanks to Pinterest, we were able to locate color matches for many of the brand's fan-favorite shades:
Swap NARS Blush & Bronzer for e.l.f. Blush & Bronzer
Swap NARS Orgasm for Milani Baked Blush
Swap NARS Desire for e.l.f. Pink Passion
Swap NARS Deep Throat for e.l.f. Candid Coral
Swap NARS Dolce Vita for e.l.f. Blushing Rose
Know that some reviewers state that, even though the color is the same, they can still tell the difference in quality between higher-priced NARS blushes and those offered by e.l.f., stating that the NARS versions wear for longer each day and that not as much pigment is required to achieve the same look.
Still, when you're looking at a product that's one-tenth of the cost, many shoppers are perfectly find having to swish on a few extra brush strokes to blush like their wearing a higher-priced brand.
How to Find a Good Duplicate Cosmetic Product?
Remember that expensive doesn't always mean better! In fact, many moderately-priced cosmetics are owned (and manufactured) by the premium brands that you love. A few examples include:
Estee Lauder owns Aramis, Aveda, Clinique, Bobbi Brown, M.A.C, Origins, La Mer, Bumble + bumble, Flirt, American Beauty, Good Skin, Darphin, Ojon, and Donna Karan Cosmetics.
L'Oreal owns Maybelline, Garnier, Lancome, Vichy, Shu Uemura, Kiehl's, Dermablend, and Skinceuticals.
Procter & Gamble owns Covergirl, Max Factor, Anna Sui, and Olay among many others.
Louis Vuitton owns Dior, Guerlain, Givenchy, Benefit, Make Up For Ever, and Sephora's namesake line.
Sure, it's not like Luis Vuitton owns e.l.f. Cosmetics. However, there's still a dramatic price difference between the cost of Guerlain cosmetics and those offered by Sephora's house brand.
The difference in cost, according to cosmetics cop and Don't Go to the Cosmetics Counter Without Me author Paula Begoun, comes down to the use of more expensive packaging materials, and high-end brands positioning themselves as "aspirational."
The mere fact of a brand costing more makes it feel more exclusive and inspires more people to purchase their products.
With That in Mind, How to Find Great Duplicate Cosmetics?
The answer depends on where you're at. Are you looking for a new foundation, eyeshadow, lipstick, etc., but aren't already tied to a high-end brand?
If that's the case, learn how to evaluate budget-friendly picks on a product-by-product basis. Yes, this takes a little more effort than just sidling up to the Bobbi Brown counter for recommendations because "that's my brand."
However, once you learn that you actually love Max Factor's eyeshadows or e.l.f.'s lipglosses, you're set for a lifetime of savings!
With that in mind, how to find beauty and budget-friendly cosmetics?
Especially important for foundations, tinted moisturizers, or other products that can clog your pores, check to make sure that a duplicate cosmetic fits the same criteria as the product you're hoping to replace.
For example, those with oily skin should stick to matte foundations that don't contain emollients. Or, those with dry, aging skin should avoid powder-based products around the eye, as they're more likely to settle into wrinkles.
After you've identified which formulas work best for your skin type, it comes down to what you value: Test a product's texture, effect, and performance. Then, weigh those against the potential savings.
Now, what if you already have a holy grail high-end product that performs perfectly; however, you're no longer willing to pay high-end prices? Or, maybe your favorite product has been discontinued and you're not ready to let go?
Thankfully, there are easier ways of finding a perfect dupe than wandering the aisles of your local drugstores and beauty sellers. Here's my list of top four places to look when I want something I can't have:
1. Temptalia's Dupe List
Temptalia's Dupe List is a database of over 75,000 known dupes is probably the most popular way to find a product close to the one you covet. Categories of dupes include fragrance, hair, makeup, skincare, and tools. You can search according to product, brand, color, and even formula!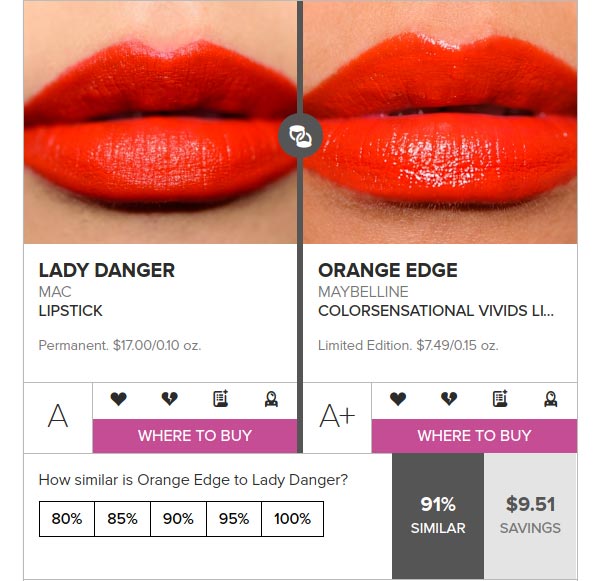 To help you gauge how closely two products are related, each of your dupe results will include a similarity rating. For example, I searched for a dupe for MAC Lady Danger lipstick. My results spanned three pages of dupes—some cost more, some less.
However, Maybelline Orange Edge was rated a A+ dupe and offered a $9.41 savings.
2. Match My Makeup (Foundation Only)
One reason I found myself returning to expensive high-end cosmetics is that having a rep provide color matching is way nicer than trying on tons of foundations under terrible mall lighting.
Match My Makeup completely eliminates that problem. The creators worked with a group of professionals to manually test all of their dupe recommendations. Thanks to them, I now have a list of 36 alternatives to my beloved MAC Studio Fix Fluid foundation in my precise shade.
3. MakeupTalk
This online community has a dedicated Makeup Dupes & Swatches forum where you can look through past dupe threads to find a perfect match for your favorite product. If one isn't available, you can also ask the for your dream product's best budget-friendly match.
In my experience, a benefit of MakeupTalk is that you're getting recommendations from real consumers with real experiences, which definitely makes for more accurate matching when it comes to a product's feel and performance.
4. Drugstore Dupes (App)
If you're at the drugstore and searching for duplicates for your favorite cosmetics, the Drugstore Dupes app can help you out in real time. However, there are some pros and cons.
On the upside, you can search by category, product name, or brand name, and every item on the app has a splurge vs. save option.
Marks against the Drugstore Dupes app are that it's lacking swatches, which would be helpful in seeing whether the "save" look matches the "splurge." Also, know that using the app will cost you $2.99, and it's only available on iPhones.
The Bottom Line
Only you can answer whether or not a potential savings of $27 is worth having to reapply blush throughout the day. Or, whether or not saving $34 is worth taking a little extra time with your foundation.
However, armed with the above list of dupes and some know-how on what to look for when comparing cheaper cosmetics to your current, high-priced faves, you'll at least be able to make an informed decision!