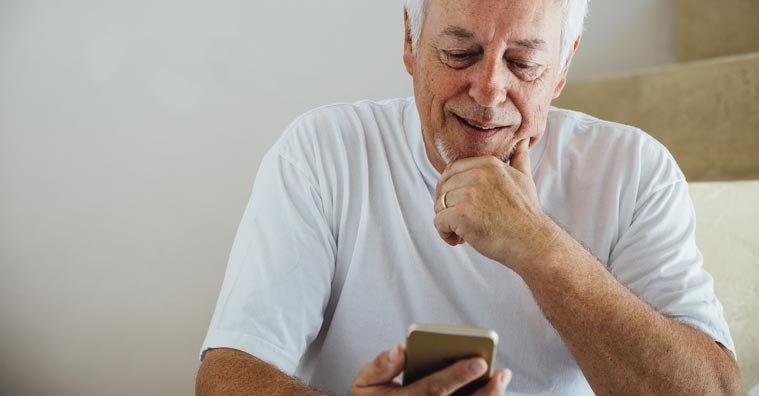 Scammers are using any means that they think will be effective in robbing victims, including text messages you receive on your cell phone.
Text message scams involve exactly that: you'll receive an unwanted or unexpected text, perhaps from your bank saying your account has been hacked, or that you've won a sweepstakes or prize. But the reality is that the text came from a cyber criminal who is attempting to steal your personal information with the overall goal to rob you.
These criminals use images of actual banking institutions that can appear legitimate at first glance. The scammer is depending on your knee-jerk fear reaction to click on a link, call another phone number or enter your private information, which the scammer then uses to take your money.
The good news is that there are ways to avoid text message scams by simply knowing what to look out for, doing your own due diligence to protect yourself, and spreading the word to your friends and family.
This article takes a look at the inner workings of text message scams. We've gathered valuable information from the Federal Trade Commission and other experts to provide you with as many details as possible so you can avoid phishing attacks and spread the word. Additionally, we've included actual screenshots from a detective who worked a recent case in Southern California, so you'll have an idea of what scam text messages look like.
The Basics of a Text Message Scam: What Is a Phishing Message?
Detective Lohman, who solves crimes in Ventura County, California, recently issued a public warning in his area about residents who were receiving text messages from a phone number 805-766-4085.
In the text, which shows a partial credit card number, the receiver is instructed to contact the phone number indicated in the message. But this text message, in reality, is being used to perpetrate fraud.
In this scam, which is also called "smishing," criminals are attempting to take advantage of your fear of urgency so that you will call the number in the text message, Detective Lohman said. If you call, the scammer will ask you to provide your personal information, such as your credit card number, username or password. But if you provide this information, the criminal gains access to your account to commit a fraudulent transaction.
The victims "believed it was their bank," Detective Lohman said. "They received a message alerting them to call a phone number when in reality there was nothing wrong with their credit card. The scammer just wanted them to call this number and provide their personal information so the criminal can get into their accounts."
An Example of a Phishing Text Message
The following three screenshots were provided by Detective Lohman from a recent SMS phishing attack case that he worked in Southern California.
Below is an image of an actual text message to give you an idea of how a phishing text might look like. What immediately stands out is a weird-looking link that contains a lot of numbers and symbols: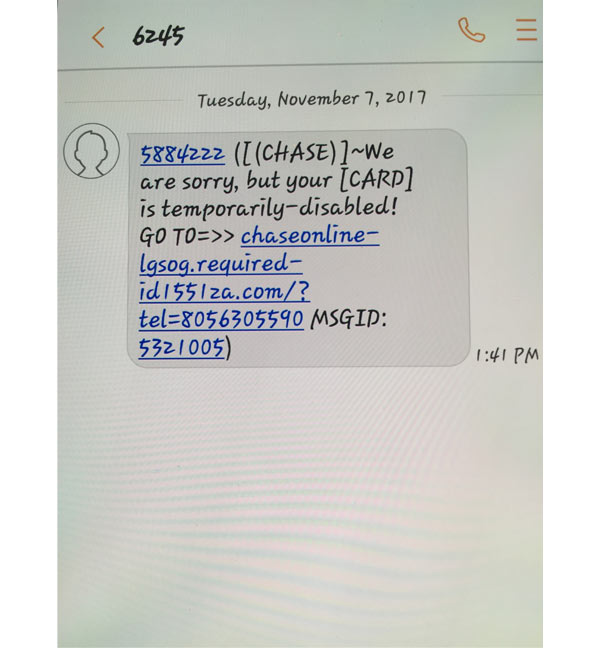 If the scammer dupes you into moving forward and clicking on a link in the text message, you will be re-directed to a website, similar to this one: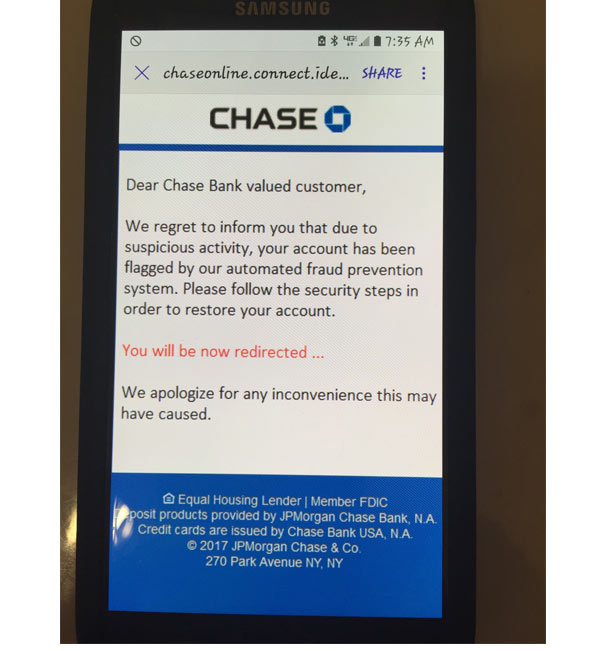 It's important to keep in mind that these scammers will use actual logos from the banking institution to make it appear legitimate.
"If you look at the word Chase and the logo, it's exactly Chase's logo, and Chase's name is the same font that they use," Detective Lohman warned.
"They'll say they need to confirm your identity by asking for your card number, expiration date and the three-digit CVV security number on the back of your card," Detective Lohman said.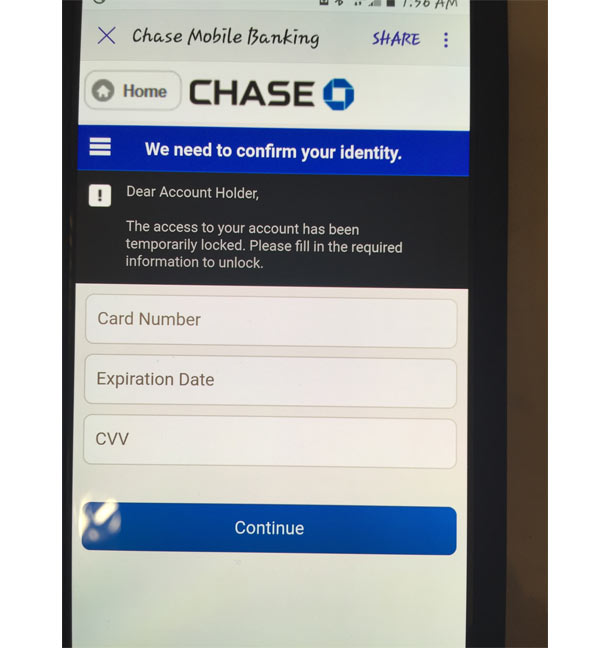 If you provide this personal information, the scammer can go online and buy whatever they want.
"What they can also do is take your credit card number and encode a magnetic strip and go to local merchants and use it," Detective Lohman noted. "So the scammer can do their online fraud and in-store fraud."
In other variations of the text message scam, you might receive a text saying "congratulations" and that you've won a prize, and you then might be prompted to provide your credit card number to verify who you are.
Related: 5 Tips for Avoiding Lottery Scams
"And as outlandish as it sounds, when people hear they've won something, they forget the most important thing – personal safety and security – and tend to drop their guard a little bit," Detective Lohman said. "It's a simple crime for these people who are tech savvy."
Fortunately, there are ways that you can protect yourself from the text message scam, which we discuss in the next section.
Tips from the FTC to Help You Avoid Text Message Scams
Frank Dorman, a public affairs specialist with the Federal Trade Commission, said the FTC's general advice is: Don't click on links in unexpected text messages.
"This applies especially if there's an incentive, such as a purported prize, or if a text asks you to text back for some reason," Dorman noted. For instance, "your email account supposedly has been hacked or they ask you to text back to reactivate your account – but they're after your personal information, like a bank account number, to get at your money."
Just a few years ago, the FTC settled charges with a group of marketers that were actually involved in an elaborate scheme that sent millions of unsolicited spam text messages that were supposedly promoting free merchandise, such as Best Buy and Wal-Mart gift cards in the amount of $1,000.
Unfortunately, those who clicked on the "links" in the text messages did not receive the prizes they were promised. Rather, they were redirected to websites that then asked them to enter private information; and in other cases, they were asked to sign up for "multiple offers" that involved purchases or paid subscriptions.
The FTC offers the following tips on how to avoid falling victim to text message scams:
Delete unwanted text messages. This is especially true for text messages that ask you to enter your private information because legitimate companies won't send you a text asking for sensitive information.

Never click on links in a text message. If this text message came from a scammer, these links can take you to spoof sites that appear to look legitimate, but in reality, are an attempt to steal your private information.

Never give out your personal information via text message. This includes your Social Security number, credit card numbers, and bank and utility account numbers. If you provide these numbers to a scammer, the criminal can steal your money or open new accounts in your name.
Final Thoughts
While there's no way to block smishing messages associated with text message scams, Detective Lohman advised that the best course of action is to remain vigilant – in other words, watch out for suspicious text messages the same way you would look out for fraudulent emails.

If you receive a text message you believe to be a bank or credit card company requesting information, do not call the phone number or click on any links in the text message, Detective Lohman recommended.
"The best practice to avoid any type of scam is to do your research and verify before taking any action," Detective Lohman said. "This will keep your money where it belongs and not in the pockets of a scammer."

"Do legitimate banks contact you? Yes, some do," Detective Lohman noted. "But the banks already have your information, so there's no reason for them to ask you to provide it. There has to be another layer of security, and that's you doing your due diligence and following up."
To verify if the bank sent you a text message, call the bank directly by getting the number from your bank statement or from your credit card. Never call the number provided in the text message.
In addition, the best way to put an end to the text message scam is to raise awareness, he added. "The only way we're going to stop these text message crimes from happening is educating the public."
Was this article helpful? Read more we've written on related topics: