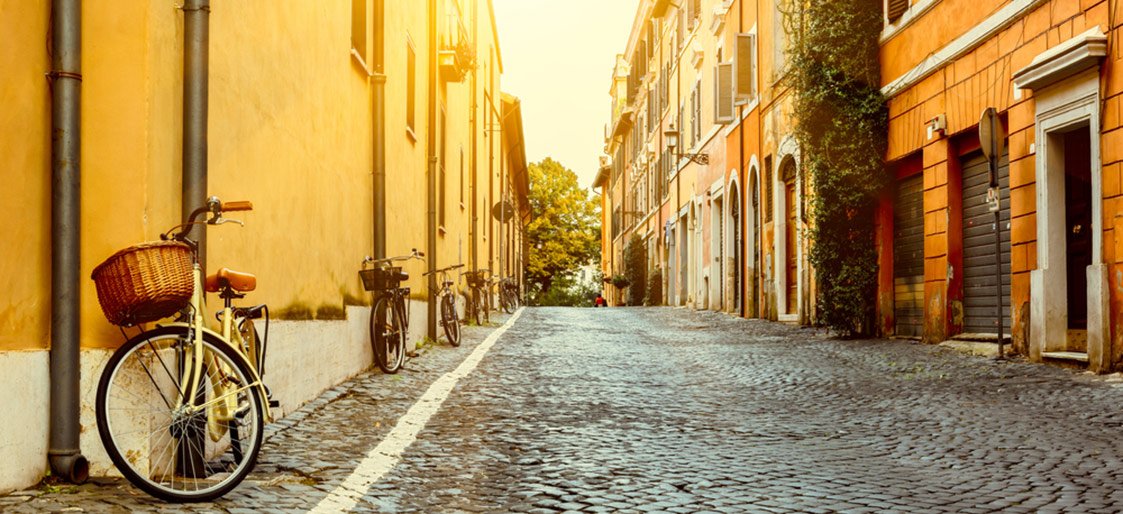 Whether because of a city's reputation for romance or a corrupt police force, some famous tourist destinations have unique elements that make way for very location-specific scams.
While anyone with a stamp or two in their passport might know enough to watch for pickpockets on their next vacation, even experienced travelers can fall prey thieves if they don't know the racket to watch out for.
We've compiled a list of the top risks for some of the most popular destinations, starting with Rome.
4 Popular Scams to Watch Out for in Rome
Rome's top attractions offer much to fire up your imagination, from the Colosseum with its past of blood-curdling spectacles to spooky underground catacombs where the early Christians buried their dead.
With such a torrid past, visitors to Rome will be surprised to learn that it's regarded as a fairly safe city. That being said, any destination that attracts millions of tourists also inspires some creative scams.
Here's what to watch out for:
1. A Lost Fashion Designer Who's Out of Gas But Will Sell You a Coat
Usually seen: Anywhere in the center, particularly in areas with lots of tourists
Most likely victims: Any tourists who are walking
If it happens to you: Walk away
A man pulls up next to you in a car and asks for directions. He's suave, speaks a surprising amount of English, and is dressed impeccably.
Despite being a tourist and him a local, the location he needs to find is someplace you likely already know. In his gratitude, he tells you he's a manager/designer/executive for Armani/Versace/Gucci—he may even "prove" it by showing you his designs.
Oh, and your lucky day! Because you're so friendly, or maybe you've filled him with inspiration, he gives you a couple of coats he just happens to have in his car that are made of leather, silk, or suede. In one version of this scam, you're offered to purchase an item at a ridiculously fantastic price. In the other, he gifts you with a garment, but asks for a smidge of gas money, since he's almost out of fuel from driving around lost for so long.
Because he's just given you a gift (and an immense amount of flattery), you fork it over.
The rub? This has happened again and again and again over the past few years—someone get this guy a GPS!
2. The Tourist Trap Restaurant That Happens to Be Out of Menus
Usually seen: Restaurants in any area, but particularly those next to tourist attractions
Most likely victims: Any tourists who don't ask to see prices
If it happens to you: If you haven't yet ordered, consider walking away. Otherwise, there's no option but to pay for your meal.
You've just finished sightseeing and are famished. Yet, every restaurant table within a mile appears to be taken.
Eureka! As you turn a corner, a prime sidewalk table at a lovely looking restaurant just happens to be empty. The only problem? They're fresh out of menus. Of course, you're so hungry that you order anyway—perhaps being sure to ask for something small and simple enough that it won't blow your budget.
Then the bill comes and it's at least double what you expected. How can you argue when you've already eaten the food?
There are a few alterations on the tourist trap restaurant scam, including when a friendly waiter suggests an alteration to your order, as happened to this traveler:
"One was in Florence at a well known old established restaurant. My husband ordered a bottle of wine and the waiter strongly suggested a different wine that he just knew we would enjoy much more. We did but not when the check arrived. The waiter's suggestion cost about five times more compared to the bottle my husband had chosen. There was nothing that could be done however as my husband hadn't thought to ask or look at the wine list for the price."
The moral of eating out in Rome? Be sure to check the prices of anything you order, whether it's a suggested switch or the day's special, lest you wind up surprised.
Another note for eating out in Rome: Don't judge a restaurant by the fabric of their napkins.
A blogger who's lived in Rome for over five years, Gleny of Glenys' Rome & Beyond states an important warning for tourists looking to enjoy top-notch culinary experiences when traveling through Rome:
"We usually categorize restaurants based on their appearance. If it has cloth napkins and elegant uniformed waiters, then it must be an upscale restaurant, right? Wrong! The restaurants lining many of the most beautiful piazzas in Rome and other large cities in Italy, tend to serve frozen TV dinners."
Her advice? Look for the asterisk next to the items on the menu—it is required by law to be placed somewhere on the menu in order to indicate frozen food. Although, be warned that it may sometimes appear in tiny print at the bottom or on the back of the menu, and sometimes it's not included at all.
3. Faux Romeos at the Trevi Fountain
Usually seen: The Trevi Fountain, The Spanish Steps, St Peter's Square, or any of Rome's more romantic attractions
Most likely victims: Single ladies or those in pairs
If it happens to you: Choose who you speak with carefully and be wary of anyone who's suddenly enamored with you. Should you recognize a Pappagallo, you best bet is to answer inaudibly or shrug and walk off, leaving them stumped.
Roman men may greet you with a gentle "Ciao bella," but those are usually the harmless flirts or amateurs.
The professional predators—nicknamed "Pappagallo" (which means "parrot") by locals because they say the same lines over and over again—will approach foreign damsels with much more disarming lines, tailor-made to fit you personally.
It starts with a casual question, such as whether you have the time or if you're enjoying Rome.
Depending on how you respond, they learn whether you speak Italian, are Italian and just appear foreign, live in Rome and know your way around or are a tourist and therefore, new to Rome. If you have an accent, cannot reply in Italian or do not know your way around, they will continue.
Related: Romance Scams That Target Solo Tourists
Eventually, he'll ask you whether you have plans later on that evening. If you exchange numbers then meet for a date, no matter how fabulous the time, you'll never hear from him again. That's because these professional pickup artists troll popular tourists sites with the goal of luring ladies into their beds, and they'll say anything to get you there.
In fact, the only way you might be able to see him again is by returning to the same location where he originally approached you. That's because these predators will go to the same top tourist attraction almost every single day and follow pretty foreign girls whom they wish to ensnare.
4. Unofficial Vatican Tour Guides Who Promise You the World
Usually seen: Vatican City, since it operates under different laws. But, beware of fake tour guides at any attraction
Most likely victims: Any tourist who stops to listen
If it happens to you: Walk away
Around monumental sites, but especially in Vatican City, you may be approached by a someone who offers to allow you to join their tour group, or give a private tour, of whichever attractions you're interested in.
They'll almost always tell you that the line on the day you're visiting is particularly long, and may even suggest that you can save money by purchasing your admission through them. And should you ask them if certain highlights can be included, they'll most certainly say yes!
What's more, the tour guides have recently been known to promise tourists a glimpse of the Pope—for a fee, of course.
The problem is that these illegal tour guides will promise you anything and often under-deliver. It's not possible to see the Sistine Chapel's gardens at the same time as Raphael's room, as they're in two totally different locations. This could be a big disappointment for someone who's been saving up to see a particular attraction.
Another note near top attractions: Don't pose for photos with the gladiators.
The costumed gladiators outside the Colosseum are definitely a sight worth seeing. However before you have your photograph taken with them, know that a "customary fee" is part of the equation.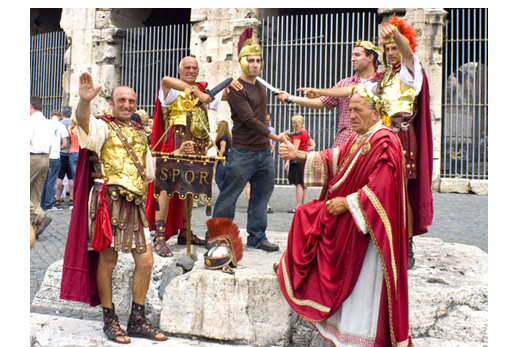 Image via iefimerida.gr
Many a tourist has found themselves in a modern day battle to the tune of ten Euros and up. In order to avoid unleashing any pent up, medieval aggression, don't take any pictures with the gladiators—unless you're prepared to hand over the funds.
Like Any City, Remain Aware When in Rome
Rome is an urban area. This means that there are lots of people, and not all of them stand-up characters.
The greatest risk visitors face in Rome is from pickpockets and thieves. There's no reason for paranoia, but you need to be aware that the problem exists and protect your valuables with this in mind.
A money belt with your essentials (passport, cash, credit cards) is a great solution. However, to avoid delving into it in public, carry a wallet with a day's cash.
Try not to flaunt watches, cameras, and other expensive goods. If you're carrying a bag or camera, wear the strap across your body and away from the road, since moped thieves can swipe a bag and be gone in seconds.
Also, be careful when you sit down at a streetside table—never drape your bag over an empty chair by the road or put it where you can't see it.
The takeaway? Don't be paranoid, but do be aware. Don't walk alone down unlit streets, do use common sense. Don't get so caught up in taking pretty photos that you have no idea what's going on around you. And most definitely, make sure to know local emergency numbers just in case.
More on travel scams: