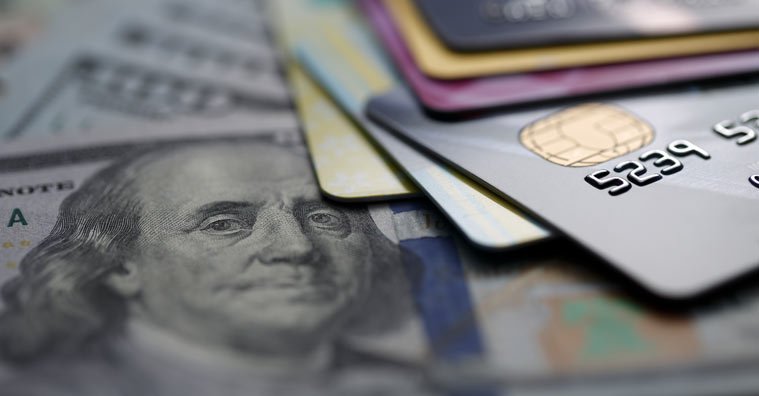 We can't argue with free money, and we guess you can't either.
Our hunger for a little extra spending is what drives us to sign up for cash back cards; well, that and the endless offers we get in the mail for $100 sign-up bonuses and extra rewards for using our credit cards at grocery stores and gas stations.
There are a lot of similarities with credit cards in the cash back category, but there are some distinct differences as well. It can be pretty annoying to have to sort through all the fine print to figure out which cards are better than others.
Thankfully, we've sorted through all that fine print to help you know which card is best. And it's from all that research that we've created our Best Cash Back Credit Card of 2018 award. Here are the contenders:
To come up with the cash-back champ, we examined six different credit cards according to seven important categories. Here's a chart of each card and category:
| | Bank of America Cash Rewards | Capital One Quicksilver | Citi Double Cash | AmEx Blue Cash Preferred | Discover It | Chase Freedom Unlimited |
| --- | --- | --- | --- | --- | --- | --- |
| 1. Intro cash offer | $150 after $500 spend | $150 after $500 spend | None | $150 after $1,000 spend, plus up to $200 on 5% of travel buys (avg. of $70) | Match on 1st-year cash back (avg. of $500) | $150 after $500 spend |
| 2. Intro APR | 0% for 12 months | 0% for 9 months | 0% for 18 months | 0% for 12 months | 0% for 14 months | 0% for 15 months |
| 3. Cash back rate | 1% (2% grocery/wholesale clubs, 3% gas) | 1.5% | 2% (1% plus 1% on paid balances) | 1% (3% groceries, 2% gas) | 1% (5% in rotating categories, changes every 3 months) | 1.5% |
| 4. Limit on cash back | $2,500 in all combined in grocery/gas categories | No limit | No limit | $6,000 on groceries | Yes, $1,500 per quarter | No limit |
| 5. APR | 13.99-23.99% (Penalty APR up to 29.99%) | 13.99%-23.29% | 14.49-24.49% (Penalty APR up to 29.99%) | 13.99-24.99%(Penalty APR up to 29.49%) | 11.99-23.99% | 15.99%-23.74% |
| 6. Best perk | 10% deposit bonus | Visa Signature enrollment | Citi Price Rewind | None | Free FICO score | Chase Ultimate Rewards redemption |
Here's a quick explanation of each category:
Intro cash offer – Amount of free cash you get for signing up and the amount you have to spend to get it
Intro APR – If and how long they offer 0% APR
Cash back rate – How much you get for everyday purchases not included in bonus categories
Limit on cash back – Max amounts you can get back on general/bonus purchases
Non-intro APR – Interest rate after promo period.
Best perk – Something awesome that's not part of the intro offer or cash-back rates
We'll pick a winner from each category and assign it points. Since there are six cards, the winner of the category will get 6 points, second place will get 5, third will get 4 and so on.
We'll double the points for the cash back/bonus rate category since it's the most important. The winner will be the card with the most points.
In this guide, we're going to talk about how much cash back you can get over the course of the year. Our estimates are based on the Bureau of Labor Statistics' 2016 numbers for the income of an average American household. Here's what we're saying the average American spends per year on their card:
About $25,000 overall
About $4,000 on groceries
About $1,900 on gas
About $1,150 on travel*
*This is according to financial site Value Penguin, who estimates Americans spend 2% of their yearly budget on travel.
Those numbers will come in handy later when we talk about bonus percentages for gas and groceries.
Now, for the first category in our contest…introductory cash back.
1. Intro Cash Offer Winner: Discover it
This category included some straight-up cash along with a few non-traditional offers. Sorting out which card was best took a little math, but we've found our winner. Here's the list:
Discover it: $300 (bonus categories incl.)
Quicksilver/ Chase Freedom Unlimited/ B of A Cash Rewards: $150
Blue Cash Preferred: $157
Citi Double Cash: $0
The Discover it was our top choice, but it may not be yours if you're looking for a quick bonus. The Discover's intro offer is all about one year down the road when they double any cash back you've racked up during the year. So, while you won't get $100 or $150 in a few months, you will get, according to average spending habits, about $300 of matched money at the end of the year.
Also, remember that any bonus purchases you make (more on that in a few sections) will get 5% and then be matched, making them 10% purchases the first year.
The Chase Freedom Unlimited, Capital One Quicksilver and Bank of America Cash Rewards were the clear choices for second even though their intro offers were lower than the AmEx. Why did they get ranked higher than the AmEx? Great question.
The Quicksilver, Freedom Unlimited and B of A Cash Reward's cash back is a straight-up $150 offer; spend $1,000 and you'll get the money.
The AmEx's intro offer is $100, plus 5% cash back on travel purchases in the first three months. The average American spends around $1,150 per year on travel. If you spend all that money during the intro period on the AmEx, you'd get $57.
There's a good chance you won't spend your entire travel budget during the first three months, which is why we ranked the Unlimited above the AmEx, while ranking the AmEx above the Citi Double Cash.
2. Intro APR Winner: Citi Double Cash
This category had a couple of great cards that were above 12 months of 0% interest, a logjam in the middle ground and one card at the bottom. Here are the results:
Citi Double Cash: 18 months
Chase Freedom Unlimited: 15 months
Discover: 14 months
B of A Cash Rewards/ AmEx Blue Cash: 12 months
Capital One Quicksilver: 9 months
The Citi Double Cash is the clear winner here, finishing ahead of the Freedom and Discover and a full half year ahead of the Bank of America, AmEx and Discover cards. It doubled up the intro-APR offer of the Quicksilver.
Our guess is that the Double Cash is offering such a long intro-APR period to make up for the fact that cardmembers don't get the up-front cash bonuses the other cards offer.
3. Cash Back Rate + Bonuses Winner: Citi Double Cash
This category is where things get tricky because certain types of purchases will get more cash back than others.
So, to make this as simple as possible, we've figured out how much cash back you can get in two years, including bonuses, when you spend around $25,000 per year.
We're using two years to offset the Discover it's promotional cash-matching in the first year. Here are the results:
Citi Double Cash: $1,000
Discover it: $900
Quicksilver/ Freedom Unlimited: $750
B of A Cash Rewards: $710
AmEx Blue Cash: $687
The big winner here is Citi's Double Cash card, with a straightforward $1,000 in cash back after two years. The key here is that you pay off your balances in full because you only get cash-back matches on balances you pay off.
In second is Discover's card, due to its hefty first-year doubling. We tallied up the bonus categories, added them to the 1% purchases and got $300 per year, but the first year is double because of the promotion.
Quicksilver and Freedom Unlimited are tied for third, while the B of A card and the AmEx finished in fourth and fifth, respectively.
The big lesson here is not to be fooled by rotating categories. Cards with one cash-back percentage took three of the top four spots. While 1.5% may not be as exciting as 5% bonus categories, it certainly pays out a lot more….and you don't have to keep track of which categories are giving you bonuses.
Another tip: Judge a card by its four-year value. For example, the Discover it is great the first two years because of their first-year matching program.
After two years, you'll get $150 more in cash back than the Freedom Unlimited and $100 more than the Quicksilver. However, after five years, you'll get $1,800 back while the Unlimited and Quicksilver will get you $1,875.
The same principle applies to travel rewards cards. Capital One's Venture card gets you more miles over time (annual fees included) than the Chase Sapphire Preferred and the Chase Sapphire Reserve.
4. Limit on Cash Back Winner: Capital One, Citi & Chase
Some of the cards in the competition place limits on how much you can earn in certain categories. Some don't. Here are the final standings on cash-back limits:
Quicksilver/ Double Cash/ Freedom Unlimted: None
AmEx Blue Cash: $6,000 on groceries
Discover it: $6,000 combined from four different bonus categories
B of A Cash Rewards: $2,500 combined from gas and groceries
This category is not as important as the others, simply because the average American household doesn't spend enough money in any of these categories to max out their cash rewards. That being said, if you have a huge family and spend tons of money (or you're super-wealthy and spend freely), the unlimited cash-back rewards from the Capital One, Citi and Chase cards are a great perk.
Related: 4 Types of Credit Cards Responsible Consumers Use for Big Rewards
5. APR Winner: Discover it
This category would seem like it's tough to judge because APR numbers are pretty straightforward.
However, some of these cards have a penalty APR that kicks in when you pay late, and that's what separates the best from the worst:
Discover it: 11.99-23.99% (no penalty)
Quicksilver: 13.99-23.99% (no penalty)
B of A Cash Rewards: 13.99-23.99% (Penalty APR up to 29.99%)
AmEx Blue Cash Preferred: 13.99-24.99% (Penalty APR up to 29.99%)
Citi Double Cash: 14.49-24.49% (Penalty APR up to 29.99%)
Chase Freedom Unlimited: 15.99%-24.74%
The Discover card wins out here because it's best APR is two percent better than the Quicksilver, Cash Rewards and AmEx and it doesn't have a penalty APR.
The Quicksilver beats out the B of A card because, while it does have the same APR range, it doesn't have a penalty APR.
AmEx finishes ahead of the bottom two cards because its low-end APR is better than the Double Cash and Freedom Unlimited.
To give you an idea of how much APR matters, we'll need to frame it in the context of the average debt a person with a credit card balance has: $16,000 over about four cards. Per card balance: $4,000.
Over the course of a year, a difference in APR of 2% will cost you $80 a year on a monthly $4,000 balance. So, you can see why the Discover it's best APR (11.99%) can save you a nice chunk of change compared to the rest (13.99%).
And if your penalty APR kicks in and you pay 29.99% a year instead of 13.99%, you could end up paying as much as $640 extra, which nearly cancels out your entire cash rewards from the Bank of America card.
6. Best Perk Winner: Citi Double Cash
Perks are those benefits you get from a card that aren't part of the intro offers. We narrowed down this category even further by not allowing perks available on more than one card.
For example, both the AmEx Blue Cash and the Citi Quicksilver have travel and shopping protection, so those perks canceled each other out:
Citi Double Cash: Price Rewind
B of A Cash Rewards: 10% cash-back bonus
Capital One Quicksilver: Visa Signature program
Chase Freedom Unlimited: Chase Ultimate Rewards
Discover it: Free FICO score
AmEx Blue Cash Preferred: None
After reading this post from the New York Times, we decided to put the Citi card first because of Citi's Price Rewind program. Basically, if you buy something with your card and the price drops within 60 days of your purchase, you can get reimbursed for the price difference. The Times article pointed out that the average savings on Price Rewind is about $80 on products purchased for $1,000 or more.
In second is the Bank of America card. We put it there because you get a 10% redemption bonus when you deposit your cash rewards in a Bank of America account. Based on yearly averages, that bonus will put an extra $66 in your pocket.
Capital One customers get enrollment into the Visa Signature program, which gives nice perks at more than 900 luxury hotels around the world.
The Freedom Unlimited's link to the Chase Ultimate Rewards program is a huge plus because you can transfer your rewards points to 11 travel partners including United, Southwest, Hyatt and Marriott. However, doing so would completely cancel out the cash back aspect of the card and turn it into a travel card.
We put the Discover and AmEx at the bottom of the list because their perks are pretty uninspiring.
See Also: Good Credit Scores and How to Get There
The Best Cash Back Credit Card of 2018: Citi Double Cash
The race for the best cash back card was really close to the final category. In fact, the Discover it was leading the Citi Double Cash by one point after five rounds. However, it was that perks category that pushed the Citi card into the lead for good on the home stretch. Here are the final point totals:
| Rank | Card | Points Earned in Each Ranking Category |
| --- | --- | --- |
| 1 | Citi Double Cash | 33 (1, 6, 12, 6, 2, 6) |
| 2 | Discover it | 30 (6, 4, 10, 2, 6, 2) |
| 3 | Quicksilver | 29 (5, 1, 8, 6, 5, 4) |
| 4 | Freedom Unlimited | 28 (5, 5, 8, 6, 1, 3) |
| 5 | B of A Cash Rewards | 22 (5, 3, 4, 1, 4, 5) |
| 6 | AmEx Blue Cash Preferred | 14 (2, 3, 2, 3, 3, 1) |
Overall, we think the Citi Double Cash card is a solid choice. As we talked about a few sections ago, the cards without rotating categories tend to provide the consumer with much better cash-back returns.
This card is no exception, as we predict it can put about $500 in your pocket every year for as long as you own the card.
The Discover it finished just ahead of the Capital One Quicksilver, a victory decided by the 2-point advantage it had in the 2-year cash back category.
Chase's Freedom Unlimited almost cracked the top three, but the card's APR jumped a full two percent over the past year which hurt its chances of finishing among the best.
The Bank of America Cash Rewards card is in a lonely fifth, 6 points behind the Freedom Unlimited and 8 points ahead of the AmEx.
While the American Express Blue Cash Preferred is part of the much-liked AmEx family, its cash back rates, perks and APR were pedestrian.
If you want to learn more about rewards credit cards, feel free to check out the travel rewards competition we just mentioned, as well as our Best Hotel Rewards Card of 2018 and Best Airline Rewards Card of 2018.
We've also got a great collection of credit card reviews, where we lay out each card's offer, terms/conditions, reviews and more.